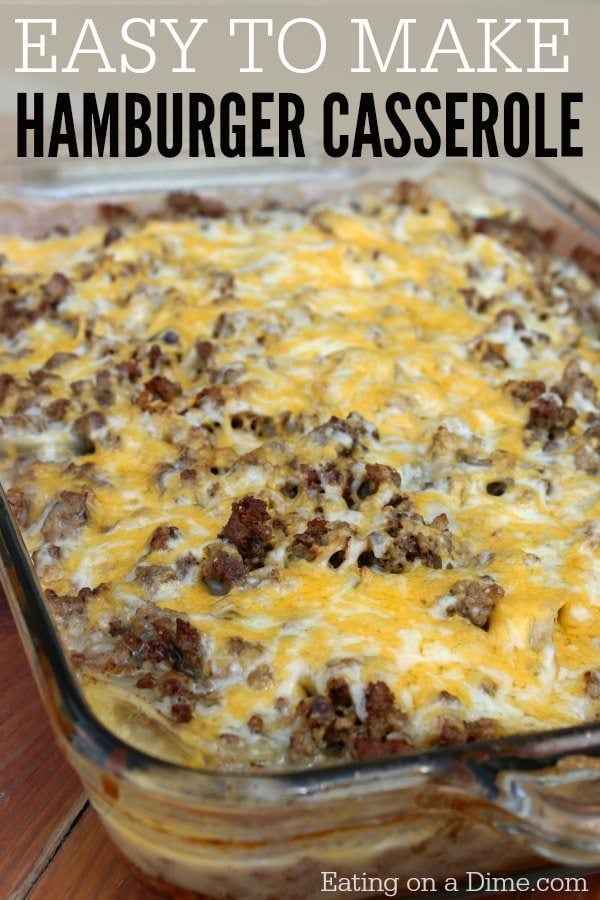 I'm excited today to show you how to make hamburger casserole. My kids devoured this easy dinner idea. It is probably the best beef casserole we have made.
The potatoes, the beef, the cheese…
oh my!
The best beef casserole… I promise!
Plus, we have a Gluten Free Hamburger Casserole Recipe for those that are gluten free!
Ingredients you need for hamburger potato casserole:
5 small potatoes
2 lbs of ground beef, browned
2 cans of cream of mushroom soup
1 1/2 cups of milk
1 1/2 cups of shredded cheese (we used a colby jack mix, but cheddar would be great too)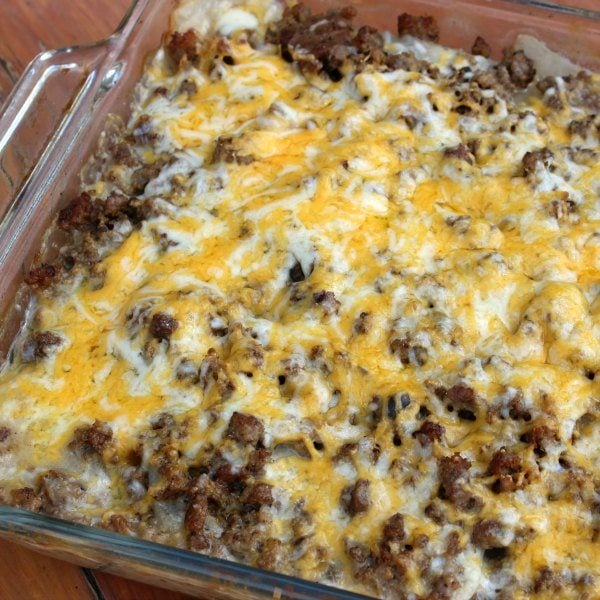 How to make Hamburger Casserole
Preheat oven to 350 degrees.
Brown your ground beef and set aside
Peel and slice potatoes and set aside. We use this easy mandoline slicer to cut our potatoes quickly.
In a mixing bowl, combine cream of mushroom soup, milk, salt and pepper to taste. Mix well. Set aside.
Spray a 9×13 baking dish with non stick spray.
Layer in the pan, potatoes, beef, soup, and cheese. Then repeat. Top with remaining cheese.
Cover with foil and bake for 1 hour
Remover foil and bake another 30 minutes until potatoes are fork tender.
Allow it to sit for 10 minutes, then cut and serve.
This hamburger potato casserole is easy to make and tastes great. You can easily assemble this ahead of time and then place in the oven when you are ready to eat.
Serve it with a side salad or you some steamed broccoli (see how to steam broccoli in the microwave easily).
How to freeze this potato casserole with meat:
Now this is an easy freezer meal. However, raw potatoes don't freeze that great, so I suggest you replace the potatoes with a package of frozen hash browns. layer just like you would with the hash browns. Cover with foil and freeze.
Then allow it to thaw in your refrigerator overnight and cook according to directions above. If it is still frozen in the middle cook with it covered for 1 1/2 hours and then 30 minutes uncovered.
I do recommend you freeze it in one of these 9×13 foil pans. Then cover with foil. Add one of these freezer labels and place in side a 2 gallon freezer bag to keep it fresh.
Watch how easy it is to make:

Try some of these other Easy casserole recipes: