This easy chicken enchilada casserole recipe is a family favorite. Get all the great enchilada taste without any of the work for a great dinner idea.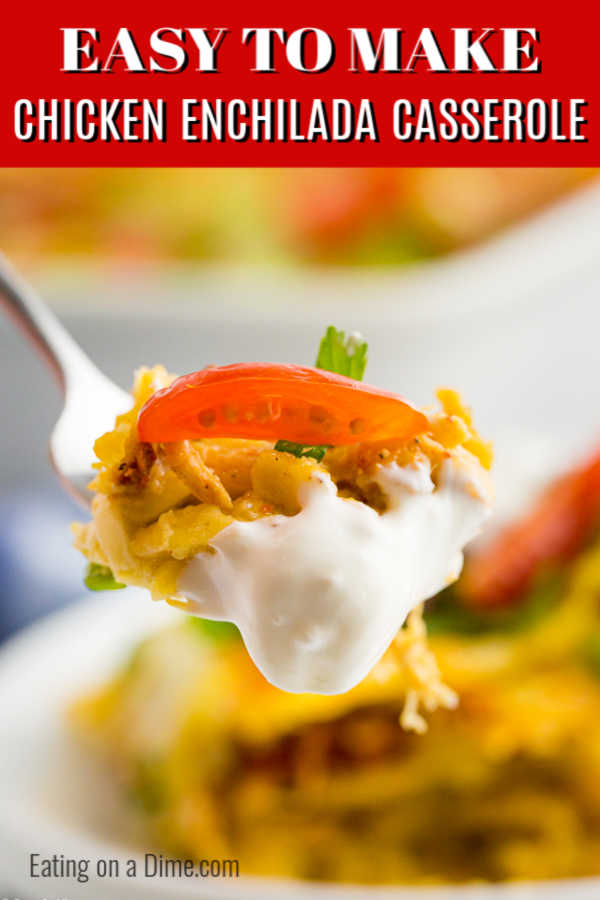 Easy chicken enchilada casserole recipe
I have been making this easy chicken enchilada casserole recipe for years. It started out as pretty typical chicken enchiladas, but as life got busier, I found a way to make this recipe easier
Now, its technically more like a casserole, but it still has that great enchilada taste without all the work. Now that's a win-win to me!
This easy chicken enchilada casserole is freezer friendly!
Another reason I love this recipe is because it is easy to make in bulk and it freezes great! The last time I made this I made two.
One for dinner that night and one for the freezer. There aren't very many things that are better than knowing you have a delicious homemade meal in your freezer, ready to be cooked.
Try this recipe soon and let us know what you think. We are so happy to share it with you! It is the best comfort food!
What is the best cheese to use in enchiladas?
We love to use monterey shredded jack cheese. I recommend taking the extra few minutes to hand shred the cheese.
It melts smoother and tastes better!
What ingredients do you need to make shredded chicken enchilada bake?
You only need a handful of ingredients for this enchilada chicken casserole. It is so easy!
How to make enchilada casserole with corn tortillas?
This is so easy, you can make it in no time. Simply boil your chicken and then shred it. You can even use a rotisserie chicken to save time.
When its time to assemble your chicken enchilada casserole, just think layers. Start with a little enchilada sauce, then lay out slices of corn tortillas.
Sprinkle shredded chicken and shredded cheese on top of the tortillas and then pour more enchilada sauce on top.
Repeat until you have about 3 full layers or until you have used up all of your chicken. Top the final layer of tortillas with the rest of your enchilada sauce and cheese.
Bake and serve hot. It is THAT easy!
Top with green onion and diced tomato if you prefer. Yum,! We also love sour cream.
Recipe Notes
This recipe is delicious just the way it is, but you can easily alter it to make it your own.
What to serve with enchiladas
More topping ideas:
Tips for chicken enchilada casserole recipes:
Have you tried my trick for shredding chicken? All you need is a stand up mixer like a Kitchen Aid.
I have had my Kitchen Aid Mixer for well over 7 years and it is still going strong. If you don't have a stand up mixer, you can also use your hand mixer – this works great, too! This is a huge time saver.
Another time saver when preparing to assemble this casserole is to slice the corn tortillas. I slice the tortillas into 4 strips using a pizza cutter. This is super faster and makes assembly a cinch.
Change it up with these variations:
You can easily change this easy chicken enchilada casserole up to change your family's tastes. Maybe try adding some white beans, black beans, bell peppers or corn to this casserole. You can also use flour tortillas.
You could even make my Crock pot chicken tacos and use that chicken as your filling for the enchiladas. These slight changes, will give you a whole new recipe with hardly any extra work, but I bet your family will love it all the same.
What else might you add to this dish?
How long does it take to reheat chicken enchiladas?
Cover with foil and reheat for 20 to 30 minutes. Easy!

Try easy chicken enchilada casserole tonight!
This meal is so budget friendly. You can easily use chicken thighs instead of chicken breasts.
Add extra veggies or beans to the meal. All of these things can really help your budget.
Feel free to use what you have or can get on sale. I often use what I already have in the freezer or pantry. This is a huge help.
By shopping when things are on sale I save money on groceries and it really helps our budget. Saving money and feeding a big family can be accomplished.
I cut our grocery bill by 50% off by following these 8 Tips for for Saving Money on Groceries by Menu Planning! Save that money for something else!
It is possible to feed your family really amazing meals without breaking the bank. We have a large family so I know it can be done!
Save money and cook amazing meals. It is a win all around for everyone! Plus, we always make quick and easy meals!
No time for complicated ingredients or meals around here! We keep it simple and inexpensive.
Print this easy chicken enchilada casserole recipe below:
Easy chicken enchilada casserole
You have to try this Easy chicken enchilada casserole – you can have this easy chicken enchilada recipe made in minutes. Making enchiladas is easy now!
Ingredients
3

chicken breasts

cooked and (shredded)

2

tablespoons

Homemade Taco Seasoning

1

can

Rotel

(10 oz can)

28

ounce

green enchilada sauce

8-16

oz

shredded Monterey jack cheese

depending how much cheese you like

12-16

corn tortillas
Instructions
Boil chicken until cooked through. Shred using a stand-up or hand mixer.

Slice corn tortillas into quarters each using a large knife or pizza cutter. They will be in triangles. You can skip this step but it makes cutting into the casserole easier.

In a large bowl combine your chicken with the taco seasoning and rotel and mix well. Set aside.

Spray the inside of your 9×13 casserole dish with non-stick cooking spray.

Pour a little enchilada sauce on the bottom of your pan, then start your layering.

Cover the bottom of the pan with tortillas (you don't have to cover every single gap). Top the tortillas with the shredded chicken mixture. Pour enchilada sauce over the chicken.

Top with shredded cheese.

Continue layering tortillas, chicken, sauce, and cheese.

You should have enough chicken for about 3 full layers. Finish the casserole off with a layer of tortillas, the rest of the enchilada sauce and cheese.

Bake at 350 degrees fro 20-25 minutes.

Cut and serve with sour cream, tomatoes, cilantro and onions.
Nutrition Facts
Calories
449
kcal
,
Carbohydrates
38
g
,
Protein
39
g
,
Fat
16
g
,
Saturated Fat
8
g
,
Cholesterol
106
mg
,
Sodium
1578
mg
,
Potassium
674
mg
,
Fiber
6
g
,
Sugar
11
g
,
Vitamin A
1365
IU
,
Vitamin C
11
mg
,
Calcium
351
mg
,
Iron
3
mg
You might also like this Sour Cream Chicken Enchiladas Recipe packed with chicken, cheese and an amazing sour cream sauce.
Green Chili Chicken Enchiladas will make Mexican Monday everyone's favorite day of the week.
Hamburger casserole recipe is the best combination of hearty ground beef, pasta and a creamy sauce.
Try some of these other delicious Mexican dishes:
More Baked Chicken Recipes: