Learn what to serve with enchiladas. We have 21 of the best side dishes for enchiladas. These are all easy and delicious.
What to serve with enchiladas
Whether it is Mexican Monday or Taco Tuesday, enchiladas always top our list. They are super easy, filling and always delicious.
We have really simple but fabulous options for side dishes to serve with this meal. Each of these take minutes to prepare and will help you get dinner on the table fast.
Kids and adults alike will enjoy these tasty Mexican sides.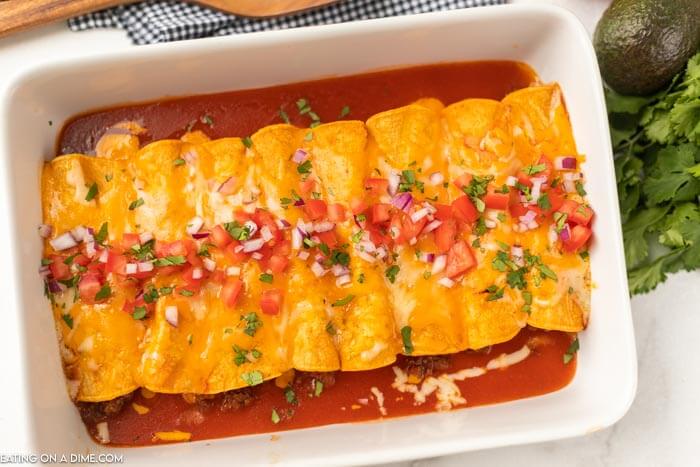 The Best Side dishes for Enchiladas
1. Easy Guacamole
Perfect for dipping and serving alongside enchiladas. Guacamole is easy to make and homemade is always fresh and delicious. This is a family favorite and even better with red onion and sour cream on top.
2. Homemade Salsa
The more salsa the better is our motto. This homemade recipe is fast and delicious while being perfect with enchiladas. You can't go wrong with chips and salsa.
3. Mexican White Cheese Dip
If you want to feel like you are dining out, make this authentic queso dip. Your kids will go crazy over it. This dip is pretty amazing.
4. Pico De Gallo
It does not get any fresher than Pico de Gallo. It is perfect to serve with enchiladas and we make extra to dip with tortilla chips.
5. Easy Refried Beans
Come home to refried beans in the slow cooker. It does not get any easier than this. Skip the canned stuff and make this instead.
6. Spanish Rice
Once you try this, store bought will never be the same. This homemade recipe is delicious and filling with enchiladas. The flavor is perfect and the rice is freezer friendly. We love to spoon enchilada sauce over the Mexican rice.
7. Mexican Corn on the Cob
This Mexican street corn recipe is literally loaded with flavor. It is the best side dish for enchiladas.
8. Grilled Avocados
This super healthy recipe for grilled avocado is tender and easy to make. If you have never grilled avocados, you are missing out.
9. Nachos
Sheet pan nachos are simple to make and easy to customize with your favorite toppings. This will be a favorite with everyone when you serve this with enchiladas.
10. Black Bean Salsa
Salsa with black beans and corn combine for a hearty salsa you will love. It is so fresh and flavorful.
11. Corn Salsa
The corn is so fresh and flavored lightly. It is a really quick side dish for enchiladas and perfect for snacking too.
12. Black Bean Soup
Start your meal off with a warm bowl of black bean soup. It is meatless and super easy to make.
13. Grilled Peppers
Throw some peppers on the grill to get that perfect charred look and taste. It is so amazing with enchiladas.
14. Simple Salad
Toss together a simple salad or try this easy Caesar Salad recipe. It is light and pairs nicely with enchiladas.
15. Tortilla Chips
If you are felling fancy, you can make homemade tortilla chips, but store bought tortilla chips are perfect with any any enchilada dish. I like to crush mine up on top to add crunch to my enchiladas.
16. Flour Tortillas
Sometimes when time permits, I like to make homemade flour tortillas for enchiladas. They taste so delicious.
17. Chili Cheese Dip
This dip is so easy in the slow cooker with just 3 ingredients. It is tasty drizzled over enchiladas or served on the side as a dip.
18. Chicken Tortilla Soup
Serve a warm bowl of Tortilla soup with enchiladas. It is hearty and delicious. Whenever we are craving comfort food, this is my go to soup recipe.
19. Velveeta Chili Cheese Dip
You only need 3 simple ingredients to whip up this fabulous dip. It is one of the kids favorite things to enjoy with enchiladas.
20. Green Chili Stew
Jazz up plain stew with this recipe for Green chili stew. The salsa verde gives it amazing flavor. It is a great stew to serve alongside enchiladas.
21. Mango Salsa
Mango Salsa is sweet and spicy. The combination is a burst of flavor when served with your favorite enchiladas recipe.
22. Salsa Verde
Salsa Verde de Tomatillo is so easy to make and fabulous with any type of enchiladas. It is perfect for something different than traditional salsa.
Try these side dishes for enchiladas.
Now you have lots of options for side dishes. What do you plan to try first? Do you have a side dish you always make with Mexican food?
Try one of these perfect side dishes.
Try one of our Enchilada Recipes
If you need some inspiration for types of enchiladas to make, keep reading for the best selection. Each of these enchilada recipes taste amazing and take very little time to make.
From chicken enchiladas to beef, there are lots of options. You will also find recipes that use a corn tortilla and some with flour.
Dinner is easy thanks to these great meal ideas.
Your family and friends will love these Mexican dishes.