This post may contain affiliate links. If you make a purchase through links on our site, we may earn a commission.
Crockpot chili cheese dip is the perfect appetizer or snack and super easy. The crock pot does all of the work and you only need 3 ingredients. The entire dip is so creamy and delicious.
Crockpot chili cheese dip
This is one of my go to snacks. It is such an easy toss and go recipe but the results are so yummy. I make this all the time.
It is so cheesy with a little bit of heat from the green chilies. The chili con carne makes it so hearty and it is always a crowd pleaser.
This dip is perfect for Game Day, holidays, parties and just for snacking! Everyone will love it.
Only 3 Ingredients:
Velveeta Cheese
Chili con Carne – the type without beans
chopped Green Chiles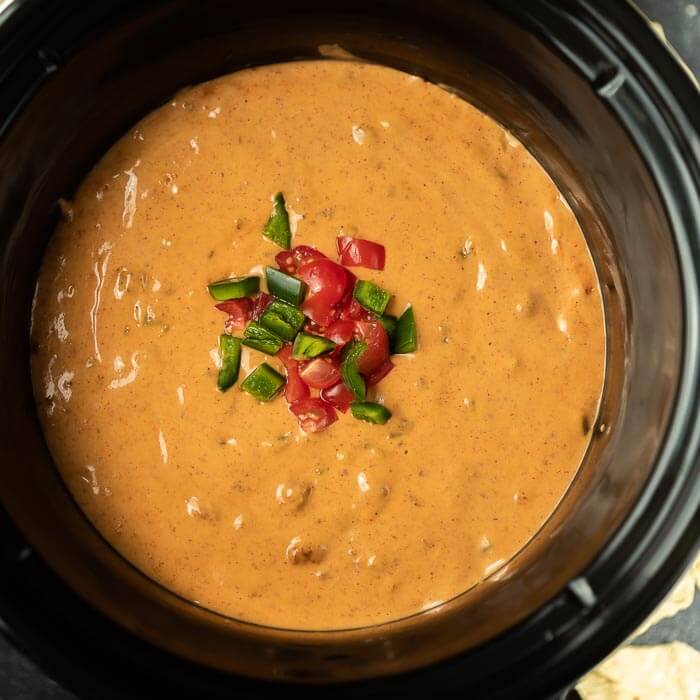 How to make slow cooker chili cheese dip:
First, take the Velveeta cheese and cube it. Put in the crock pot. We used a 3 quart crock pot.
Second, add the green chilies and chili on top of the cheese.
Cover and cook for about 2 hours on low. You can cook on high if you prefer but only for an hour. You just want the cheese to melt. I like to stir it occasionally.
Should I use chili with or without beans?
This comes down to preference. Either options will work and the dip will be delicious. If you don't care for beans, use the chili without. If you love beans, try adding the kind that has beans.
We have even used homemade chili in this dip. It is a great way to use leftover chili and turn into something new and delicious.
Can I add a can of Rotel to this dip?
Yes, you can do this several different types of ways. Omit the 2 cans of green chilis and add 1 can of rotel instead. Another option is to use one can of green chilies and add the rotel. Both options are yummy.
It will just be a little more spicy if you add the rotel with the green chilies.
We also sometimes add 8 ounces cream cheese to the dip. Just cube the cream cheese and add with the other ingredients.
What to serve with Crock pot Chili cheese dip:
Corn chips
tortilla chips
veggies- carrot sticks and celery sticks are good
Pita chips
Everyone will love crockpot chili cheese dip.
It is super easy and always a hit. Everyone always loves this and there is rarely any left. Anytime I bring this anywhere, everyone always asks me to bring it next time too.
It is just one of those dishes that is so yummy and the best comfort food. Once you make slow cooker chili cheese dip, you will be hooked. It is that good!
We make this pretty much year round and it is just so easy and tasty. It is perfect for snacking, simple and not expensive at all to make. It is a win all around!
I will warn you though, once you make it, everyone will want you to make it all the time! It is the best snack.
Tips:
I normally make this in a 3 quart crock pot. However, if you are serving this at a party or feeding a crowd, you can use a regular size crock pot and just double the recipe.
Crockpot liners– These are definitely worth the extra cost. Cleanup is so easy with these liners.
Print this slow cooker chili cheese dip recipe:
Crockpot chili cheese dip
Crockpot chili cheese dip is the perfect appetizer or snack and so easy. The crock pot does all of the work and you need only 3 ingredients.
Ingredients
32

oz

Velveeta Cheese

2

cans Chili con Carne

without beans-15 oz each

2

cans chopped Green Chiles

4 oz each
Instructions
Cube the Velveeeta cheese and place in a 3-5 quart crock pot.

Place the chili and chopped green chiles on top.

Place the lid on top and cook on low for 2 hours or high for 1 hour until cheese is melted (stirring occasionally).
Nutrition Facts
Calories
251
kcal
,
Carbohydrates
18
g
,
Protein
19
g
,
Fat
12
g
,
Saturated Fat
7
g
,
Cholesterol
44
mg
,
Sodium
1644
mg
,
Potassium
541
mg
,
Fiber
3
g
,
Sugar
7
g
,
Vitamin A
1005
IU
,
Vitamin C
8
mg
,
Calcium
474
mg
,
Iron
3
mg
More easy cheese dip recipes: