This post may contain affiliate links. If you make a purchase through links on our site, we may earn a commission.
Learn how to grill bell peppers for the perfect veggie to go with chicken, fish and more. The grill makes the peppers amazing with perfectly crispy edges.
How to grill bell peppers
We are going to show you how to make the best grilled peppers. I was hesitant to share this recipe because I don't know if you could call this really a recipe, but I just have to share it with you.
See… I love almost all food on the grill. Ok, that may be bit of an exaggeration, but I do love to grill.
For some reason almost everything tastes better on the grill. We have grilled zucchini, grilled potatoes and carrots, and grilled corn – all of which were a success.
However… probably my favorite are the grilled peppers.
I love peppers in general, but on the grill… I just can't get enough!
The edges get crispy and that is what I love so much. It just tastes amazing.
Learn how to grill chicken breast perfectly every time and serve with these delicious bell peppers. Toss some grilled potatoes in foil on the grill and you have a great dinner with very little cleanup!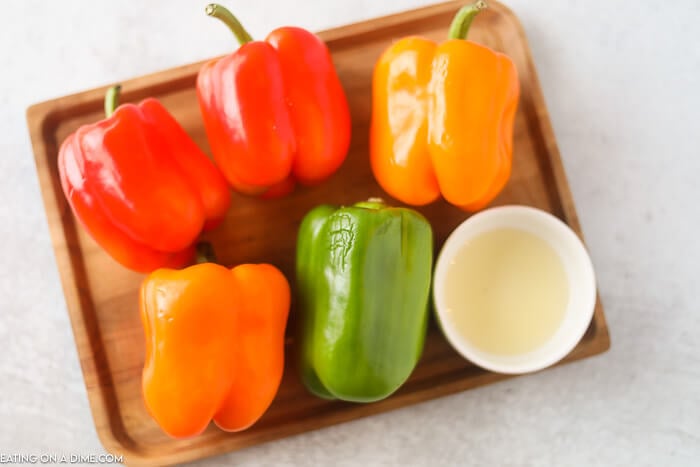 Ingredients:
How to grill peppers:
First, wash the bell peppers and remove the stems and all of the seeds.
How do you cut peppers for grilling?
I like to cut the peppers into quarters. This is the perfect size for grilling.
Next, rub olive oil on the bell peppers. I used a basting brush to make this easier. It really helps spread the olive oil out so you can use less.
You can also toss to coat the olive oil.
Finally, put the peppers skin side up directly on your preheated grill grates. Let them cook for several minutes per side.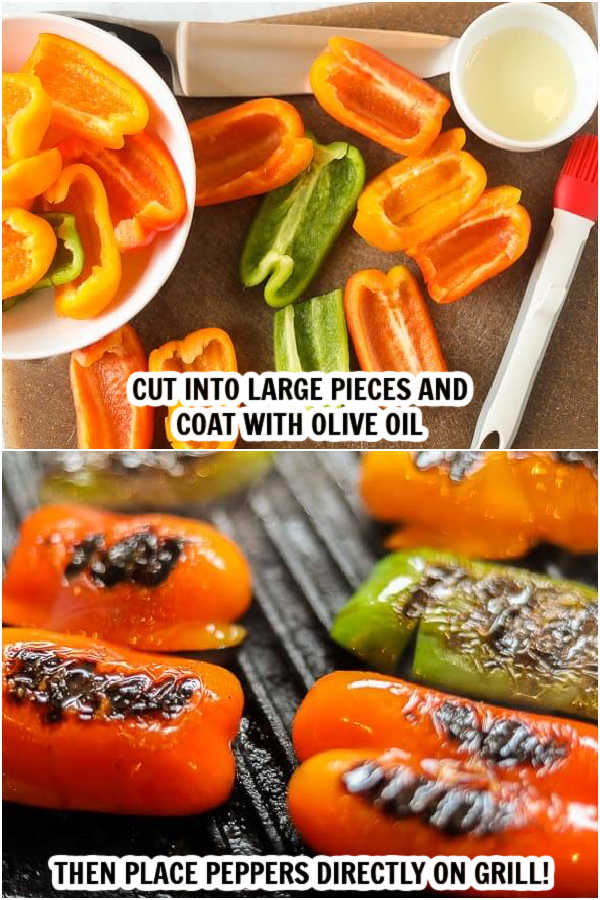 I tend to cook mine a little longer because I like the edges to get crispy. That is my favorite part.
That is it! Enjoy! Salt and pepper to taste.
If you have leftovers, you can store them inside an airtight container for up to 5 days. I actually like to cook extras so I can have them with my lunch during the week.
They are healthy and delicious. Grilling bell peppers is so easy.
Try adding onions to the grill too. We love peppers and onions.
How to serve:
I know this is very simple, but you have to do it! You can serve it as a side dish on its own.
You could grill them with some zucchini or you can chop them up and mix it in with some rice. Either way your family will love them.
Learn how to freeze rice and you can make this meal even easier. I love to grab the rice from the freezer in the morning and when we come home it is all ready to enjoy with dinner.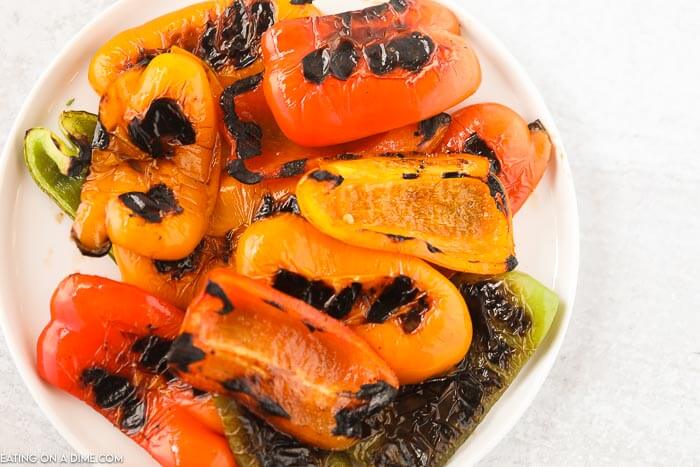 It really is so delicious served with a bunch of veggies. Everything is so good from being grilled. Give it a try!
We do this for lots of meals and it helps put together a quick meal. If you are not freezing rice, you should be.
Another tasty idea is foil pack grilled red potatoes.
Add some protein and you have a great meal:
As you can see, the ideas are endless and grilled peppers go with lots of things. They are so yummy!
Money Saving tip:
Bell peppers are available year round at the grocry store but they are cheaper some months than others. Make sure you download our free What's in Season? Calendar of Fruits and Vegetables in Season printable that will show you when you will find produce at its lowest price.
That is the best way to save money! I have learned over the years that shopping and cooking based on sales really helps our grocery budget. It adds up over time and makes a big difference in our budget.
It helps keep the grocery budget reasonable and feed a large family. By shopping when things are on sale I save money on groceries and it really helps our budget. Saving money and feeding a big family can be accomplished.
I cut our grocery bill by 50% off by following these 8 Tips for for Saving Money on Groceries by Menu Planning!
Print this recipe below:
How to Grill Bell Peppers
You are going to loved these delicious and easy grilled peppers. Learn how to grill peppers, it's easier than you think!
Ingredients
3

Bell Peppers

any color

1/2

Tbsp

Olive Oil
Instructions
Wash your peppers. Remove the stems and the seeds.

Quarter each pepper.

Rub the olive oil onto the bell pepper pieces. I used a basting brush for this and it worked perfectly.

Preheat the grill to a medium high heat.

Then place the peppers directly on the grill.

Allow for the peppers to cook for 3 to 5 minutes on each side (I like it closer to 5 minutes, so I get the crispy edges – my favorite part!)

Serve immediately and enjoy!
Recipe Notes
Store in an air tight container for up to 5 days. 
Nutrition Facts
Calories
173
kcal
,
Carbohydrates
22
g
,
Protein
4
g
,
Fat
8
g
,
Saturated Fat
1
g
,
Sodium
14
mg
,
Potassium
753
mg
,
Fiber
8
g
,
Sugar
15
g
,
Vitamin A
11178
IU
,
Vitamin C
456
mg
,
Calcium
25
mg
,
Iron
2
mg
More grilling recipes to make:
Check out these other delicious side dishes: