This post may contain affiliate links. If you make a purchase through links on our site, we may earn a commission.
Roasted zucchini and squash recipe is one of our favorite and easiest go to side dish recipes. It is the perfect sheet pan recipe for a delicious veggie side dish full of flavor.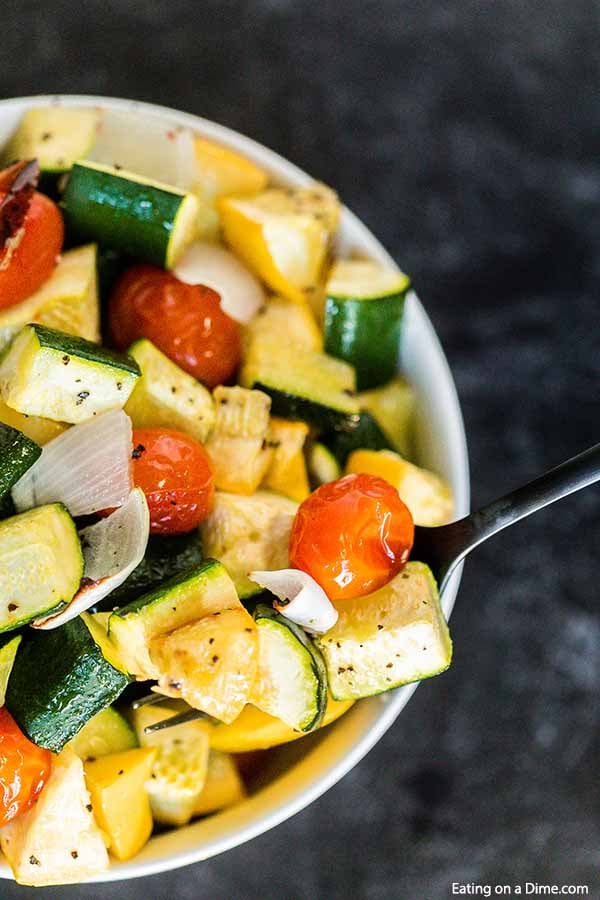 Roasted zucchini and squash recipe
This is an easy go-to side dish! You can even just toss this on the grill and cook it on there in a metal pan instead.
It is probably my favorite side dish and with summer around the corner, I am slowly starting to include more of these lighter sides with our meals. 😉
The texture of the veggies really taste amazing. They are tender on the inside and the outside is seasoned to perfection!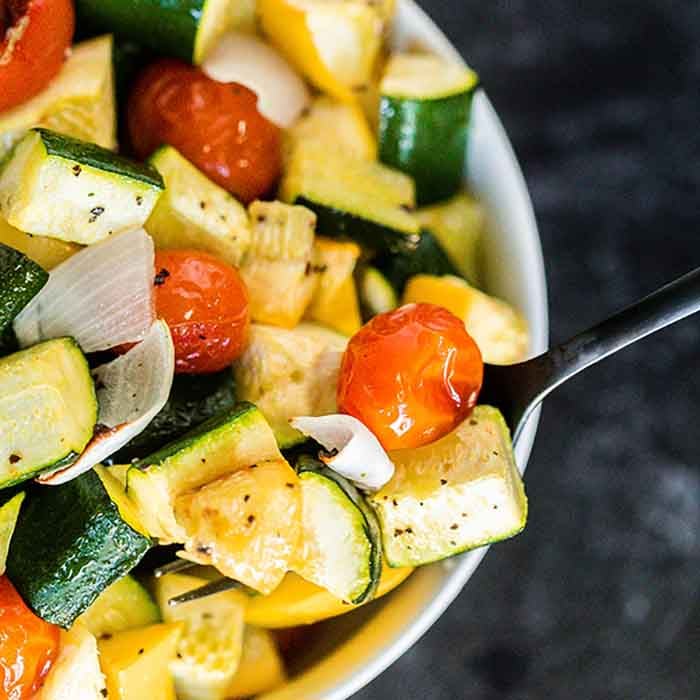 What is the difference between zucchini and squash?
There are a few differences between zucchini and squash. Zucchini is green and has a long and straight shape. Whereas squash is yellow and tends to be larger at the bottom and decreased in size toward the other end.
Both zucchini and squash taste very similar. Squash is slightly sweeter but for the most part, they are both very similar.
Should Zucchini be peeled before roasting?
No, it is not necessary to peel zucchini before you cook it. The peeling will become softer as the zucchini cook.
You can certainly peel if if you opt to but it is not necessary at all. I think the vibrant green color looks so pretty and you can't really taste the peeling.
So, save yourself the time and leave the peeling on.
How do you keep zucchini from getting soggy?
High heat helps to prevent the veggie from becoming soggy. You can also try salting zucchini before hand and letting the veggie sit a few minutes before baking. This will release some of the moisture.
This step isn't necessary though as I have found just the high heat alone seems to produce the perfect zucchini.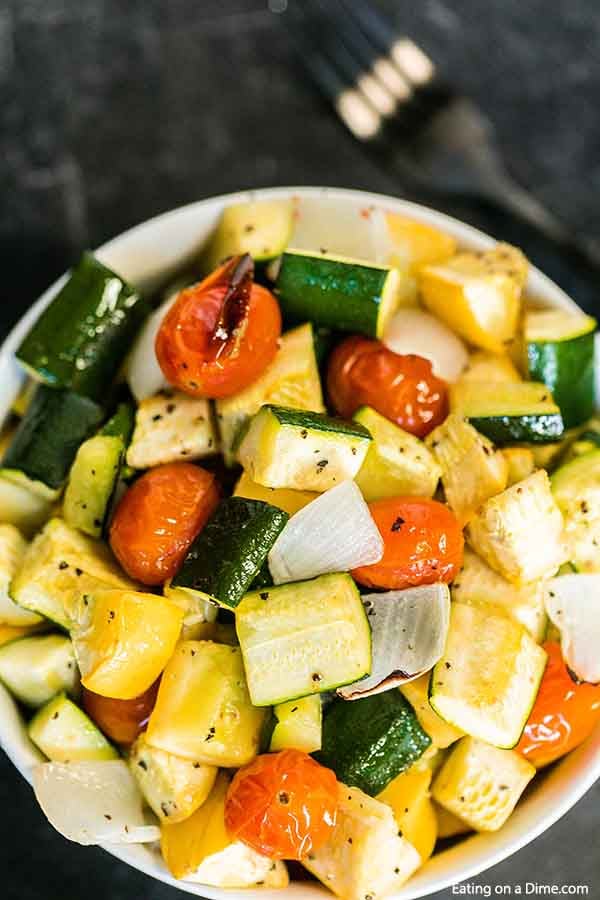 What do you need to make oven roasted zucchini and squash?
zucchini
squash
grape tomatoes
onion
olive oil
garlic salt
salt and pepper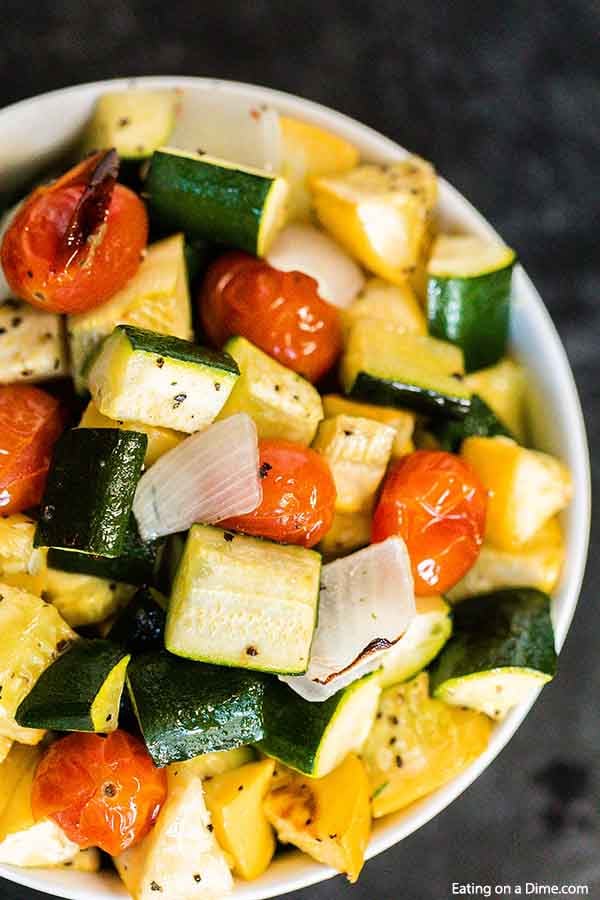 How to roast zucchini and squash:
First, preheat your oven to 450 degrees.
Next, spray a baking sheet with non stick cooking spray.
Place the veggies on the pan and drizzle with olive oil.
Add all of the seasonings to the vegetables making sure it is evenly distributed.
Cook for 15-20 minutes until the veggies are tender. This is such a quick and easy side dish but so delicious!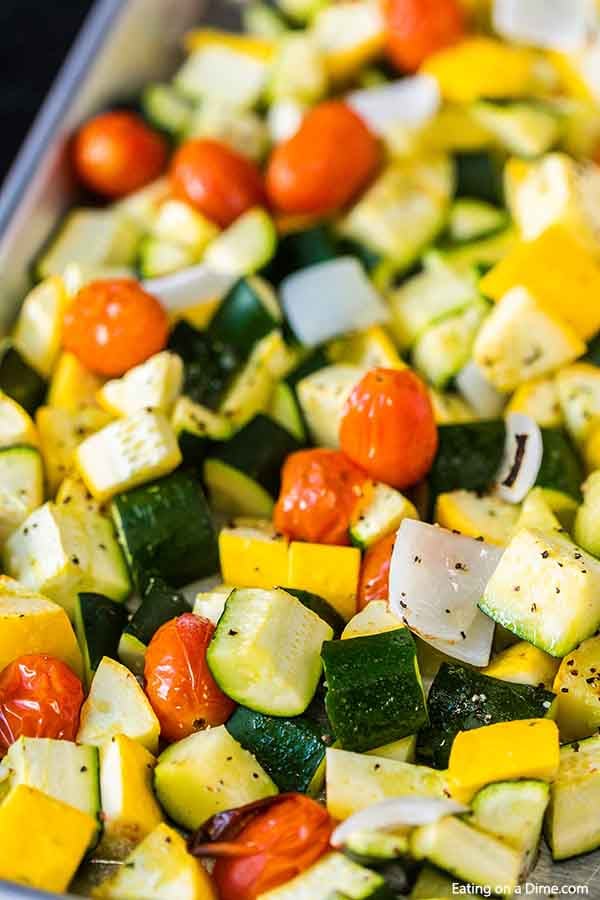 The spices for roasted zucchini are simple but so flavorful!
I love that this recipe is so simple and the ingredients are very minimal. You don't need fancy seasoning packets or a ton of ingredients.
Just a few simple spices and you have the best side dish! These veggies are literally bursting with flavor.
Enjoy roasted zucchini and squash year round!
We actually enjoy this easy side dish all year and not just in the summer months. It is such an easy recipe and takes only minutes to prepare.
You can't go wrong with this side dish. In just minutes, you can throw together a filling and tasty side dish that is also very inexpensive to make!
Tip for roasted zucchini and squash and onions:
One of our favorite time saving tips is to use a small food chopper or food processor to quickly and easily chop onions.
If you do not have one of these, I highly recommend them. They are such a time saver and you make cooking so fast and easy.
I usually just chop the entire vegetable and freeze what I don't need. It's so nice to be able to just take the diced onion out of the freezer for recipes.
This is how I meal prep. It's so quick and easy and helps get dinner on the table fast.
Learn and how to freeze onions and also how to freeze peppers to save so much time in the kitchen! Lots of the recipes we cook call for onions and peppers so this is such a great time tip that we use frequently.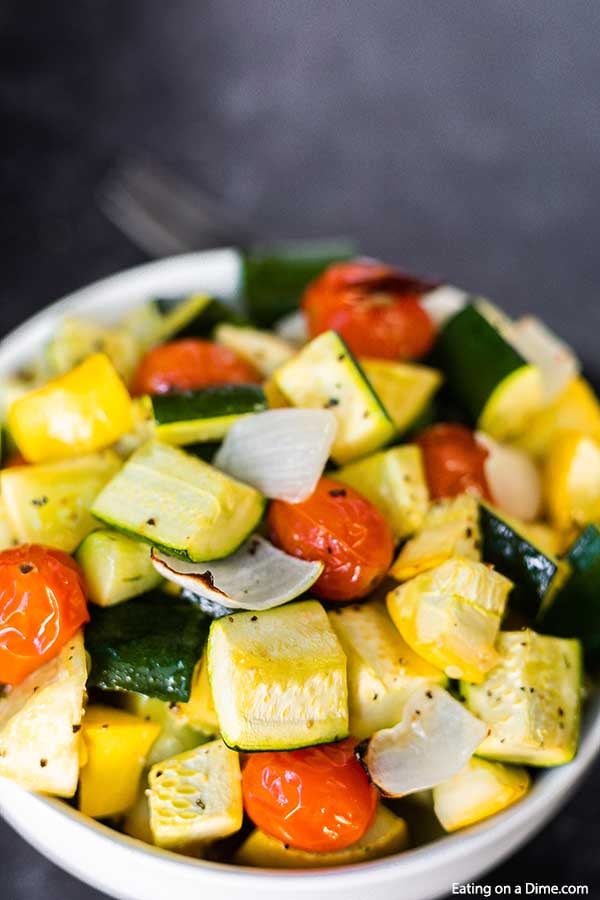 Try roasted zucchini and yellow squash recipe today!
This oven roasted veggie side dish recipe is so delicious and goes perfectly with lots of meals. Change things up and add Parmesan Cheese to the basked zucchini and squash. We love garlic parmesan and also italian seasoning.
Roasted garlic is also amazing on the veggies. Yum!
This is the perfect summer side dish and great for all year!
What is good with roasted zucchini and squash recipe?
This is one of our favorite zucchini and yellow squash side dish recipes!
Give this a try and you will see why we all love it so much. It is so easy to fix and just really flavorful and amazing to eat.
You can't go wrong with this simple recipe and the outcome is so delicious. With just a few ingredients, you can whip this together and expensively for a side dish your family will love.
Let us know once you try it and how everyone likes it!
Print this roasted zucchini and squash recipe below:
Easy Roasted Zucchini and Squash
Roasted zucchini and squash recipe is one of our favorite and easiest go to side dish recipes. It is the perfect sheet pan recipe for a delicious side dish.
Ingredients
2

Zucchini

Diced

2

Squash

Diced

1/2

Pint

Grape Tomatoes

1/2

White Onion

Diced

2

Tablespoons

Olive

1

Tsp

Garlic Salt

1

Tsp

Pepper

1/2

Tsp

Salt
Instructions
Preheat oven to 450 degrees.

Spray a baking sheet with no stick oil spray.

Place the vegetables on the pan and drizzle with the olive oil.

Sprinkle the garlic salt, salt and pepper over the vegetables.

Cook for approximately 15-20 minutes until the vegetables are tender.
Nutrition Facts
Calories
139
kcal
,
Carbohydrates
34
g
,
Protein
4
g
,
Fat
1
g
,
Saturated Fat
1
g
,
Sodium
640
mg
,
Potassium
1157
mg
,
Fiber
6
g
,
Sugar
9
g
,
Vitamin A
27045
IU
,
Vitamin C
70
mg
,
Calcium
137
mg
,
Iron
2
mg
Do you have an easy side dish to share? I would love to hear about it!
Sheet pan balsamic chicken is a one pan meal with everything you need for a complete dinner.
You might also like this Roasted acorn squash recipe with only 5 ingredients.
This easy parmesan roasted zucchini recipe is another easy side dish recipe you will love.
Try these other easy zucchini recipes: