This post may contain affiliate links. If you make a purchase through links on our site, we may earn a commission.
Catalina grilled chicken has the best flavor and tastes amazing on the grill. The entire recipe is so easy. Plus, you can use any type of chicken you prefer with this sweet and tangy dressing.
Catalina grilled chicken is a game changer!
I love buying groceries on sale. Salad dressing is something I always grab several bottles of when a spot a good deal. It's perfect to save for reicpes like this amazing chicken!
Salad dressing is not just for salads and makes the best marinade for chicken. If you aren't doing this, you are missing out.
Do you know one of our favorites? Catalina dressing. It is so delicious on chicken and gives it such amazing flavor. If you have a slow cooker, then try our Crock Pot Catalina Chicken.
It is really delicious and so easy to make! The entire meal is super easy. I mean really easy!
We serve it over rice for an easy side that makes dinner so easy during busy weeknights. If you have a pressure cooker, this Instant Pot rice is really fast. You can also make this Crock Pot Rice Recipe.
Oh and if you want to make dinner really fast and easy, learn how to freeze rice! We do this all the time.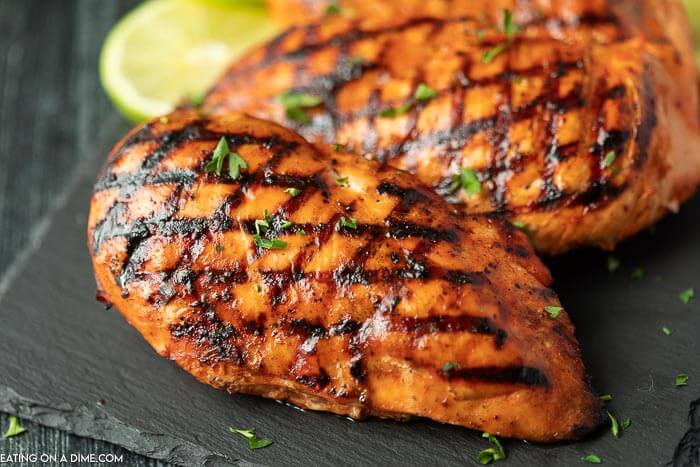 Catalina Chicken has only one ingredient – Salad Dressing!
A lot of people say they can't cook, but everyone can cook. This recipe is proof that anyone can cook some delicious chicken.
Salad dressing is one of our best kept secrets (ok… I guess it isn't a secret). You can use it to marinade your chicken or glaze it while the chicken is cooking for even more flavor.
You don't have to plan, prepare, or really even think to make this delicious catalina glazed grilled chicken recipe.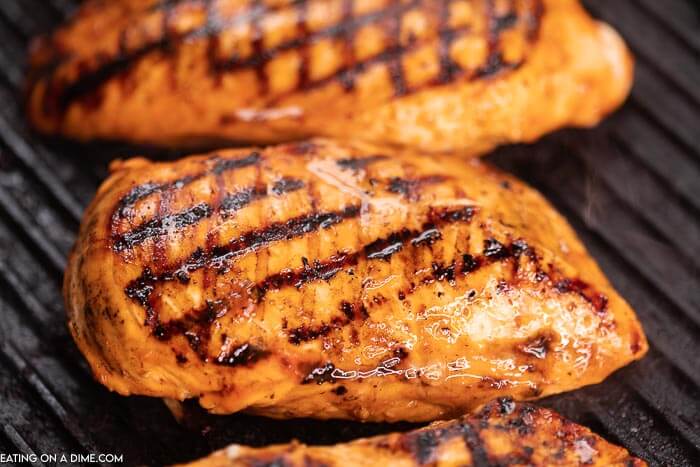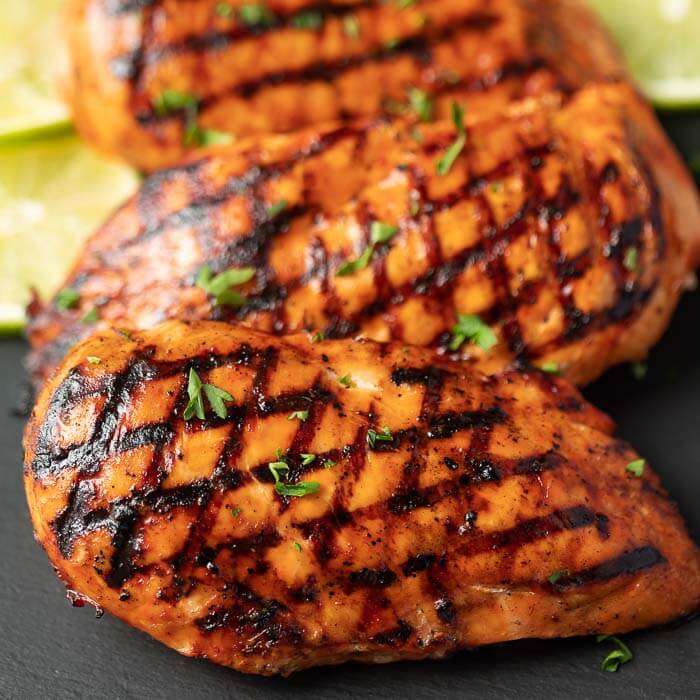 Products I used:
Do you love to grill as much as our family? I personally love how easy it is to cook dinner and how fun it is because the kids are playing outside while I am grilling. Plus, I have very little cleanup after dinner!
You will definitely get plenty use out of these supplies if you grill as much as we do!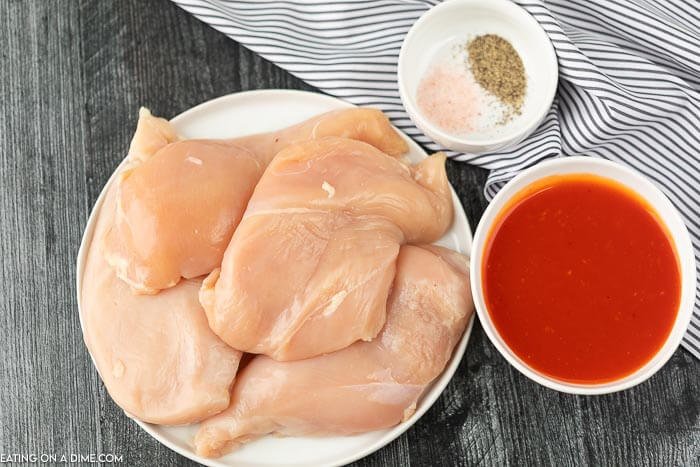 Ingredients: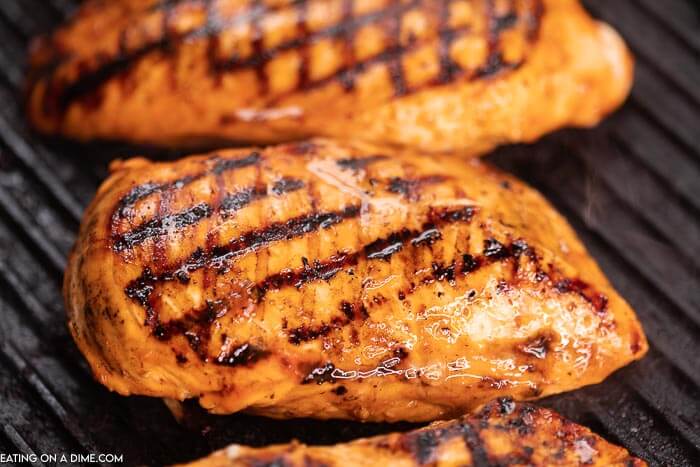 How to make Catalina Chicken on the grill:
1. First, put the chicken in a large ziplock bag. I like to use the gallon size and one of these helpful hands free holders here. If you don't have any bags on hand, just use a large bowl.
2. Second, add the salad dressing all over the chicken breasts. Add the salt and pepper. Seal the ziplock bag and shake everything up to make sure all of the chicken is well coated.
This is best if you can marinade the chicken the night before. The flavor is so amazing. However, if you are short on time, try to at least let it marinade for 4 hours.
3. Next, grill the chicken on medium high heat. It does take long at all to cook and usually less than 10 minutes per side depending on how large your chicken is.
Make sure the chicken reaches an internal temp of 165 degrees.
4. Lastly, allow the chicken to rest for a few minutes and enjoy!
Side Suggestions:
Enjoy this easy meal.
Catalina dressing is so tasty and this goes from grill to table in less than 30 minutes. We love this dressing so much that we even use it to make this chicken in the crock pot.
This is so good, Your kids won't even ask for ketchup. Give this a try and let us know how you like it.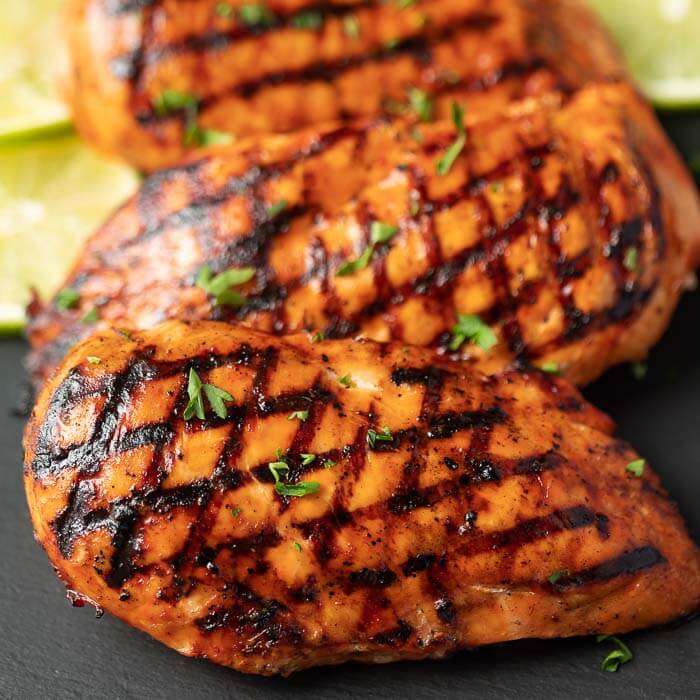 Print this Catalina Grilled Chicken Recipe below:
Catalina Glazed Grilled Chicken
You only need one ingredients to make this Catalina Glazed Grilled Chicken recipe – just catalina salad dressing!
Ingredients
Instructions
Place the chicken in a bowl or a large storage bag.

Pour the salad dressing over the chicken and season with the salt and pepper. Seal the bag and shake to thoroughly coat the chicken with the marinade. Allow the chicken to marinade in the refrigerator for a minimum of 4 hours or overnight.

Grill the chicken over medium high heat. Cook for 7-10 minutes per side until the chicken reaches an internal temperature of 165 degrees F.

Let the chicken sit for 5 minutes. Then slice, serve and enjoy!
Recipe Notes
This marinade is also delicious with chicken thighs or chicken drumsticks too! 
Nutrition Facts
Calories
443
kcal
,
Carbohydrates
18
g
,
Protein
48
g
,
Fat
17
g
,
Saturated Fat
3
g
,
Trans Fat
1
g
,
Cholesterol
145
mg
,
Sodium
1229
mg
,
Potassium
841
mg
,
Fiber
1
g
,
Sugar
17
g
,
Vitamin A
69
IU
,
Vitamin C
3
mg
,
Calcium
12
mg
,
Iron
1
mg
Make sure you check out more grilling recipes:
More Grilled Chicken Recipes: