Homemade Catalina Dressing recipe is a tasty blend of sweet and tangy ingredients. Enjoy it with salad, burgers and much more.
Homemade Catalina Dressing recipe
It is so easy to make Catalina dressing at home. Skip store bought salad dressing and make this simple recipe instead.
Homemade salad dressings take very little time but taste much better than anything you can buy. The flavor is amazing.
What is Catalina salad dressing?
It is a sweet and tangy salad dressing. The ketchup gives it the perfect amount of tomato flavor while the Worcestershire sauce makes it tangy.
Everything is balanced with the perfect hint of sweetness from the honey. The flavor is delicious and you only need a few seasonings you probably already have in the pantry.
This dressing is light and not heavy since there isn't any mayonnaise in the recipe. It is very versatile and tastes great with many different things. You can easily adapt this dressing for what you have on hand or prefer.
Ingredients:
Red Wine Vinegar
Ketchup
Honey
Worcestershire Sauce
Soy Sauce
Paprika
Onion Powder
Garlic Powder
Olive Oil
How to make Catalina Dressing:
Combine the ingredients. Add all of the ingredients to a blender.
Blend on a low speed. Continue to blend until fully combined and pureed.
Serve. Enjoy this delicious salad dressing. Everyone will love it.
Taco Salad with Catalina dressing:
The flavor of Catalina dressing pairs perfectly with taco salads. In fact, it is our favorite way to enjoy them.
The sweet and tangy combination of this dressing is so delicious with the ingredients of taco salad. Try it with Doritos Taco Salad or Crock Pot Taco Salad Recipe.
If you love Catalina dressing with taco salad, you will really love this homemade recipe with it. The flavor is even better and so yummy. Give it a try.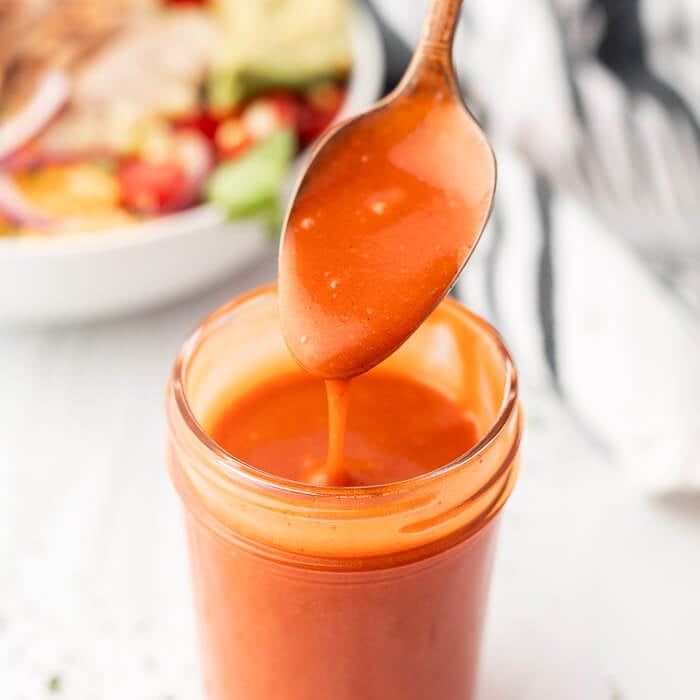 More Catalina dressing uses:
Burgers. The flavor is so yummy on Grilled Taco Burgers.
Salads
Chicken – Crock pot catalina chicken and Catalina grilled chicken. This dressing makes a tasty marinade or topping for chicken.
Wings. Baste chicken wings with the dressing and bake or grill.
Tacos. We love Walking Tacos for an easy dinner or party idea. Top with Catalina dressing for a great taco.
Pasta Salad. This dressing is a great base for pasta salad and adds the perfect blend of flavor. We love to add it to pasta with cut veggies for a quick and easy recipe.
How to store:
Pour the dressing inside an airtight container. The dressing needs to be stored in the fridge.
I like to use a mason jar. It seals tightly and keeps it fresh. I can also shake it up prior to using without worrying about any spills.
It is not recommended for freezing. The ingredients will separate once frozen.
How long will homemade Catalina dressing last?
It will last up to one month if stored properly. However, we use this dressing on so many different things and it does not last that long.
What is the difference between Catalina dressing and French dressing?
These dressing are very similar and often confused. However, Catalina dressing is more tomato based then French dressing.
Also, French dressing is lighter colored whereas Catalina is a richer darker color.
French dressing typically has more paprika in the recipe. As you can see, they are similar but not exactly the same.
There are several flavor differences in these two dressings.
Tips and tricks:
You must combine these ingredients in a blender or food processor to make sure that the ingredients are fully combined. You cannot just whisk them together as they won't have the right consistency or flavor.
Honey substitutes include agave and white granulated sugar. Either of these would be good options to try in this recipe. You will need less sugar in the recipe because honey is sweeter.
If you prefer a less sweet dressing, simply reduce the amount of honey in this recipe. It is simple to adapt this dressing recipe.
We used olive oil but you can substitute any mild flavored oil in this recipe. Grapeseed oil is a great alternative in this salad dressing recipe. Just make sure to use a neutral oil in this recipe.
It will have a slightly different flavor but you can use apple cider vinegar in this recipe. White Vinegar is another good substitute for this recipe.
For a slightly different flavor, try using smoked paprika in this dressing.
You can add the oil last if you are concerned about the ingredients blending together.
Salt and pepper to taste once everything is combined.
Grated Onion can be used instead of onion powder. The easiest way to do this is using a hand grater. I would use the largest holes and not the small ones or you will have excess liquid.
Ketchup is a prominent ingredient so make sure to use the brand you like the most. You can use sugar free ketchup if you are trying to reduce the sugar content in this dressing.
Try it today.
This dressing is very easy to make and packed with amazing flavor. It is light and zesty while not being too overpowering.
Everyone will love this simple recipe and I doubt you buy store bought again. From salads to tacos and burgers, this dressing never disappoints.
Make it today and see how easy and tasty it is. Anyone can make this recipe in minutes.
It is quicker and easier than a trip to the grocery store. You might even want to double the recipe once you see how many uses this dressing has.
Print this Catalina Dressing recipe below:
More homemade dressing recipes: