This post may contain affiliate links. If you make a purchase through links on our site, we may earn a commission.
Grilling is so much fun and we have lots of healthy grilling recipes to try. Whether you are looking for a healthy burger recipe or some delicious veggies, we have something for everyone.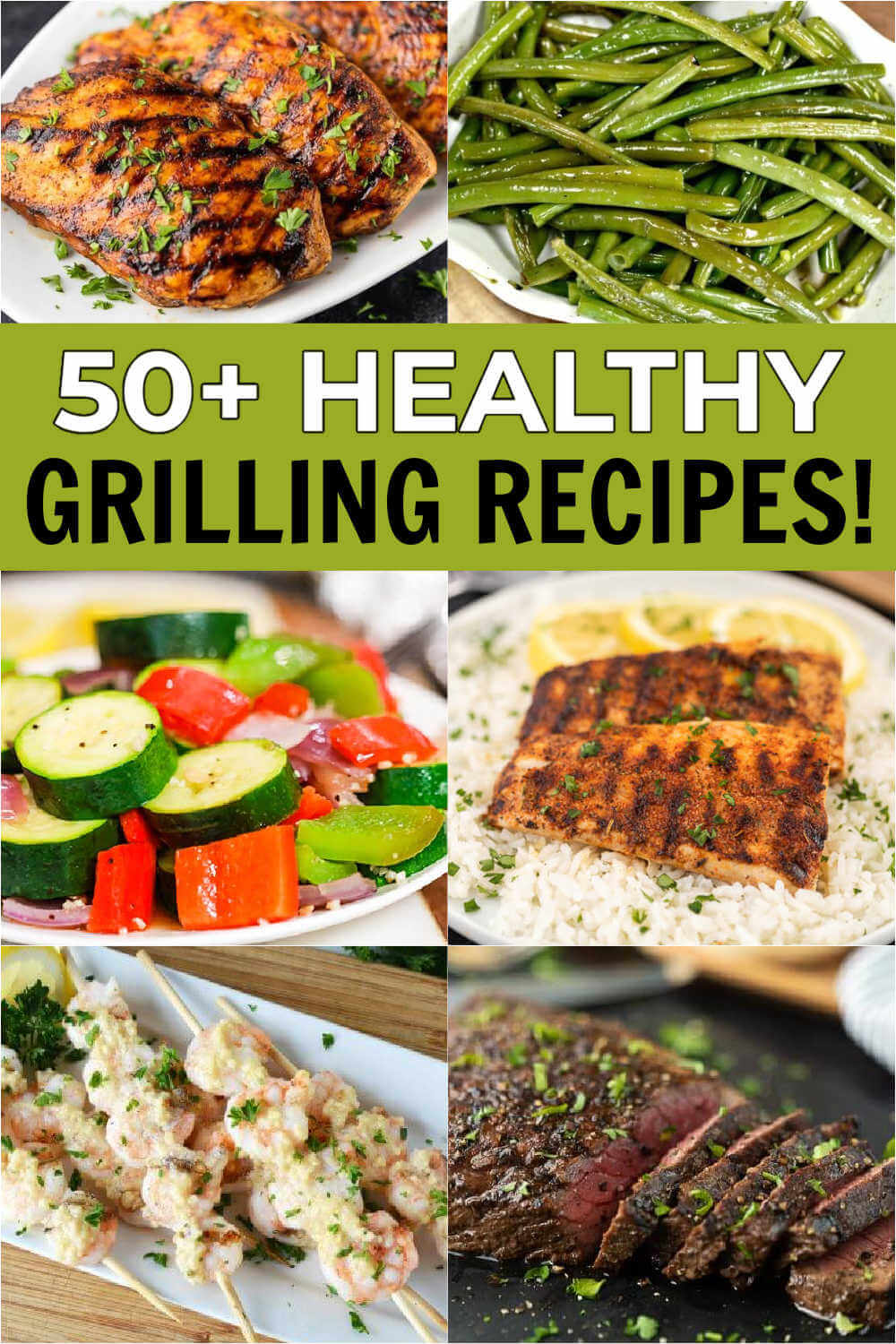 Healthy grilling recipes
We love grilling in the Summer! Truth be told, we love grilling any time its warm enough outside. What's not to love? It keeps your kitchen cool and cleanup is a breeze!
You are going to love this extensive list of healthy grilling recipes for you to try all year long! Let's get started.
Seafood: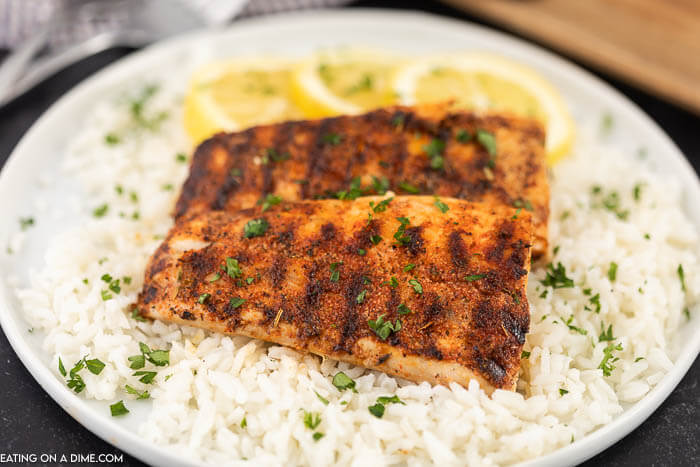 Grilled Mahi Mahi with Roasted Garlic and Herbs
Grilled mahi mahi recipe is so easy to make and you only need a few simple ingredients. Get dinner on the table fast with hardly any cleanup and a great meal in minutes.
Cedar Plank Grilled Salmon
This simple spice rub turns grilled salmon into something fabulous. This easy dish is flavor packed and sure to be a hit.
Spicy Grilled Shrimp Skewers
Shrimp with a little bit of heat on skewers makes a great meal idea. Spicy grilled skewers are so easy to make and only takes a few minutes.
Lemon Pepper Grilled Tilapia
This tilapia recipe is so easy it is hard to even call it a recipe. You can have dinner in under 10 minutes that is seasoned to perfection and so amazing!
Garlic Parmesan Grilled Shrimp Recipe
The flavor from the grill and all the seasoning from the parmesan shrimp make for an amazing recipe. Dinner can be ready in just minutes!

Beef and Pork: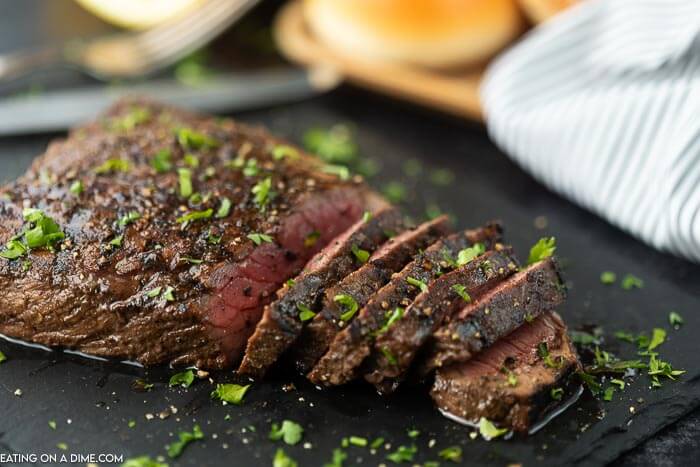 London Broil Marinade
This delicious marinade is easy to make and you can enjoy the best steak at home. The ingredients are simple and the flavor is amazing.
Grilled Taco Burger
Try this delicious twist on a traditional burger with lots of Mexican flavor, pico de gallo and melted cheese. You may never fix a normal burger again after trying this taco burger.
Souvlaki Marinade
This tasty marinade is perfect for beef, chicken or lamb. With just a few seasonings, this easy marinade comes together for a flavor packed meal.
Chili Beef with Homemade Barbecue Sauce
Homemade bbq sauce is super easy to make and more flavorful than store bought. Choose your favorite cut of beef and enjoy!
Pepper Jam Burger with Carmelized Onions and Gorgonzola
Jazz up a plain burger with delicious pepper jam and Carmelized onions. Burger night just got better!
Tropical Pineapple and Honey BBQ Ribs
Lime, pineapple and more blend together for a delicious barbecue sauce on ribs. Everyone will enjoy these tropical ribs.
Carne Asada
Delicious marinade turns skirt steak into tender and flavorful meat. Carne Asada tacos are simple and amazing.
Beer Marinated Grilled Steak
Steak gets even better with cilantro lime compound butter. This marinated grilled steak is a showstopper.

Best Steak Marinade
Our family loves steak so I just had to share the best steak marinade around! It is a 3 ingredient steak marinade and you will never make a steak without it again.
Pineapple Teriyaki Burger
Take plain burgers up a notch with sweet pineapple topping and teriyaki sauce. add cheese to the pineapple burger and you are set!
Perfectly Grilled Moist Pork Chop
With just a few simple ingredients, you can turn pork chops into a meal bursting with flavor. This meal is quick and easy.
How to grill steak
Learn all of the best tips so that your steak turns out perfectly each and every time. We have lots of tricks for the best steak!
Healthy grilled chicken recipes
Balsamic glazed chicken
This yummy balsamic chicken is the perfect blend of tangy and sweet while being so easy to prepare. Try this marinade on chicken breasts, thighs or anything you like.
Italian chicken marinade
The chicken turns out so tender and the Italian marinade is very simple. Grill or bake this and dinner is ready in minutes!
Hawaiian chicken kabobs recipe
The sweet and tangy marinade is perfect for veggies and chicken. Try this no fuss meal idea for a quick and delicious dinner.
Grilled Cilantro Lime BBQ Party Wings
BBQ sauce that is sweet and spicy gives these party wings a real kick. Perfect for dinner or Game day.
Grilled Bruschetta Chicken Pizza
Grilled pizza is so delicious and this bruschetta pizza is a crowd pleaser. Tomatoes, chicken and more make this pizza amazing.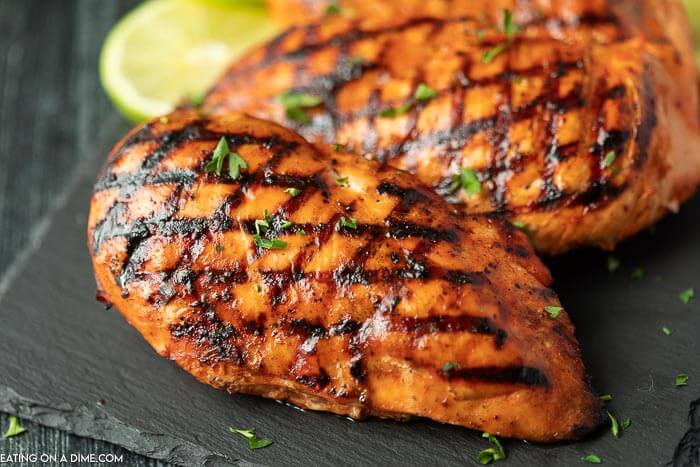 Catalina Glazed Grilled Chicken
Catalina chicken has the best flavor and tastes amazing on the grill. The entire recipe is so easy. Plus, you can use any type of chicken you prefer with this sweet and tangy dressing.
Lemon Thyme Chicken
Grilled lemon chicken with the perfect amount of thyme is a light and tasty meal. This combination is delicious.
Teri-Q Chicken Marinade
Grilled BBQ Teriyaki Chicken is inexpensive, quick and always a crowd pleaser. Give this tender and flavorful chicken a try for a great dinner.
Sweet Spicy Chicken Skewers
Pineapple, peppers and chicken make a sweet and spicy combination. Make chicken skewers for an easy and tasty meal.

How to Grill the Perfect Chicken
We have the best tips and tricks to learn how to grill chicken breasts perfectly every time. Try these tips for moist and tender chicken every single time!
Grilled Herb Chicken
Fresh herbs give this grilled chicken so much flavor. This recipe is easy to double and perfect for lunches during the week.
Meatless:
Grilled Zucchini Foil Packs
Veggie foil packs make the easiest side dish and clean up is a breeze. The veggies have the best flavor from the grill and it is so frugal.
Grilled Sweet Potatoes and Potatoes
Try these Grilled Sweet Potatoes for a savory and sweet side dish that is delicious. You are going to love how easy and tasty this Grilled Sweet Potatoes Recipe is.
How to Grill Corn on the Cob
Summer is just around the corner, and if there is one thing you should have on the grill, it should be grilled corn on the cob! This is the easiest basic recipe on how to grill corn, but it tastes amazing.
Grilled Avocados
Easy Grilled Avocado Recipe has the most amazing flavor. This recipe is so simple to prepare and absolutely delicious. Plus, it is keto friendly!
Easy Grilled Zucchini Spears
Get the grill ready and make these delicious Grilled Zucchini Spears. This is the perfect side dish to try for Summer that is easy, tasty and budget friendly.
Parmesan Grilled Zucchini
Parmesan Zucchini Recipe is a must try side dish that even the kids will love. It is so simple to prepare, inexpensive and healthy.
Peppers and Potatoes on the Grill
Tender peppers blended with potatoes in a foil pack make this side dish so tasty. Plus, cleanup is a breeze.
Foil Pack Grilled Potatoes
Foil pack potatoes help to make dinner a breeze. This is the perfect side dish to enjoy on the grill or the oven.
Grilled Asparagus
Asparagus with Greek seasoning is packed with flavor and very quick to prepare. The key to asparagus is to not overcook it.
Grilled Broccoli
The broccoli is packed with flavor from being grilled and the crispy edges just make it so much better! Grilled Broccoli is a must try.
Grilled Vegetable Packets
Try making Grilled Vegetables Foil Pack for an easy idea to add to your grilling or baking recipes. They are healthy, frugal and so simple to prepare.
Balsamic Grilled Zucchini and Red Onions
Learn how to make a very simple marinade for zucchini and onion. Balsamic grilled veggies are so flavorful and easy.
Grilled Asparagus
This is the easiest Grilled Asparagus Recipe you will try. There is no fuss and practically no work in making delicious grilled asparagus.
How to Grill Bell Peppers
Learn how to grill bell peppers for the perfect veggie to go with chicken, fish and more. The grill makes the peppers amazing with perfectly crispy edges.
Grilled Green Beans Recipe
If you have foil and a grill you can make some delicious side dishes and fresh green beans are no different. The texture is crunchy and kids love it.
More Ideas: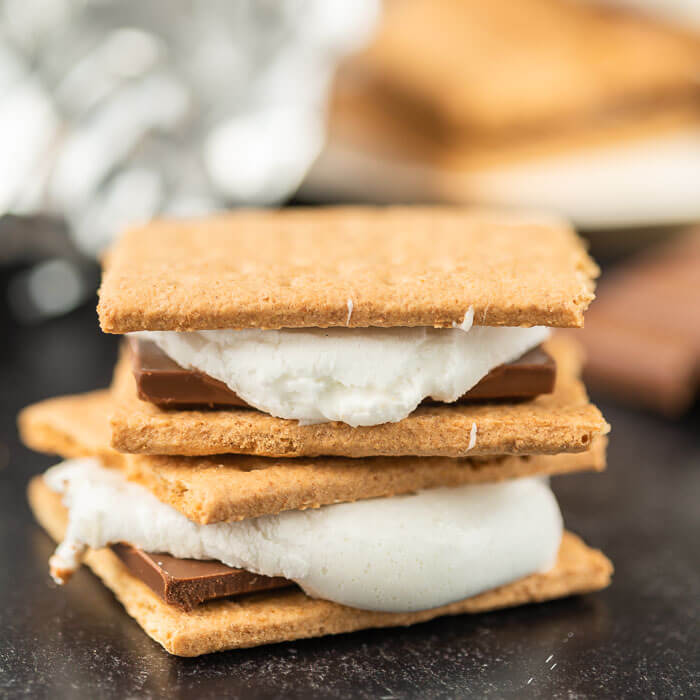 Easy to grill s'mores
Learn how to make easy grilled smores and enjoy an ooey gooey treat when grilling. We have all the tips and tricks to make easy smores on the grill.
Try these healthy grill recipes!
There you have it! Lots of delicious and healthy grilling recipes. Do you have a favorite grilling recipe you'd be willing to share? Be sure and let us know. We'd love to try it!
The great thing about grilling season is leftovers make a great summer salad. The entire family will love these healthy grilled recipes!
More easy recipes to try: