This post may contain affiliate links. If you make a purchase through links on our site, we may earn a commission.
We have the best tips and tricks to learn how to grill chicken breasts perfectly every time. Try these tips for moist and tender chicken every single time!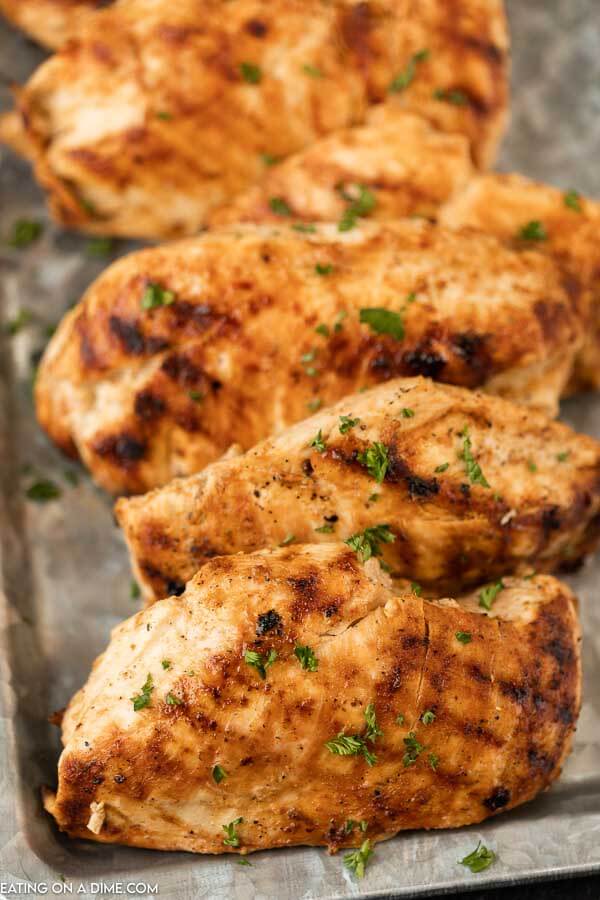 How to Grill Chicken Breasts:
We love to grill and have perfected this skill over time. Today, I am going to share our best tips so that you can enjoy wonderful chicken on the grill every time.
My husband has become quite the grill master. I am sure most of you know someone who is great at grilling and I really think my husband is the best. He can grill just about ANYTHING and it always tastes delicious.
However…. he hasn't always been good. We have eaten overcooked zucchini (Yuck) and burnt chicken before. But over the past few years he has gotten better and better.
Now… he is officially the GRILL MASTER! By the way, speaking of grilled chicken see How I Froze and Marinated 40 lbs of Chicken. This is great for grilling chicken. It is an easy way to save money and time all at once.
How do you grill chicken breast without drying it out?
We have the top 5 tips to ensure tender and flavorful chicken breast every single time. Keep reading for these easy tips!
1. Marinade or Baste your Chicken
Marinading your chicken really helps bring out the flavor. You want it to marinade for 30 minutes or longer even longer. Keep scrolling for our favorite grilling chicken marinade.
In fact, we like to freeze chicken in their marinade. Check out this post to learn what I mean.
Now marinading isn't always an option because you are short on time. Basting chicken is a great way to add flavor to your chicken.
In fact, basting is one of the best ways to grill the Perfect chicken. For example, our Grilled Balsamic Glazed Chicken recipe just wouldn't taste the same if it wasn't basted while it cooked.
2. Flip your Chicken often.
Many people will disagree with us on this, but flipping your chicken often prevents your chicken from sticking to the grill. If your chicken sticks to the grill, then your chicken will fall apart and you will lose some of the delicious flavor.
In fact, we flip the chicken within the first minute it goes on the grill and again every 2- 3 minutes until it is done. Trust me on this. So good!
How long to grill Chicken Breast
3. Don't overcook. This is super important!
Chicken doesn't take long to cook. If you over cook it, the chicken will be come dry and won't taste great.
If you pull it off right as the chicken is done, you will have moist and delicious chicken. On average chicken should take about 15 minutes to cook on a gas grill.
12 minutes if you chicken is thin and 20 minutes if you chicken is thicker.
You can also use a meat thermometer to check the internal temperature. The chicken needs to have an internal temperature of 165 degrees F.
I can't stress enough that you do not want to overcook the chicken!
Now you know how long to grill chicken breast on the grill.

4. Start out with high heat
You want to start out with high heat to get the pretty lines on each side. Each side should take about 2-3 minutes.
Next, turn the heat down to medium/low to let it keep cooking so you can have pretty but moist grilled chicken.
5. Make sure the chicken is not too thick and all the pieces are even.
I like to make sure each piece of chicken is about the same thickness so everything cooks evenly. You can use a meat tenderizer to pound the chicken and even it out if needed.
If one piece of chicken is thick on one end and thin on the other, it can make cooking difficult. I find it is an easy fix by simply pounding it all to even the chicken out.
The best grilled chicken breast recipe:
This is my favorite easy marinade recipe that I love using to make the best grilled chicken breast.
Ingredients needed for this marinade recipe:
Chicken Breasts
Apple Cider Vinegar
Olive Oil
Garlic Salt
Onion Powder
Pepper
How to make the best grilled chicken marinade:
It's very easy to make this simple chicken marinade. Place the chicken breasts in a storage bag or mixing bowl. Add in all the other marinade ingredients.
Stir to thoroughly combine the ingredients and then let the chicken marinade for at least 4 hours or overnight works as well. I love putting this chicken with the marinade in the refrigerator in the morning and then it's ready to grill when it's dinner time!
Then use all of our grilling tips to grill the chicken breasts perfectly!
What to serve with grilled chicken?
Here are some of my favorite side dish recipes that I love to serve with grilled chicken.
Plus, I love serving grilled chicken with an easy salad. Here are some of my favorite salads that go great with this easy grilled chicken recipe.
Print this easy grilling marinade recipe below:
How to Grill Chicken Breasts
We have the best tips and tricks to learn how to grill chicken breasts perfectly every time. Try these tips for moist and tender chicken every single time!
Instructions
Place the chicken in a bowl or a large storage bag.

Pour the other ingredients in the bag with the chicken.  Seal the bag and shake to thoroughly coat the chicken with the marinade. Allow the chicken to marinade in the refrigerator for a minimum of 4 hours or overnight.

Grill the chicken over medium high heat. Cook for 7-10 minutes per side until the chicken reaches an internal temperature of 165 degrees F.

Let the chicken sit for 5 minutes. Then slice, serve and enjoy!
Recipe Notes
Try to get the chicken breasts to be around the same thickness for evenly grilling.  I use a meat tenderizer to thin out some of the chicken breasts if they are thicker than others. 
Nutrition Facts
Calories
262
kcal
,
Carbohydrates
1
g
,
Protein
48
g
,
Fat
6
g
,
Saturated Fat
1
g
,
Trans Fat
1
g
,
Cholesterol
145
mg
,
Sodium
651
mg
,
Potassium
850
mg
,
Fiber
1
g
,
Sugar
1
g
,
Vitamin A
69
IU
,
Vitamin C
3
mg
,
Calcium
14
mg
,
Iron
1
mg
More chicken marinades to try:
Try these other easy grilled chicken recipes