You are going to love easy marinade – the Best BBQ Chicken Marinade. It has become one of our favorite grilling recipes. It is perfect for all seasons, but especially Spring, Summer, and Fall.
I'm not sure why, but one day I decided to combine BBQ sauce and A1 sauce. The combination is amazing! It has the perfect combination of tangy and sweet. It is now considered the best marinade for grilled chicken to our family.
Try this Quick Simple Chicken marinade today.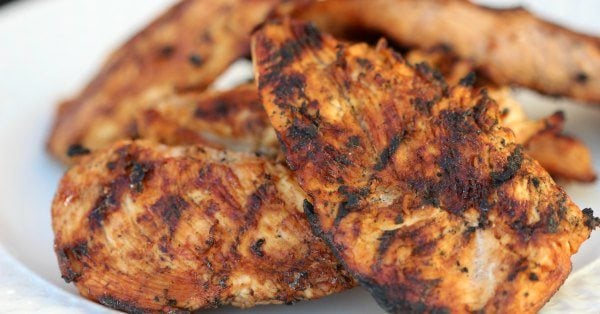 Best marinade for grilled chicken
This one of the best marinade for grilled chicken.  I bet your entire family will love it. We have just grilled chicken. We have basted it on pork chops and we have even made some yummy grilled chicken kabobs.
Ingredients you need:

How to make the Best BBQ Chicken Marinade:
Combine both sauces in a bowl and pour over your chicken. Marinade for 3-4 hours or over night.

Fire up your grill. Grill for about 8-10 minutes on each side. 
We really like to mix up an extra batch of the marinade and we like to use a grilling basting brush to brush our chicken while grilling. YUM!
 What to serve with this grilled chicken marinade:
I would serve this with our Parmesan Grilled Zucchini and Foil Pack Grilled Potatoes. My family also loves this 15 minutes Stuffed Cheesy Bread.
Money Saving tip:
I save money on A1 Sauce by waiting for a sale and using coupons. You will most often find BBQ sauce and A1 sauce on sale in the summer months, so stock up in May, June, July, and August.
More Grilling recipes to try: