This post may contain affiliate links. If you make a purchase through links on our site, we may earn a commission.
Choose from a ton of crock pot chicken recipes to make dinner time a breeze. From soups and casseroles to tacos and more, these easy slow cooker chicken recipes will transform dinner.
Crock pot chicken recipes
If you feel like you are running out of ideas for dinner, we have put together lots of easy and delicious Crock Pot chicken recipes to help you out. I love using the crock pot, especially on busy nights. It is so easy to just toss everything together and not think about dinner again until its time to eat it!

Now you definitely need a crockpot for these recipes. There are some really good ones on sale right now. If you work all day, you may want to invest in a programmable crockpot. They are awesome because you can set them to start later, or to stop and switch to warm once the dinners are ready.
I really recommend these Crockpot liners. They make clean up a breeze. Instead of scrubbing and washing the pot, you can just toss the liner. It is practically no clean up, and sometimes… saving time is worth more than saving money.
Let's get started with these easy slow cooker chicken recipes!
Crock pot chicken casseroles
Crock Pot Pesto Chicken Pasta Casserole
With very little prep work, this chicken casserole comes together quickly and easily. Tender chicken, flavorful pesto and more combine for a delicious meal everyone will enjoy.
Crockpot Chicken Alfredo Casserole
There is not much I love more than a simple and easy crock pot recipe. This alfredo recipe can be assembled in no time at all and has quickly become a family favorite in my household!
Crock Pot Cheesy Chicken Spaghetti Recipe
Chicken spaghetti is a creamy and delicious twist on traditional spaghetti. Your family will ask for this over and over. It is so easy to prepare that you can quickly throw this together any day of the week.
Crock Pot Roasted Red Pepper Chicken Casserole
Red peppers give this casserole the best flavor and it is so easy in the slow cooker. You will love this creamy and delicious red pepper sauce with the chicken and pasta.
Crock Pot Chicken Enchilada Casserole Recipe
This casserole is perfect for the warmer months because you can enjoy your favorite chicken enchiladas without heating up the kitchen. Let the crock pot do all the work.
Crockpot Chicken Pot Pie
This recipe gives you all of the joys of delicious comfort food without all the work. I know your family will love this chicken pot pie crock pot recipe!
Crockpot Chicken Alfredo Lasagna
If you love lasagna and Alfredo, this alfredo recipe is the one to try. The creamy and delicious sauce is the best comfort food and the slow cooker makes it the easiest meal ever.
Chicken Cordon Bleu Casserole recipe
Now you can enjoy chicken cordon bleu during busy weeknights thanks to this super easy crock pot recipe. Dinner just got easier thanks to this simple casserole.
Crock pot chicken soup recipes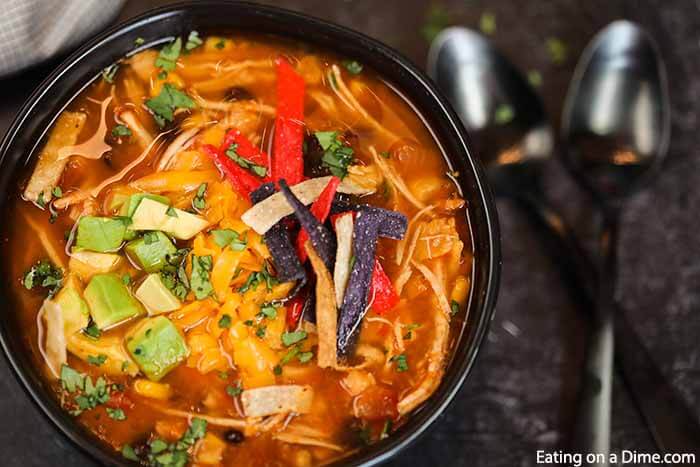 Crockpot Chicken Tortilla Soup
Enjoy the absolute best comfort food and it is so simple to make in the slow cooker. This recipe for tortilla soup can feed a crowd and it is so easy on the budget while tasting incredible.
Chicken Fajita Soup
If you are looking for a simple and delicious meal idea, try Chicken Fajita Soup. It's packed with flavor, low carb and sure to impress the entire family.
Slow Cooker Italian Chicken Soup
This delicious soup will be a tasty and easy meal idea. Crock Pot Italian Chicken Soup Recipe is hearty, filling and healthy.
Crockpot White Chicken Taco Chili
Taco chili is super easy and kid approved. You can add your favorite toppings and enjoy a great meal with little work.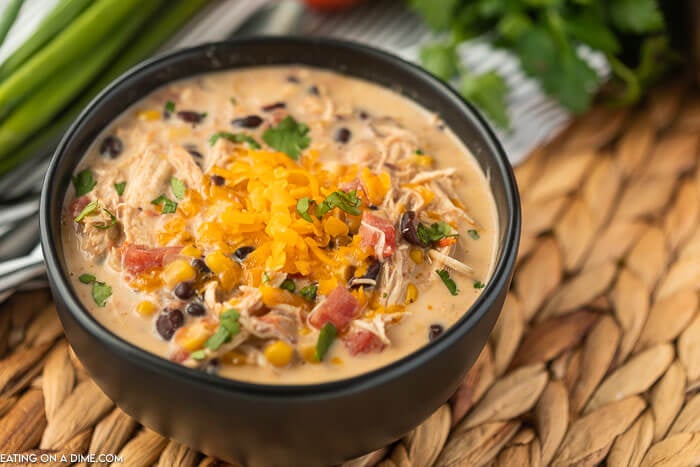 Crockpot Creamy Taco Soup
Taco soup is so creamy and delicious while being hearty and easy to prepare. This budget friendly meal is a crowd pleaser.
Crock Pot Chicken Noodle Soup
Why make homemade chicken noodle soup on the stove top when the crock pot can do all the work?! You'll be amazed by how easy this recipe is and delicious too!
Taco Chicken Soup
This is the answer to dinner when you need a delicious dinner without much effort. Simply toss all the ingredients in the slow cooker and taco chicken soup will be waiting to impress the family.
Crockpot Chicken Stew
Come home to the best comfort food when you make chicken stew. Each bite of chicken, potatoes and vegetables make this a filling and delicious meal without much work.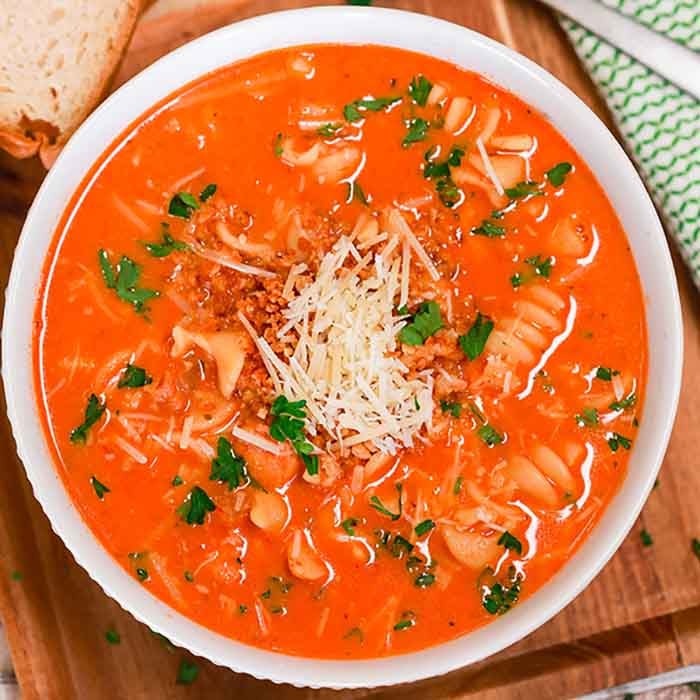 Crock Pot Creamy Chicken Parmesan Soup
Enjoy everything you love about Chicken Parmesan in this easy Chicken Parmesan soup. Each bite is loaded with flavor and the crock pot makes it super easy!
More easy crock pot chicken recipes
Slow Cooker Balsamic Chicken Sliders
Sweet and tangy and easy to make, this recipe for balsamic sliders will steal the show. From parties to family dinner, the crockpot does all the work to make chicken sliders quick and easy.
Slow Cooker Pineapple Chicken
The pineapple and chicken come together for the best flavor! Plus, this meal is so incredibly easy in the slow cooker! You are going to love pineapple chicken.
Slow Cooker Chicken and Zucchini
Chicken and Zucchini is an easy slow cooker meal that is budget friendly and delicious. Give this healthy recipe a try for a dinner idea your family will go crazy about.
Cheesy Bacon Ranch Chicken
If you love bacon as much as I do, I know you are going to love this Cheesy Bacon Chicken. It's only 6 ingredients and is packed with some much flavor.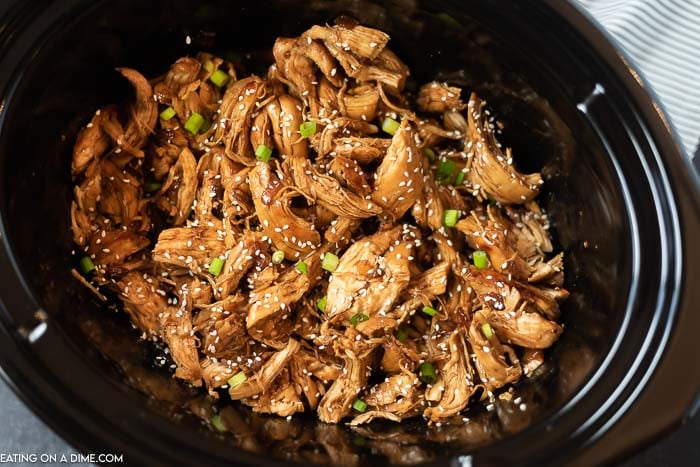 Crockpot Chicken Teriyaki
The sauce is flavor packed and amazing served over rice. Crock pot teriyaki chicken recipe is easy and delicious for the perfect weeknight dinner idea.
Slow Cooker Balsamic Chicken Recipe
While this dish looks and sounds fancy, it is so simple to make and tender and flavor packed. It's so tasty and the slow cooker makes balsamic chicken a breeze.
Crockpot Chicken Quesadillas
If you love Mexican food, try making this Chicken Quesadilla Recipe in the slow cooker. The chicken is so tender that it falls apart. It's the perfect recipe for busy nights.
Crockpot Chicken Fajitas
Whether it is Mexican Monday or Taco Tuesday, Crockpot Chicken Fajitas Recipe is so easy that you can make this any day of the week. Save time and money and make this amazing crock pot meal that your family will love.
Pizza Chicken
Make pizza chicken with all your favorite toppings. It's tasty and delicious and even the pickiest of eaters love this easy meal!
Barbecue Ranch Crockpot Chicken
Easy BBQ Ranch Chicken is super easy and perfect for busy weeknights. The sauce is thick and tangy and perfect to serve over rice. Delicious!
Crockpot Savory Shredded Chicken
Savory chicken is one of those really simple recipes that sounds too good to be true but is really fantastic. With just 3 ingredients, you can throw together dinner in no time at all that tastes amazing.
Crockpot Cilantro Lime Chicken
Tender chicken loaded with lots of lime and cilantro make a delicious meal. The slow cooker does all the work and you can serve your family a great meal.
Crockpot Santa Fe Chicken
Santa Fe Chicken is loaded with lots of creamy chicken, cheese, tomatoes and more for a dinner everyone will love. Come home to dinner waiting!
Crockpot Hawaiian Barbecue Chicken
Hawaiian chicken is a delicious blend of sweet and savory. With just 3 ingredients, this meal is perfect for busy weeknights. Serve over rice or on buns and dinner is complete!
Crockpot and Baked Chicken Taquitos
Here is a recipe that will soon become a new favorite with delicious chicken, cheese and more! This Crock pot Chicken Taquitos Recipe is so easy and requires little work because the slow cooker does all the cooking for you!
Crockpot Pulled Chicken
Pulled chicken is perfect for sandwiches, sliders and more. Try this recipe to easily feed a crowd.
Crockpot Lime Chicken
Jazz up your plain chicken with this delicious Lime Chicken Recipe. Toss everything in your slow cooker and come home to dinner waiting with this meal packed with flavor.
Crockpot Salsa Chicken
Only 4 ingredients and salsa chicken comes together for the best dinner. Serve this flavorful chicken in tacos, burritos, salads and more for an easy meal.

Which ones will you try?
Try a few each week, and you just might have some new recipes to add to your weekly menu plan.
More slow cooker chicken recipes to try: