Crock Pot Chicken and Zucchini Recipe is an easy slow cooker meal that is budget friendly and delicious. Give this healthy recipe a try for a dinner idea your family will go crazy about.
Crock Pot Chicken and Zucchini Recipe
This is the perfect meal to sneak in extra veggies to your family. It is also a a great way to use up produce that you might have.
Now, I was hesitant at first about the zucchini and if my kids would actually like it. However, the delicious tomato sauce and hearty chicken blends perfectly with the zucchini to make a meal even your kids will gobble up.
Trust me on this! It is a must try and absolutely delicious.
What is good to serve with Slow Cooker Chicken and Zucchini Recipe?
We love to eat this with pasta. Just use what your family likes or what you already have in the pantry.
It is good with any type of pasta. We have used rotini, penne, elbow and more.
Since you have the healthy and delicious zucchini in this dish, there really isn't any need to serve a side dish. This is truly a one pot meal.
However if you prefer something else, just a simple side salad would be great.
I love recipes like this for easy meals during weeknights when we are so busy. I think you all know how much I love my crockpot.
I am always testing out new ways to cook in my crockpot. With summer just around the corner, I am constantly trying to make a dinner in my crockpot that doesn't taste like heavy comfort food.
This recipe is light and not heavy at all. It is the best meal!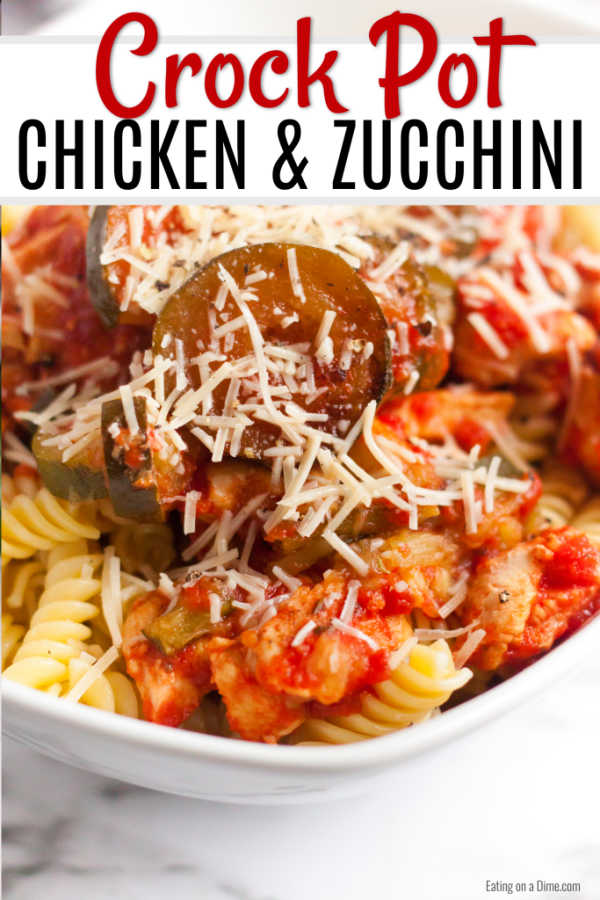 What do I need to make Crock Pot Chicken and Zucchini recipe?
chicken breasts
onion
tomatoes
chicken broth
Italian Seasoning
zucchini
You can have a delicious dinner with just a few simple ingredients. I know your family will love this meal and it is not complicated at all.
This is budget friendly, delicious and so quick and simple to make.
How do I make Crockpot Chicken and Zucchini?
Toss the chicken in your slow cooker. Add the onions and seasoning and that is really going to give the chicken such a great flavor!
Put the tomatoes over top and let cook all day on low.
You will won't to wait to add the zucchini until the last 2 hours.
I like to cut the chicken into smaller pieces before serving and put back in the slow cooker to mix up with the sauce.
Serve over pasta and dinner is ready! Talk about easy!
Keep reading for the full recipe.
The results of Crockpot Chicken:
This dinner is a winner! My kids said this was the best zucchini they have ever had.
In fact, my pickiest eater had thirds. I agree though – this dinner was delicious and easy.
It was very light… perfect for a warm day. Enjoy!
Your family will love this tasty meal and you will love how simple and easy it is.
You can also try Chicken Zucchini Yellow Squash Recipe.
This recipe is also really delicious with yellow squash in it. You can either mix it with the zucchini or just substitute yellow squash.
It is yummy either way and makes for a nice change. My family enjoys this as well.
The fresh zucchini and squash taste amazing with the Italian flavors. So yummy!
We love to meal prep and cut up the veggies before hand. It really helps during busy weeks.
Give Slow Cooker Chicken and Squash a try!
We love to make this recipe because it so simple but everyone loves it. As a mom, I love that it is healthy and the kids are getting extra veggies.
They don't seem to mind eating their veggies when I sneak them in a dish like this. Everyone loves it and it is a win all around.
It is the perfect recipe for the summer when produce is readily available. If you have a garden, it can be hard to figure out what to do with all the vegetables before they go bad.
This is a great recipe to keep on hand to use the zucchini and squash. Our entire family loves this so it makes for a really easy dinner idea.
Slow Cooker Chicken and Zucchini Recipe is a simple one pot meal!
Everything you need for a great dinner is in the slow cooker. One of my favorite things about this recipe is the easy clean up.
We are so busy and I don't have time for complicated recipes. I love that you do not need a ton of different pots and pans to make this meal.
This is perfect for busy weeknights when you have limited time to cook and clean up. It is easy to get dinner on the table with recipes like this one.
Just toss everything into the crock pot that morning and come home to a delicious dinner waiting for your family to enjoy. This is one of the recipes that I use when we are running from lots of different activities after school.
Take out is expensive and this takes the temptation away from eating out. I know I can get dinner on the table fast and not spend all night cooking and cleaning it all up.
Crock Pot Chicken and Zucchini Recipe is frugal and delicious.
The pasta, zucchini and tomatoes help to bulk up this meal. It is a good way to stretch your chicken.
We have a big family and this is a meal they love that does not break the bank. I can easily add more tomatoes or zucchini to stretch the meal if needed.
Sometimes the kids have friends over or we have guests that come over and it is around dinner time. I can easily feed extra people with tips like these.
You need a good crock pot for this Crock Pot Chicken and Zucchini Recipe.
One of my favorite slow cookers is this programmable crock pot for when I am am not at home all day. I love coming home to a nice meal ready and waiting!
If you are in the market for something new, I also love my Ninja cooker. We use this one frequently because you can brown the meat in the same slow cooker for recipes that call for that.
We love this option and it is so handy. I actually wish I had of bought one of these years ago because they are just so handy.
If you need a new slow cooker, I would definitely take a look at one of these first. They are awesome!
It cuts down on pans to clean and just makes thinks really simple. It has become of my favorite kitchen appliances.
I also really like this crockpot as well. I use this all the time and it's great for lots of recipes.
My favorite feature is that you can lock the lid down. This is awesome for when you need to take the crockpot somewhere.
I often use the slow cooker to take dishes to potluck events and this feature is amazing! There are several others on sale here.
I also like to use crock pot liners to make clean up a breeze. These are worth every penny and save a ton of time.
Trust me! Buy the crock pot liners if you don't already have any because they will save you so much time.
Print this Slow Cooker Chicken and Zucchini Recipe below:
Crock Pot Chicken and Zucchini
Crock Pot Chicken and Zucchini Recipe is a simple slow cooker meal that is frugal and tasty. Give this healthy recipe a try for a dinner everyone will love.
Ingredients
3

boneless skinless chicken breasts

1

onion cut into chunks

1

can of dice tomatoes

15 oz

1

cup

chicken broth

1

tablespoon

Italian Seasoning

Salt and pepper – Garlic Salt

to taste

3

zucchini coarsely chopped

16

oz

Rotini pasta
Instructions
Place chicken in crockpot with onions and seasoning.

Pour tomatoes and water on top.

Cook on low for 6-8 hours on low.

In the last 2 hours, mix in zucchini.

Once Zucchini is soft, cut chicken into smaller pieces.

Serve over Pasta.
Nutrition Facts
Calories
389
kcal
,
Carbohydrates
64
g
,
Protein
24
g
,
Fat
3
g
,
Cholesterol
36
mg
,
Sodium
188
mg
,
Potassium
833
mg
,
Fiber
4
g
,
Sugar
6
g
,
Vitamin A
305
IU
,
Vitamin C
26
mg
,
Calcium
73
mg
,
Iron
2.6
mg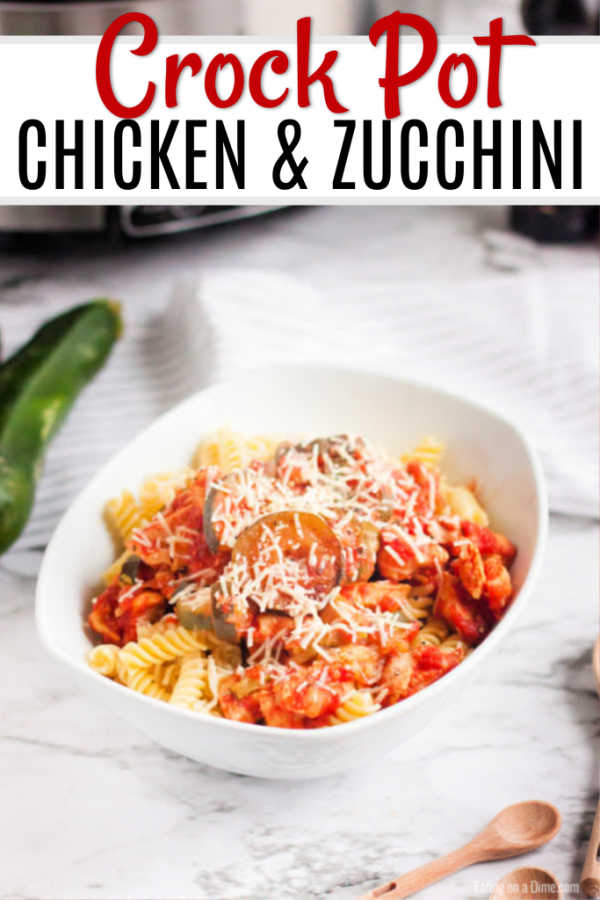 Try these healthy crock pot recipes:
Find more crock pot recipes below:
Be sure to check out all of our delicious Crock Pot Recipes here.