When it's cold outside, my favorite type of food to enjoy is this amazing Crockpot Chicken Noodle Soup. I love how easy this recipe is and that I can let my crock pot do all the work.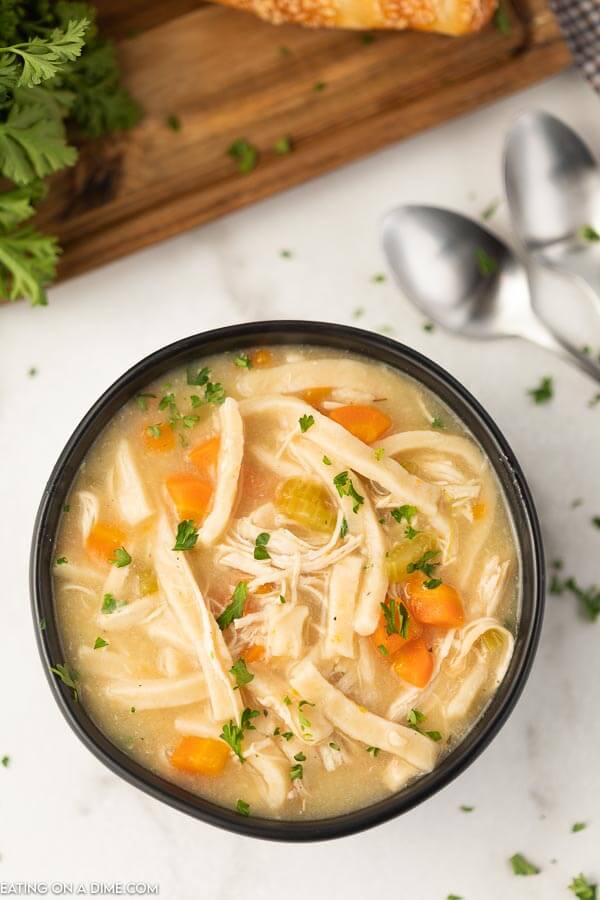 Chicken Noodle Soup Recipe Crock Pot:
I love comfort food. This soup is filled with so much warmth that it is perfect for a fall day or if you are fighting a cold! When it gets cold outside I love to make this soup as it just warms up the soul!
When I think of fall time, I think of sweaters, fires, and a bowl of Chicken Noodle Soup! My family loves it and it is so easy to make.
Slow Cooker Chicken Noodle Soup:
I love that this recipe is loaded with veggies, chicken and spices that I have on hand! I like to use thyme as it adds a delicious flavor to this recipe. You can also you Rosemary and Sage if you enjoy these herbs.
My favorite thing about this slow cooker chicken noodle soup is that it is very versatile and you can use your favorite herbs to season this recipe. If you grow your own herbs, throw in your favorites in the crock pot with the other ingredients and you will not be disappointed!
In addition, you can add a bay leaf to this chicken noodle soup recipe if you like the sweeter subtle flavor that bay leaves add to soup recipes. This recipe is easy to alter to make it perfect for your family and you!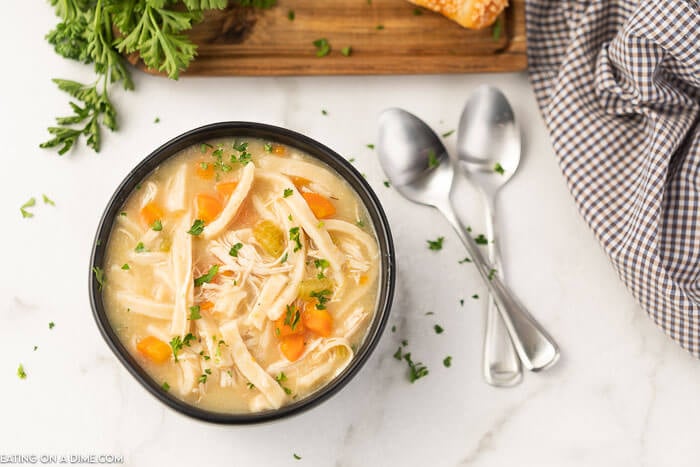 Crock Pot Chicken Noodle Soup Recipe:
Chicken Noodle Soup is the best comfort food. I grew up eating chicken noodle soup out of a can. If you did too, then you need to try this Crock Pot Chicken Noodle Soup recipe.
I love the ease of throwing everything in the crock pot and come home with dinner done! If you are looking for more crock pot recipes then you definitely need to check out my other soup recipes!
We also have a Chicken Noodle Soup Recipe for the Instant Pot! You will love how quickly you can get dinner on the table for your family.
You'll need a great crock pot to make this
:
Now you definitely need a crockpot for this recipe. There are some really good ones on sale right now. If you work all day, you may want to invest in a programmable crockpot. They are awesome because you can set them to start later, or to stop and switch to warm once the dinners are ready.
If you want to save yourself even more time (don't we all?) then I really recommend these Crockpot liners. They make clean up a breeze. Instead of scrubbing and washing the pot, you can just toss the liner. It is practically no clean up… seriously, no clean up at all.
Ingredients:
Boneless skinless chicken breasts (or chicken thighs)
Chopped Onion
Chopped Carrots and Celery
Salt and Pepper
Thyme
Season Salt (just a dash)
Minced Garlic
Flour
Chicken Stock or Low fSodium Chicken Broth
Reame's Frozen Noodles or Wide Egg Noodles
How to make Crockpot Chicken Noodle Soup:
First add the chicken to your favorite crock pot. Then add the onion, carrots and celery to the slow cooker as well.
Next add in the seasonings or you can use fresh herbs if you prefer.
Then take 1 cup of water or chicken broth and whisk in the ½ cup of flour. Pour this in the crock pot as well.
Next add the remaining chicken broth or water. Cover and cook on low for 6-8 hours or cooked on high for 3-4 hours.
Finally, in the last hour of the cook time, add in the noodles. Put your crock pot on the high setting and allow the crock pot to cook the noodles for you. You will need at least 30 minutes to cook the pasta inside the slow cooker.
After this hour, remove the chicken, shred the chicken and return it to your slow cooker. Stir all the ingredients together and enjoy!
Is it better to cook noodles before adding to soup?
I like to add them directly to the crockpot, but make sure it is the last ingredient you add. Wait until the soup is close to be finished and then add the noodles directly to the crock pot.
Let the noodles simmer until they are about halfway cooked. The noodles will continue to cook with the residual heat from the soup.
Serving Ideas:
I enjoy serving this chicken noodle soup recipe with some homemade dinner rolls or garlic toast from the freezer to complete this dinner.
Check out What to Serve with Chicken Noodle Soup for more easy side dish ideas.
This recipe is budget friendly!
If you don't have any of these, you can add egg noodles instead that you got for cheap or even gluten free noodles. It would only take about 20 minutes in the crockpot to cook instead of the full hour.
My family just loves this recipe and it feels great on our sore throats. This is a regular addition to our weekly fall and winter menu. Enjoy!
Print the recipe below:
Crockpot Chicken Noodle Soup
Try this easy Crockpot Chicken Noodle Soup recipe. If you can toss food in a crockpot, you can enjoy this delicious slow cooker chicken noodle soup recipe.
Ingredients
2

boneless skinless chicken breasts

1/2

onion

chopped

3

stalks

celery

chopped

3

carrots

chopped

1

tsp

Salt

1/2

teaspoon

black pepper

1/4

teaspoon

dried thyme

1

teaspoon

minced garlic

1/4

cup

flour

4

cups

chicken broth

4

cups

water

16

oz.

Frozen Noodles

(we used Reames but any will work)
Instructions
Place the chicken, onions, carrots, and celery in a 6 quart crock pot.

Stir together the flour and water in a medium size bowl.

Pour this mixture into the crock pot.

Add in the chicken broth.

Cover and cook on low for 6-8 hours or on high for 3-4 hours.

Shred the chicken and then stir in the frozen noodles.

Cover and cook on low for 1 hour or on high for 30 minutes until the noodles are cooked through.
Recipe Notes
You can use frozen chicken breast for this recipe.  When using frozen chicken, you will need to increase the cook time by 1 hour if cooking on low or 30 minutes if cooking on high. 
Also, you can use regular egg noodles instead of frozen noodles if this recipe.  If you use regular egg noodles, this will cook in 30-45 minutes on low in the crock pot.  
Nutrition Facts
Calories
317
kcal
,
Carbohydrates
52
g
,
Protein
18
g
,
Fat
4
g
,
Saturated Fat
2
g
,
Trans Fat
1
g
,
Cholesterol
111
mg
,
Sodium
1064
mg
,
Potassium
438
mg
,
Fiber
3
g
,
Sugar
4
g
,
Vitamin A
5202
IU
,
Vitamin C
15
mg
,
Calcium
40
mg
,
Iron
1
mg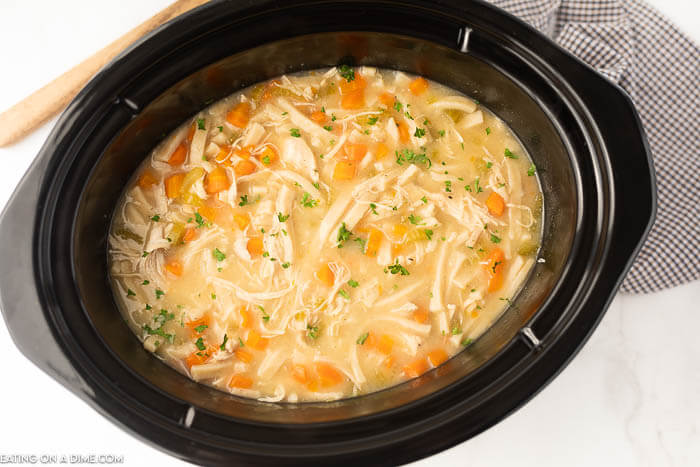 What variations can you make for this
recipe?
As I mentioned earlier, this recipe is very versatile and you can easily make slight alterations to change this recipe up or make it your own.
If you don't own a crock pot, you can prepare this recipe on a stove top and it will be ready in only 20 minutes. You can find this recipe here: 20 minute Homemade Chicken Noodle Soup Recipe.
In addition, you can easily make crockpot creamy chicken noodle soup by mixing in 1 cup of heavy whipping cream into the slow cooker during the last hour of the cook time.
Also, if you want to save even more time, you can easily make crock pot chicken noodle soup with frozen vegetables instead of fresh ones. The frozen bags of peas and carrots or the frozen bag of mixed green beans, corn, peas and carrots both work great in this crock pot recipe.
I just throw this bag of veggies in the crock pot instead of the fresh vegetables and it tastes delicious!
More Crock Pot soups to try: