This post may contain affiliate links. If you make a purchase through links on our site, we may earn a commission.
When it's cold outside, my favorite type of food to enjoy is this amazing Crockpot Chicken Noodle Soup. I love how easy this recipe is and that I can let my crock pot do all the work.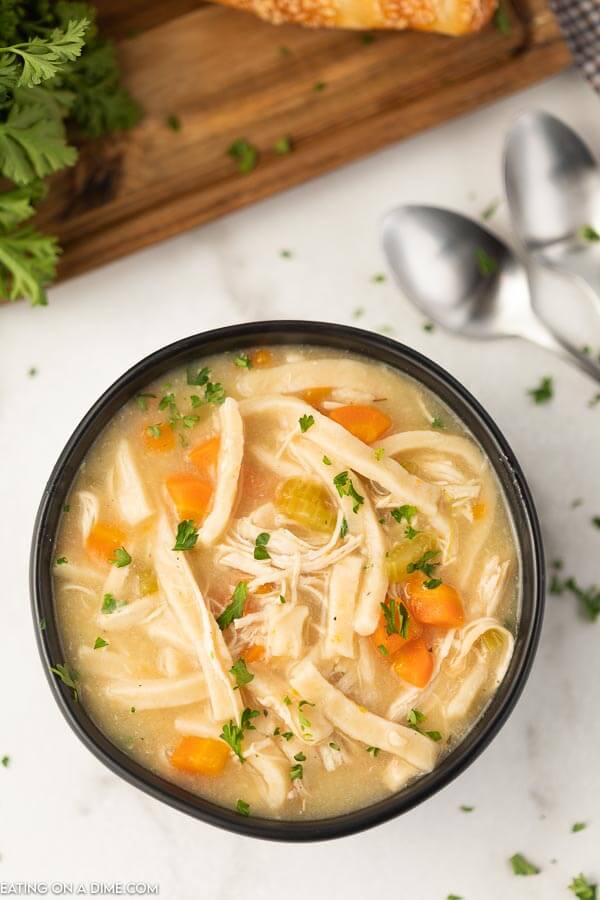 Crockpot Chicken Noodle Soup Recipe:
I love comfort food. This soup is filled with so much warmth that it is perfect for a fall day or if you are fighting a cold! When it gets cold outside I love to make this super easy soup as it just warms up the soul!
When I think of fall time, I think of sweaters, fires, and a bowl of Chicken Noodle Soup! My family loves it and it is so easy to make.
I love the ease of throwing everything in the crock pot and come home with dinner done! If you are looking for more crock pot recipes then you definitely need to check out my other soup recipes!
Slow Cooker Chicken Noodle Soup:
I love that this recipe is loaded with veggies, chicken and spices that I have on hand. I like to use thyme as it adds a delicious flavor to this great recipe. You can also you Rosemary and Sage if you enjoy these herbs.
My favorite thing about this slow cooker chicken noodle soup is that it is very versatile and you can use your favorite herbs to season this recipe. This soup is definitely a family favorite.
We also have a Chicken Noodle Soup Recipe for the Instant Pot. You will love how quickly you can get dinner on the table for your family.
Slow Cooker Chicken Noodle Soup Ingredients
Boneless skinless chicken breasts (or chicken thighs)
Chopped Onion
Chopped Carrots and Celery
Salt and Pepper
Thyme
Season Salt (just a dash)
Minced Garlic
Flour
Chicken Stock or Low Sodium Chicken Broth
Reame's Frozen Noodles or Wide Egg Noodles
How to Make Chicken Noodle Soup in Crock pot:
Add Ingredients to Slow Cooker – First add the chicken to your favorite crock pot. Then add the onion, carrots and celery to the slow cooker as well.
Top with Seasoning – Next add in the seasonings or you can use fresh herbs if you prefer. We like to add in a bay leaf.
Add the flour slurry – Then take 1 cup of water or chicken broth and whisk in the ½ cup of flour. Pour this in the crock pot as well.
Stir in Broth and Cook – Next add the remaining chicken broth or water. Cover and cook on low for 6-8 hours or cooked on high for 3-4 hours.
Add in Noodles – Finally, in the last hour of the cook time, add in the noodles. Put your crock pot on the high setting and allow the crock pot to cook the noodles for you.
Continue Cooking – You will need at least 30 minutes to cook the pasta inside the slow cooker.
Shred Chicken, Serve and Enjoy – After this hour, remove the chicken, shred the chicken and return it to your slow cooker. Stir all the ingredients together and enjoy!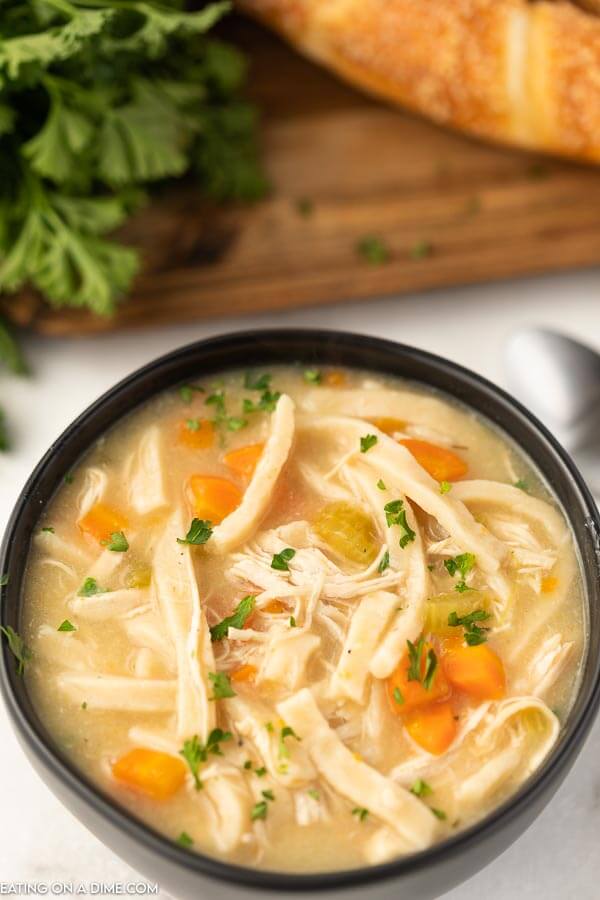 Can I add Noodles to Slow Cooker?
I like to add them directly to the crockpot uncooked, but make sure it is the last ingredient you add. Wait until the soup is close to be finished and then add the noodles directly to the crock pot.
Let the noodles simmer until they are about halfway cooked. The noodles will continue to cook with the residual heat from the soup.
If you want, you can cook the noodles first and then add. Just make sure you undercook the noodles because the pasta will continue to cook in the soup.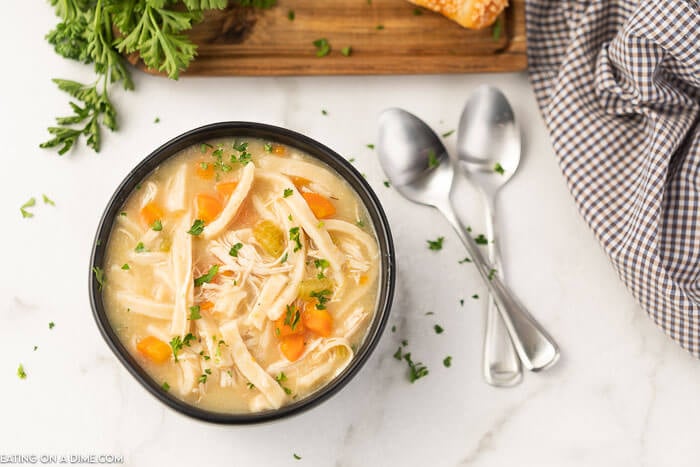 Variations:
Fresh Herbs – Feel free to use fresh herbs with this soup. Fresh rosemary can be added for added flavor. I also like to toss in a few bay leaves. But be sure to remove them before you serve.
Change the Noodles – You can use frozen noodles, dry egg noodles, whole wheat noodles or make homemade noodles.
Chicken – We used chicken breast in this recipe, but you can also use skinless, boneless chicken thighs. You can use leftover chicken or rotisserie chicken.
Chicken Broth – You can use chicken broth, chicken stock or just water. Chicken stock adds richness to the soup. But any of these will work.
Carrots – You can use baby carrots or slice and chop fresh carrots.
Make it creamy – Add in a cup of heavy cream or whole milk into the soup for the last 5-10 minutes of the cook time to make a creamy chicken noodle soup. You can also add in a can of cream of chicken soup.
Use Potatoes or Rice – If you don't love noodles or maybe your family cannot have gluten, this soup is delicious with diced up potatoes or cooked rice stirred into it instead of the noodles.
Add More Vegetables – A great way to sneak in more veggies to your diet is to add them in soups. Kale or spinach would be a great addition to this soup recipe.
What to serve with Chicken noodle Soup
Crock Pot Chicken Noodle Soup Tips:
Diced Vegetables – When you are chopping vegetables for other meals, chop extra for other meals. Carrots, onions and celery freeze great and can be easily added to many different recipes.
Use Leftover Chicken – This soup is great to make with leftover chicken. I will initially make extra chicken one night so that I can use the leftovers in this soup another night of the week.
Seasoning – The seasoning can be changed to what you have on hand. Dried thyme is what I usually use for this recipe. You can also use rosemary, oregano or basil to add flavor to this soup.
Is Chicken Noodle Soup Healthy?
Chicken Noodle Soup is a soup that just warms the soul. It is perfect when it is cold outside and your need something that will warm you up. It is the perfect soup to serve by itself or add on a side.
This soup is also a soup that is great when you are not feeling your best. My mom always fixed us a bowl of the canned chicken noodle soup when we were sick, so now I serve homemade chicken noodle soup for my family.
Depending on the ingredients you add, this can be a healthy soup. It is made with chicken, vegetables, broth and combined with noodles.
What Herbs are used in Chicken Noodle Soup Slow Cooker Recipe?
There are many herbs that can be added to this chicken noodle soup. We love the flavors of thyme but you can also add in rosemary, oregano or basil. We usually dried herbs, but feel free to had in fresh herbs.
Can Chicken Noodle Soup be made ahead of time?
Yes, you can make this soup ahead of time and store it in an air tight container in the refrigerator for up to 3-4 days. If you make this soup ahead of time, I recommend waiting to add in the noodles until you are ready to serve.
The noodles will soak up the broth as it sits and they may become soggy. Then when you're ready to enjoy the soup, heat it up in a large pot on the stovetop and then add in the dried noodles and cook until the tenderness that you prefer.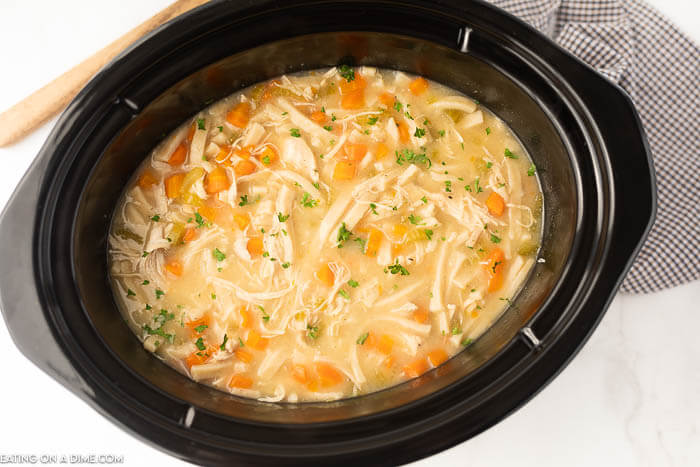 How to Store:
Place leftover soup in air tight container for about 3 to 4 days. We like to place in individual container for an easy lunch the next day. We love having soup the next day as the flavors really marinate together to make a flavorful soup.
When we are ready to reheat, you can place in a microwave safe dish or reheat on the stove.
Can this Soup be Frozen?
Yes, this soup can be frozen for up to 3 months in a freezer safe, air tight container. Again, I would wait to add the noodles if you are going to freeze this soup as they will soak up the broth.
When ready to serve, defrost the soup out in the refrigerator, reheat on the stovetop and add in the dried noodles to cook to your preference.
See Can you Freeze Chicken Noodle soup for more tips.
Print the recipe below:
Crockpot Chicken Noodle Soup
Try this easy Crockpot Chicken Noodle Soup recipe. If you can toss food in a crockpot, you can enjoy this delicious slow cooker chicken noodle soup recipe.
Instructions
Place the chicken, onions, carrots, and celery in a 6 quart crock pot.

Stir together the flour and water in a medium size bowl.

Pour this mixture into the crock pot.

Add in the chicken broth.

Cover and cook on low for 6-8 hours or on high for 3-4 hours.

Shred the chicken and then stir in the frozen noodles.

Cover and cook on low for 1 hour or on high for 30 minutes until the noodles are cooked through.
Recipe Notes
You can use frozen chicken breast for this recipe.  When using frozen chicken, you will need to increase the cook time by 1 hour if cooking on low or 30 minutes if cooking on high. 
Also, you can use regular egg noodles instead of frozen noodles if this recipe.  If you use regular egg noodles, this will cook in 30-45 minutes on low in the crock pot.  
Nutrition Facts
Calories
317
kcal
,
Carbohydrates
52
g
,
Protein
18
g
,
Fat
4
g
,
Saturated Fat
2
g
,
Trans Fat
1
g
,
Cholesterol
111
mg
,
Sodium
1064
mg
,
Potassium
438
mg
,
Fiber
3
g
,
Sugar
4
g
,
Vitamin A
5202
IU
,
Vitamin C
15
mg
,
Calcium
40
mg
,
Iron
1
mg
More Crock Pot Soups to Try: