This post may contain affiliate links. If you make a purchase through links on our site, we may earn a commission.
Crock pot teriyaki chicken recipe is easy and delicious for the perfect weeknight dinner idea. The sauce is flavor packed and amazing served over rice.
Crock pot teriyaki chicken recipe is the best!
We are so excited to share with you this easy crockpot recipe. It is seriously the best chicken and so easy in the slow cooker. Your family will love having a meal like this in the middle of the week.
They will think it is Sunday dinner. No one will believe how little work this Crock Pot Teriyaki Chicken recipe takes because it is so flavorful.
This recipe will blow your mind with the flavor packed in it but you will also be surprised how easy it is to throw together.
Tip: The best part is you can freeze it too. Make extra to freeze because everyone will love it!
Scroll down below and see how easy it is to turn this into a freezer meal.
We normally serve it over rice but we have also eaten it almost like a soup. Either way it is a delicious dinner that you can toss in the crock pot in minutes!
Go ahead and put some rice in another crock pot and make this easy Crock Pot Rice Recipe. The sauce is so amazing that you will want to eat it by the spoonful.
Be sure to check out all of our delicious Crock Pot Recipes here.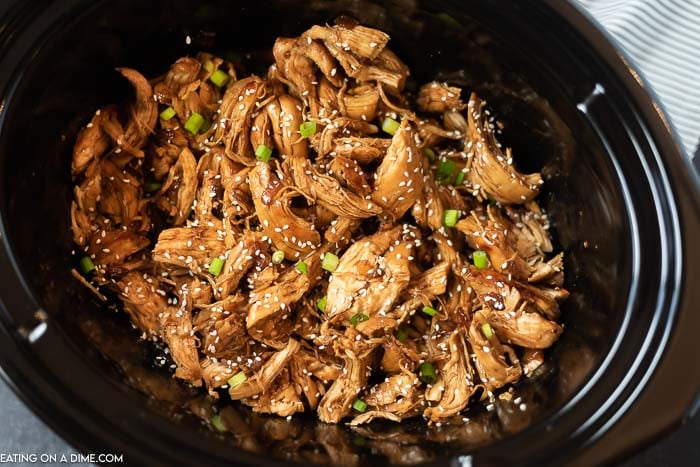 Freezer friendly?
YES! You could create a crockpot bag. Basically you toss everything in a freezer bag (uncooked) and freeze.
Then when you are ready to cook, you would simply place the frozen ingredients in your crockpot in the morning and cook like normal. This is a VERY easy form of freezer cooking that can make your life a TON easier!
Oh make sure you have some of these handy Freezer bag holders . They are optional but you will love having an extra set of hands in the kitchen.
Is it OK to put raw chicken in crock pot?
Yes, you certainly can. Just toss and go. The chicken will be slow cooked to perfection and very tender.
The chicken is so easy to shred once cooked. This is one of my favorite ways to cook chicken and so easy on busy mornings. Just toss and go!
Ingredients:
boneless skinless chicken breasts
white onion
brown sugar
low sodium soy sauce
rice wine vinegar
honey
minced garlic
ground ginger (See The Best Ginger Substitutes)
pepper
sesame seeds – option but we love to top each serving with a few.
green onion – another optional ingredient but adds a nice pop of color on top of each serving.
How to make crock pot Teriyaki Chicken:
1. First, get your crock pot out. I love to use my programmable crockpot when I'm going to be gone all day. Oh and to save time with cleanup, use Crockpot liners.
2. Second, add the chicken to the slow cooker and put the chopped onion on top. We save a bunch of time by using a food processor to chop the onions. I actually keep diced onion in the freezer and it is one of my favorite meal prep tips.
3. Next, get a mixing bowl and combine the brown sugar, honey, soy sauce, rice wine vinegar, minced garlic, ginger and pepper. Make sure everything is well combined.
4. Pour this delicious mixture all over the chicken. This is going to make your house smell amazing as it simmers all day.
5. Finally, let cook on low for about 6 hours and then take the chicken out. Shred the chicken and put back in the slow cooker and mix together with the sauce.
How to serve Slow cooker teriyaki chicken?
We normally just serve it with rice and call it a day. It is simple, easy and all the kids love it. I'm usually busy so it helps me to make crockpot rice.
If I'm in the mood for something green, I will add steamed broccoli that I fix in the microwave. It only takes a few minutes and it is so easy.
Try this slow cooker teriyaki chicken recipe!
Slow cooker teriyaki chicken is so amazing with the brown sugar blend in the homemade teriyaki sauce. I love to literally just pour it on my rice and eat it like soup. It is that good.
This super easy recipe is a must try. We also love Grilled teriyaki steak recipe.
Print the Crock pot Chicken Teriyaki recipe below:
Crockpot Chicken Teriyaki
This is an easy Crock pot Teriyaki Chicken Recipe that your family will love. Crock pot chicken teriyaki is a quick and easy crock pot recipe.
Ingredients
4

boneless skinless chicken breasts

1/2

white onion

1/4

cup

brown sugar

1/2

cup

Low Sodium Soy Sauce

1/4

cup

rice wine vinegar

1/4

cup

honey

2

tsp

minced garlic

1/2

tsp

ground ginger

1/2

tsp

pepper

2

tbsp

sesame seeds

Optional for Topping

2

Stalks

green onions

diced, Optional for Topping
Instructions
Place chicken in a 6 quart crock pot and top with the chopped onions.

In a small mixing bowl, combine the brown sugar, honey, soy sauce, rice wine vinegar, minced garlic, ground ginger and pepper.

Pour this mixture on top of the chicken and onions in the crock pot.

Cover and cook on low for 6-8 hours or on high for 3-4 hours.

Remove the chicken, shred and then stir the chicken back into the sauce.

Serve over rice topped with the sesame seeds and green onions.
Recipe Notes
This recipe will blow your mind with all the flavor it has packed in it!
Nutrition Facts
Calories
201
kcal
,
Carbohydrates
25
g
,
Protein
18
g
,
Fat
3
g
,
Saturated Fat
1
g
,
Cholesterol
48
mg
,
Sodium
801
mg
,
Potassium
375
mg
,
Fiber
1
g
,
Sugar
21
g
,
Vitamin A
62
IU
,
Vitamin C
2
mg
,
Calcium
49
mg
,
Iron
1
mg
More easy crock pot chicken recipes: