Ground pork fills this delicious Fried Wonton appetizer. This delicious appetizer is fried golden brown and easily served with a tasty sauce.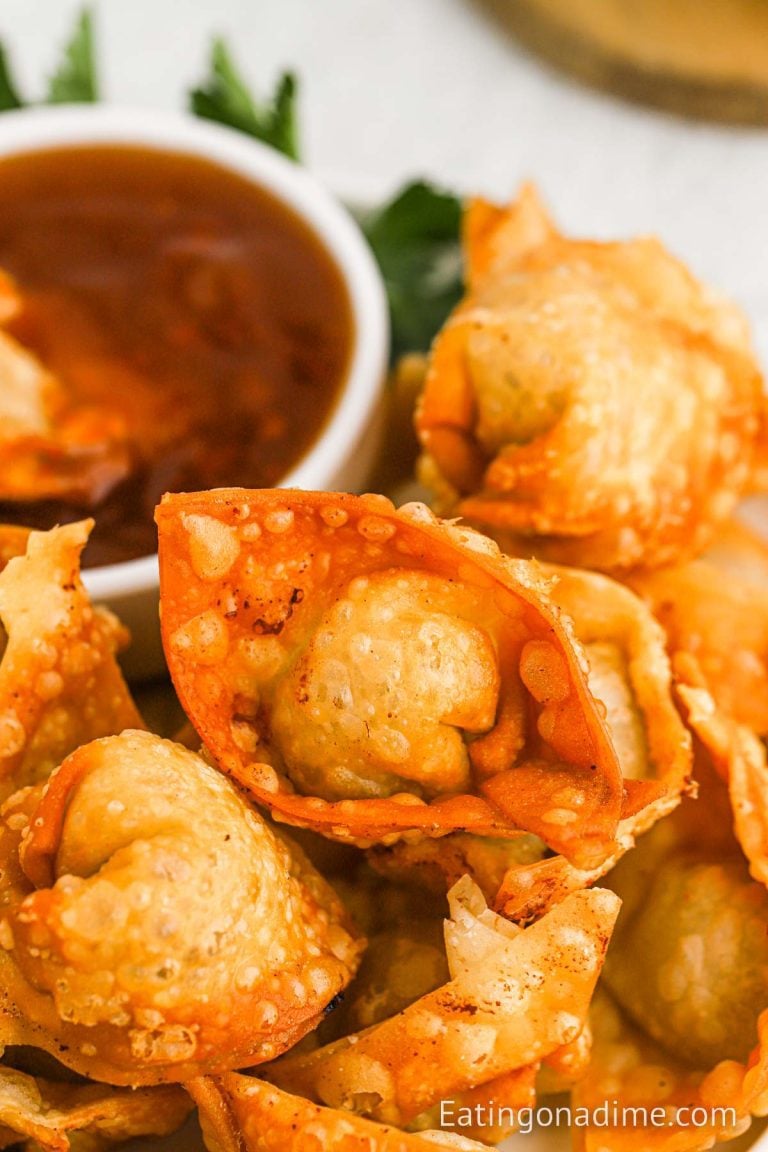 Fried Wonton Recipe:
If you like going to Chinese Restaurants, then you have probably been served Fried Wontons. This delicious appetizer is made with delicious ground pork and deep fried to perfection.
Crispy Fried Wonton are easy to make and now we can make our favorite appetizer at home with this simple recipe. If you love Chinese food as much as my family, then you need to make this recipe.
The wonton wrappers can easily be found at the store to make this appetizer. The wrappers help to hold a delicious pork filling and served with your favorite dipping sauce.
What is a Fried Wonton?
Fried Wonton is a Chinese Dumpling filled with different types of meat. You may find them in your wonton soup, but we like them deep fried. They are the perfect appetizer for many dishes but mainly for your Asian inspired dishes.
This easy appetizer is simple to prepare and anyone can do it. The wrappers can easily be found in the Asian section of your grocery store or produce section.
Once you have stuffed the wonton wrappers they fry up in minutes. You can also air fry these if you prefer.
Ingredients:
Ground Pork
Green Onions (finely chopped)
Soy Sauce
Sesame Oil
Salt
Pepper
Cornstarch
Minced Ginger
Water
Wonton Wrappers (12 ounces)
Vegetable Oil (for Frying)
Sweet Chili Sauce (for Serving)
How to Make Fried Wontons:
Step 1 – Combine Ingredients – In a medium size mixing bowl, stir together the ground pork and green onions. Then add in soy sauce, sesame oil, salt, pepper, cornstarch and ground ginger. Use a wooden spoon or your hands to combine all the ingredients.
Step 2 – Stuff the papers – Place approximately 1 teaspoon of the pork mixture into the center of each of the wonton papers. Moisten the edges of the wrapper with the water and fold them toward the center to form a dumpling in the shape of a triangle.
Step 3 – Continue stuffing – Continue this process until all the pork mixture is used.
Step 4 – Prepare Skillet – Heat approximately 2 inches of the vegetable oil in a large stock pot or pan. Heat over medium high heat until the oil is approximately 350 degrees F.
Step 5 – Fry Wontons – Fry the prepared wontons in small batches in the oil for 2-3 minutes until golden brown. Be careful not to overcrowd the pan.
Step 6 – Place on plate – Remove from the oil and place on a plate lined with paper towels.
Step 7 – Serve and Enjoy – Serve while warm with the sweet chili sauce and enjoy.
How to Fold a Wonton:
Fried wontons are really easy to prepare. These easy steps can be prepared by anyone, even my kids like to help.
Lay out wonton wrappers on a baking sheet.
Place about a teaspoon of pork filling in each sheet of the wrappers.
Fold one end of the wrappers over and moistened the edge to seal them.
Now they are ready to fry.
Recipe Tips:
Oil – You can use canola oil or peanut oil instead of vegetable oil if you prefer to fry the wontons.
Combining Ingredients – Add all the ingredients to a large bowl and combine with a wooden spoon. We like using our hands as the seems to mix together better.
Add Mixture to Wrappers – All you need to fill the wrappers is about 1 teaspoon of the pork mixture. You do not want to overfill the mixture as you run the risk of the wrappers splitting.
Heat Oil – Make sure your oil is hot before frying the Fried Wontons. This helps to fry the wontons quickly and golden brown.
Frying Wontons – Work in small batches when frying the wontons. You do not want to overcrowd the skillet.
After Frying – We recommend placing the fried wontons on a paper lined plate. This allows for the fried wontons to drain in excess grease.
Wrappers – While you are working with the wrappers, we recommend covering the wrappers with plastic wrap so they do not dry out.
Variations:
Change the Filling – Feel free to change the pork filling. You can use different types of meat such as ground beef or ground turkey. Substitute the meat with veggies and rice for a delicious option.
Wrappers – If you are unable to find the wonton wrappers, you can also use egg roll wrappers or spring roll wrappers. You may need to cut them down to make them smaller.
Seasoning – Feel free to change the seasoning to what you prefer. Sriracha Sauce is a great option and adds delicious flavor.
Mushrooms – Mushrooms are a great addition to the filling. They pair well with the ground pork.
What to Serve with Fried Wontons:
When we make Fried Wontons we love to serve with Asian dishes. But they are also delicious with any recipes. Here are some of our favorites.
Easy Chicken Fried Rice – This chicken fried rice is delicious and easy to make. It is a great way to use up leftover chicken.
Black Pepper Chicken Recipe – One pot meals make dinner so easy and the flavor is amazing in this Chinese black pepper chicken.
Hoisin Chicken – Hoisin chicken is a delicious stir fry recipe that is easy to make with simple ingredients.
How to Serve:
Fried wontons are great served with your favorite dipping sauce. Sweet Chili Sauce pairs perfectly with this appetizer but you can also serve it with sweet and sour sauce.
Really any Asian style sauce would work great with this recipe.
Can you Freeze Wontons?
Yes, you can freeze wontons. Prepare the wontons as indicated and place in a freezer safe container. They will stay good for about 3 months.
If you prefer, you can flash freeze on a baking sheet in a single layer then store. This allows them to freeze individually.
When you are ready to serve, cook in the air fryer. If cooking the air fryer, there is no need to thaw.
How to Store Leftovers:
These Fried Wontons are best served fresh, but can be refrigerated. Place the leftovers in an airtight container for up to 5 days. When you are ready to reheat, we we recommend putting in the air fryer for a few minutes to crisp back up.
Print Recipe for Fried Wontons:
More Easy Asian Recipes: