Crock Pot Chicken Bacon Ranch Pasta Recipe is a one pot meal loaded with tons of bacon, cheese and more for the best comfort food. This meal is creamy and delicious but so simple to make and packed with lots of ranch flavor.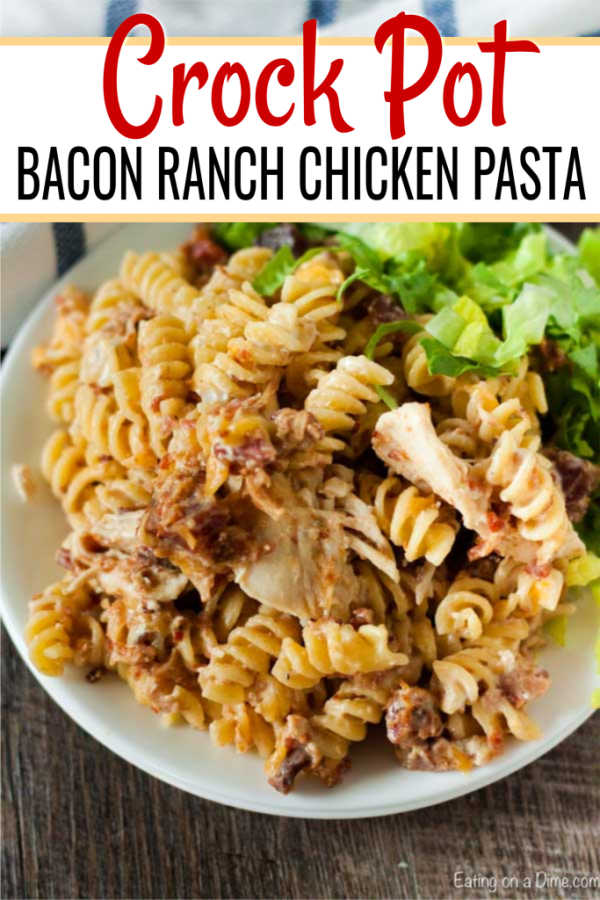 Crock Pot Chicken Bacon Ranch Pasta Recipe
We love one pot meals around here and the simpler the better. This recipe is one of the easiest ever and the slow cooker does all the work.
If you love bacon, cheese and ranch with lots of tender chicken, this meal is a must try! I'm pretty sure your family will ask for this again and again.
The chicken is loaded with the most amazing cream sauce that I could eat by the spoonful. If you have a few extra minutes to make bread or grab some from the bakery, go ahead and do so. You will want something to dip into that yummy cheesy sauce.
We love Garlic Bread Cheese Sticks Recipe and it is perfect for getting every last bit of that amazing sauce. The ranch with the bacon is just out of this world!
If you love this recipe, try making Crock Pot Crack Chicken Casserole Recipe. We love easy recipes for busy weeknights!
What can I serve with Bacon Ranch Chicken Pasta Crock Pot Recipe?
This meal is really rich and creamy so a light side dish is best. We often serve a simple salad with this meal and it is really tasty.
The salad balances out the pasta and makes a really great dinner. You could also try Roasted Green Beans for another easy side dish idea.
We also love broccoli and it is so easy. Learn how to steam broccoli in the microwave for a super easy veggie side dish.
What do I need to make Chicken Bacon Ranch Pasta in Crock Pot?
chicken breasts
bacon
garlic
dry ranch dressing mix
cream of chicken soup
sour cream
rotini pasta
cheddar cheese
This all combines for something pretty special. 🙂 Your family is going to love this meal.
You will need a good slow cooker for Crock Pot Cheesy Bacon Ranch Chicken.
If you are in the market for something new, I really love my Ninja cooker. This cooking system is unique because you can brown meat in the same pot and then slow cook it!
It is so handy to just have the one pan to clean. It has become of my favorite kitchen appliances.
I also really like this crockpot as well. I use this all the time and it's great.
My favorite feature is that you can lock the lid down. This is awesome for when you need to take the crockpot somewhere.
I often use the slow cooker to take dishes to potluck events and this feature is amazing! There are several others on sale here.
Another favorite is this programmable crock pot for when I am am not at home all day. I love coming home to a nice meal ready and waiting!
I also like to use crock pot liners to make clean up a breeze. These are worth every penny and save a ton of time.
How to make Bacon Ranch Chicken Pasta Bake?
When I said this recipe was easy, I meant it. 🙂 Ya'll will not believe just how simple it is to have an amazing dinner.
Just put everything in the crock pot except the sour cream, pasta and the cheddar cheese. Let it cook while you go about your day and come home to the most amazing chicken mixture.
All of that yummy ranch flavor makes this recipe SO delicious!
I like to take the chicken out and shred it. It is super easy because the chicken is so tender.
Put the shredded chicken back in the crock pot. Now it is time to add the sour cream.
The cooked pasta and cheese goes in last for a really delicious combination.
It is that easy!
Try Creamy Chicken Ranch Pasta!
Your family will go crazy over this meal. It is such a hit around here that Chicken Bacon Ranch Pasta is now on permanent menu plan rotation.
Everyone just loves the bacon, cheese and ranch with the chicken. It really is comfort food in every single bite.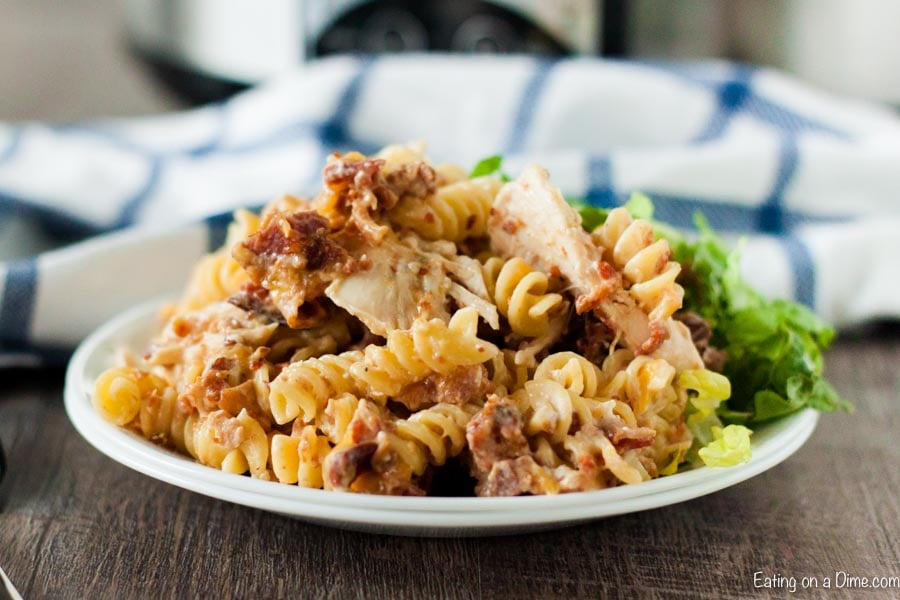 Ideas for Chicken Bacon Ranch Cream Cheese slow cooker recipe:
Try turkey bacon in this recipe for a change. It is another option that is easy and yummy.
Another idea to try is chicken thighs instead of the chicken breasts. Or you can try a mix of both!
Try chicken bacon ranch potato crock pot recipe for another way to change this up. Diced potatoes or hashbrown style potatoes are yummy in this recipe too.
We love to use what is on sale or what we already have in the freezer. This saves us money and time!
By shopping when things are on sale I save money on groceries and it really helps our budget. Saving money and feeding a big family can be accomplished.
You can easily make chicken bacon ranch crockpot keto friendly. Just omit the pasta.
I often will take out a portion of the chicken mixture for myself before adding the pasta. It is an easy way to only cook one meal but have everyone enjoy it.
Meal time is easy when you make this Chicken Bacon Ranch Crock Pot pinterest idea.
This recipe is one of my favorites to prepare when I know I will be running all over. You know those days when you are going from work to school to sports to dance and everything in between?
Make this meal and come home to dinner ready to enjoy. It is super easy to throw in the pasta and your family can actually sit down and enjoy dinner.
This is such a big help during busy seasons of life. I don't know what I would do without my crock pot. 🙂
This pasta recipe works great for a big family or if you need to feed a crowd. The pasta helps to stretch the meat even more!
Let us know how your family liked this recipe. Our family loved it!
Print this Chicken Bacon Ranch Pasta tasty recipe below:
Crock Pot Bacon Ranch Chicken Pasta Casserole
Crock Pot Chicken Bacon Ranch Pasta Recipe is a one pot meal with tons of bacon, cheese and more. This meal is so easy to make and perfect for busy weeks.
Ingredients
2

boneless skinless chicken breasts

12

strips of bacon

cooked and crumbled (can use turkey bacon)

1

tsp

minced garlic

(1) 1

oz

packet dry ranch dressing mix

(1) 10.75

oz

can cream of chicken soup

1

cup

sour cream

16

oz.

rotini pasta

cooked

1

cup

cheddar cheese

shredded
Instructions
Place everything in the crock pot except the sour cream, pasta and the cheddar cheese.

Cook on low for 6-8 hours.

Shred the chicken and return back to the crock pot.

Stir in the sour cream. Once combined stir in the cooked pasta and the cheddar cheese.

Serve with a salad.
Nutrition Facts
Calories
717
kcal
,
Carbohydrates
64
g
,
Protein
30
g
,
Fat
36
g
,
Saturated Fat
15
g
,
Cholesterol
97
mg
,
Sodium
1206
mg
,
Potassium
493
mg
,
Fiber
2
g
,
Sugar
3
g
,
Vitamin A
550
IU
,
Vitamin C
0.8
mg
,
Calcium
205
mg
,
Iron
2.1
mg
The slow cooker does all the work in this delicious Crock Pot Cheeseburger Macaroni Recipe. Skip the store bought hamburger helper and enjoy this tasty meal with hardly any effort.
Crock pot cheesy chicken penne recipe is the best comfort food and loaded with tons of creamy chicken and cheesy pasta.
Lazy day chicken lasagna recipe gives you all the things you love about traditional lasagna but without all the work.
Try Crock Pot Sweet Dijon Chicken Recipe for a delicious blend of sweet and savory.
Try these other easy crock pot chicken recipes: