Creamy and delicious, Crock Pot Chicken Casserole Recipe does not disappoint. Loaded with tons of ranch flavor, cream cheese and bacon for a meal that your family will go crazy for!
Crock Pot Chicken Casserole Recipe
We love using our slow cooker for busy seasons of life. It is so nice to come home to dinner ready and waiting for everyone to enjoy.
Your entire family will love this tasty Crock Pot Chicken Casserole Recipe. The ranch flavor combined with the bacon and cream cheese make this casserole anything but boring.
The kids will gobble this up and it is so easy to prepare. Spend less time in the kitchen and more time with your family!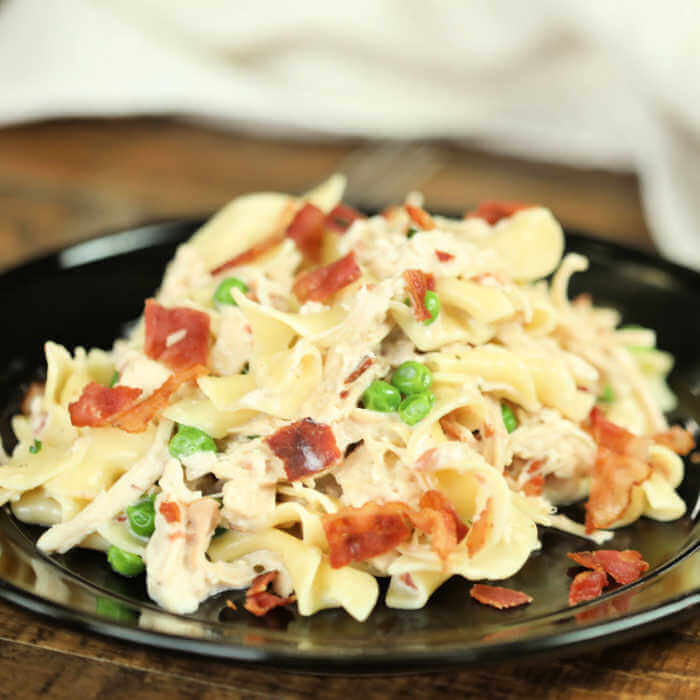 Slow Cooker Crack Chicken Casserole is a family favorite!
If you enjoyed our Slow Cooker Crack Chicken Recipe, you will love this delicious casserole. The chicken is so tender and amazing with lots of great flavor!
The sauce is rich and creamy from the cream cheese blended with the ranch seasoning. Plus, we all love the bacon. Yum!
This Crack Chicken Pasta Bake is so versatile.
We used egg noodles but really you can use any type of pasta. This chicken is amazing with anything.
From penne and elbow to spaghetti and more.
What IS Crack Chicken?
You may be wondering what exactly is crack chicken and why does everyone go crazy over it! It is the best chicken recipe and after you make this recipe, you will quickly know why!
Slow cooker crack chicken combines delicious chicken, cream cheese, bacon and ranch to make a mixture so tasty that you could eat it alone! It is that good!
Try Crack Chicken Spaghetti Casserole!
You can use spaghetti instead of egg noodles to make a really delicious casserole. My family loves Crack Chicken Spaghetti Casserole.
Just use what you have. This meal is so easy to prepare and sure to be a hit.
My kids ask for this recipe all the time! We have prepared this for guests and they couldn't get enough and wanted the recipe!
Crack Chicken Spaghetti with cream cheese is always a hit!
I love recipes that you can fix lots of different ways. It allows me to serve this to my family more frequently because they think they are eating something new. 🙂
Can I make Crack Chicken and Rice Casserole?
Yes! Simply replace the pasta with rice for an amazing chicken and rice casserole type dish. It truly is the easiest recipe and just so simple to use what you have on hand.
What can you serve with Crock Pot Chicken Casserole recipe?
We often just enjoy this meal alone but it goes great with a simple side salad. You could also serve it with Corn on the Cob and Delicious Roasted Green Beans.
Our favorite is probably a big salad though. It is just so simple and goes great with it. The crack chicken is rich and decadent so the salad goes really well to balance it all out.
Plus, it is so simple. We are often running from activity to activity and it's great to just keep it simple.
Crack Chicken Pasta Crockpot recipe is so easy!
If you are in the market for a new crockpot, I love this casserole crock pot. It is perfect for casserole style slow cooker recipes like this one.
I bought mine on Amazon,and I love it. It is perfect for the Holidays and really year round.
Plus, it is just so pretty. We can still enjoy all our favorite casserole recipes without ever turning the oven on.
If you prefer a traditional style crock pot, I recommend one of the Ninja Cookers. I love these because you can brown the meat in the same pot.
It really cuts down on clean up and that is a plus for us busy moms. It is so nice just having the one pot to clean and not worrying about an extra pan to wash.
Another favorite is this programmable crock pot for when I am am not at home all day. I love coming home to a nice meal ready and waiting!
I also like to use crock pot liners to make clean up a breeze. These are worth every penny and save a ton of time.
This is especially helpful during busy weeks of school and activities. I'm all about crock pot liners.
If you do not use crock pot liners, I recommend using cooking spray to help with clean up in the slow cooker.
Ingredients for Crock Pot Chicken Casserole recipe:
3 chicken breasts
cream cheese
dry ranch seasoning mix
chicken broth
egg noodles
peas
bacon
That is all you need! If you have just these few ingredients, you can make this amazing dinner for your family!
Keep scrolling for the full recipe. It is so simple and easy to make!
Crack Chicken Casserole turns out great and it so easy.
Shred the chicken and add the chicken back to the delicious cream cheese mixture. Add the bacon and green peas and pasta for a great meal.
If it is a little too thick for your preference, add chicken broth. We love great recipes like this that are super easy.
Serve and enjoy! It really turns out great.
This Crack Chicken Spaghetti Bake recipe is budget friendly!
Whether you use spaghetti or penne or egg noodles, this amazing pasta bake will be delicious. I have even thrown in a handful of extra pasta to stretch the chicken.
The recipe calls for chicken breasts but I have used a mix of chicken thighs with the chicken breasts and everyone loved it. It has so much amazing cheesy ranch flavor that it is just awesome.
We love simple recipes like this and everyone looks forward to when this recipe is on the menu plan for that week. Plus, if you try some of these different ideas it is easy to make this recipe many different ways.
Just use what you have. A lot of times we use what is already in our freezer or on sale that week at the grocery store. This helps our grocery budget a ton!
By shopping when things are on sale I save money on groceries and it really helps our budget. Saving money and feeding a big family can be accomplished.
Everyone loves this delicious dish so it is on our permanent menu plan rotation.
In fact, I cut our grocery bill by 50% off by following these 8 Tips for for Saving Money on Groceries by Menu Planning! Save that money for a family vacation or maybe just some wiggle room in the budget.
Easy recipes like this keep my family happy and my grocery budget in good shape. This is how I keep our grocery budget reasonable.
Plus, being able to toss everything in the crockpot means dinner is waiting and we are not tempted to get take out! Trust me, this recipe is better than any store bought meal!
Whether you make Crock pot chicken casserole recipe or Crack Chicken spaghetti recipe, this meal is amazing.
Slow cooker crack chicken is sure to impress and your family will love this meal. It is one of our family favorites!
Give this delicious recipe a try. The crock pot makes it so easy.
My kids love the ranch seasoning, cheese and bacon. We have even used ranch dressing in a pinch. You really can't go wrong with this recipe.
It is so creamy and delicious. The sauce just melts over the pasta for an amazing dinner.
I have a sneaky little trick to getting the kids to eat the green peas without complaint. I like to add extra shredded cheese to the top and they are none the wiser. 🙂
The chicken mixture is so cheesy and delicious. Everyone really enjoys it.
Print this Crock Pot Chicken Casserole recipe:
Crock pot Crack Chicken Casserole Recipe
Crock Pot Chicken Casserole Recipe is creamy and delicious. It is loaded with cream cheese, bacon and ranch flavor that your family will go crazy for!
Ingredients
3

chicken breasts

boneless skinless

8

oz

cream cheese

1

packet dry ranch seasoning mix

2 1/2

cups

chicken broth

8

oz

egg noodles

1

cup

peas

frozen

6

slices

bacon

cooked crisp and crumbled
Instructions
Pleace everthing but the noodles, peas, and the bacon in the crock pot.

Cook for 8 hours on low.

Shred the chicken and stir.

30 minutes before ready to eat, Sir in the egg noodles and the peas.

Right before serving stir in the cooked bacon.

Serve Immediately.
Nutrition Facts
Calories
530
kcal
,
Carbohydrates
33
g
,
Protein
37
g
,
Fat
26
g
,
Saturated Fat
11
g
,
Cholesterol
160
mg
,
Sodium
449
mg
,
Potassium
749
mg
,
Fiber
2
g
,
Sugar
3
g
,
Vitamin A
750
IU
,
Vitamin C
11.1
mg
,
Calcium
66
mg
,
Iron
1.9
mg
Crock Pot Creamy Tuscan Chicken is so rich and creamy that you will not believe how easy it is. Let your slow cooker do all the work to have a delicious dinner ready and waiting.
Crock Pot Santa Fe Chicken Recipe is a one pot meal perfect for busy weeknights that is loaded with lots of creamy chicken, cheese, tomatoes and more.
With very little prep work, Crock pot Pesto Chicken Pasta Casserole comes together quickly and easily.
Enjoy Crock Pot Mexican Taco Casserole Recipe without heating up the kitchen and a super easy dinner.
Try slow cooker ribs recipe for an easy dinner full of flavor.
Easy Chicken Tetrazzini Recipe is a simple skillet meal perfect for busy weeknights.
Crock pot creamy salsa ranch chicken pasta recipe is the perfect meal anytime you are craving comfort food.
This easy Chicken Taco Marinade is perfect for the grill, crockpot, or the oven.
You are going to love these other delicious chicken and bacon recipes:
Try these other delicious crock pot casserole recipes: