Slow Cooker Crack Chicken Recipe is comfort food in every single bite. The cream cheese blended with the ranch and bacon make this one unforgettable recipe.
Slow Cooker  Crack Chicken Recipe
Have you heard about Crock Pot Crack Chicken? It is an amazing recipe that will have everyone coming back for more.
This recipe is so easy that you will not believe just how simple it is. It is out of this world delicious and my entire family goes crazy over this meal.
If the kids find out this Crack Chicken Recipe is on the menu plan, they get so excited! They gobble this chicken up!
Everyone loves it!
What IS Crack Chicken?
You may be wondering what exactly is crack chicken and why does everyone go crazy over it! It is the best chicken recipe!
Slow cooker crack chicken combines delicious chicken, cream cheese, bacon and ranch to make a mixture so tasty that you will not be able to eat just one sandwich.
Everyone loves Crack Chicken. It is perfect for parties too and goes great on sliders.
We also use sliders for the kids sometimes. It is the perfect size for little hands to pick up.
Put out a platter of these sandwiches and they will be gone in no time at all!  This recipe is so versatile and perfect for dinner parties and more.
We have even served the sliders for birthday parties. Everyone at the party enjoyed it and kept coming back for more.
It was a big hit and a winner all around!
What do you eat crack chicken with?
Our favorite way to eat crack chicken is on hamburger buns. It is so easy and everyone loves eating it sandwich style.
Other ideas for this Crack Chicken recipe include:
Tortillas
Hawaiian Roll
Serve over pasta.
Sliders
and more!
Just use whatever you prefer. We like trying different things so we can enjoy this tasty Crack Chicken more ways!
The kids never get tired of this recipe if I switch it up and use different ways to serve it.
We have even packed Crack Chicken Sandwiches for a picnic lunch at the park. It was a nice change from a peanut butter sandwich and really tasty.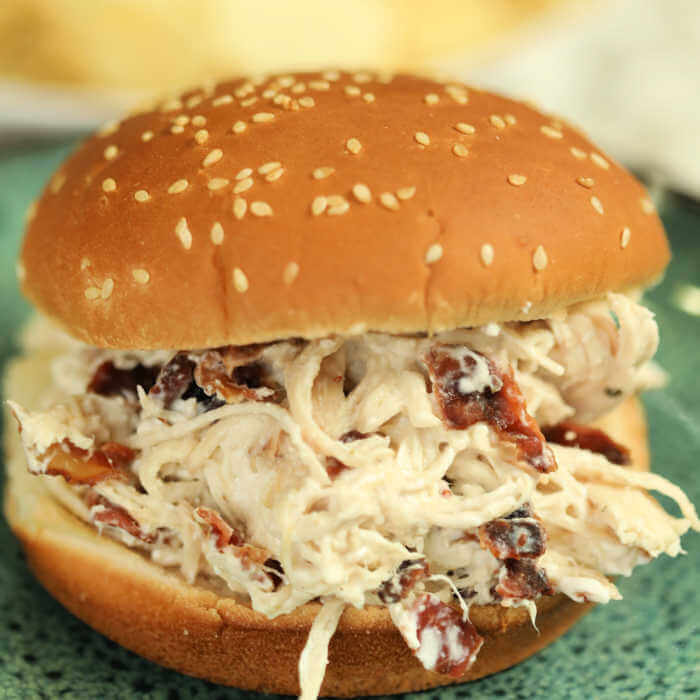 What can you serve with Crock Pot Crack Chicken Sandwiches?
Those are just a few of our favorites to enjoy with crack chicken sandwiches.  But we have all had those crazy days where it was potato chips all around. 🙂
We also have just served it with slaw and everyone enjoyed that. It is really yummy however you serve this amazing meal.
If you make slaw, you definitely will want to try the Best Coleslaw Recipe. It is our favorite recipe and just perfect!
Crack Chicken Pasta is another favorite!
Simply omit the buns and serve this delicious chicken mixture over pasta. Yum!
It is so creamy and melts over the pasta for an amazing dinner. Plus, the kids think they are eating something different even though it is the same recipe. 🙂
If the mixture is too thick to serve over pasta, you can add a little chicken broth. It will help to thin the mixture and make it a better consistency to serve over pasta.
Another idea is to add shredded cheese to the top and bake the Crack Chicken Pasta. The chicken mixture is so cheesy and delicious.
I always fix a big salad when I'm making Crack Chicken with pasta and it is really tasty. The crack chicken is rich and decadent so the salad goes really well to balance it all out.
The ideas are endless to enjoy this yummy Crack Chicken. You can't go wrong with this recipe.
Crack Chicken Casserole is great for pot lucks and get togethers. 
Go ahead and toss the pasta in the slow cooker with the chicken or bake it in a baking dish. The chicken mixture makes the best casserole and it is perfect when you need to take a meal somewhere.
I use the disposable pans if I am taking this meal somewhere.  No one has to worry about the dish and it just keeps things simple.
This is especially helpful if taking this to a new mom and you are bringing the family dinner. It is the perfect casserole that everyone will enjoy.
Throw in a simple side salad and what an amazing dinner. It really isn't anymore trouble to make a double recipe and  you can bless someone else.
This would be a delicious meal for someone that has just had a new baby or recovering from surgery. I remember what a blessing it was to us when people brought us meals and not having to worry about feeding the kids.
We have even served Crack Chicken Dip for an easy appetizer.
This is perfect for parties and so easy. Serve with carrot sticks, celery sticks, crackers or tortilla chips.
It is so good! If you enjoy this dip, try Buffalo Chicken Dip Recipe for another delicious dip recipe. These are so good at parties.
Let's make Crack Chicken Slow Cooker recipe!
Everyone is going to love this delicious recipe. You will quickly see why this is such a favorite around here and everyone asks for more!
My family can be picky at times and every single person loves this chicken. That is really saying something!
I think you and your family will enjoy it as much as we do.
How do You Make Slow Cooker Crack Chicken?
It is so easy and you just put everything but the bacon in the slow cooker. The bacon gets tossed in the crockpot in the end and the meal is so amazing and delicious.
The cream cheese makes it even better and I could eat this by the spoonful. It is that good!
You will need a slow cooker for Crock Pot Crack Chicken.
If you are in the market for something new, I really love my Ninja cooker. The nice thing about this is you can brown the meat in the same slow cooker if you are making a recipe that calls for that.
It is so handy to just have the one pan to clean. It has become of my favorite kitchen appliances.
I also really like this crockpot as well.  I use this all the time and it's great.
My favorite feature is that you can lock the lid down. This is awesome for when you need to take the crockpot somewhere.
I often use the slow cooker to take dishes to potluck events and this feature is amazing! There are several others on sale here.
Another favorite is this programmable crock pot  for when I am am not at home all day. I love coming home to a nice meal ready and waiting!
I also like to use crock pot liners to make clean up a breeze. These are worth every penny and save a ton of time.
We are always looking for great recipes and this is one of the best. You can make this in the pressure cooker if you prefer but you will need to adjust the cooking time.
I have also used my Casserole Crockpot when making Crack Chicken Casserole!
You can use a normal crock pot but I just love this casserole crockpot when making the chicken mixture into Crack Chicken Casserole. It is so pretty and looks like a casserole dish.
We make a lot of casserole style slow cooker recipes so we use this style frequently. I bought mine on Amazon,and I love it.
It is perfect and we use it year round.
How do you make Pulled Chicken Sandwiches in the slow cooker?
It is so easy and you just need boneless skinless chicken breasts. You could even throw in some chicken thighs if you want.
Shredding is so easy when you use the hand mixer to shred chicken. We do this for all of our recipes that call for shredded chicken.
Let it cook another hour after you shred the chicken so it combines the flavor. You will want to have extra cheese to put on top of your sandwiches.
For extra flavor, use Hawaiian rolls or crustier rolls for a heartier sandwich. Yum! Everyone will love this dinner idea.
We have served this for guests and they loved it as well. It is always a hit.
Plus, since the slow cooker does all the work it is so easy. You can enjoy your guests and not spend all the time in the kitchen.
Ingredients for  Crack chicken crockpot:
1.5 lbs boneless chicken breasts
1 8oz block cream cheese
1 packet dry ranch dressing seasoning mix
6 strips bacon, cooked crisply and crumbled
6 hamburger buns
How to make Slow Cooker Chicken Bacon Ranch Sandwiches:
In a slow cooker combine chicken, cream cheese, and ranch dressing.
Cook the chicken on low for 6-8 hours or high for 4 hours.
Once finished shred the chicken and stir to combine.
Stir in crumbled cooked bacon and serve warm on buns.
Note- You can add a dash of garlic powder to the cheese and bacon if you prefer. If the mixture is too thick, add a little chicken broth.
It turned out great and it was super easy. You will love this crock pot recipe.
It is super important to remember to wait until the end to add the bacon and it must be cooked. It is best crispy and gives it a great texture.
Sometimes life is really busy and I will buy precooked bacon to crumble at the end. I know it is more expensive than regular bacon but I figure I am saving time and still saving money because it is cheaper than take out.
How do you shred chicken for Slow Cooker Crack Chicken Recipe?
I use a hand mixer to shred the chicken faster. It is so easy and one of my best time saving kitchen tips!
If you are not shredding your chicken this way, you are missing out. It can be done in a fraction of the time by doing it by hand.
Plus, I love the texture of the chicken when you use the hand mixer.  I normally put about 1/2 cup on the buns.
Can I freeze crack chicken?
Yes! Freeze mixture in freezer bags and you will have a super quick meal. This is also perfect for lunches.
Sometimes I double the recipe just so I can have extra to freeze for quick meals later.
I am all about freezer meals around here. We even recently made 10 Easy Crock Pot Freezer Meals in an hour!
It is so nice having meals in the freezer to grab on crazy days around here. It is totally optional but I love JOKARI Hands-Free Baggy Rack Storage Bag Holders.
These are not necessary, but make it so much easier to put the meals together when making freezer meals. I started making freezer meals when I knew I had to do something about dinner time being so hectic.
It was a source of stress around here and not something any of us looked forward to or enjoyed. Now, we can sit back and enjoy a freezer meal on crazy days and talk about our days.
If you are not making freezer meals, I highly encourage you to give it a try. It has really changed dinner time around here.
Slow cooker crack chicken recipe is frugal and easy!
I have even thrown in some chicken thighs with the chicken breasts in a pinch and the recipe was still delicious. I often just use what I have in the freezer or what is on sale at the grocery store.
We love simple recipes like this and everyone looks forward to when this recipe is on the menu plan for that week.  Plus, if you try some of these different ideas it is easy to make this recipe many different ways.
My family thinks I am coming up with lots of new recipes when really they are eating the same thing but with just a few differences. I love to do this with recipes they love and everyone enjoys.
By shopping when things are on sale I save money on groceries and it really helps our budget. Saving money and feeding a big family can be accomplished.
Everyone loves this delicious dish so it is on our permanent  menu plan rotation.
In fact, I cut our grocery bill by 50% off by following these 8 Tips for for Saving Money on Groceries by Menu Planning! Save that money for a family vacation or maybe just some wiggle room in the budget.
Easy recipes like this keep my family happy and my grocery budget in good shape. This is how I keep our grocery budget reasonable.
Plus, being able to toss everything in the crockpot means dinner is waiting and we are not tempted to get take out! Trust me, this recipe is better than any store bought meal!
It is a delicious recipe that is slow cooked to perfection. The chicken is tender and blended with the best ranch and bacon flavor.
The cream cheese makes it so smooth and creamy. Oh my! It is SO good and you will love how creamy it is.
Another easy meal we love is Crockpot Creamy Ranch Chicken Recipe. It is packed with lots of ranch flavor and hearty chicken and vegetables, it is the best comfort food.
We love ranch flavor and cream cheese and if you do as well, these are must try recipes! The flavor is out of this world and can't be beat.
Print this Crack Chicken Crockpot RECIPE below: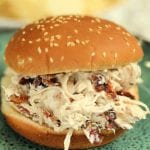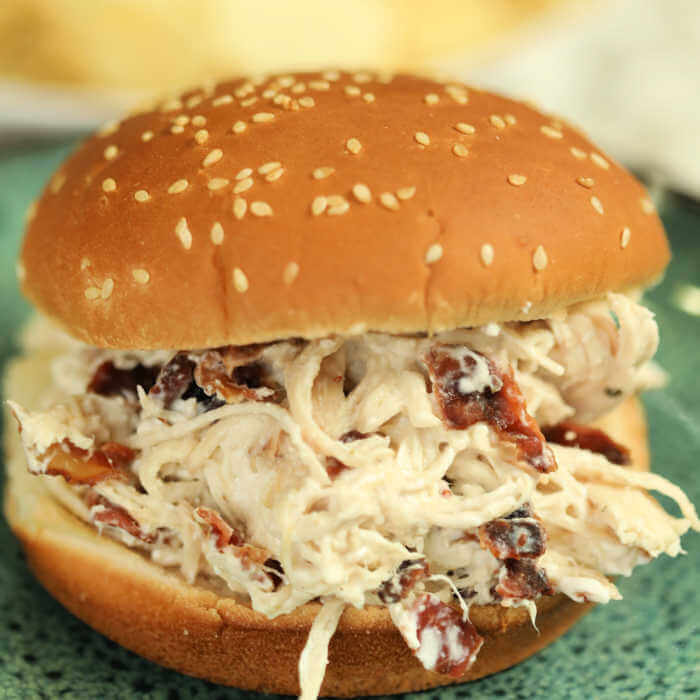 Slow Cooker Crack Chicken Recipe
Slow Cooker Crack Chicken Recipe is comfort food in every bite. The cream cheese blended with the ranch and bacon make Crock Pot Crack Chicken amazing.
Keyword:
Slow Cooker Crack Chicken Recipe
Ingredients
1.5

lbs

boneless chicken breasts

(1) 8

oz

block cream cheese

1

packet dry ranch dressing seasoning mix

6

strips bacon

cooked crisply and crumbled

6

hamburger buns
Instructions
In a slow cooker combine chicken, cream cheese, and ranch dressing.

Cook on low for 6-8 hours or high for 4 hours.

Once finished shred the chicken and stir to combine.

Stir in crumbled bacon and serve warm on buns
Recipe Notes
Our favorite way to eat crack chicken is served on hamburger buns.
Nutrition Facts
Slow Cooker Crack Chicken Recipe
Amount Per Serving
Calories 451
Calories from Fat 189
% Daily Value*
Fat 21g32%
Cholesterol 92mg31%
Sodium 743mg32%
Potassium 465mg13%
Carbohydrates 25g8%
Protein 37g74%
Vitamin A 115IU2%
Vitamin C 0.6mg1%
Calcium 236mg24%
Iron 2.5mg14%
* Percent Daily Values are based on a 2000 calorie diet.
Crock Pot Jambalaya is another easy and delicious meal idea. Packed with just enough heat to jazz it up but perfect for the entire family.
Creamy and delicious, Crock Pot Chicken Casserole Recipe does not disappoint. Loaded with tons of ranch flavor, cream cheese and bacon for a meal that your family will go crazy for!
Find more Slow Cooker Recipes: