Slow Cooker Crack Chicken is comfort food in every single bite. The cream cheese blended with the ranch and bacon make this one unforgettable recipe.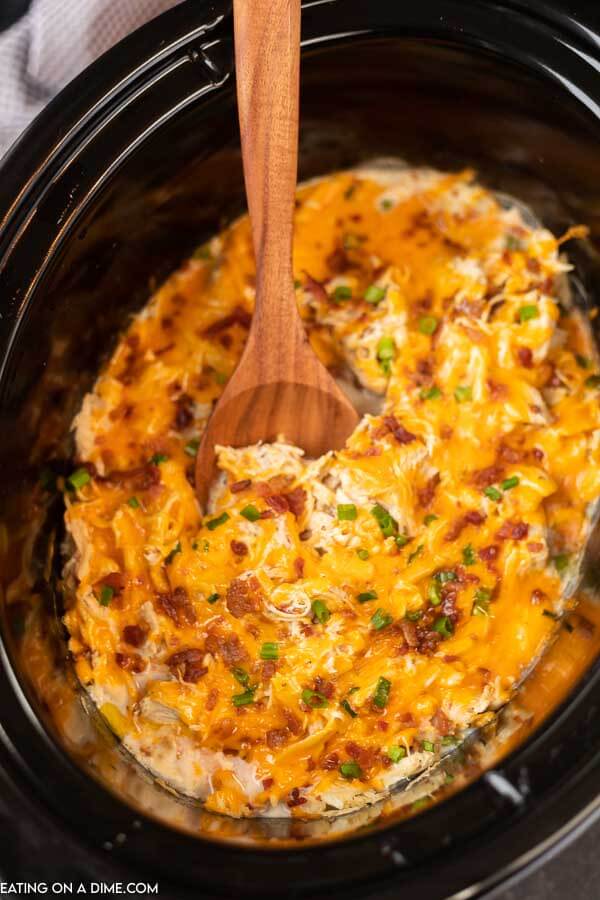 Slow Cooker Crack Chicken Recipe
This Crock Pot Crack Chicken really is the best recipe. It taste amazing and everyone will be coming back for more.
This recipe is so easy that you will not believe just how simple it is. It is out of this world delicious and my entire family goes crazy over this meal.
If the kids find out this Crack Chicken Recipe is on the menu plan, they get so excited! My entire family loves this recipe.
If you have an Instant Pot and prefer cooking with that over your crock pot, you can also make Instant Chicken Crack Recipe for a quick and easy dinner!
You might also like our Crack Potatoes Recipe, Crack Chicken Casserole Recipe, Crack Chicken Sliders, and Crack Dip Recipe.
What is crock pot crack chicken?
You may be wondering what exactly is crack chicken and why does everyone go crazy over it! It is the best chicken recipe! Slow cooker crack chicken combines delicious chicken, cream cheese, bacon and ranch to make a mixture so tasty that you will not be able to eat just one sandwich.
If you are looking for a crowd pleaser, this recipe for Crack Chicken is a must try. It is perfect for parties too and goes great on sliders. We also use sliders for the kids sometimes. It is the perfect size for little hands to pick up.
Put out a platter of these sandwiches and they will be gone in no time at all! This recipe is so versatile and perfect for dinner parties and more. We have even served the sliders for birthday parties. Everyone at the party enjoyed it and kept coming back for more.
It was a big hit and a winner all around!
Ingredients:
Boneless Chicken Breasts
Cream Cheese
Ranch Dressing Mix
Bacon
Cheddar Cheese
Buns
How to make slow cooker crack chicken:
First, get your crock pot out and combine the chicken, ranch dressing, cooked and crumbled bacon and cook. It is that simple.
Next, cook the chicken on low for 6-8 hours or cooking on high for 3-4 hours. The chicken is going to be so tender.
Once the chicken is cooked, shred it. I use 2 forks and it is fast and easy. Stir in the cream cheese.
Put the crock pot lid on again and cook for another 30 minutes so the cream cheese can melt.
Finally, top with the shredded cheese and green onions.
What to serve this with?
Our favorite way to eat crack chicken is served on buns. It is so easy and everyone loves eating it sandwich style. More ideas include:
Tortillas
Hawaiian Roll
Serve over pasta.
Sliders
Just use whatever you prefer. We like trying different things so we can enjoy this tasty Crack Chicken more ways! The kids never get tired of this recipe if I switch it up and use different ways to serve it.
We have even packed Crack Chicken Sandwiches for a picnic lunch at the park. It was a nice change from a peanut butter sandwich and really tasty.
Side dish ideas:
Those are just a few of our favorites to enjoy with crack chicken sandwiches. But we have all had those crazy days where it was potato chips all around. 🙂
We also have just served it with slaw and everyone enjoyed that. It is really yummy however you serve this amazing meal.
If you make slaw, you definitely will want to try the Best Coleslaw Recipe. It is our favorite recipe and just perfect!
Tips for crack chicken crock pot recipe:
You can add a dash of garlic powder to the cheese and bacon if you prefer.
If the mixture is too thick, add a little chicken broth.
Serve leftovers a different way and your family will think it is a new meal!
Another quick trick for shredding chicken is to use a hand mixer to shred the chicken faster. It is so easy and one of my best time saving kitchen tips! It can be done in a fraction of the time by doing it by hand.
If you don't have any bacon and want an even easier way, you can use bacon bits.
How to make this a Keto Friendly recipe?
Just omit the hamburger buns or rolls and eat the chicken alone. It is so delicious that no one will even miss the carbs.
You will need a slow cooker for Crack chicken crockpot.
This is my favorite crockpot right now. I use this all the time and it's great.
Another favorite is this programmable crock pot for when I am am not at home all day. I love coming home to a nice meal ready and waiting!
I also like to use crock pot liners to make clean up a breeze. These are worth every penny and save a ton of time.
We are always looking for great recipes and this is one of the best. You can make this in the pressure cooker if you prefer but you will need to adjust the cooking time.
Can I freeze crack chicken?
Yes! Freeze mixture in freezer bags and you will have a super quick meal. This is also perfect for lunches. Sometimes I double the recipe just so I can have extra to freeze for quick meals later.
I am all about freezer meals around here. We even recently made 10 Easy Crock Pot Freezer Meals in an hour. It is so nice having meals in the freezer to grab on crazy days around here. It is totally optional but I love JOKARI Hands-Free Baggy Rack Storage Bag Holders.
These are not necessary, but make it so much easier to put the meals together when making freezer meals. I started making freezer meals when I knew I had to do something about dinner time being so hectic.
It was a source of stress around here and not something any of us looked forward to or enjoyed. Now, we can sit back and enjoy a freezer meal on crazy days and talk about our days.
If you are not making freezer meals, I highly encourage you to give it a try. It has really changed dinner time around here.
Everyone will love Crock pot Crack chicken recipe!
Print Recipe here for Slow Cooker Crack Chicken recipe:
More slow cooker chicken recipes: