This post may contain affiliate links. If you make a purchase through links on our site, we may earn a commission.
Instant Pot Crack Chicken Recipe is filling and delicious and so simple to make. Each bite is loaded with lots of ranch flavor, tender chicken and tons of cheese for the best meal.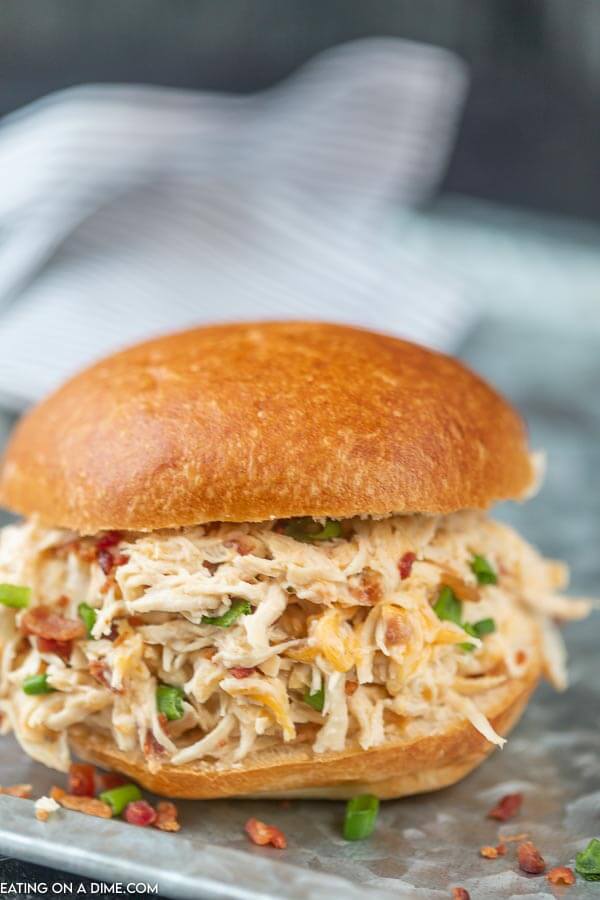 Instant Pot Crack Chicken Recipe
Have you been hearing about Crack Chicken? It is SO delicious and once you make it you will see why it is one of our favorite meals around here.
Not only does the pressure cooker make it so simple and quick to make but it is amazing! This meal is the best comfort food and your family will go crazy over it.
Everyone loves this! Make sure you have a good pressure cooker and you will be set. If you don't have a pressure cooker yet, try making Slow Cooker Crack Chicken Recipe.  It is delicious either way!
What Is Crack Chicken?
Yummy bacon combines with all the delicious cheese and chicken for the best recipe ever. If you love ranch flavor, you are going to love this recipe.
If you love this recipe, you might also like Instant Pot Crack Chicken Pasta Recipe.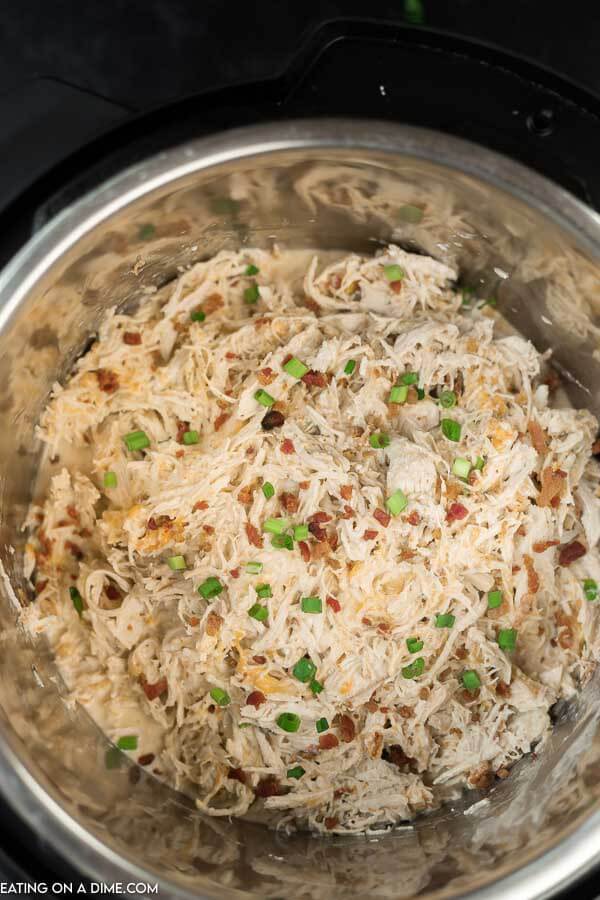 Ingredients: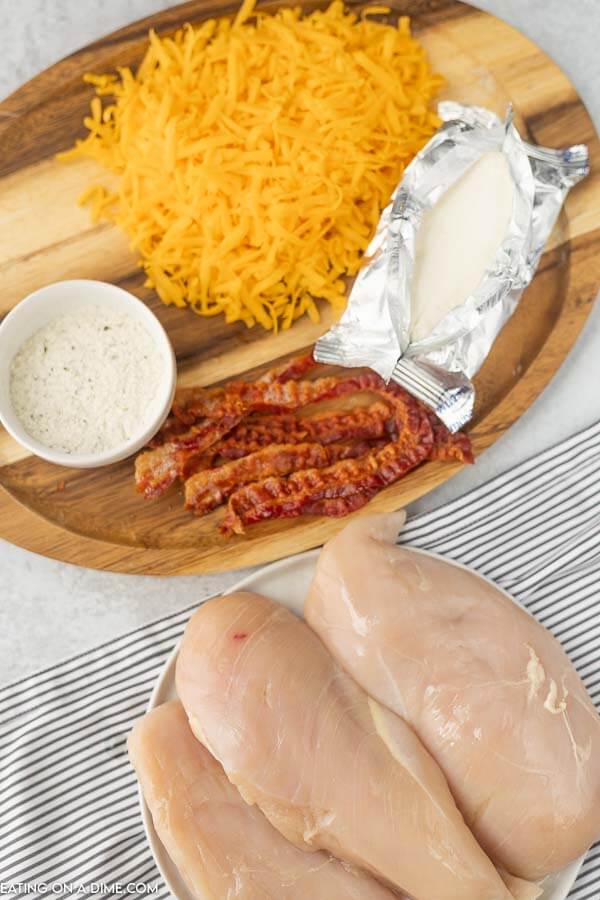 chicken breasts
cream cheese
dry ranch dressing seasoning mix
chicken broth
bacon
hamburger buns or sliders
You truly can make a wonderful meal with just a few simple ingredients!
How to make instant pot crack chicken:
This recipe is so easy! Put everything but the bacon in the pressure cooker and cook the chicken mixture.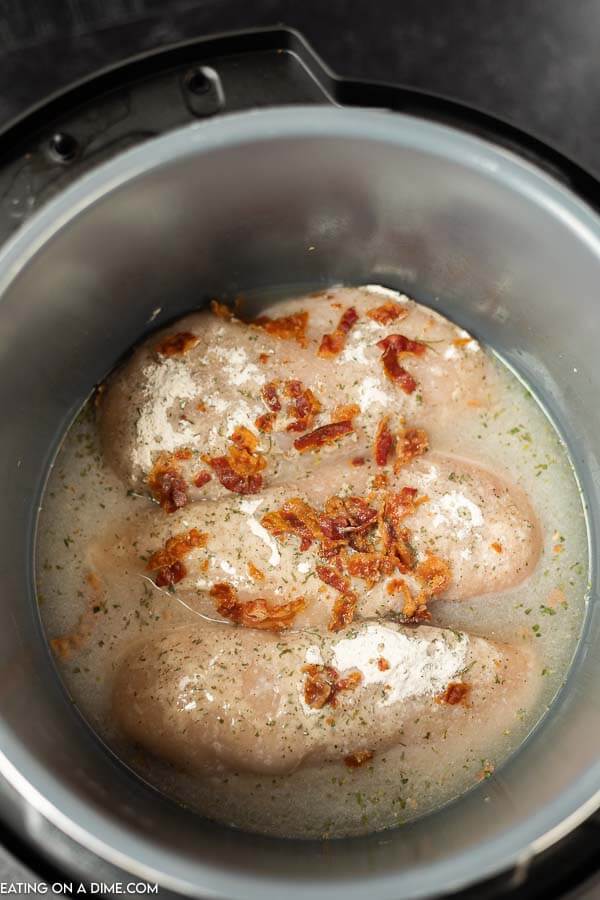 In just 20 minutes to 25 minutes, you will have a fantastic meal ready to go! It is a great recipe for busy weeknights.
Shred the chicken and stir everything to combine. Add the crumbled bacon and enjoy!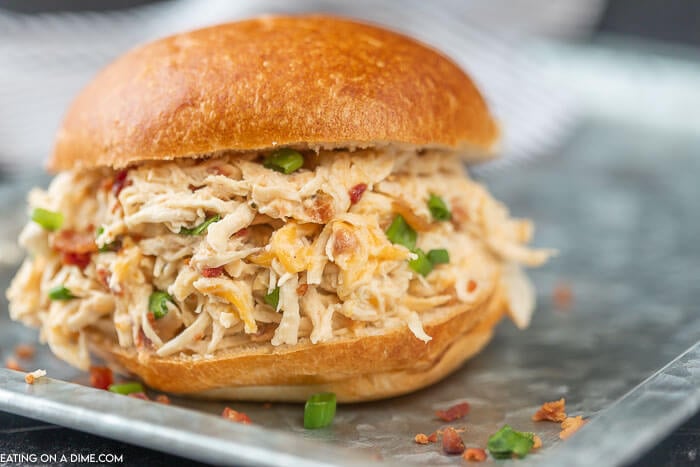 From family dinner to parties, this recipe is the best!
This recipe is amazing and always a hit. We have served this for a quick weeknight dinner as well as for parties and gatherings.
Sliders are perfect if you are making this for a party. We also use sliders for the kids sometimes.
It is the perfect size for little hands to pick up. Plus, it is just fun to eat sliders!
You can quickly and easily serve these on platters for parties and gatherings for the perfect meal without much work. Everyone will enjoy it.
If you want something different for birthday parties, try making Crack Chicken. The delicious chicken mixture is perfect to feed a crowd.
Everyone will definitely love this and it is sure to be a hit!
It is so easy to make pressure cooker crack chicken recipe!
Keep reading for the full recipe. Try using cooked bacon to save even more time.
Serving ideas:
Hamburger buns or sliders. Once you add the chicken, get ready to enjoy a great dinner!
Pasta – It is so good over pasta and the chicken and cream cheese blend perfectly to serve over pasta. It is so creamy and melts over the pasta for an amazing dinner. Plus, the kids think they are eating something different even though it is the same recipe. Tip: If the mixture is too thick to serve over pasta, you can add a little chicken broth. It will help to thin the mixture and make it a better consistency to serve over pasta.
Casserole- Another idea is to add shredded cheese to the top and bake the Crack Chicken Pasta. The chicken mixture is so cheesy and delicious.
Wraps– Use tortillas to make a wrap. Yum! This is perfect for a quick lunch.
I always fix a big salad when I'm making Crack Chicken and it pairs nicely. The crack chicken is rich and decadent so the salad goes really well to balance it all out.
The ideas are endless to enjoy this yummy Crack Chicken. You can't go wrong with this recipe.
What to serve with crack chicken?
Those are just a few of our favorites to enjoy with crack chicken sandwiches. But we have all had those crazy days where it was potato chips all around.
We also have just served it with slaw and everyone enjoyed that. It is really yummy however you serve this amazing meal.
If you make slaw, you definitely will want to try the Best Coleslaw Recipe. It is our favorite recipe and just perfect!
How to make Keto Crack chicken:
Lettuce wraps – Skip the buns and serve the chicken on lettuce wraps.
Salad- Make your favorite salad and top with the chicken mixture.
This chicken is so delicious that I could really just eat a bowl of it!
Try keto crack chicken instant pot!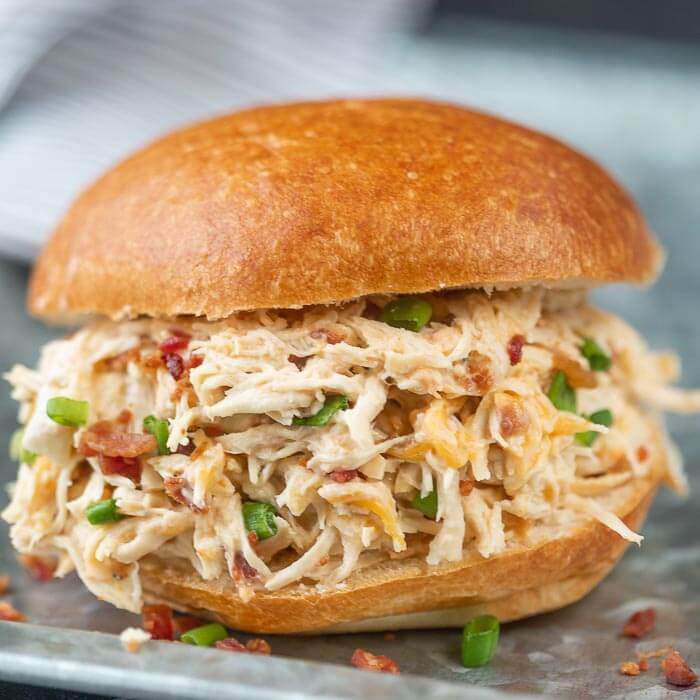 Crack Chicken Instant Pot is so easy!
This meal is so simple and the pressure cooker gets dinner on the table fast. Literally, this meal is SO fast.
The chicken is so tender and delicious and everything just has the best flavor. You will think that it was slow cooked all day but really the pressure cooker make this meal in minutes.
The mixture of chicken, cream cheese, bacon and ranch come together to make a meal so tasty that you will not be able to eat just one sandwich. Your family will go crazy over this recipe!
Instant pot chicken is delicious!
I can't wait for you to try this tasty recipe. It is going to be a family favorite.
Try adding a little ranch dressing to the sandwich if you like even more ranch flavor. Hot sauce is good too!
How do you shred chicken for Instant Pot Crack Chicken Recipe?
I use a hand mixer to shred the chicken faster. It is so easy and one of my best time saving kitchen tips!
Plus, I love the texture of the chicken when you use the hand mixer. I normally put about ½ cup on the buns.
If you prefer though, you can shred with a fork. Just do what works the best for you when shredding the chicken!
Print this Instant Pot Crack Chicken recipe below:
Instant Pot Crack Chicken Recipe
Instant Pot Crack Chicken is the best comfort food and easy to make. Each bite is loaded with ranch flavor, tender chicken and cheese for the best meal.
Instructions
Place the chicken, chicken broth, ranch seasoning and bacon in a 6 quart instant pot.

Add the lid. Set the valve to the seal position.

Set the pressure for 25 minutes.

Do a quick release to release the pressure from the instant pot. Remove the lid.

Once finished shred the chicken with 2 forks and stir in the cream cheese and shredded cheddar cheese. Switch the instant pot the sauté setting and heat until the cheese has melted.

Top with the green onions and serve warm over the buns.
Recipe Notes
I love serving this over buns but it's also great served over pasta as well.  
Nutrition Facts
Calories
727
kcal
,
Carbohydrates
29
g
,
Protein
49
g
,
Fat
46
g
,
Saturated Fat
20
g
,
Trans Fat
1
g
,
Cholesterol
183
mg
,
Sodium
969
mg
,
Potassium
499
mg
,
Fiber
1
g
,
Sugar
1
g
,
Vitamin A
967
IU
,
Vitamin C
4
mg
,
Calcium
264
mg
,
Iron
2
mg
Find more Instant Pot Recipes: