This post may contain affiliate links. If you make a purchase through links on our site, we may earn a commission.
This recipe gives my entire family all of the joys of delicious comfort food without all the work. I know your family will love this best chicken pot pie crock pot recipe.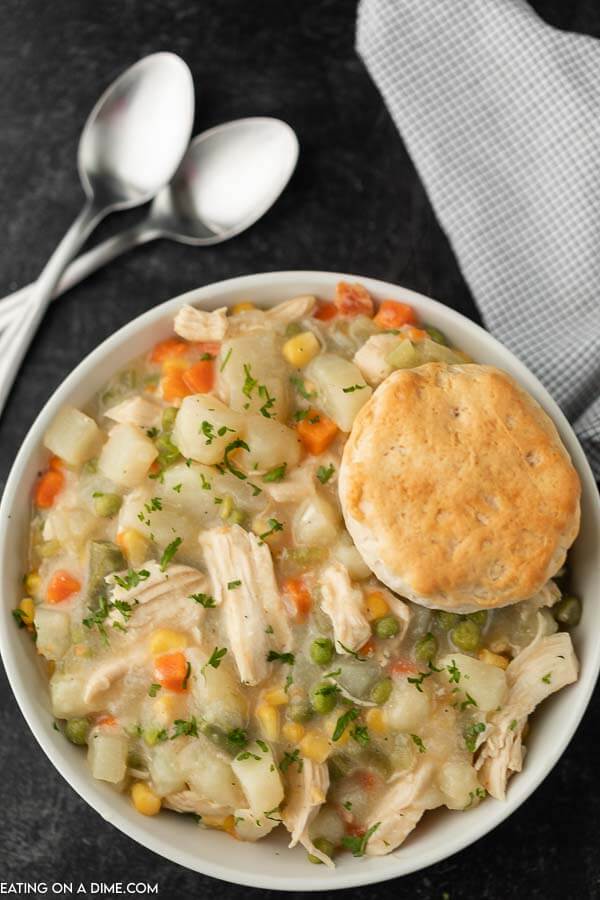 This crock pot chicken pot pie recipe is simple and delicious!
Here is the best Crockpot Chicken Pot Pie Recipe – yes you read that right… we are making it in the crockpot. Basically you are just making the "insides" of the pie.
What to Serve with Chicken Pot Pie Slow Cooker:
Then you serve it with some yummy biscuits or crescent rolls on top. I also suggest that you serve this with our easy to make homemade biscuits.
You could even serve it with some yummy drop biscuits too! The possibilities are endless with this recipe.
Our favorite one pot chicken pot pie recipe!
Now this recipe does call for a can of cream of chicken soup – however, if you want, you can EASILY make your own can of cream of chicken soup. Make sure you check out that recipe to make this crock pot chicken pot pie healthy.
If you love this recipe I hope you try these other delicious Crock Pot Recipes!

Ingredients for chicken pot pie in the crock pot
Chicken breasts frozen (no need to thaw)
Cream of Chicken Soup
Milk
Onion
Potatoes, peeled and diced
Frozen mixed vegetables (the ones with the frozen peas)
Celery
Salt and Pepper
Garlic Powder
Poultry Seasoning
Buttermilk Biscuits
This slow cooker chicken pot pie recipe does not require overly complicated ingredients. I love simple recipes and this one is no different. I promise, you won't have to sacrifice any flavor either!
How to make Crock Pot Chicken Pot Pie:
First place everything in the crock pot except the biscuits.
Then cover and cook on low all day in your favorite crock pot (usually for 8-10 hours). You can also cook on high for 4-6 hours if you need dinner on the table quicker.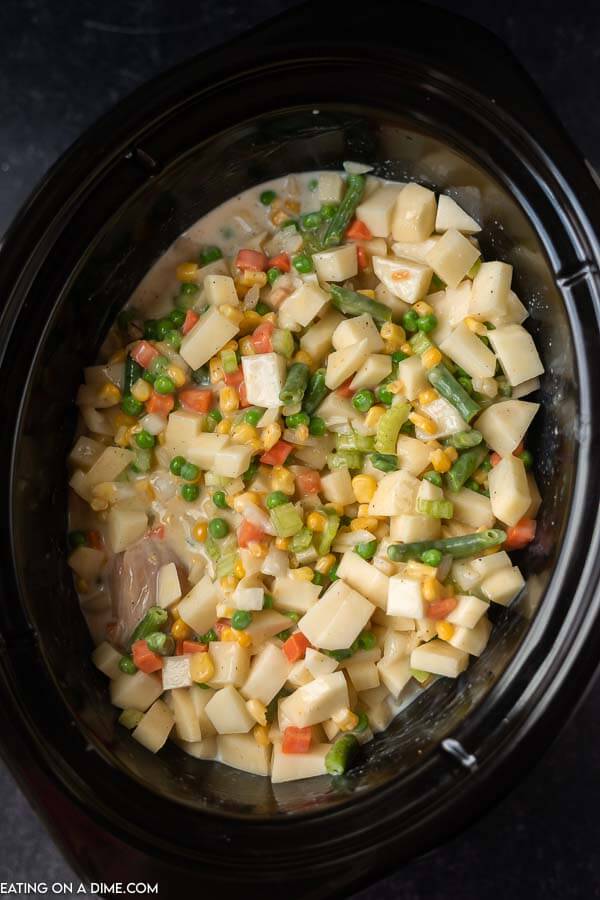 Next remove the chicken and shred. Add the chop chicken back into the crock pot and stir to combine this chicken with the other ingredients.
Towards the end of the cook time of this great recipe, bake the biscuits and serve a biscuit on top of each bowl when serving. I like using the refrigerated biscuits as it's easier than having to create a pie crust! I'm all about saving time in the kitchen.
It is delicious and very easy!
This recipe is so easy to make but simply tastes delicious. It has the comfort food of a chicken pot pie without all the work of actually making a pie.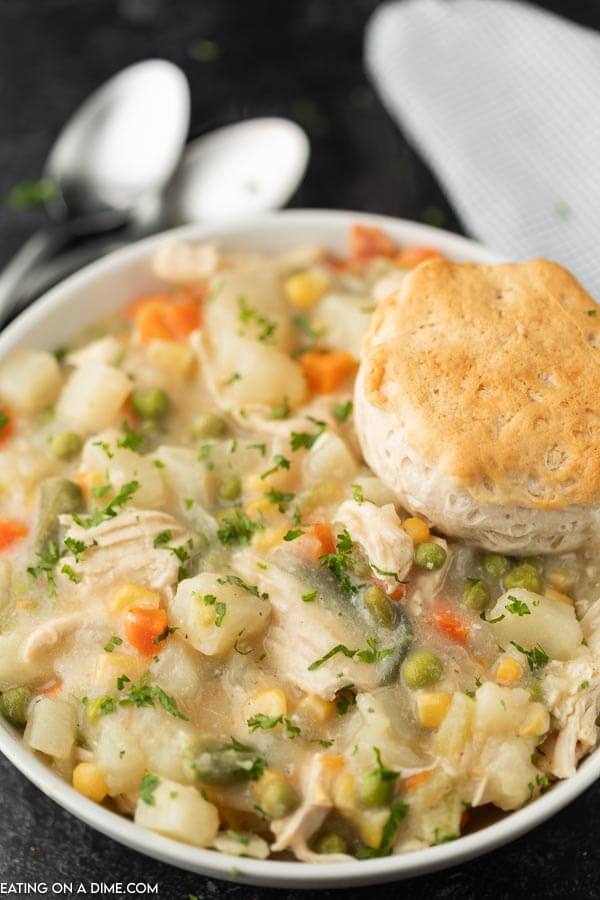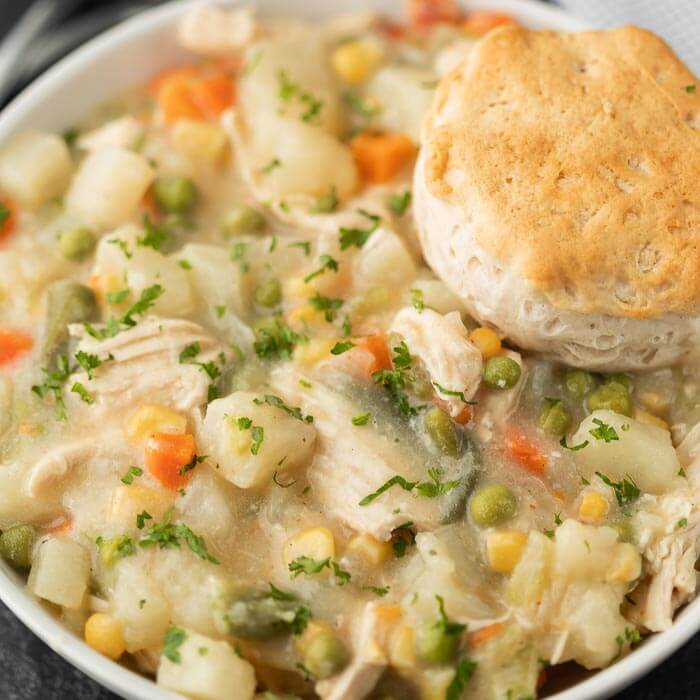 Variations
You can use your favorite type of biscuits for the topping. I usually use the large ones that are on sale. I recommend that you use your favorite kind!
You can make crock pot chicken pot pie bisquick by making your own biscuits from a biquick mix.
Also, if you love creamy chicken pot pie, you can mix in heavy cream instead of the milk. I would not add it in the crock pot until the last hour of the cook time.
Another quick variation to this recipe is to use vegetables that you love. If you do not love carrots, celery, corn or peas then you can definitely leave them out and add in your favorite instead. I have made this recipe with green beans before and it was delicious!
Use chicken thighs – Chicken chicken thighs would also be delicious in this recipe.
How to thicken chicken pot pie in crock pot
If your chicken pot pie recipe is not as thick as you would prefer after the cooking time, you can easily thicken the sauce right in your crock pot.
My favorite way to thicken sauces in my recipes is by creating a corn starch slurry and adding it to my crock pot.
To make this cornstarch slurry, I mix ¼ cup of corn starch with 1 cup of cold water or chicken broth until the corn starch is completely dissolved. Then I add this mixture to the crock pot and cook on high for 30 minutes until the sauce is the consistency that I want for this recipe.
You can also follow this same process with flour instead of corn starch if you prefer.
Why does my Chicken Pot Pie get Watery:
If you chicken mixture is bit watery it is possible that it not done cooking. The chicken pot pie ingredients need time to set up and create a thick filling. If you find that your is getting to dark or burning, place a piece of foil over the top.
Can I use Fresh Vegetables?
Yes, you can use fresh vegetables. This is a great recipe to add any leftover vegetables that you need to use. We normally use frozen veggies, but fresh work just as great.
Can I use Leftover Rotisserie Chicken?
Yes, you can use leftover rotisserie chicken. Use 3 cups of leftover rotisserie and add to the crock pot. This recipe is great to use any type of leftover chicken.
How to freeze chicken pot pie
This recipe is VERY freezer friendly.
To make freezer crock pot chicken pot pie, all you have to do is toss all the ingredients except the potatoes in a freezer bag. (potatoes do not freeze well uncooked). Then freeze the pot pie.
Next I just toss the freezer bag of ingredients into a crockpot, add your potatoes and cook like normal.
If you want to freeze the potatoes, then substitute diced hash browns for the potatoes and you will still get the same delicious meal and it will be frozen ready to cook.
Freezing it ahead of time really saves you money in the long run. All you have to do is toss it in the crockpot in the morning. Done!
Check out our What to serve with Chicken Pot Pie for the best chicken pot pie side dishes.
Print your recipe for
easy slow cooker chicken pot pie recipe:
Crockpot Chicken Pot Pie
The Best Crock pot Chicken Pot Pie Recipe. You are going to love this easy chicken pot pie recipe. It is our favorite crock pot recipe!
Instructions
Place everything in the crock pot except the biscuits.

Cook on low for 6-8 hours or on high for 3-4 hours.

Remove chicken and shred. Add back into the crock pot and stir to combine.

Bake your biscuits according to the package directions.

Serve warm and top each bowl with a biscuit with serving. Enjoy!
Recipe Video
Recipe Notes
The nutritional information includes the biscuits. 
Refrigerate the leftovers in an air tight container for up to 5-7 days.  
Nutrition Facts
Calories
459
kcal
,
Carbohydrates
60
g
,
Protein
19
g
,
Fat
17
g
,
Saturated Fat
4
g
,
Trans Fat
1
g
,
Cholesterol
34
mg
,
Sodium
1170
mg
,
Potassium
877
mg
,
Fiber
5
g
,
Sugar
5
g
,
Vitamin A
3068
IU
,
Vitamin C
13
mg
,
Calcium
107
mg
,
Iron
4
mg
The Lazy Day Cooking Club saves me time and money!
If you enjoy freezer cooking as much as I do, I encourage you to check out our Lazy Day Cooking Club.
This club is a freezer cooking meal plan that provides you with great recipes, instructions on how to freeze and all the ingredients that you need for great crock pot recipes.
Once you have prepared the freezer meals, it makes dinner time a breeze. You can have dinner in your slow cooker or instant pot in minutes.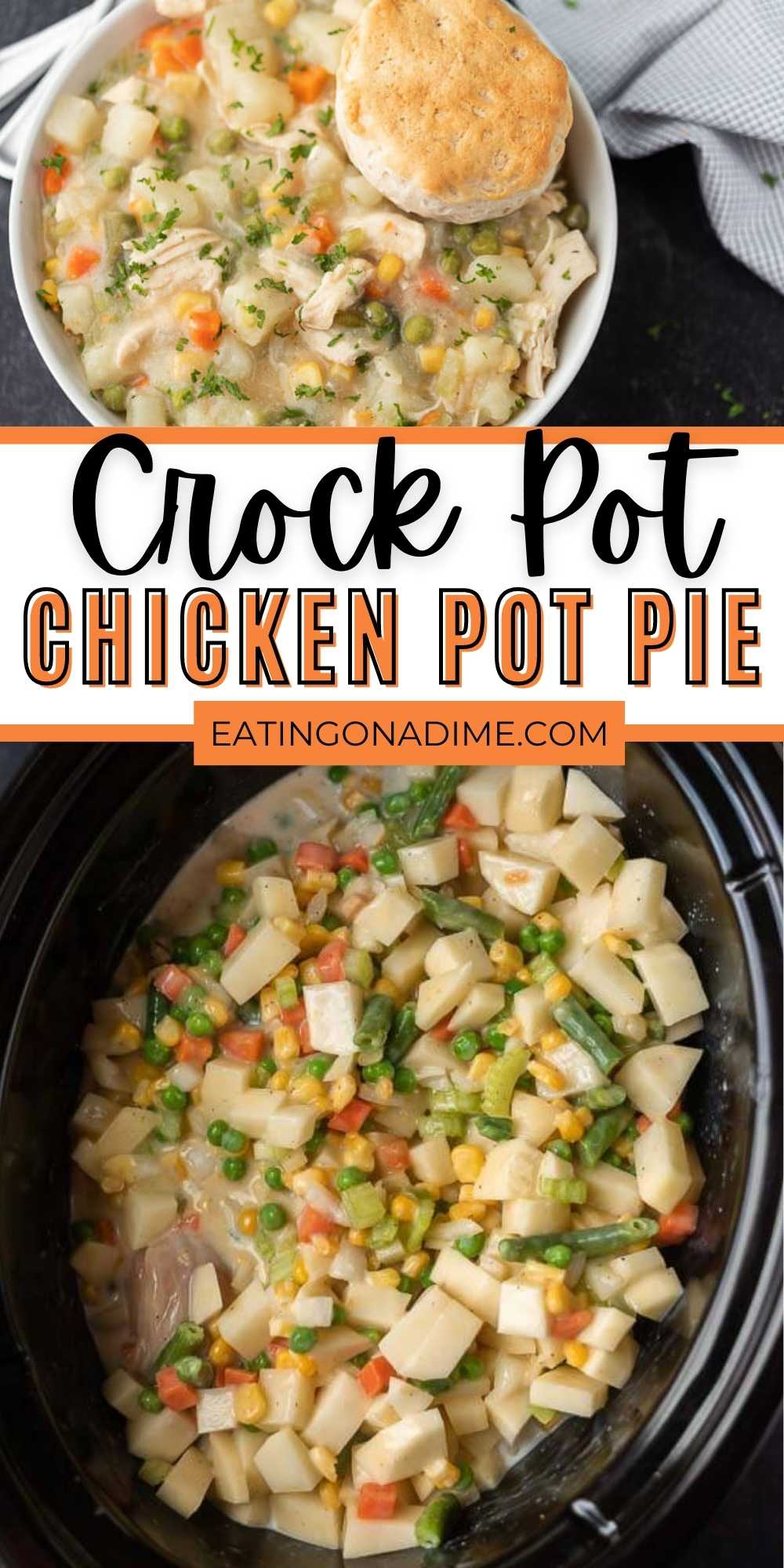 Try one of these Dump and Go Slow Cooker Recipes.