This post may contain affiliate links. If you make a purchase through links on our site, we may earn a commission.
If you love easy soup recipes, you are going to love this easy slow cooker recipe. Crock Pot Italian Chicken Soup Recipe is hearty, filling and healthy. This meal is sure to be a hit with the entire family.
Crock Pot Italian Chicken Soup Recipe
A few weeks ago, I was craving a light chicken soup, but with a different flavor. So I came up with an Italian Chicken soup in the crockpot.
The kids loved it! I hope your family does too. With the weather getting colder almost every day, this soup will come in handy.
Crockpot Italian Chicken Soup Recipe Video!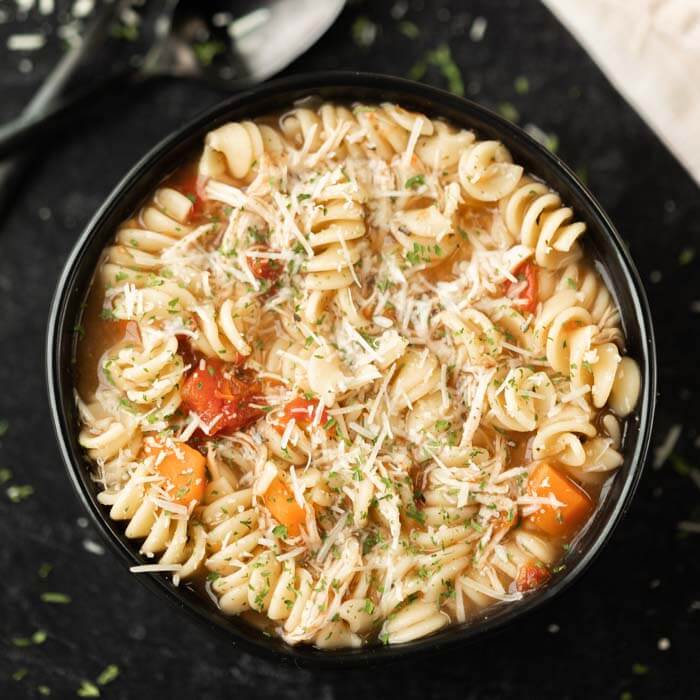 This Slow Cooker Chicken Soup is comfort food and sure to please a crowd!
We love to serve this yummy soup with garlic toast. Sometimes, I will make these Easy Homemade Dinner Rolls.
Your family will be in love either way. The kids asked for more and more.
You know a recipe is a hit when everyone enjoys the meal and asks for seconds. Yeah!
It is truly a one pot meal so that is a plus in my book! The slow cooker does all the work and there isn't a ton of dishes and pans to clean up afterwards.
You will be so surprised how quick and easy this meal is.
You will need a slow cooker to make Italian Chicken Soup.
If you are in the market for a new crockpot, this one is my favorite. I use this all the time and it's great.
Another favorite is this programmable crock pot for when I am am not at home all day. I love coming home to a nice meal ready and waiting!
Let's make Italian Chicken Noodle Soup!
This meal is so simple to make and perfect for busy weeknights. Even the kids will enjoy this meal.
The entire family will be excited for dinner time when they know this delicious soup is being served.
We used rotini pasta but any small noodles we do. Just use what you have or what is on sale.
Ingredients for Authentic Italian Chicken Soup:
Boneless Chicken breasts (can be frozen) – You can also use boneless chicken thighs
Onion
Diced Tomatoes
Red Bell Pepper
Carrots
Italian Seasoning
Garlic Salt (The Best Garlic Salt Substitute)
Bay Leaf
Salt and Pepper
Chicken Broth
Rotini Pasta
Parmesan Cheese
How to make Slow Cooker Italian Chicken Soup:
Dump everything (except for the pasta and parmesan cheese) into the crockpot.
Cover and Cook on low for 8 to 10 hours. Shred the chicken into small pieces.
Stir the uncooked pasta into the crock pot.
Cover and cook on high for 20-30 minutes.
Stir to combine. Then serve.
We liked to serve it with Parmesan cheese and some garlic toast. YUM!
Salt and pepper to taste. It's also really good with a little red pepper sprinkled in the soup for extra heat.
I always like to add extra black pepper to my bowl!
This soup recipe is so easy to make!
Print this Crock Pot Italian Chicken Soup recipe below:
This is the best homemade Italian Chicken Soup!
My kids loved dipping their garlic toast into the soup -delicious! I love getting every last drop of this tasty soup.
It's so warm and hearty and just makes you feel better. Sometimes when my kids are under the weather, they will request this comforting Crock Pot Italian Chicken Soup Recipe.
Enjoy!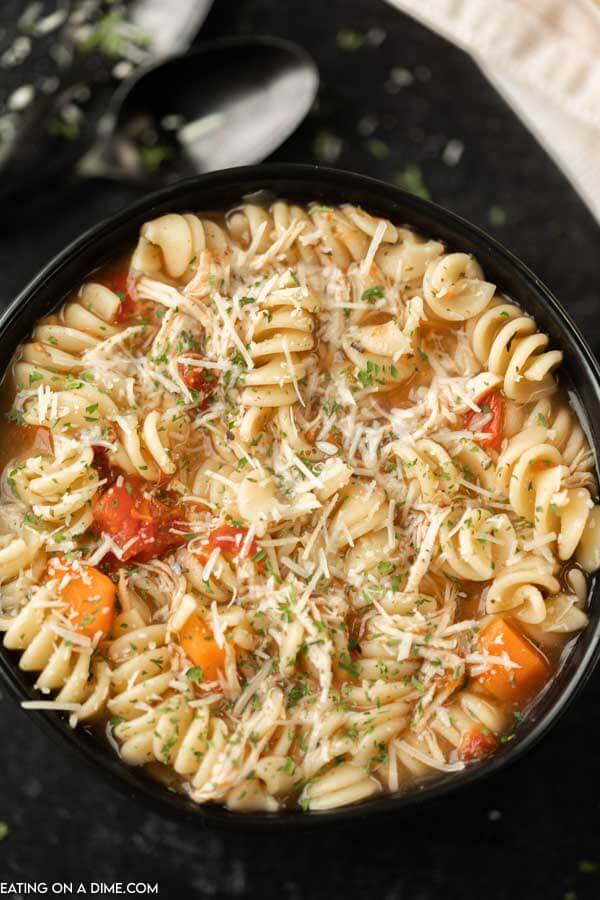 Tip for packing Slow Cooker Italian Chicken Soup:
This soup is also great reheated for lunches. Whether you are packing for your lunch at work or the kids at school, it's even better the next day.
I think the flavors have even more time to blend. We use a thermos to pack the soup in and keeps it nice and hot until ready to eat.
Head on over to Amazon where you will find small thermos containers on sale for as low as $10. Don't skimp on the thermos.
Those plastic ones do not work well. Get a nice thermos on sale and it will last you for years.
Trust me! I have learned to buy a good one from the start.
It saves me money in the long run. You can also learn how to keep chicken nuggets warm in school lunches.
Your thermos will gets lots of use for sure. We all have one and it keeps lunches interesting and makes other things possible besides boring sandwiches every day.
Be sure to check out all of our delicious Crock Pot Recipes here.
The slow cooker is such a handy kitchen gadget on busy weeknights. It is so nice coming home to dinner ready and waiting.
If your family loves soups like we do, give these other recipes a try. They are sure to be a hit.
I bet the kids will be surprised just how much they love these easy recipes. Plus, you will love how simple soup is to make in the slow cooker.
Learn how to make chicken stock and save money from the store bought version.
Crock Pot Italian Chicken Soup recipe is also very budget friendly!
Saving money on groceries is a must in our house. This is definitely a recipe that is budget friendly, doesn't take a lot of time to make and everyone enjoys.
It's so nice saving money and serving a meal that the entire family will enjoy. Plus, it does not require hours in the kitchen.
And we all know how quickly that can add up and bust the budget. If you enjoy this Slow Cooker Italian Chicken soup, you will love these other delicious soup recipes. Yum!
Crock Pot Italian Chicken Soup Recipe
Crock Pot Italian Chicken soup recipe is a tasty and easy meal everyone will enjoy. Slow Cooker Italian Chicken Soup is filling and healthy. Try Italian chicken soup for a delicious meal everyone will ask for more!
Instructions
Place all the ingredients except for the pasta and the parmesan cheese in a 6 quart crock pot.

Cook on low for 8-10 hours or on high for 4-5 hours.

Remove the chicken, shred and return it back to the crock pot.

Stir in the uncooked pasta. Cover and cook on high for 20-30 minutes until the pasta is cooked through.

Stir to combine. Serve topped with the shredded parmesan cheese and enjoy!
Recipe Notes
Refrigerate the leftovers in an air tight container for up to 5-7 days.  
Nutrition Facts
Calories
338
kcal
,
Carbohydrates
52
g
,
Protein
20
g
,
Fat
6
g
,
Saturated Fat
2
g
,
Trans Fat
1
g
,
Cholesterol
27
mg
,
Sodium
1774
mg
,
Potassium
694
mg
,
Fiber
4
g
,
Sugar
6
g
,
Vitamin A
5755
IU
,
Vitamin C
43
mg
,
Calcium
227
mg
,
Iron
3
mg
Try these other crock pot soup recipes: