This post may contain affiliate links. If you make a purchase through links on our site, we may earn a commission.
London broil marinade is easy to make and you can enjoy the best steak at home. The ingredients are simple and the flavor is amazing. This is an quick and easy marinade.
London Broil Marinade is so easy!
Sometimes you just need a good steak and this London Broil marinade is the perfect and frugal way to enjoy steak at home. Instead of eating out, splurge by buying a London Broil at home.
Sure… steak isn't the cheapest choice of dinner, but eating it at home is much cheaper than heading to your nearest steakhouse. Plus, if you have a large family like I do, it is much cheaper to eat steak at home.
I'm always amazed at just the cost of a simple side dish at restaurants! Crazy! So, make this today and enjoy the best steak dinner at home.
With this delicious London Broil Marinade, you will think you ARE at a steakhouse. Don't worry… the ingredients are not scary – they are simple and you probably already have them in your pantry.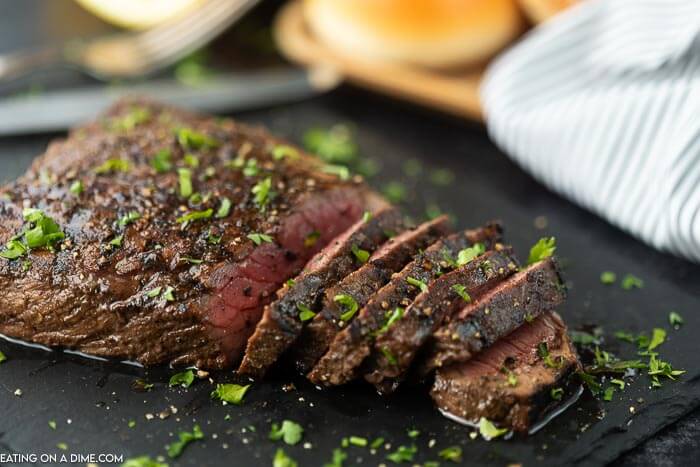 What is London Broil?
London Broil is what the butchers often call the flank steak or skirt steak. These meats are usually the tougher meats with minimal fat content.
We usually let the meat set for several hours in the marinate. Then the London Broil marinade grill the meat or put in the oven broiler on high heat. Once the meat is done we typically will slice in thin slices and serve.
Best meats to use:
London Broil is typically the top round steak or flank steak. Both of these cuts of meat are delicious to marinade and turn out so tender and flavorful.
Plus these meat do not take long to cook. Which is always a plus for me.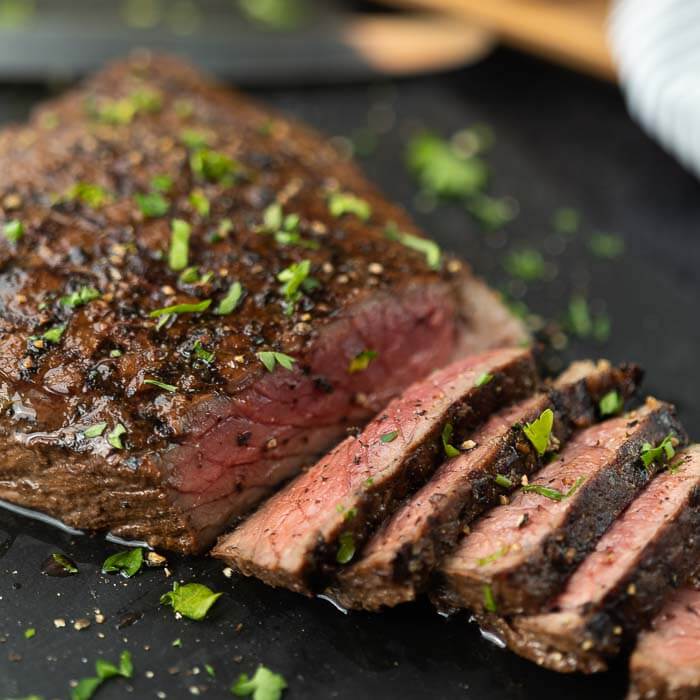 What to Serve with London Broil Steak:
We love a simple salad and some type of potatoes with steak. I love microwave baked potatoes for something quick. Sometimes, we make foil pack grilled potatoes and that is really easy.
Grilled asparagus is another favorite and so simple on the grill. Just keep it simple. The steak is really the star of the show.
Learn how to make and freeze garlic bread. We love to do this for something quick with steak. Plus, it is much cheaper than buying garlic bread at the grocery store.
Check out all our Best Side Dishes for Steak.
Time Saving Tips:
Place the marinade with your meat in a freezer bag. Then freeze. When you are ready to eat steak, your London broil will marinade while it is thawing! That means this steak is also freezer friendly.
I'm sure many of you are probably wondering how on earth you can save on London broil steak. Our tip to save on meat – make sure you stock up on beef when you find them on sale.
Shop your local meat sales or buy in bulk to save on steak. You will want to make grilled london broil marinade the time!
Since we are talking about steak marinades, make sure you try my 3 ingredient steak marinade. YUM!

The Best London Broil!
This is seriously the BEST LONDON BROIL MARINADE. You will love how tender and flavorful the steak is.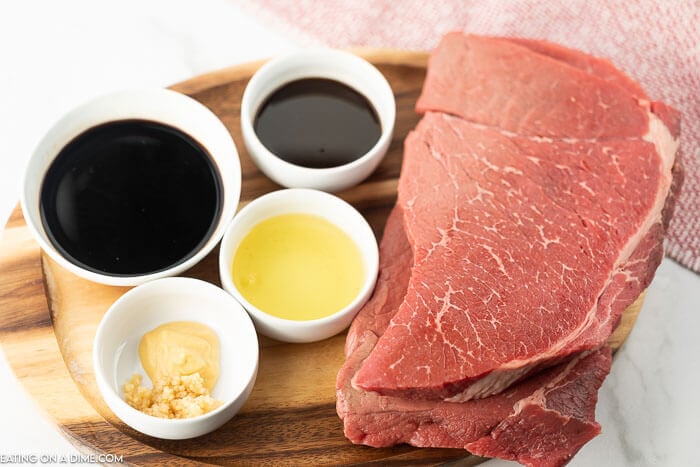 Ingredients for the Best london broil recipe:
London Broil
Balsamic Vinegar
Olive Oil
Worcestershire Sauce
Dijon Mustard
Salt and Pepper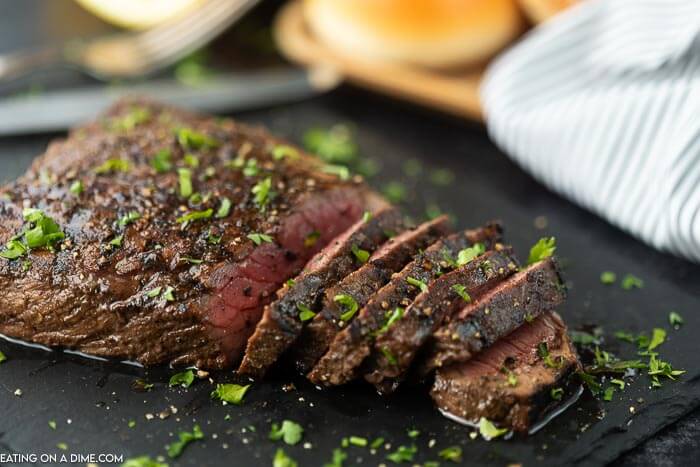 How to make london broil marinade:
First, mix all of the ingredients together in a small bowl. I have also added in some soy sauce and some lemon juice.
Second, get a large ziplock bag and put the london broil inside with the marinade.
Seal and marinade for at least 4 hours. I prefer to do this overnight if possible.
How long to grill London Broil:
The steak needs to sit at room temperature for 30 minutes so go ahead and take that out of fridge. Once they have set out, then they are ready to cook.
First, get your grill fired up. You want the steaks to grill on medium high heat.
Second, put the steaks on the grill. I like to get a good char on the outside while the center remains rare to medium rare.
This does not take long at all so keep a close watch. We are using about 1″ thick London Broil so keep in mind that a thicker piece of meat will take longer to cook.
Cook until the steak is how you like your meat cooked. Remove from grill. Making sure you cook several minutes each side of steak.
Finally, let the steak rest on a cutting board and then cut across the grain into thin slices. This should be really easy as the steak is tender. The tender london broil will just melt in your mouth.
Note- Another option is to broil the London Broil in a broiler pan on high until the steak is how like your meat prepared.
Regardless of the weather, you can enjoy this fabulous recipe at home. Grilling steaks is my favorite way to eat steaks. Try it this week!
How to know when London Broil is done?
We like using a meat thermometer to make sure our meat is done before serving. It saves me from having to cut in the meat to early to check for doneness. The exact cooking time could vary based on how thick you meat is, so I always try and have my meat thermometer available rather I am grilling or putting in the oven.
Depending on well you want your steak done, I follow these temperature readings before serving,
For a rare(red center cut) steak – I want the temperature to be around 120-130 degrees.
A Medium (warm red center) Rare steak – Temperature needs to be around 135 degrees.
Medium(pink center) steak – Temperature reading about 145 degrees.
Print this LONDON BROIL MARINADE RECIPE below:
London Broil Marinade
Try this delicious and easy London Broil Marinade. You probably already have all the ingredients in your pantry for this delicious london broil recipe.
Instructions
Combine all the ingredients together in a small bowl.

Place the London Broil in a large ziplock bag, pour the marinade over the top, seal and marinade for at least 4 hours but overnight is preferred.

Heat the grill over medium high heat. Remove meat from the refrigerator and let sit at room temperature for 30 minutes.

Cook over medium high heat to get a good char on the outside while the center remains rare to medium rare. About 5-7 minutes per side for an approximately 1" thick London Broil. A thicker piece of meat will need a longer cook time.

Cook until it reaches internal temperature of 125-145 degrees depending on how you like your meat prepared.

Remove to cutting board and allow meat to rest for 10 minutes. Do not cut until the meat has rested.

Cut across the grain in thin slices for perfectly tender steak.
Recipe Notes
*You can also broil the London Broil in a broiler pan on high for approximately 4-6 minutes per side for a 1″ thick cut of London Broil until the meat reaches an internal temperature of

125-145 degrees depending on how you like your meat prepared.
Nutrition Facts
Calories
399
kcal
,
Carbohydrates
5
g
,
Protein
53
g
,
Fat
17
g
,
Saturated Fat
4
g
,
Cholesterol
138
mg
,
Sodium
622
mg
,
Potassium
926
mg
,
Fiber
1
g
,
Sugar
4
g
,
Vitamin A
7
IU
,
Vitamin C
1
mg
,
Calcium
67
mg
,
Iron
5
mg
More Easy Steak Recipes: