This post may contain affiliate links. If you make a purchase through links on our site, we may earn a commission.
The Best Worcestershire Sauce Substitutes are easy pantry staple ingredients. Make homemade or use these substitutes so you still get the savory flavor.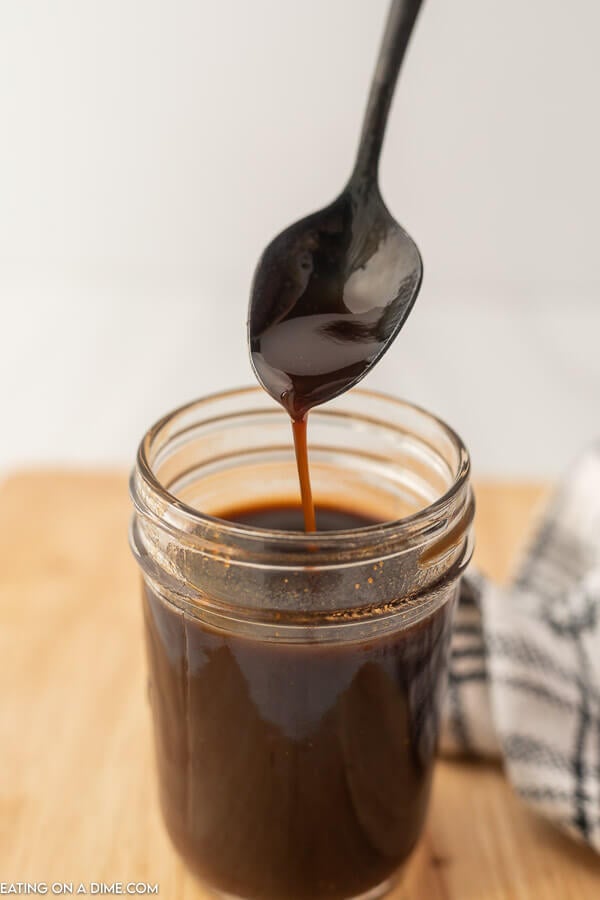 The Best Worcestershire Sauce Substitutes:
The Best Worcestershire substitutes can easily be found in your pantry or you can make homemade with simple ingredients. Worcestershire Sauce offers a savory and complex flavors to many dishes.
The tangy, salty, sweet, and savory flavors of Worcestershire Sauce is hard to replace, but with these easy substitutes you can still those flavors. Easy and delicious 5 substitutes and when combined make a delicious tangy sauce.
What is Worcestershire Sauce?
Worcestershire Sauce is a fermented condiment that is a vinegar base. It usually is made with fermented anchovies, onions, garlic and many other seasoning. It is a sweet and savory flavor but with a slight vinegar and salt tang.
Worcestershire Sauce is used to add a dynamic flavor to every recipe that you add it to. It is a perfect condiment added to stocks and broths. You can also used for marinades and salad dressings.
Worcestershire Sauce adds umami flavor, which means savory, acid, and sweetness to your dish. It is not a vegan condiment as it often contains anchovies but these substitutes can help if you need a vegan substitute.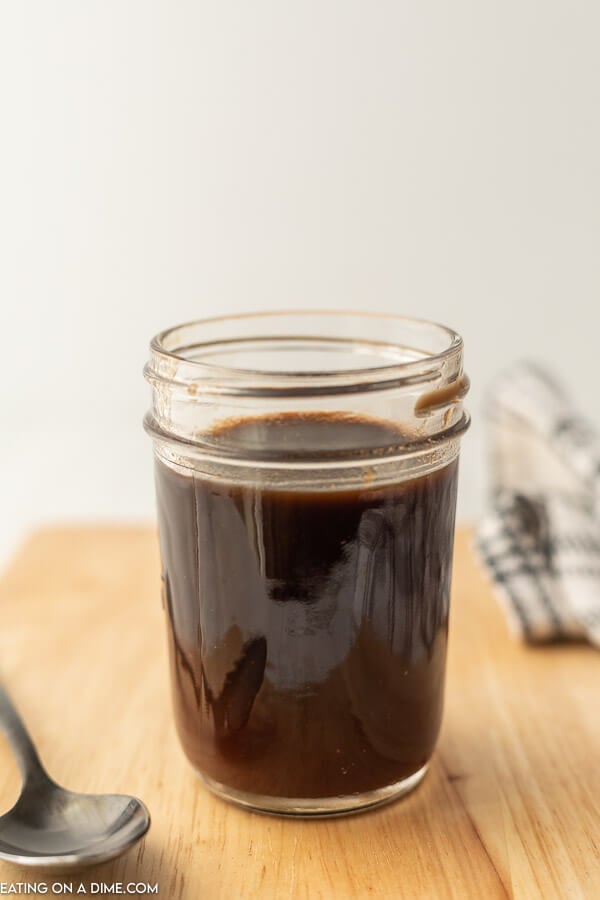 What does Worcestershire Sauce taste like?
Worcestershire Sauce has a very savory flavor. This is because of the soy sauce that is added. It also has a sour taste because of the vinegar. But a hint of sweet if you add in brown sugar.
A few drops is all that is needed when adding to a dish. It is one of the most concentrated condiments that is used. Make sure to do a taste test before adding in to much.
Easy Substitutes for Worcestershire Sauce:
Worcestershire Sauce is made with basic ingredients. They include vinegar, fermented onion, garlic powder, molasses, anchovies, salt and sugar.
When choosing your substitute it will depend on what dish you are making. If it is more of a citrus based dish you may choose something over a sweet or spicy dish.
These basic ingredients can be mixed or added separately depending on what you are needing. I like to experiment and see if I can get as close to the flavor profile as I need to add that dynamic flavor that Worcestershire Sauce gives a dish.
It may just need some extra spice and adding just some red pepper flakes is all you need. If Citrus flavor is what you are missing, it could just need a squeeze of a few lemon or lime juice.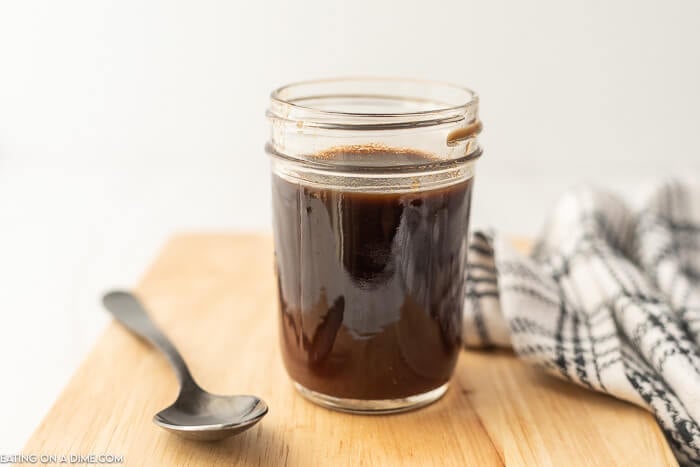 1. Make Homemade Worcestershire Sauce Recipe:
Making homemade Worcestershire means you know exactly what ingredients you are adding. The store bought sauce has ingredients that we can't even pronounce. Easy and delicious Worcestershire Sauce made at home.
All you need to make Homemade Worcestershire Sauce is 4 Ingredients.
Ketchup
White Vinegar
Soy Sauce
Hot Sauce
Combine these ingredients in a bowl completely. Then store in a mason jar to be used in many different recipes. Since this is a homemade recipe, we store in the refrigerator.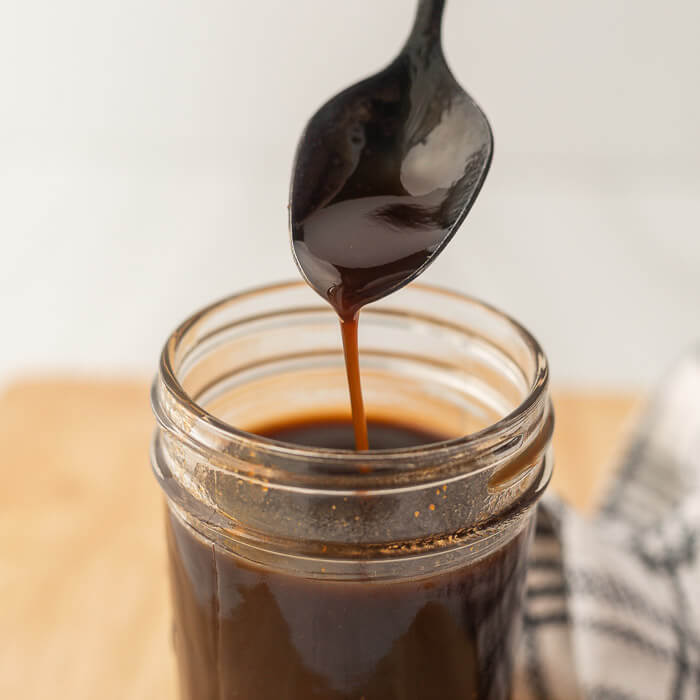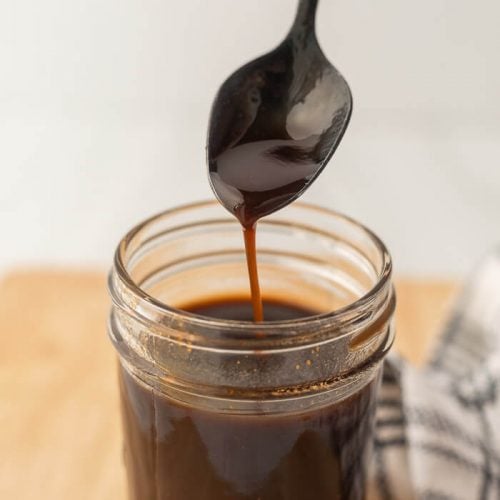 Homemade Worcestershire Sauce
Homemade Worcestershire Sauce is just what your pantry needs. This flavorful sauce is easy to make with simple ingredients.
See the Recipe
2. Soy Sauce or Vinegar:
If you don't have all the ingredients to make Homemade Worcestershire Sauce, the main two ingredients to have is Soy Sauce and Vinegar. The two flavors that Worcestershire Sause adds to a recipe is tangy and salty.
Soy Sauce or vinegar adds this touch of flavor so you don't ruin your dish.
3. Soy Sauce + Sugar:
This combination would be perfect for pasta dishes or beef stew. Reduce the soy sauce and add in a teaspoon of brown sugar to give that sweet and salty flavor to the recipe.
4. Balsamic Vinegar:
Balsamic Vinegar is a great substitute for Worcestershire Sauce as it has similar flavor. It is dark in color and adds sour, sweet, tartness, and acidity flavors that Worcestershire Sauce offers.
Since it is made from fermented ingredients like Worcestershire Sause it makes for an easy substitute. Balsamic Vinegar has a bold flavor and you can also mix with tamarind paste for a thicker texture.
We recommend this substitute for Marinades and Dressing.
5. Coconut Aminos:
If you are looking for a vegan substitute for Worcestershire Sauce, then use Coconut Aminos. It is made from fermented sea salt and coconut palm asp.
Coconut Aminos still adds salty, savory and tangy flavor to your dish while staying within your diet restrictions. It is the perfect substitute for soups, dips, and marinades.
Substitute equal parts of coconut aminos for Worcestershire sauce.
6. Red Wine Vinegar and Tamarind Paste:
If you have Red Wine Vinegar and Tamarind Paste then combine these two ingredients until well combined.
This substitute is a good combination for Worcestershire Sauce. Just use about half of this mixture as a substitute. These two ingredients combined are a little more sweeter and tarter so add slowly to your dish.
7. Oyster Sauce:
Oyster Sauce has similar flavors and ingredients like Worcestershire Sauce. Therefore, it is a good substitute for Worcestershire Sauce.
It can be substitute equal parts for Worcestershire Sauce.
8. Dry Sherry:
Dry Sherry has the same profile flavors that Worcestershire Sauce does. It is the perfect substitute for Worcestershire Sauce and can be added 1:1 ratio for Worcestershire Sauce.
9. A1 Steak Sauce:
Since A1 Steak Sauce is made with tomato puree, vinegar, corn syrup, and other simple ingredients. These flavors combined results in the same flavors of Worcestershire Sauce.
If you are using it as a substitute for Worcestershire Shire, it can be substitute 1:1 Ratio.
Does Worcestershire Sauce need to be Refrigerated?
When you purchase Worcestershire Sauce and you are not immediately using for a recipe, we recommend storing in your pantry or cabinet. Once the sauce is open, you can still store in the pantry or refrigerate.
The ingredients in Worcestershire Sauce like vinegar, molasses, and soy sauce will not spoil but may not last as long if not refrigerated. My recommendation, if this is a condiment that you do not use often, I would refrigerate it.
If you use it often within about 8 months, then you can easily leave it in your cabinet and it will stay good.
Substitutions for Certain Recipes:
We use Worcestershire Sauce in these specific recipes the most. When we are out, we use the following substitutes for these specific dishes.
Beef Stew – If we are making a beef broth and are out of Worcestershire sauce we usually use a soy sauce as a substitute. Soy Sauce and sugar or soy sauce and ketchup is a great alternative.
Shepherd's Pie – Shepherd's Pie is one of our favorites recipes to make. It is a great recipe to make with leftover mashed potatoes. But adding in Worcestershire Sauce gives it a rich flavor. A1 sauce, soy sauce and brown sugar combined make a great substitute.
Heavy Meat Dishes – Heavy meat dishes such meatloaf requires Worcestershire sauce. Add in A1 Sauce, BBQ Sauce and Coconut Aminos combined make a good substitute. Giving your meat loaf the similar profile if using Worcestershire Sauce.
Recipes with Worcestershire Sauce:
We love cooking with Worcestershire Sauce. It is a staple ingredients and used for many of our heavy meat and soup dishes. You can even add into your bloody mary recipes. These are some of our favorites.
1. Crock Pot Pot Roast with Red Wine:
This Slow Cooker Pot Roast with Red Wine is made with potatoes, carrots and easy fresh seasoning including Worcestershire Sauce. But adding in the Red Wine glaze takes your pot roast to the next level. Succulent flavors all made right in your slow cooker.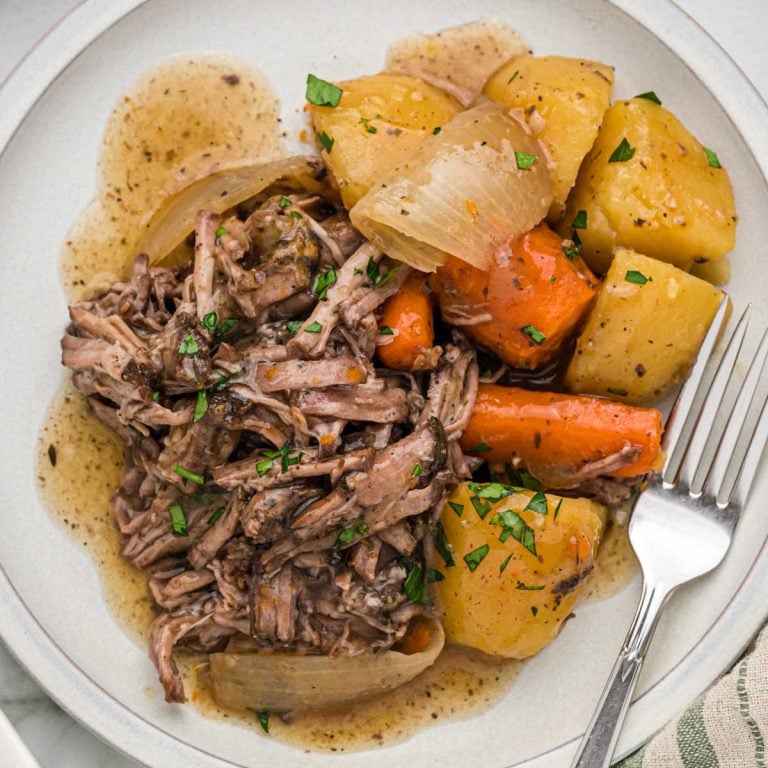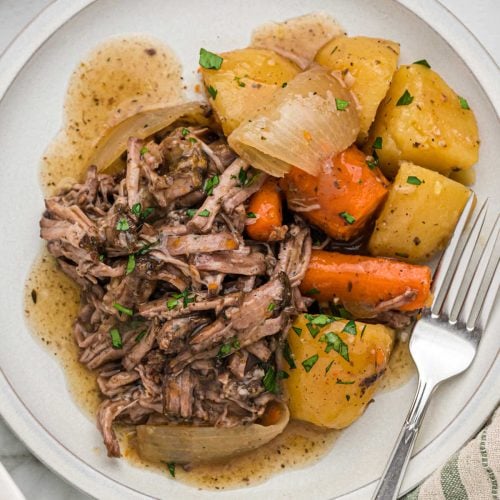 Crock Pot Pot Roast with Red Wine
This Slow Cooker Red Wine Pot Roast is full of warm flavors. Easy seasoning make this Pot Roast so juicy and moist that it melts in your mouth.
See the Recipe
2. Easy Crock Pot BBQ Beef Recipe:
BBQ Beef in a Crock Pot is one of our favorite crock pot recipes. Slow cooking the roast all day makes the meat so tender and juicy.
Adding the BBQ Sauce and Worcestershire sauce with the other simple ingredients makes this Barbeque Beef so flavorful.
Easy Crock Pot BBQ Beef Recipe
This slow cooker bbq beef sandwich recipe is perfect for a busy weeknight dinner or your next party or pot luck. Everyone loves this easy crock pot beef.
See the Recipe
3. Easy Shepherd's Pie:
Shepherd's Pie Recipe is a classic recipe. It just screams comfort food. Shepherd's Pie is easily made with ground beef, frozen vegetables and simple seasoning in about 20 minutes. Then is topped with homemade mashed potatoes.
This casserole is perfectly layered with amazing ingredients including Worcestershire sauce and every spoonful is loaded with all in one bite.
Easy Shepherd's Pie
Easy Shepherd's Pie is a classic comfort food recipe. It is loaded with beef, vegetables, and then topped with fluffy mashed potatoes.
See the Recipe
4. Wendy's Chili Recipe:
We love a good chili recipe. Now that the weather is getting colder, we are always looking for different soups recipes and chili recipes. This Wendy's Copycat chili recipe just hit the spot when we were craving chili.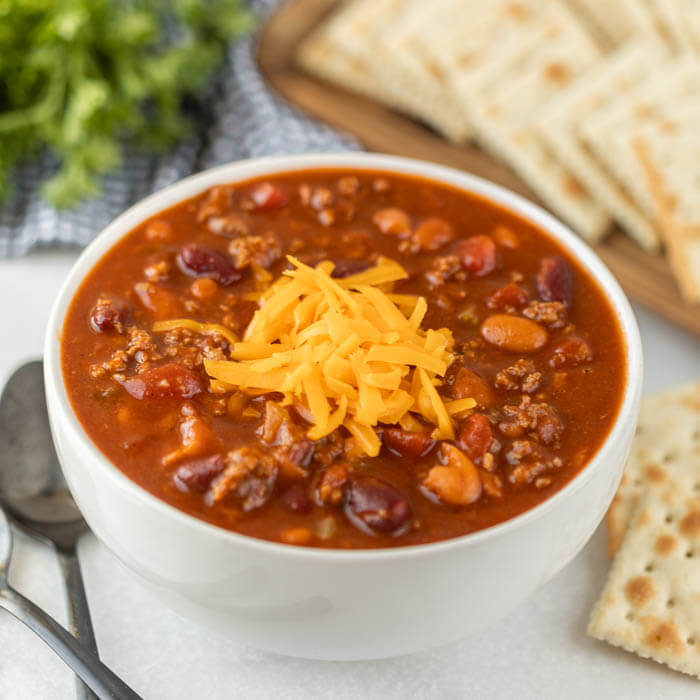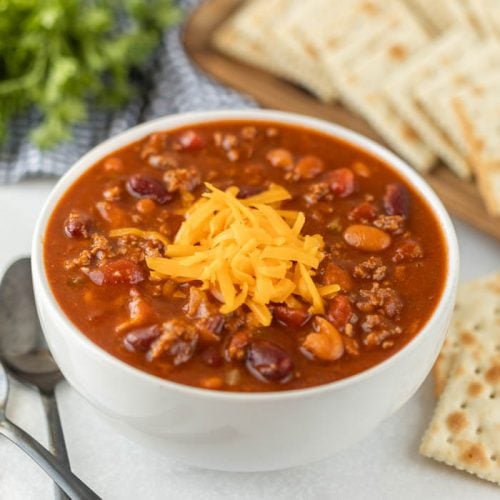 Wendy's Chili Recipe
This simple Wendy's Chili Recipe is easy to make and the best copycat recipe. The entire family will love this easy copycat chili recipe.
See the Recipe
More Ingredient Substitutes: