This post may contain affiliate links. If you make a purchase through links on our site, we may earn a commission.
Learn how to make easy grilled smores and enjoy an ooey gooey treat when grilling. We have all the tips and tricks to make easy smores on the grill.
Easy grilled smores
If you think of how to grill s'mores, then you probably think of campfires and camping. However, sometimes you just need a good old fashion s'more without the campfire… or the camping.
We had friends over to swim and at the end of the day… s'mores is what we wanted, so we made them on the gas grill. After trying out a few different things that we found on Pinterest, we learned the easiest way to grill s'mores.
Get ready for all the best tips to make perfect smores every time on the grill. This is so easy that you might start making s'mores like this all the time.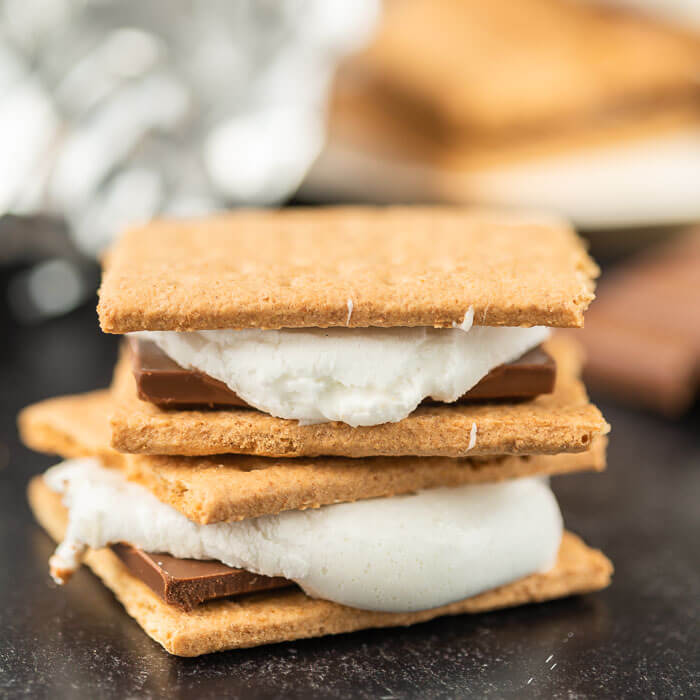 Let's make s'mores!
This is perfect for when you are already grilling and want to make dessert on the grill too. It is so easy we have just fired up the grill just for s'mores. Everyone loves these and it takes just minutes to make.
Anytime the craving strikes for smores, you can make these with little effort and satisfy that sweet tooth.
Ingredients:
foil – heavy duty foil is best so that it doesn't fall apart on the grill. If you use regular foil, I would double wrap it.
graham crackers
marshmallows (we used the bigger ones)
hershey's chocolate bars
non stick spray
a grill (of course)
How to make smores on the grill:
First, heat the grill to medium high heat.
Second, make the smores. Top one graham cracker with chocolate and a marshmallow. Next, top with a graham cracker square.

Finally, wrap each s'more with foil so that they are completely covered.

Put each foil packet on the grill for 4-5 minutes or until the marshmallow is melted and the chocolate gets ooey gooey.
More ideas for easy smores on the grill
Use fudge stripe cookies instead of graham crackers.
Add a peanut butter cup instead of plain chocolate. Peanut butter fans will love this!
Chocolate morsels- Try using white chocolate, dark chocolate, milk chocolate and more. You can even mix several.
Marshmallows- Mini or big marshmallows work great. Just use what you have!
My kids love getting creative with their smores. Now, I'm a fan of a classic smore.
I prefer graham crackers, marshmallow and Hershey chocolate. However, my kids try various combinations all the time and love using leftover candy to make new creations.
That is the beauty of smores. You can make them how you like. They are so easy and always delicious! We also like Smores dip.
Plus, it is just fun to make smores and everyone always likes them. Let us know when you try making them on the grill!
Print this recipe for easy grilled smores:
Easy Grill S'mores
Learn how to make easy grilled smores and enjoy an ooey gooey treat when grilling.  We have all the best tips and tricks to grill smores.
Ingredients
4

Graham Crackers

Broken in Half (8 squares)

1

Regular Size Hershey's Chocolate Bar

broke into 4 pieces

4

Large Marshmallows
Instructions
Heat the grill to medium high heat.

Assemble the s'mores.  Start with 1 graham cracker square, top with the chocolate piece and marshmallow.  Then top with the remaining graham cracker squares.

Wrap each one in foil.  Make sure that they are completely covered in foil.

Grill each foil pack for 4-5 minutes or until the marshmallows are melted.
Recipe Notes
These can also be baked on a cookie sheet in the oven at 450 degrees F for 4-5 minutes. 
Nutrition Facts
Calories
293
kcal
,
Carbohydrates
43
g
,
Protein
3
g
,
Fat
12
g
,
Saturated Fat
6
g
,
Trans Fat
1
g
,
Cholesterol
1
mg
,
Sodium
118
mg
,
Potassium
207
mg
,
Fiber
3
g
,
Sugar
24
g
,
Vitamin A
10
IU
,
Calcium
30
mg
,
Iron
4
mg