Hamburger Hashbrown Casserole is loaded with cheese, hamburger and shredded hashbrowns to make the best casserole. Perfect dinner any day of the week.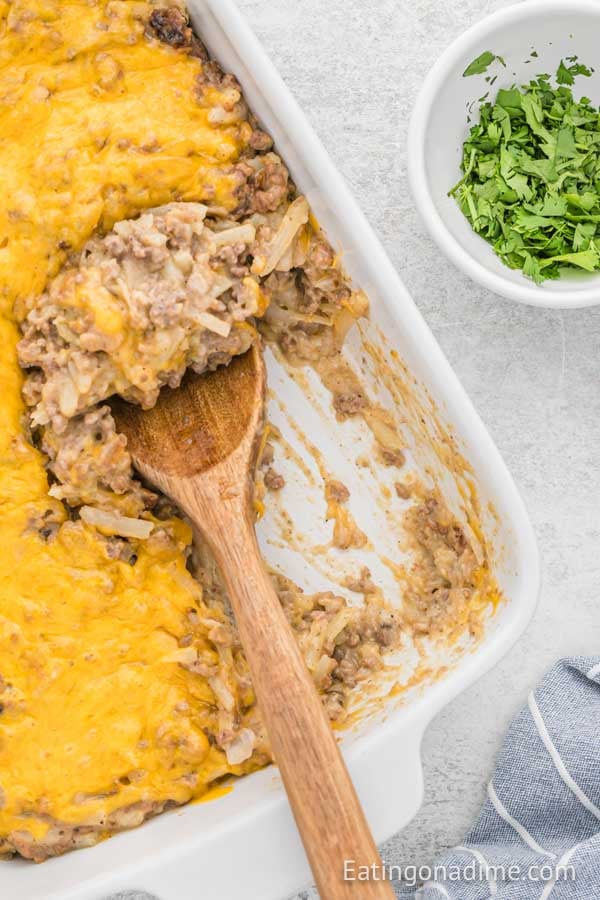 Hamburger Hashbrown Casserole Recipe:
This Hashbrown Hamburger Casserole Recipe is delicious and easy to make. The ground beef and hash browns are mixed together and cooked until the Hashbrowns are cooked to perfection. My family loves casseroles and this is one of their favorites.
We love that once the hashbrowns are crispy then the final step is to add more change to the top. It is the perfect comfort food to feed your family or a crowd.
This simple ingredient cheesy ground beef casserole is easy to pull together for any day of the week. It is saves me time in the kitchen and is budget friendly.
How to Thaw Frozen Hashbrowns for Casserole:
For this recipe, we recommend thawing out the frozen hashbrowns before mixing with the other ingredients. These steps helps keep the moisture out of the casserole if baked with frozen hashbrowns.
Place frozen hashbrown bag in the refrigerator and let thaw overnight.
You can also place frozen hashbrowns in a bowl and cover. Let frozen hashbrowns thaw at room temperature for about 30 minutes. Drain in moisture before mixing with other ingredients.
Ingredients:
Ground Beef, Browned and Drained
Onion, chopped
Shredded Hash Brown Potatoes (32 oz bag), thawed
Cream of Mushroom Soup – Or cream of chicken soup
Milk
Shredded Cheddar Cheese
Pepper
How to Make Hamburger Casserole with Hash browns:
Prepare oven – Preheat the oven to 350 degrees. Then spray a 9 X 13 baking dish with a non stick cooking spray or olive oil.
Cook Ground Beef – Brown the ground beef over medium high heat and drain off any excess grease.
Mix Ingredients – In a large bowl, stir together the browned hamburger meat and thawed hash browns. Then add in chopped onions, milk, cream of mushroom soup, pepper and ½ cups of the cheese.
After combining ingredients – Pour this mixture into the casserole dish.
Bake casserole – Bake for 45 minutes to 1 hour until the hash browns are golden brown and tender.
Add More Cheese – Top the casserole with the remaining cheese. Bake for 5 more minutes until the cheese is melted.
Serve and enjoy – Let the casserole rest at room temperature for 5 minutes. Then the casserole is ready to serve and enjoy. Season with salt and pepper.
How long does it take to Cook a Hamburger Casserole?
This simple ingredient hamburger casserole doesn't take long to prepare or cook. After combining the ingredient and place in the preheat oven of 350 degrees and baked for around 45 minutes.
I like to cook this casserole until the shredded hash browns are crispy on the top. Then I top with additional cheese and continue baking until the cheese is melted. My family likes the cheese crispy and brown before it is removed from the oven.
How to Freeze Hamburger Hashbrown Casserole?
This is a great casserole to prepare in advance then freeze. We recommend preparing the casserole and then freeze before baking it. If we plan on freezing casserole, then we place all the ingredients in a freezer safe container.
Then wrap with plastic wrap and then foil. Place pan in freezer until ready to thaw and enjoy.
What to Serve with Hamburger Casserole:
This hamburger casserole is a hearty meal, so I like to serve a lighter side dish to complete the meal. Here are some of my favorites:
Steamed Broccoli – Steam broccoli in the microwave is easy and would also be amazing without any extra work. My kids like to top the steamed broccoli with melted butter.
Green beans also taste great and make a simple side dish as well.
Asparagus – This meal is also good with asparagus. This oven roasted asparagus is a family favorite and it is very simple and quick to make.
Sour Cream – My family loves to top the casserole with some sour cream.
How to Store Leftovers:
Place your leftover hamburger casserole in an air tight container. Place in the refrigerator for up to 3 days.
Leftover hamburger casserole makes a great lunch the next day. Simply store in a microwave safe dish and then it is easy to reheat.
Easy Hamburger Casserole Meal:
If you are looking for an easy Hamburger Casserole meal this is the one. We love that this meal is hearty and full of flavor. It doesn't require a lot of ingredients and it saves time and money.
Print Recipe here for Hamburger Hash brown Casserole:
More Hamburger Casserole to Make: