This pan fried potatoes recipe will be an instant family favorite! It will remind you of your grandma's pan fried potatoes! You won't believe just how easy they are to make!
There is just something about crispy fried potatoes that brings me back to my childhood! I love everything about them from the smell when they're cooking, to the crispy outside when you bite into them. They are the ultimate potato side dish, if you ask me!
If you want an easy side dish that won't heat up your kitchen for the summer, then this is it! My entire family loves pan-fried potatoes and my husband and I fight over the crispier pieces. They're just so good!
How to Pan Fry Potatoes:
I was always afraid of pan-frying potatoes because I thought there was some sort of secret to their crispiness. That couldn't be further from the truth!
Pan-fried potato slices in a skillet is one of the easiest things to make! This is the best pan fried potatoes slices recipe ever!
In a nutshell, all you need to do is peel and slice your potatoes and cook them in a skillet with a little bit of oil or butter.
Seriously, it really is that easy! You can season them up just about any way you want to. Grab your potatoes and skillet and make up a batch today!
How long does it take to make pan fried russet potatoes?
It only takes about 20 minutes to have the perfect pan-fried potatoes! Including the time it takes to peel and slice your potatoes, you're looking at about 30 minutes from start to finish.
Trust me, they're worth it! If you use a mandolin to slice your potatoes, you can save a little bit more time.
Do you need to boil potatoes before frying?
The short answer is no, you don't have to boil your potatoes before you pan fry them. If you want to you most definitely can! All you need to do is simply bring a large pot of salted water to boil. You need just enough water to cover the potatoes.
Add the potatoes to the boiling water and cook for roughly 20-25 minutes. Once the potatoes are fork-tender, you can fry them in a skillet for 5-10 minutes.
You can also use up those leftover potatoes in the fridge! Maybe you made too many baked potatoes, potato wedges or diced potatoes.
Instead of tossing them in the trash, pan fry them for super quick fried potatoes! They make the best breakfast potatoes with only minutes of cooking!
How do you tell if Fried Potatoes are done?
Most of the time you can tell when the potatoes are done simply by looking at them. You want them to be crispy and golden on the outside.
Another good test to see if they're done is by sticking your fork into them. You want them to be fork-tender, but not to where they are falling apart.
Ingredients for the best fried potatoes recipe: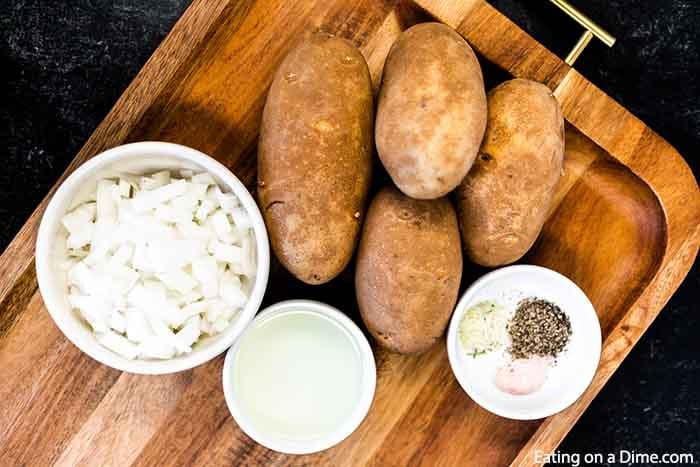 Russet Potatoes (you can also use Yukon Gold)
Vegetable oil or Olive oil
Onion; chopped or sliced (optional)
Salt
Pepper
Optional spices include garlic powder, onion powder, chili powder, rosemary or even seasoned salt.
How to Pan Fry Potatoes:
First peel your potatoes. Then thinly slice them. Typically, I cut them in half long way and then slice them.
Next pour the vegetable into a large skillet. This is the cast iron skillet that I used, though any skillet will do. Add potatoes to the skillet and heat to medium. Cook the potatoes in a large skillet over medium-high heat.
Place a lid on the skillet and cook for 10 to 15 minutes until browned and they're about halfway cooked.
Season liberally with salt and pepper. If you do not want to use sliced onions, you can use onion powder in their place. For garlic lovers, you can also add some garlic powder.
Add the onions and cook for an additional 10 minutes without the lid. Stir occasionally until potatoes are cooked through. You know they're fully cooked when they become more translucent and the potatoes are golden and crispy.
Print this Home Fried Potatoes Recipe below:
Pan Fried Potatoes
This pan fried potatoes recipe will be an instant family favorite! It will remind you of your grandma's pan fried potatoes!
Ingredients
5

Medium Size Russet Potatoes

peeled and sliced into 1/8" thick slices

3

Tbsp

Vegetable Oil

½

onion

chopped (Optional)

1/2

tsp

Salt

1/2

tsp

Pepper
Instructions
Heat the vegetable oil in a large skillet over medium heat. I used this cast iron skillet, but any skillet will do.

Add the sliced potatoes to the skillet. Cover and cook for 10-15 until the potatoes are browned slightly around the edges and cooked halfway through.

Season liberally with salt and pepper. Then gently stir in the onions. Cook uncovered for 8-10 minutes stirring frequently until the potatoes are tender and browned.

Serve immediately and enjoy!
Recipe Notes
You can also use ½ tsp of Onion Powder instead of the sliced onions for this recipe.  
Nutrition Facts
Calories
205
kcal
,
Carbohydrates
33
g
,
Protein
4
g
,
Fat
7
g
,
Saturated Fat
6
g
,
Sodium
203
mg
,
Potassium
754
mg
,
Fiber
3
g
,
Sugar
1
g
,
Vitamin C
11
mg
,
Calcium
25
mg
,
Iron
2
mg

Try these other easy potato recipes:
Try these other side dishes: