This post may contain affiliate links. If you make a purchase through links on our site, we may earn a commission.
Make this easy Slow Cooker Scalloped Potatoes recipe and never buy the store bought packaged scalloped potatoes again. These are so much better and very simple with the crock pot doing all the work.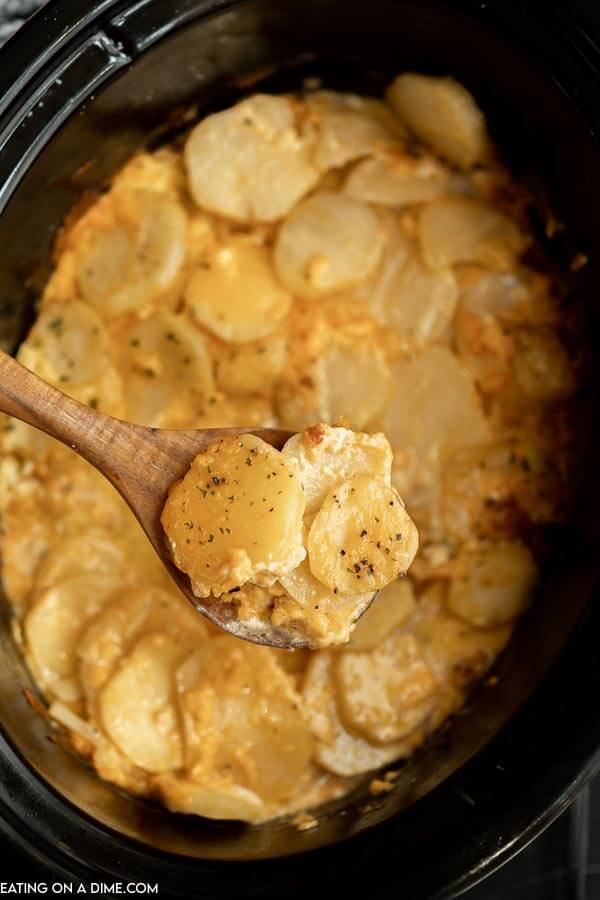 Slow Cooker Scalloped Potatoes Recipe:
Scalloped potatoes are one of my favorite side dishes and this Slow Cooker Scalloped Potatoes Recipe does not disappoint. It is the best comfort food and so creamy and flavorful.
Once you try making these at home, you will never buy those boxed potatoes again. Homemade scalloped potatoes have a ton more flavor and you won't find any powdered cheese mix in these potatoes!
Different blends of cheese melt perfectly with the potatoes for a side dish you will want to make all the time. These are a must try! You might also like Scalloped Corn Recipe and Au Gratin Potatoes Crock Pot Recipe.
A good Crock Pot is a must!
If you are in the market for a new crockpot, I love this casserole dish crock pot. It is perfect for casserole style slow cooker recipes like this one. I bought mine on Amazon, and I love it.
It is perfect for the Holidays and really year round. We love the way it looks layered in the crockpot. We can still enjoy all our favorite casserole recipes without ever turning the oven on.
If you like using an instant pot, this Instant Pot Aura is the one we like using. Using the Instant Pot has been a game changer for my family.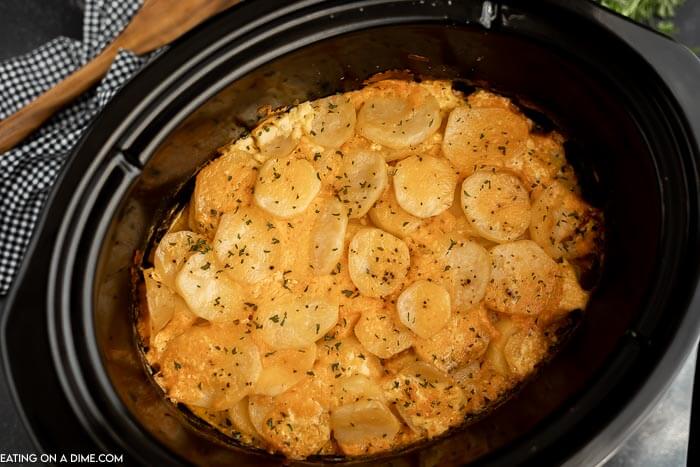 Easy Slow Cooker Scalloped Potatoes:
My family loves any kind of potatoes including mashed potatoes and roasted potatoes. But when I serve these Scalloped Potatoes everyone gets excited. It really is the perfect comfort food. But really it is perfect anytime of the year.
We like serving it with our grilled steaks with a side of broccoli and our meal is complete.
Potatoes au gratin are sometimes compared to Scalloped Potatoes. But they are a little different, scalloped potatoes are much easier to make. We love how easy this can be prepared with easy ingredients that you probably already have on hand.
Ingredients for Crockpot Scalloped Potatoes:
Heavy cream
Chicken broth
Russet potatoes
Minced garlic or garlic powder
Parmesan cheese
Cheddar cheese
Salt and black pepper
How to Make Crock Pot Scalloped Potatoes:
In a small bowl mix together the cream, chicken broth, garlic and salt and pepper then set aside.
Make sure you spray the slow cooker with cooking spray or use crock pot liners. This will make clean up much easier.
Layer the slices potatoes in the crock pot. You can typically do about 3 layers of thinly sliced potatoes.
Top each layer of potato with ⅓ of the cream and cheese mixture.
Cover and cook on high for 4 hours until the cooked potatoes are tender.
We like to top with parsley but that is optional.
Tips on Potatoes:
We always seem to have russet potatoes on hand, so that is usually what I use to make slow cooker scalloped potatoes. But you could also use red-skinned potatoes or yellow gold potatoes. Using the red-skinned potatoes or the yellow gold you do no have to peel the skill. But using the russet potatoes, I always peel the skin as their skin tends to be tough.
When you are slicing the potatoes you want to make sure they are evenly sliced. This ensures that the potatoes are cooked at the same time. Depending on how thin or thick you slice them, depends on how long it will take them to cook.
Easy Side Dish!
These potatoes are good with just about anything. These potatoes tend to be pretty filling, so try serving a lean meat as your main dish. You can serve it with ham, chicken, steak, or fish. Even though scalloped potatoes are good anytime of the year, we tend to serve them on special occasions.
They are perfect to make a head of time and let the crockpot do all the work.
Scalloped Potatoes Variations:
Try customizing your scalloped potato recipe! There are different variations your can try to make this a one pot meal.
Try adding in ham or bacon is a good addition to this recipe. Bacon makes everything taste better!
Half sweet potatoes would be good also. We love sweet potatoes, and dividing up this recipe with sweet potatoes makes me love this recipe even more.
We love to change up the cheese. You can add in Mozzarella, Gouda or Monterrey jack cheese in place of the cheddar cheese. It changes up the taste of the scalloped potatoes, but I love it when we use different cheeses.
We love to change it up occasionally just to make this an easy dish!
When will I know the potatoes are done?
Nothing is worse than serving scalloped potatoes when they are hard or mushy. When I make this recipe I check them about the 3 hour mark. I use this simple trick but poking the potatoes in different areas to see if it is fork-tender. If they are not done, check them again in about 30 minutes.
This will ensure that I serve a nicely plated scalloped potatoes!
Great for Holiday Parties!
We love bringing this side dish to pot lucks or make it for your family gathering. It is so easy to put together and requires very little work.
It is the perfect side dish when you are on a budget. We typically have most of the ingredients already so I love it when I only have to get a few items I am missing to complete this dish.
Everyone will love how it tastes and you can keep it warm with your slow cooker! That is why I love making food in my crock pot so I can easily transport it to my party.
Best side dish for busy weeknights!
Come home to an amazing dinner when you put your crock pot to work. I doubt you ever buy those box mixes again once you try this easy and delicious recipe. You will love how each bite is so creamy and delicious. The cheese is rich and creamy and oh so good!
I feel so good being able to cook really tasty recipes for my family without having it cost a fortune. Plus, it really reduces the stress around here by using the crock pot because it is ready when we come home. I'm not running around trying to figure out what is for dinner when I use the crock pot with very little effort. We are saving time and money!
If you need to save time and money like we do, give this great recipe a try and let us know what your family thinks.

Print this cheesy scalloped potatoes crock pot recipe below:
Slow Cooker Scalloped Potatoes
Make this easy Slow Cooker Scalloped Potatoes recipe and never buy the store bought packaged scalloped potatoes again. These are so much better and so easy.
Instructions
In a small mixing bowl, mix the cream, chicken broth, garlic and salt and pepper.

Spray your crock pot with non cooking spray.

Put a layer of the potatoes in the bottom of your crock pot (⅓ of your total amount of potatoes).

Top with ⅓ of the cream mixture and ⅓ of each of the cheddar cheese and parmesan cheese amounts.

Continue these process until all the ingredients have been layered in the crock pot.

Cover and cook on high for 3-4 hours until the potatoes are tender.

Top with parsley (optional).

Serve immediately.
Nutrition Facts
Calories
542
kcal
,
Carbohydrates
43
g
,
Protein
21
g
,
Fat
33
g
,
Saturated Fat
21
g
,
Cholesterol
109
mg
,
Sodium
843
mg
,
Potassium
1038
mg
,
Fiber
3
g
,
Sugar
2
g
,
Vitamin A
1120
IU
,
Vitamin C
13
mg
,
Calcium
493
mg
,
Iron
2
mg
More Crockpot Potato Recipe:
More Slow Cooker Side Dishes: