Save time and money with these delicious and easy ways to reuse leftover rice. We love to cook once and eat twice!
Ways to reuse leftover rice


Leftover rice is a staple in my home simply because it is easy to fix, easy to reuse and delicious as an added ingredient. Adding rice to recipes makes it more hearty and filling, without adding a ton of cost to the dish. I love to make a huge batch of crock pot rice and then save the leftovers on purpose.
If you are throwing away extra rice, then you are throwing money around. You know I don't like that around here.
My family makes extra rice when we are cooking so we can then reuse it later in the week. This is a really easy way to save so much time in the kitchen.
Don't worry – your family won't even know they are eating left overs.
8 frugal ways to reuse leftover rice
1. Incorporate it into a salad
Leftover rice is delicious in a salad and it really adds a different dimension. It works in salads of all kinds including taco salads, cobb salads, and even just your regular house salads.
Adding the rice will make that salad special and you will be surprised at how delicious it can be. The added flavors can really turn a salad into a rice bowl entree if you add in a meat of some kind. (Some don't even need that)
If you have leftover roasted chicken, shred it to use in this salad.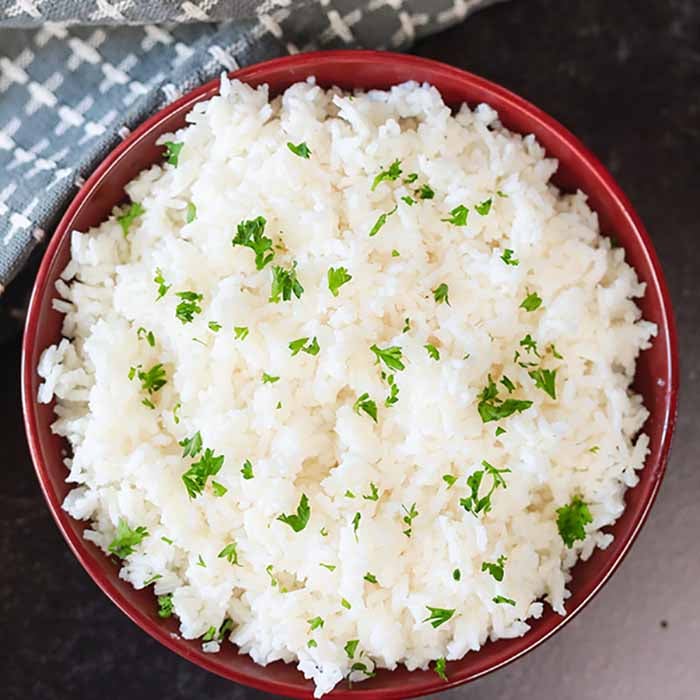 2. Add it to stuffing
Stuffing and rice go together perfectly and it can really give the stuffing a bit more kick. Many folks like to add cajun rice to stuffing for a different flavor profile. Rice can make the dish more filling and give it a wonderful texture as well.
My kids call this rice casserole. It is comfort food in each bite! Wild rice or white rice taste amazing.
This delicious Crockpot Stuffing Recipe is super easy and the rice really changes things up. Give it a try and see how yummy the combination is.
3. Make Burritos!
Leftover rice is perfect for most any Mexican dish, but using it to stuff burritos is truly yummy. The rice blended with some cheese, tomato, refried beans and onion will make your taste buds explode. Leftover rice keeps perfectly fine and is a quick and easy addition to your burrito building fun.
We love Skillet Chicken and rice burritos and using leftover rice makes it even easier. This entire dish is the best comfort food.
Beef burritos make another great option and they are freezer friendly as well.
4. Add sausage for a quick dish
This is a favorite dish in our family and it is so easy. Simply take leftover rice and add a sausage, kielbasa or even hot dog in pinch.
The meat soaks into the rice and the flavors merge perfectly. It is one of the best ways to put together a really quick supper that the kids will love. Add in a veggie or two and you have a great little casserole of sorts.
5. Stuffed green peppers
One of my favorite meals is to take green peppers and add leftover rice after cooking. First take the tops off your bell peppers and cook them in the oven or on the grill. Sautee some onions and squash and then add them to the rice.
Then mix it up well and add the mixture to each of your cooked bell peppers. The one danger here is that you won't have enough leftovers to feed everyone wanting seconds! If you haven't yet, make sure you try our crock pot stuffed peppers recipe.
We also have a quick and easy Instant Pot Stuffed Peppers Recipe.
It is really easy to make with left over rice and your family will be begging for more.
6. Freeze it!
Did you know that you can actually freeze left over rice? We do it all the time.
Head on over here to learn how easy it is to freeze rice and then reheat it.
7. Make Spanish Rice or Make Fried Rice
Spanish rice is already really easy to make. I have a delicious Spanish Rice recipe here. However, you can make it even faster with left over rice. Add the salsa, garlic salt, and cumin and heat it up in a skillet. You can have Spanish rice ready in less than 5 minutes!
This easy fried rice is a great way to stretch your budget and feed a family. Plus, it is so delicious and quicker than take out. We love enjoying a tasty stir fry at home with this rice. Top with green onion to give it a pop of color.
8. Add it to your favorite soups.
My family loves rice in soups. We really do. In fact, one of our favorite soups is this crock pot stuffed peppers soup. You can use your left over rice to add to your soup making this dinner even easier. This is perfect for a crazy weeknight meal.
Prefer the instant pot? Try our instant pot crock pot stuffed peppers soup recipe.
Make sure you also try our yummy Crock Crockpot Taco Rice Soup. It is also perfect to use your left over rice.
Try these easy leftover rice recipes!
Well, there you have it! You officially have no reason to throw away that left over rice. Got left over rice? Next time, put it in the fridge (or the freezer) and use it later in the week.
I promise your family will never know they are eating left overs. You can even make rice pudding for dessert!
Which of these leftover rice recipes do you plan to try?
More leftover ideas to try: