We have over 50 delicious and easy leftover turkey recipes that the entire family will love. These recipes are so amazing that everyone will look forward to the week after Thanksgiving to enjoy these dinner ideas.
Do you love turkey leftovers? Turkey leftovers is one of our favorites.
However, after about three leftover turkey sandwiches, it starts to get a little old. Just in case you end up in the same boat after Thanksgiving, we have rounded up over 50 recipes that we think you'll enjoy.
What to do with leftover turkey?
From casseroles to soup and more, these leftover thanksgiving turkey recipes will be a hit with the entire family.
Next, lets learn how to transform leftovers into delicious new recipes. Once you try these recipes, you will be hooked.
How long is leftover turkey good for in the fridge?
Leftover turkey is normally good for 3-4 days in the refrigerator. However, you can freeze for extended time.
Can you freeze leftover turkey?
Yes, you can. Freeze in an airtight container. Then, It is good for 2-6 months in the freezer.
Slow cooker Recipes
1. Crock Pot Chicken and Dumplings Recipe
Crock Pot Chicken Pot Pie makes dinner time a breeze thanks to the ease of the slow cooker and you can easily use leftover turkey.
2. Crockpot Salsa Chicken
You only need 4 ingredients for this easy meal. Turkey is great substituted for the chicken. Then you can serve this simple recipe on rice, tortillas or eat it on its own.
3. Crockpot Chicken Noodle Soup
Let the crock pot do all the work in this easy soup. Use leftover turkey instead of chicken and make a delicious soup.

4. Crockpot Chicken Pot Pie
Enjoy all of the flavors of delicious comfort food without all the work. I know your family will love this best chicken pot pie crock pot recipe.
5. Crockpot Chicken Tortilla Soup
This recipe is the absolute best comfort food and it is so simple to make in the slow cooker. Turkey is a great to use instead of chicken.
6. Crockpot White Turkey Chili
Try this twist on traditional chili and use leftover turkey.

7. Crockpot Italian Chicken Soup
This delicious soup will be a tasty and easy meal idea. Crock Pot Italian Chicken Soup Recipe is hearty, filling and healthy and tastes amazing with turkey.
8. Slow Cooker Turkey and Stuffing Dumpling Soup
Turn leftover turkey and stuffing into the best dumpling soup. This is a great way to use up turkey stuffing.
9. Crockpot Chicken and Vegetable Soup
This light soup is so flavorful and a great way to use leftover turkey.
One Pot turkey recipes
10. Ground Turkey Chili
Not only is this turkey chili delicious but it is a great way to hide extra veggies.
11. Turkey Noodle Soup
This is such a classic recipe and so easy to prepare. If you are looking for comfort food, this soup is a must try.

12. Creamy Cajun Chicken Pasta
Use leftover turkey for the chicken and you have an amazing fast dinner idea.
13. Turkey Noodle Soup
Lots of veggies and shredded turkey come together for a savory soup everyone will enjoy.
14. One Pot Tex-Mex Chicken Chili
Try this one pot meal that makes dinner a breeze. If you love classic chili, your family will love this Tex Mex twist.

15. White Chicken Taco Chili
This soup combines everything you love about chili and taco soup into one amazing dinner idea.
16. Creamy Turkey Soup
Each bite is so creamy and delicious that your family will go crazy over this soup.
17. Buffalo Chicken Wing Soup Recipe
If you love all things buffalo flavor, you are going to love this soup recipe. It is perfect with turkey.

18. Leftover Turkey Soup
Turn leftover turkey into a delicious soup that is comfort food in each bite.
19. Perfect Turkey Stock
Make the best turkey stock in 6 easy steps.

20. Cream Cheese Turkey and Vegetable Soup
Each bite of this soup is so creamy and flavorful. It's a great way to use leftovers.
Oven recipes
21. Leftover Turkey Casserole with Rice
The kids will love this creamy rice dish with leftover turkey. It is the best comfort food all in a baking dish.
22. Easy Turkey Pot Pie
Pot Pie is so easy and delicious. Turn leftover turkey into a flavorful pot pie dinner.
23. Turkey a la Sweet Potato
Make a baked potato bar and top with leftover turkey and more.

24. Chicken or Turkey Divan
This dish will melt in your mouth. It is so yummy but also very easy to prepare.
25. Leftover French Onion Turkey Bake
Jazz up plain turkey with lots of French onion flavor in this delicious recipe.

26. Creamed Turkey Over Biscuits
This open faced sandwich is amazing with biscuits and so delicious in each bite.
27. Thanksgiving Casserole
Try this casserole recipe that combines all of your favorite Thanksgiving leftovers into a great meal. Find the recipe here.
28. Chicken and Stuffing Bake
Combine delicious leftover turkey and stuffing into one amazing casserole.
29. The Perfect After Thanksgiving Dish
Use those leftover mashed potatoes, turkey and more to make the best dinner idea.

30. Turkey Pot Pie
This is a great way to use leftover turkey as well as leftover veggies. Combine everything into an amazing turkey pot pie.
31. Chicken Noodle Casserole
Try this one pot meal for an easy and tasty dinner idea.
Quick & Easy recipes
32. Turkey Crescent Bites
You can't go wrong with crescents and everyone will go crazy over these savory bites.
33. BBQ Chicken Nachos
Shredded turkey makes amazing nachos. Let everyone use their favorite toppings and you are set.

34. Leftover BBQ Turkey, Bacon and Cheddar Cheese Panini
Lots of melted cheese, delicious turkey and more make a tasty panini for lunch or dinner. However, this can easily be modified for preference.

35. Turkey and Stuffing Sliders
Use leftover rolls and make these delicious sliders.
36. Sushi Inspired Thanksgiving Turkey Rolls
The kids will love these turkey rolls and they are so easy to make.
37. Turkey Quesadillas with Chipotle Cranberry Sauce
Lots of delicious turkey and cranberries make the best quesadillas.
38. Leftover Turkey Sandwiches
Turn leftover Thanksgiving dinner into incredible turkey sandwiches. Everyone can add their favorite toppings.
39. Turkey sandwich Crescent Rolls
Wrap turkey and cheese with crescents for a great lunch.
40. Turkey and Cheese Sliders
Turkey and cheese sliders are perfect for Game Day, parties or just a quick lunch.
41. Bacon Ranch Turkey Wrap
Use leftover turkey in this recipe for an incredible bacon and ranch flavored wrap.
42. Turkey Caesar Salad Wrap
Enjoy everything you love about a Caesar Salad in this easy wrap recipe with turkey.
Skillet
43. Turkey & Sausage Gumbo
Leftover turkey makes the best gumbo and is so flavorful.
44. Cheesy Chicken and Broccoli
This recipe uses lots of leftovers and cheese for the best meal.

45. Creamy Chicken Pasta with Fresh Tomatoes
You only need 20 minutes to make this delicious pasta dish that is so creamy and delicious.
46. Thai Red Curry Stir Fry
Skip take out and make a turkey curry stir fry with leftovers. This looks amazing.
47. Easy Turkey Meatballs
Learn how to make these easy turkey meatballs with leftovers. Then add to sauce and pasta.

48. Chicken & Peppers Stir Fry
This tasty stir fry will have everyone looking forward to leftovers with hearty turkey and veggies.
49. Easy Skillet Chicken with Tomatoes
Try this simple skillet meal with leftover turkey for a meal your family will go crazy over.
50. Skillet Chicken and Rice Burritos
Budget friendly and easy to feed a crowd, this is the best turkey burrito.
51. BBQ Turkey Quesadillas
The zesty combination of barbecue sauce and turkey results in a crispy and tasty quesadilla.
52 . Buffalo Chicken Quesadillas
Enjoy all the buffalo flavor in these quesadillas that can easily use turkey.
Try these easy recipes for leftover turkey.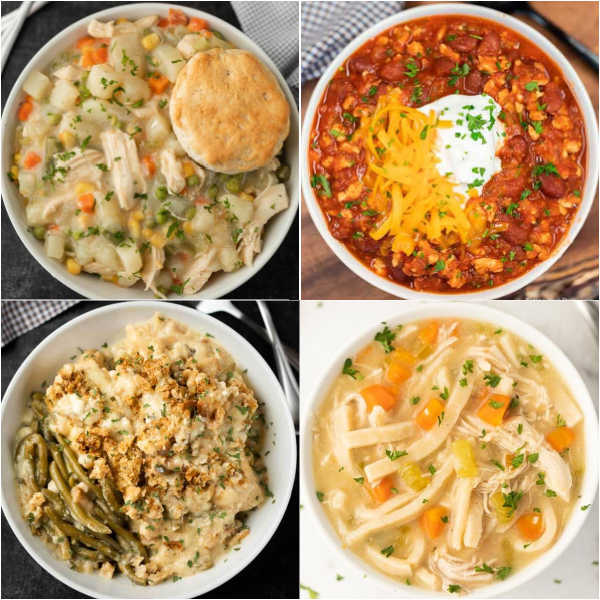 Over 50 leftover cooked turkey recipe.
What do you think? Which post thanksgiving recipes do you think you'll try. I love cooking in my crockpot. However, I'm thinking some of the turkey breast casseroles sound really good.
We would love to hear what you plan to make with thanksgiving leftovers. We always make turkey salad from leftover roast turkey or a cobb salad and it is so good.
Try one of our easy Turkey Recipes
More Leftover recipes: