This post may contain affiliate links. If you make a purchase through links on our site, we may earn a commission.
Turkey sandwich crescent roll recipe makes a great lunch or quick dinner. Everyone will love the crescent rolls and you can use leftover turkey or deli meat. It's so easy and your kids will actually be excited to open their lunchbox.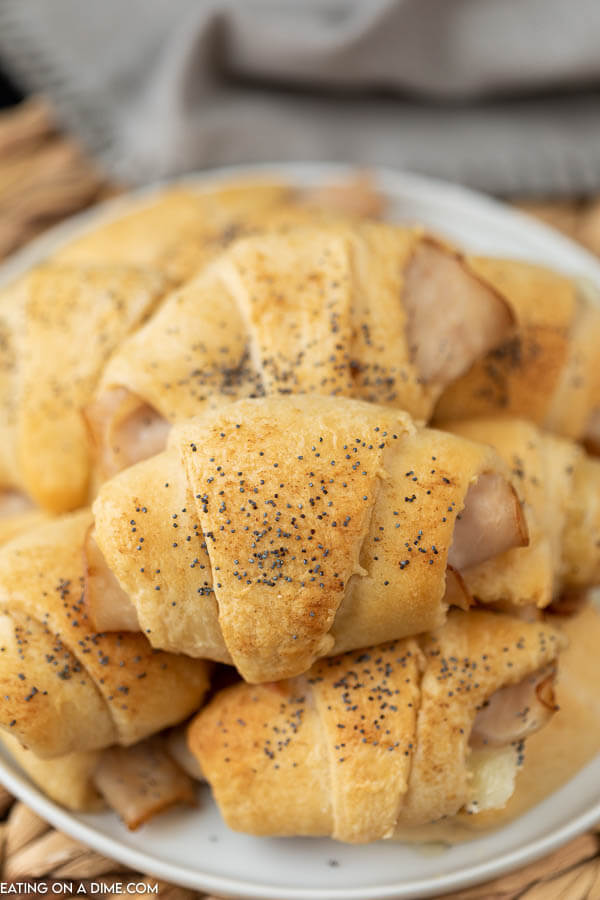 Everyone will love turkey crescent rolls!
Today's lunch box idea is a fun one that the kids just love. It is an easy twist on the traditional turkey and cheese sandwich. We are making this Turkey Sandwich Crescent Roll recipe.
Now you can make this easy recipe with ham, but since my kids are turkey lovers that is what we did. It is amazing either way.
Ingredients you need:
crescent rolls
Deli meat – 2 slices per triangle or you can use leftovers. Turkey and ham are great options.
Shredded cheese- any type will do. We like cheddar but mozzarella, colby or anything you have will be delicious. You also can use cheese slices. It does not have to be shredded. We are big fans of using what we have.
How to make turkey and cheese crescent rolls:
First, go ahead and preheat the oven to 375 degrees.
Second, open the can of crescent rolls and separate each one into a triangle.

Next, place the deli meat on each triangle.

Now it is time to add the cheese. This is so delicious melted and really makes the crescents taste amazing.
Finally, start at the widest point and roll up each crescent. Make sure the meat and cheese are tucked in good so it doesn't come out while baking.

Put the crescents in the oven and bake for 9-12 minutes. Oven times vary but you want the cheese melted and the crescents to start to brown.

Let the rolls cool a few minutes before serving. They are delicious served with mustard!
Lunchbox serving ideas:
2 Turkey sandwich crescent rolls
a treat
chips – We did hot fries
a vegetable or fruit – we did snap peas
Now, you have an easy and delicious lunch to pack for your kiddos. They are sure to love this and it was so easy. It is definitely a nice change from a plain sandwich.
Equipment you need for this lunchbox:
We love these easy lunchboxes. We have used a cheaper version in the past, but I have switched to the name brand easy lunchboxes. They do a much better job and they last a lot longer. It is worth the few extra dollars for the name brand.
I also love to use the rectangle silicone cupcake molds to separate food in the later containers. They are great to hold treats and other items that you don't want to "touch" your other foods. Does anyone else have kids that are weird about foods touching?
Make Easy Turkey Sandwich Crescent Rolls today!
Jazz up lunch time and put a turkey and cheese crescent roll in your child's lunchbox. They will be so surprised to have something different and the entire recipe is so simple. Kids love this!
Not only are these perfect for lunch but great for parties, Game Day and more. They are kid friendly, frugal and easy to prepare. What more could you want?
Once you make these, make sure to come back and tell us how they turned out for you!
Print this turkey sandwich crescent roll recipe below:
Turkey Sandwich Crescent Roll recipe
Try this Turkey Sandwich Crescent Roll recipe next time for lunch. The kids love it. Or make this Turkey Sandwich Crescent Roll recipe for a quick appetizer
Instructions
Preheat oven to 375 degrees.

Separate the crescent rolls into their triangles.

Place a half of slice of cheese on each crescent roll triangle.

Then fold a slice of turkey in half and place it at the wide end of the triangle.

Roll up, starting with the widest point and place on a baking sheet.

Mix together the melted butter, dijon mustard and Worcestershire sauce. Brush this mixture onto the top of the crescent rolls and sprinkle the tops with the poppy seeds.

Baked for 9-12 minutes until the crescent rolls begin to brown.

Allow the rolls to cool for approximately 5 minutes on the baking pan. Then move to a wire rack to cool completely.
Recipe Notes
These are also delicious with deli ham or roast beef as well! 
Nutrition Facts
Calories
167
kcal
,
Carbohydrates
12
g
,
Protein
5
g
,
Fat
12
g
,
Saturated Fat
6
g
,
Trans Fat
1
g
,
Cholesterol
17
mg
,
Sodium
436
mg
,
Potassium
37
mg
,
Fiber
1
g
,
Sugar
3
g
,
Vitamin A
172
IU
,
Vitamin C
1
mg
,
Calcium
80
mg
,
Iron
1
mg
More crescent roll ideas:
More easy sandwich ideas:
Plus check out more sandwich ideas for kids.