This post may contain affiliate links. If you make a purchase through links on our site, we may earn a commission.
Ground turkey chili is a healthy and frugal dinner idea. Toss this together in minutes on busy weeknights for a great meal your family will love.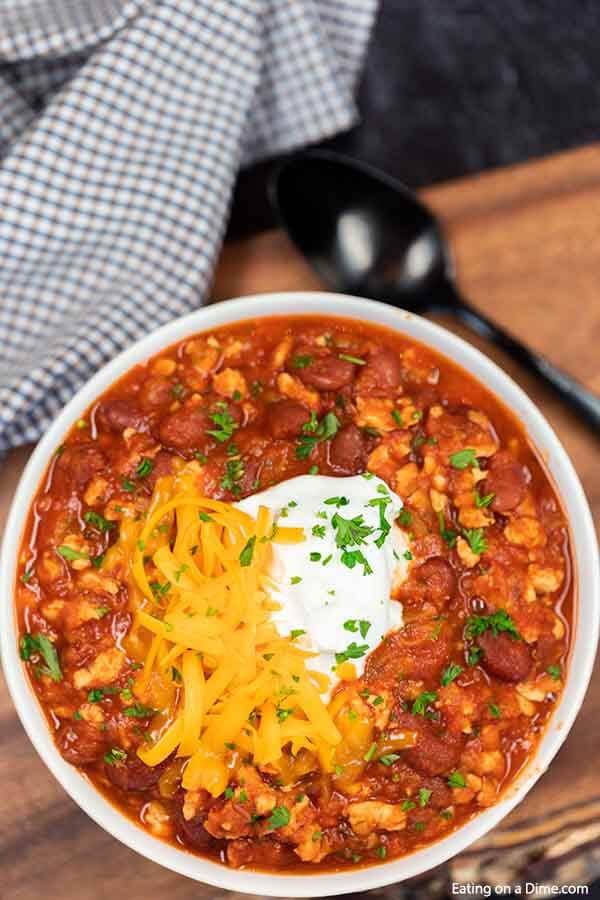 Ground Turkey Chili Recipe:
Some people are afraid of ground turkey and I just don't understand why. It is so easy to make and your family won't even realize it is turkey and not beef.
We love to cook with ground turkey because it is not only healthier for you, but it is much cheaper too. The ground turkey takes on the flavor of all the other ingredients and makes a delicious chili recipe.
You can also try this recipe in your crockpot. The flavors still blend perfectly and your family will come home to dinner done.
Can I substitute ground turkey for ground beef in chili?
Now if you are still afraid to go all ground turkey then double this recipe and cook with 1 pound ground turkey and one pound lean ground beef.
The ground turkey will take on the flavor of the beef, so your family will never notice. That is an easy way to save some money without your family even noticing.
More ideas to try:
Our secret to adding more flavor and more health benefits is by shredding zucchini and adding it in the chili.
You will place your chunks of zucchini in the food chopper and it will make it into tiny pieces.
Add it into your chili after you have browned the turkey and the zucchini almost disappears. However, the flavor doesn't.
The zucchini ads the most delicious flavor to this chili that I don't want to miss. It is a great way to get them to eat more veggies without even realizing!
Topping ideas for easy turkey chili:
We love having a chili bar when our friends come over. Chili is a crowd pleaser and easy on me to pull together when people come over.
shredded cheese – I like to use different cheeses. Try Cheddar Cheese, Monterey Jack Cheese or Pepper Jack Cheese.
chives
sour cream – You can even top with plain yogurt.
hot sauce – If you need more heat in your chili – use some hot sauce
diced jalapeno peppers
saltine crackers – Crushed up crackers is always a family favorite.
corn chips
tortilla chips
cilantro – We love cilantro and we love the extra flavor it brings out for the tex mex flavor.
onions – Chop some onions or green onions for extra flavor
Flour Tortillas – We love making Frito Chili Wraps.
Slice Avocados – Topping your chili with avocados can take some of the heat off.
What to make with Ground Turkey?
We love cooking with ground turkey. It is healthier than ground beef so I just feel better feeding it to my family. Here are some of our favorite Ground Turkey Recipes:
Ground turkey chili ingredients:
Ground Turkey Meat
Olive Oil
Zucchini Shredded
Onion Diced
Cans of Kidney Beans Do not drain
Cans of Crushed Tomatoes
Chili Powder
Cumin
Garlic Salt
Black Pepper
Chicken Broth
Bell peppers are also delicious. Sometimes we also add green bell pepper and black beans. You can also add cayenne pepper for more heat.
Diced tomatoes are also delicious. As you can see, this recipe is versatile and one of our favorite turkey chili recipes.
How to make ground turkey chili in the crock pot:
Heat the oil in a large pot or dutch oven over medium high heat.
Then add in the turkey and cook the ground turkey. Add in the shredded zucchini and add in the onions. You can also add in the garlic here.
Add in the remaining ingredients including the salt and pepper.
Reduce the heat and allow it to simmer for about 20 minutes to let all the flavors combine.
You may need to add more water or broth if you don't want the chili to be as thick.
Can you Freeze chili?
I love to freeze this chili to have for quick lunches. It's so handy to have individual portions on the freezer.
You can also freeze larger portions for dinner for the family.
I prefer to freeze this chili in freezer bags so I can stack them easily. It takes up less space and I can stack several bags.
Time saving tip:
My favorite time saving tip is to use a small food chopper or food processor to quickly and easily chop onions. We chop the onions and peppers at once and then freezing them. Saves me so much time in the kitchen.
Sneak in vegetables. Your kids will never know and it is great way to throw in vegetables that might be close to getting bad.
You can substitute the meat for ground beef or chicken. You can always do a combination of meats.
This is also a great way to use up already cooked meat. Just throw it in the crock pot with your other chili ingredients and you are set.
Some recipes call for brown sugar. It is not needed but you can definitely add in a tablespoon.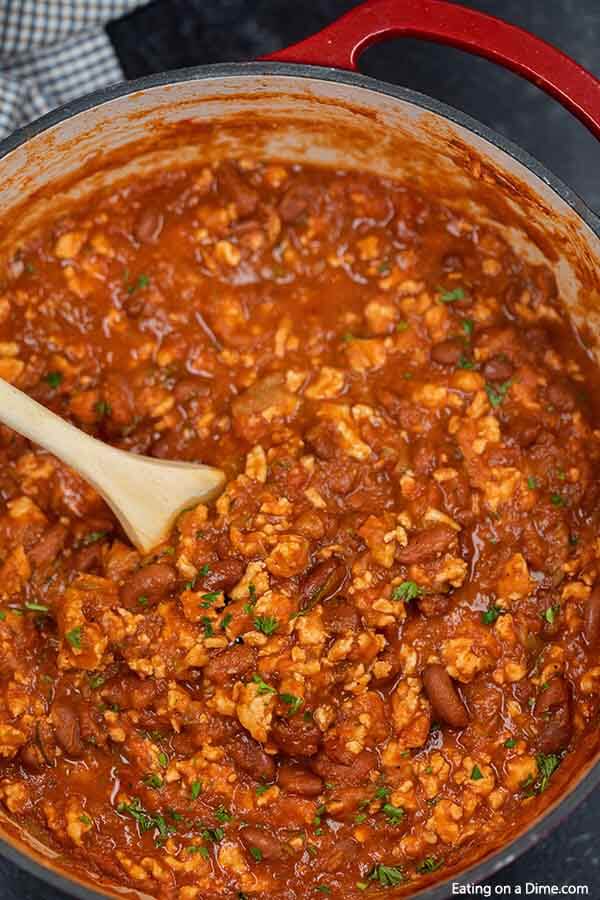 What to serve with chili
Did you know that I also make my own homemade cornbread mix to make preparing cornbread even easier? I love having these cornbread mixes on hand so I can whip up some delicious cornbread in no time at all!
Print this easy ground turkey chili recipe below:
Turkey Chili recipe
Try this easy ground Turkey Chili recipe where you can sneak in veggies in too! Our family doesn't even know we are eating ground turkey or zuccini!
Ingredients
1

pound

Ground Turkey

1

tbsp

Olive Oil

1

Zucchini

Shredded

½

Onion

Diced

2

Cans of Kidney Beans

Do not drain

2

Cans of Crushed Tomatoes

15 oz.

2

tbsp

Chili Powder

1

tsp

Cumin

1

tsp

Garlic Salt

1

tsp

Pepper

2

cups

Chicken Broth
Instructions
Heat the olive oil in a large pot over medium heat.

Then add in the turkey and brown the ground turkey. Add in the shredded zucchini and onion.

Add in the remaining ingredients.

Cook on low and allow it to simmer for about 20 minutes to let all the flavors combine

You may need to add more water or broth if you don't want the chili to be as thick.
Nutrition Facts
Calories
237
kcal
,
Carbohydrates
30
g
,
Protein
27
g
,
Fat
3
g
,
Saturated Fat
1
g
,
Cholesterol
42
mg
,
Sodium
625
mg
,
Potassium
1122
mg
,
Fiber
9
g
,
Sugar
9
g
,
Vitamin A
478
IU
,
Vitamin C
30
mg
,
Calcium
88
mg
,
Iron
5
mg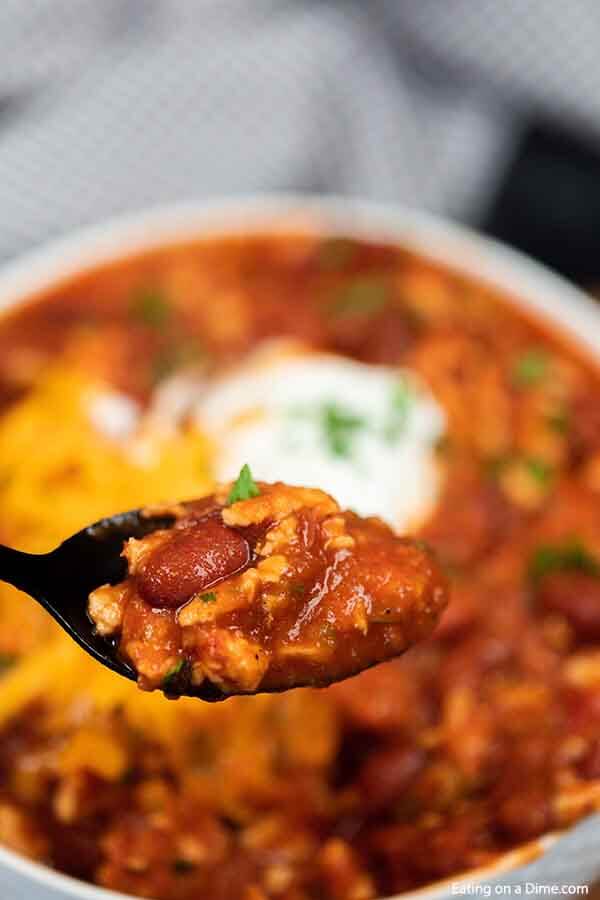 Try these other easy chili recipes: