If you have struggled with How to Thicken Chili, then you have come to the right place. We have gathered 8 ways to thicken your chili so it isn't thin or watery.
How to Make Chili Thicker:
We love making a big crock pot full of chili once the weather gets cooler. But we like the chili to be thick loaded with ground beef and beans. If our chili turns our watery or think, we have tried many ways to thicken it up.
You can thicken your chili just by simple taking off the lid of your crock pot. It can also be thicken by adding cornstarch or flour. These thickening agents are pantry staples that your probably already have.
Try these thickening option to make sure you don't end up with a bowl of watery chili.
What do I do if my Chili it too Watery?
The simplest way to turn watery chili into a thick bowl of chili is to remove the lid. This simply cooks off the remaining liquid in the chili. We just remove the lid whether we are cooking on the stove top or in the crock pot.
We allow the chili to simmer a little longer which usually thickens the chili right up.
What is Chili?
Chili con carne means chili with meat. It is a spicy stew that is loaded with chili peppers, meat, tomatoes, and beans. You can also include seasoning such as garlic, onions, and cumin.
Chili is one of those dishes that is made many different ways. Using different seasoning, different types of meats, and beans. You can also serve it different ways which makes it a family friendly meal.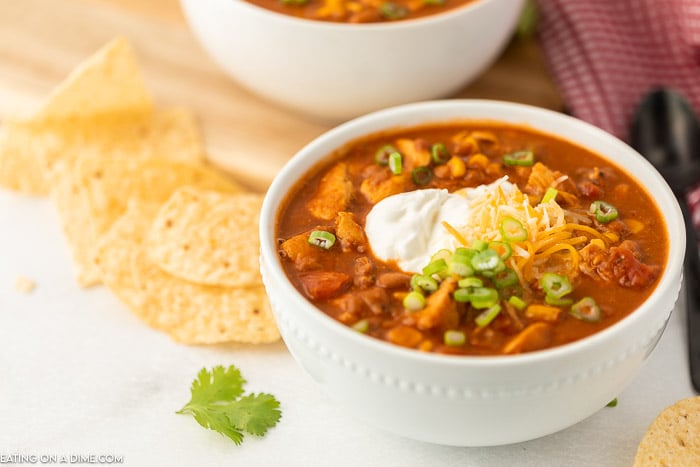 Causes of Thin Chili:
The could many reason why your chili is to thin or watery. The main thing we have found is if we add to much water or broth. If you do add to much liquid, add more solid ingredients such as beans or meats to thicken it up while it cooks.
How to Thicken Chili:
There are many ways to thicken chili. Our top ways to thicken chili is to simply remove the lid of your pot or crock pot. This cooks the liquid off the chili is your simmer it a little longer. Just 30 minutes of extra cooking makes the excess liquid cook off.
You can also add in a cornstarch slurry or flour which are simple pantry ingredients that thicken the chili right up.
What to Serve with Chili:
How to Freeze Chili:
We have gathered the correct way to How to Freeze Chili. From what to put your leftover chili in and how long it last. You can get all the tips and tricks on the right way to freeze chili.
1. Remove The Lid to steam off Liquid:
The best way we have found to thicken chili and it doesn't require any additional ingredients is to remove the lid from the slow cooker. Make sure your crock pot is on low heat and let it simmer for about 25 extra minutes of cooking.
You do not want to heat the chili on high heat because it could burn the chili.
2. How to Thicken Chili with Cornstarch:
Make a cornstarch slurry with cornstarch and water. In a small bowl dilute two tablespoons of cornstarch with cold water until blended. Mix into the chili until it thickens up. It will take about 10 minutes.
3. How to Thicken Chili with Flour:
A flour slurry is also a good option to thicken chili. In a bowl mix together two tablespoons of flour with a ¼ cup of cold water. Make sure it is mixed well so there is no lumps added to the chili.
Once added to the chili, cook on medium high heat until your chili is blended.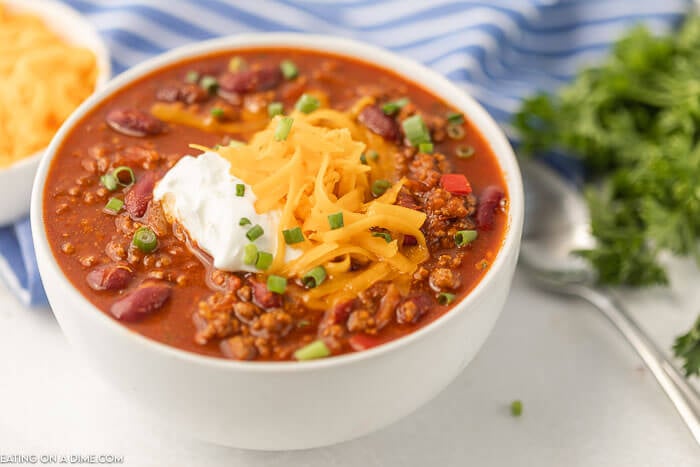 4. Add Xantham Gum:
Xantham Gum is a thickening agent that is made from soy and wheat. The nice thing about using xantham gum is doesn't change the flavor of your chili. It isn't the cheapest option, but we use it in our soups and gravy recipes as well.
5. Add more Mashed Beans:
Mashed kidney beans or pinto bean is an easy option to thicken the chili. You can mash them with a potato masher in a bowl or simply mash them within the crock pot.
6. Use Arrowroot:
Arrowroot is a great leavening option. Mix one teaspoon of arrowroot with one teaspoon of cold water in a small bowl. Then add to the chili for an easy to thicken the chili.
7. Add Cornmeal:
Cornmeal works similar to masa harina, it helps to absorb the liquid in the chili. In a small bowl mix one tablespoon of cornmeal with water and pour into the chili.
8. Add Corn Chips:
We love adding tortilla chips or crackers to our chili. It instantly absorbs the liquid while adding in additional flavor to your chili. You can also use gluten free chips.
Chili Recipes to Try:
1. Wendy's Chili Recipe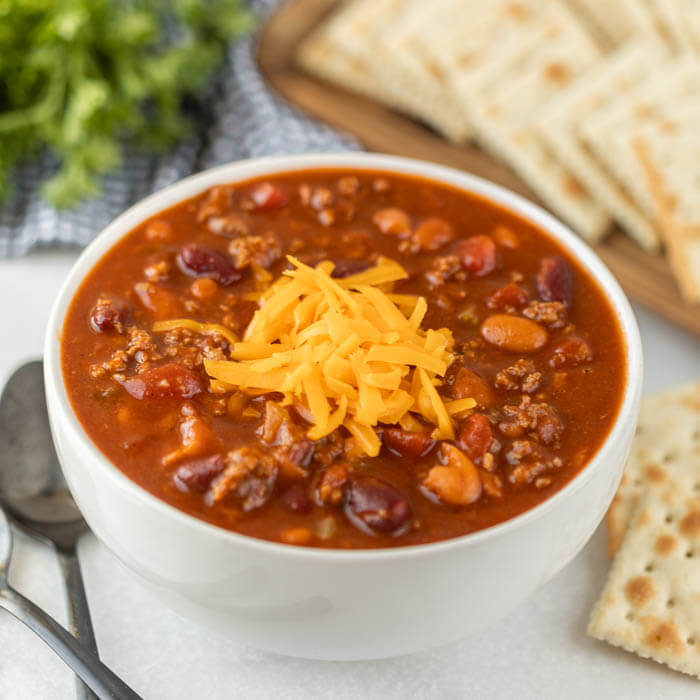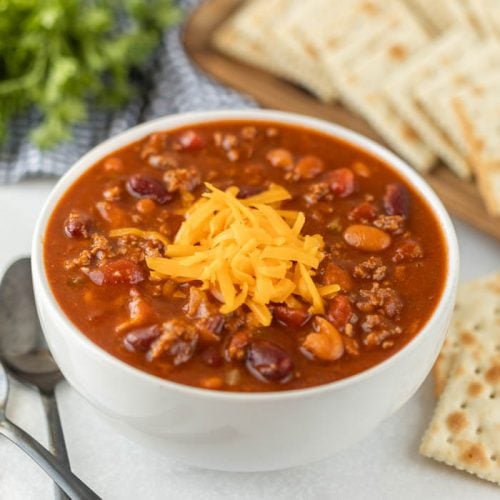 Wendy's Chili Recipe
This simple Wendy's Chili Recipe is easy to make and the best copycat recipe. The entire family will love this easy copycat chili recipe.
See the Recipe
2. Crock pot Cowboy Chili Recipe: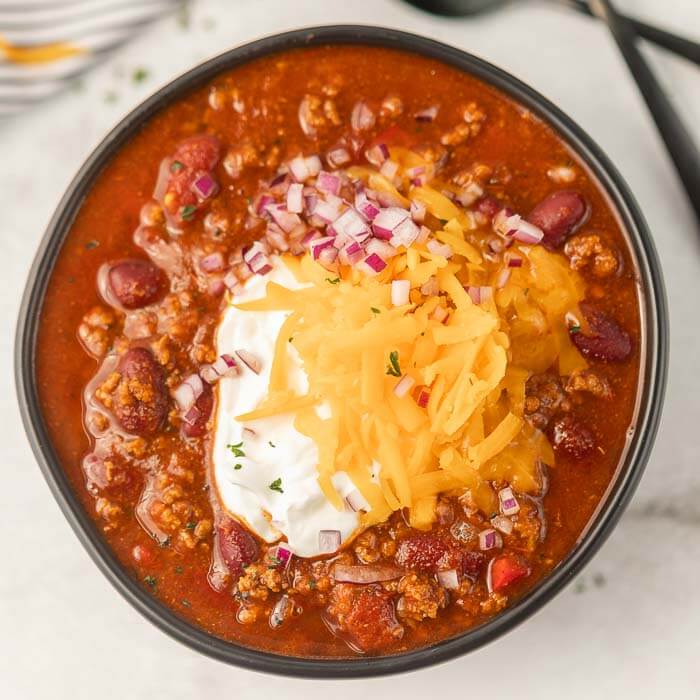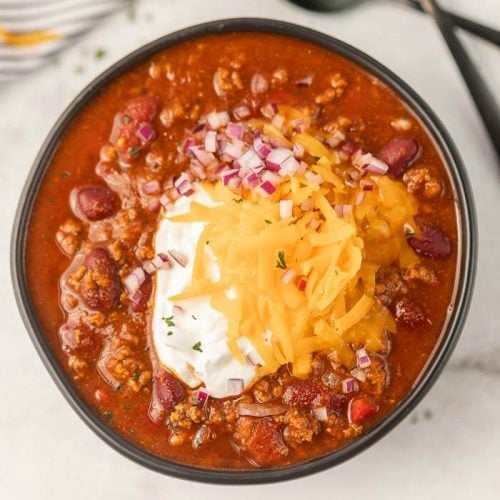 Crock pot Cowboy Chili Recipe
Everyone loves chili and this Crock Pot Cowboy Chili Recipe does not disappoint. Loaded with hearty beef, beans, and more, this chili recipe is a must try.
See the Recipe
3. Crockpot Chili: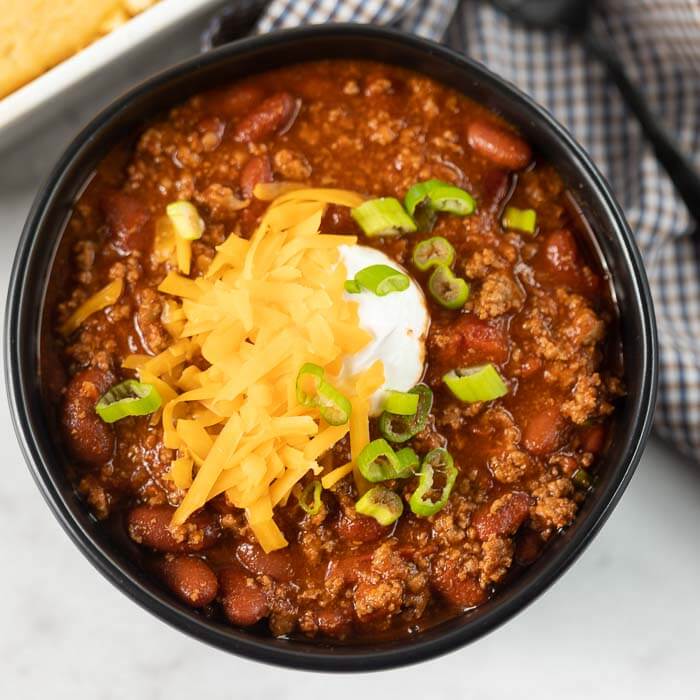 Crockpot Chili
Quick and easy Crockpot Chili Recipe – Try this easy slow cooker chili recipe that the entire family will love. Easy Crock pot recipes.
See the Recipe
4. Turkey Chili Recipe:
Turkey Chili recipe
Try this easy ground Turkey Chili recipe where you can sneak in veggies in too! Our family doesn't even know we are eating ground turkey or zuccini!
See the Recipe
5. Easy Quick Chili Recipe: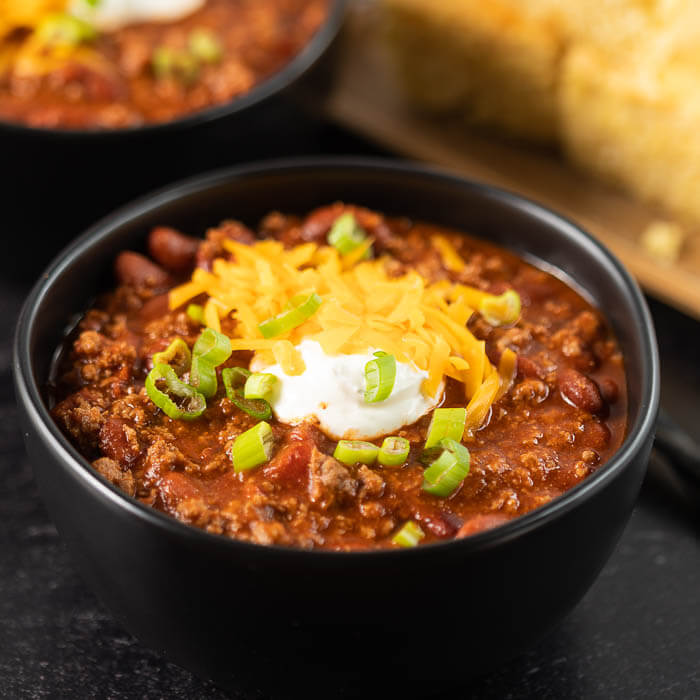 Easy Quick Chili Recipe
Make this easy quick chili recipe. We call it the amazing chili, because it is that good. Make this easy chili recipe with beans or without beans.
See the Recipe
Leftover Chili Recipes: