This post may contain affiliate links. If you make a purchase through links on our site, we may earn a commission.
Have you ever made too much chili and wondered, Can you freeze chili? You want to do the correct way, so you don't lose the flavor and texture of a good bowl of chili.
Can you Freeze Chili?
We love making large batches of homemade chili, soups and stews. We always double the recipe so that we can eat it for leftover and for meal planning. We think it taste better leftover with the ingredients marinating together overnight.
You can also freeze chili. It is important to follow these steps so that you don't lose the flavor and texture that a good bowl of chili has
How to Freeze?
The following tools are needed to freeze your chili. Make sure your chili is at room temperature before freezing.
Freezer Safe Container – Make sure to purchase good quality containers
Ziplock Freezer Gallon Size bags – If you prefer you can use freezer bags. Gallon or quart size are the perfect size for smaller portions.
Label your bags – We like to label our bags or containers so we know when we put in the freezer.
Does Chili taste good after being frozen?
If your chili is properly frozen and eaten at the right time, then yes, your chili will taste good. There are different types of chili and some freeze great better than others.
Beef chili freeze great, but your creamy or vegetable based chili tends to be a little mushy. You want to make sure that you eat your frozen chili with about 2 to 3 months to prevent freezer burn.
How to defrost chili?
The best way that we like defrosting frozen chili is in the refrigerator overnight. The night before we plan on eating chili, I take the container from the freezer and place in the refrigerator.
You can also defrost in the microwave but this is not ideal. But you can use this method if you are short on time. Place in a microwave safe dish, heat and stir until heated.
How to reheat chili?
Once your chili is defrosted, put your chili in a sauce pan and reheat on the stove. Stirring occasionally to make sure that it does not burn.
The chili texture and taste will be the same as if you just made it.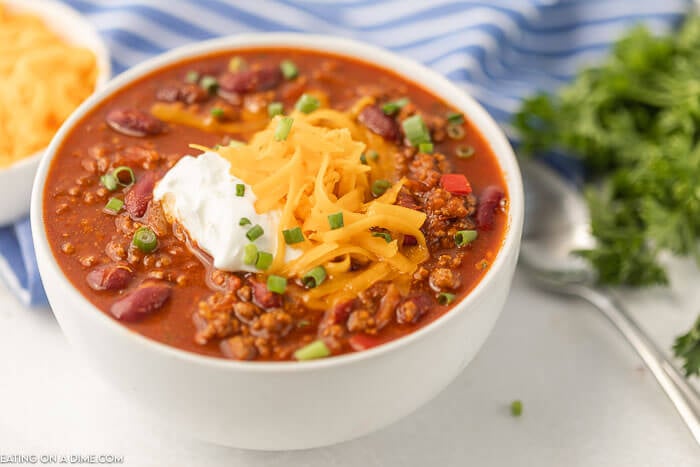 Can you freeze Chili with Kidney Beans?
Yes you can freeze it with kidney beans and black beans. It freezes great when mixed with ground beef. The kidney beans might lose its taste and the texture might be a little different.
But if frozen properly chili with kidney beans will still taste great.
Can you freeze Chili with Meat and Beans?
Yes, chili with grounds meat and beans freezes great. I love chili con carne, so I make sure that it freezes correctly so I can enjoy it again. The texture of the beans do come out a little different but it turns out good.
I always make sure to freeze it the day I cook. It helps to keep the flavor and texture of the chili.
How to use leftover Chili?
There are many ways to eat leftover chili. Here are some of our favorites:
Try one of our Chili Recipes: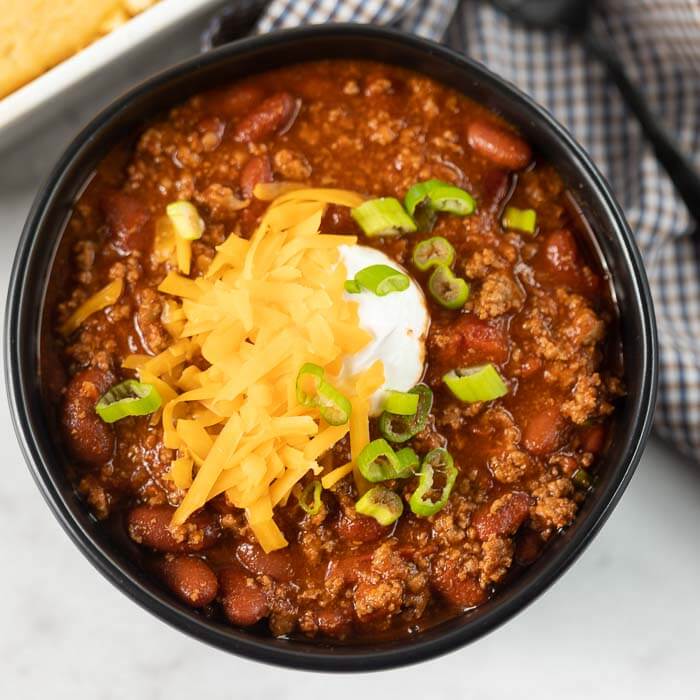 Crockpot Chili
Quick and easy Crockpot Chili Recipe – Try this easy slow cooker chili recipe that the entire family will love. Easy Crock pot recipes.
See the Recipe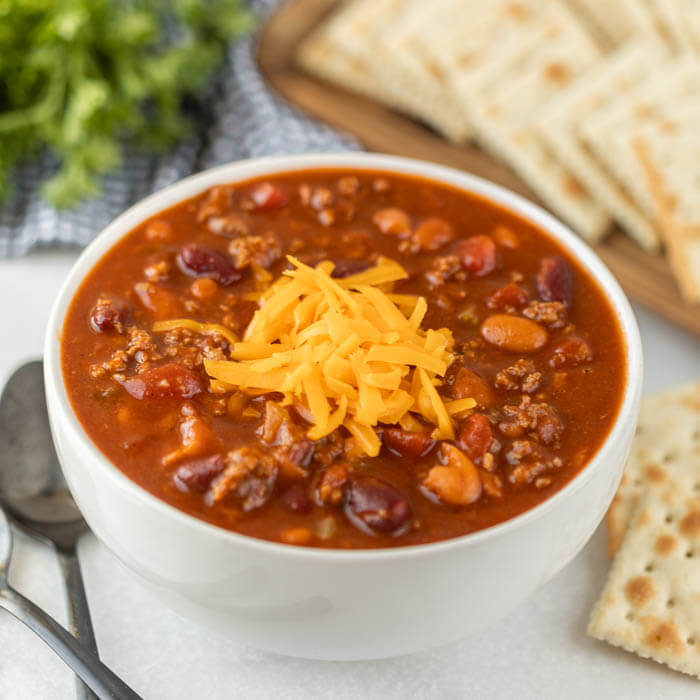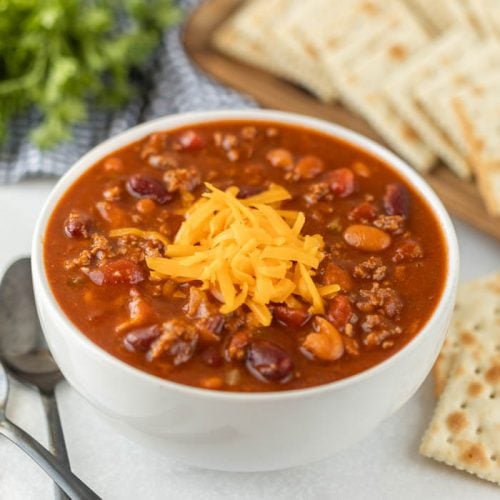 Wendy's Chili Recipe
This simple Wendy's Chili Recipe is easy to make and the best copycat recipe. The entire family will love this easy copycat chili recipe.
See the Recipe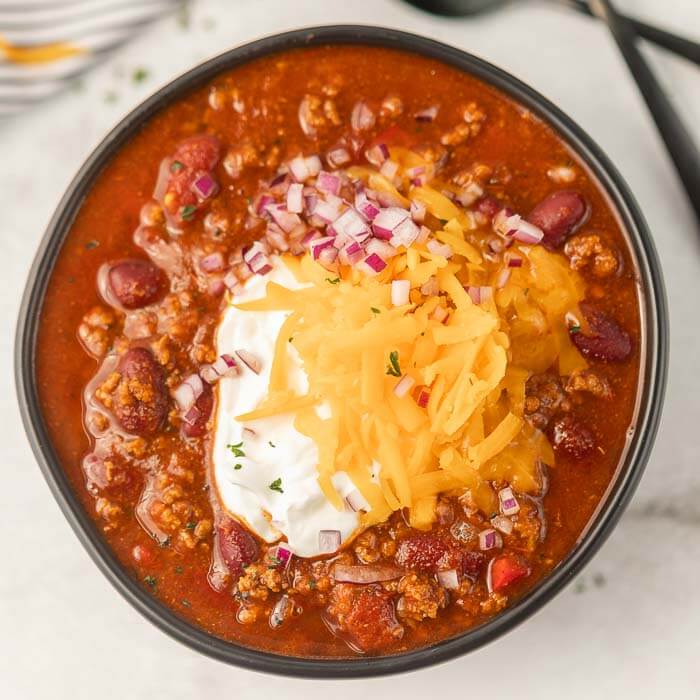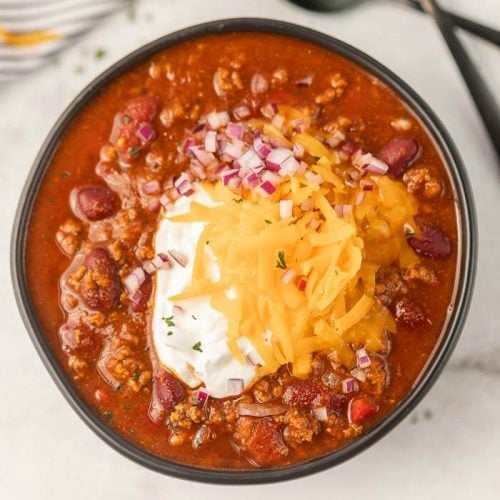 Crock pot Cowboy Chili Recipe
Everyone loves chili and this Crock Pot Cowboy Chili Recipe does not disappoint. Loaded with hearty beef, beans, and more, this chili recipe is a must try.
See the Recipe
Instant Pot Chili
Instant pot chili recipe is so hearty and ready in less than 30 minutes prep included. It is the best comfort food and budget friendly.
See the Recipe