This post may contain affiliate links. If you make a purchase through links on our site, we may earn a commission.
Learn how to make the best Hot Dog Chili Recipe around. With only a few ingredients, you will be making homemade chili from now on. It is tangy and delicious.
The Best Recipe for Hot Dog Chili:
No more store bought chili with this easy recipe. It tastes amazing and makes your hot dog complete.
We love a good hot dog around here. I even learned how to grill hot dogs perfectly every time! But you can't have a hot dog without this homemade hot dog chili recipe. This hot dog sauce taste so much better than the can hot dog chili.
This is SO much better and it's incredibly simple to make. Once people try this, they will ask you to bring your chili to every cookout around. It is that good.
Entire recipe is effortless and takes minimum ingredients. You are going to be so glad you tried this recipe.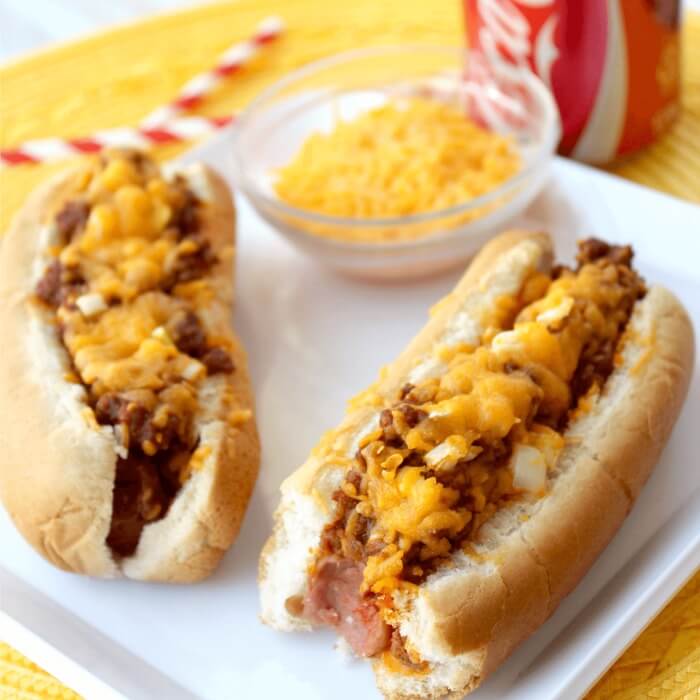 What is the difference between hot dog chili and regular chili?
Hot dog chili does not have beans and has a sweeter flavor due to the ketchup in the recipe. The texture is smoother than regular chili and not chunky.
It has a fine texture. You might hear some people refer to this as hot dog sauce. This is due to the smooth texture.
The flavor is tangy and not spicy like regular chili. Everyone will love this recipe. This hot dog chili taste so much better than the can stuff and you can control the ingredients.
Ingredients for Hotdog Chili:
Ground Beef
Ketchup
Hot Dogs
Salsa
Onion Powder
Tomato Paste
Garlic Powder
Chili Powder
Hot Dog Buns
Diced Onions (optional)
Shredded Cheddar Cheese
Yellow Mustard (optional)
How to Make Homemade Hot Dog Chili:
Step 1 – Brown the ground beef. Add the ground beef to the pan and cook until no longer pink using medium high heat. Once cooked, drain thoroughly to remove any excess grease.
Step 2 – Add seasonings to the beef. Now, it is time to add the onion and garlic powder, chili powder, tomato paste, ketchup, salsa and water to the ground beef. Combine well and simmer for 20 minutes.
Step 3 – Cook the hot dogs – You can boil them or grill them.
Step 4 – Warm the buns – Toast the buns until they are slightly crispy and warm.
Step 5 – Add your favorite toppings. Top the hot dogs with mustard and onion if you desire and add the hot dog chili and cheese.
Step 6 – Serve. Serve immediately. Salt and pepper to taste. Jump to recipe and full nutritional content including saturated fat.
Chili Cheese Dog Topping Ideas:
Diced Onion
Relish
Shredded Cheese
Jalapenos
These are just a few ideas for toppings. Feel free to use what you like the best. You can't go wrong with this easy chili recipe.
What to Serve with Chili Dogs
Can you Make in Advance?
Homemade chili is even better made in advance. The flavor has even more time to combine. I actually prefer to make this a day in advance. It gives the recipe even more time to simmer.
You can even make oven baked chili dogs to prepare the chili dogs in advance. Save time and money and make this hot dog chili in advance.
How Long Will It Last?
The chili will last 3 to 4 days in the refrigerator. Just make sure to store it inside a container with a tight lid.
You can also freeze the chili up to 2 months using an airtight container. If you are short on freezer space, I recommend using freezer bags. These freeze flat and can be stacked to save space.
When ready to enjoy, reheat on the stove top or microwave. The chili can also be reheated in the slow cooker.
I like this option for cookouts and potlucks. Just use the low setting for 2 to 3 hours.
How to Use Leftovers?
Sloppy Joes. Feel free to use the leftover chili to make sloppy goes. It is a delicious idea for another dinner.
Chili Cheese Fries. Jazz up plain French fries with leftover chili.
Hamburgers. Top cheeseburgers with homemade chili for a fabulous dinner.
Tips for Hot Dog Chili Sauce:
Lean ground beef. This type of meat will help the chili not be too greasy.
Beef broth. You can thin the chili using beef broth if needed.
Olive oil. Sometimes when using lean ground beef olive oil is needed. Just a drizzle should do the trick when cooking.
Worcestershire sauce and brown sugar. Change the flavor slightly and add these two ingredients for a change. It is delicious and can be added to taste for bold flavor.
Make extra to freeze. It is so delicious and you will be happy to have some in the freezer.
Thinner sauce. If you prefer a thinner sauce, use tomato sauce instead of tomato paste.
Substitutions:
Ground turkey. You can use ground turkey instead of ground beef in this recipe.
Garlic. Minced garlic can be substituted for garlic powder in homemade chili.
Spice – If you prefer to have some extra spice, mix in some cayenne pepper or red pepper flakes. You can even mix in some slice or chopped jalapenos.
Change Seasoning – Feel free to change the seasoning to what you have on hand.
Print Hot Dog Chili Recipe below:
The Best Hot Dog Chili Recipe
Learn how to make the best hot dog chili recipe around. With only a few ingredients, you will be making homemade chili from now on.
Instructions
Brown ground beef and drain thoroughly.

Add onion powder, garlic powder, chili powder, tomato paste, ketchup, salsa and ½ cup water to the ground beef. Mix and simmer 20 minutes.

Heat hot dogs in boiling water or grill them.

Toast buns in 300 degree oven until slightly crisp.

Top hot dogs with mustard and onion if you desire and add chili and cheese.
Recipe Notes
This one pot meal is perfect for busy nights!
Nutrition Facts
Calories
499
kcal
,
Carbohydrates
32
g
,
Protein
26
g
,
Fat
29
g
,
Saturated Fat
13
g
,
Cholesterol
90
mg
,
Sodium
817
mg
,
Potassium
378
mg
,
Fiber
1
g
,
Sugar
3
g
,
Vitamin A
665
IU
,
Vitamin C
1.4
mg
,
Calcium
304
mg
,
Iron
4.1
mg
Easy Hot Dog Recipes