How to boil hot dogs in less than 5 minutes for a quick and easy dinner. Add your favorite toppings and you are ready for an easy lunch or dinner everyone will enjoy.
How to boil hot dogs
In my family, hot dogs are always a hit. It is something everyone enjoys and it makes a great weeknight meal. I can get dinner on the table fast and everyone is happy.
Boiling hot dogs is quicker than getting take out and cheaper too. Plus, you can spend more time around the table talking as a family.
This literally takes 5 minutes or less. If you are not boiling hot dogs, you should be. This cooking method is super fast and easy.
Let's get started. You are going to love this easy lunch or dinner idea.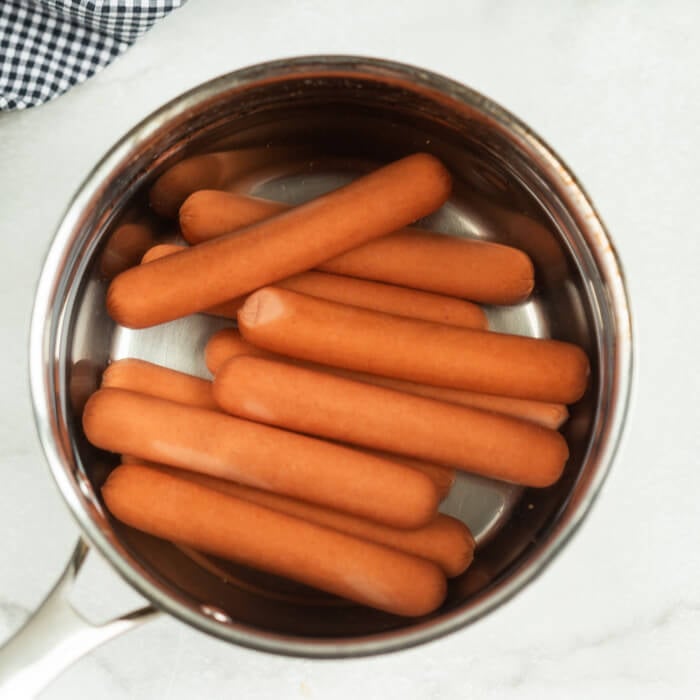 Ingredients:
hot dogs. Use your favorite brand or type of hot dogs that your family likes.
water
How long to boil hot dogs:
First, add the hot dogs to a sauce pan. You can use either a medium or large size. Cover the hot dogs with water and bring to a boil.
Then boil uncovered for 4 to 5 minutes to cook the hot dogs. It is that easy and you will get a perfect hot dog every time.
Serve on a toasted bun with your favorite toppings. You can also steam your hot dog bun if you prefer. Anything goes. It is just about preference.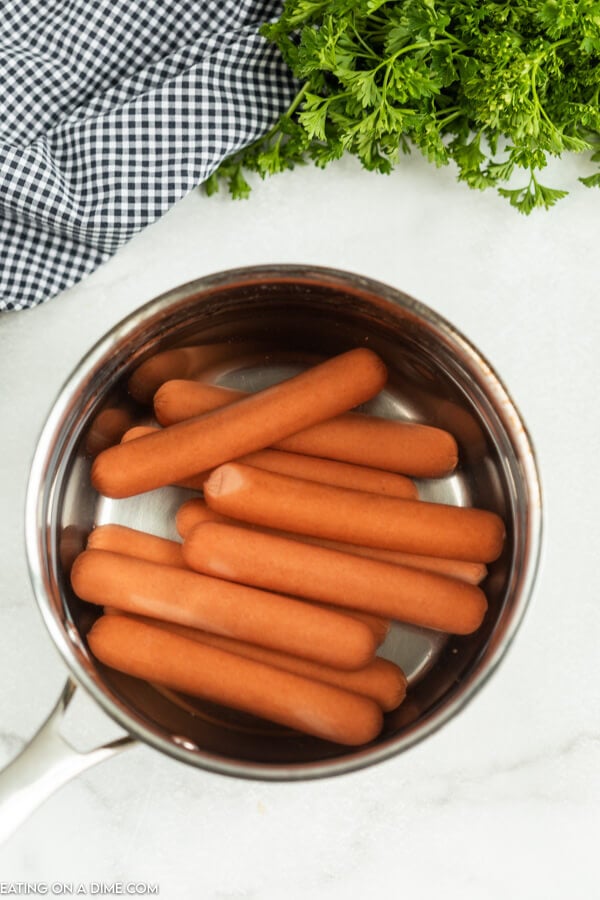 Hot dog toppings
The best hot dog chili. With only a few ingredients, you will be making homemade chili from now on. No more store bought chili with this easy recipe. It tastes amazing and makes your hot dog complete.
Homemade ketchup. The ingredient list is simple and you won't find any hard to pronounce words here. You can feel good about serving this easy homemade ketchup to your family.
Relish. Most people either love or hate this. Which side are you on?
mustard. I like extra mustard.
onions. Dice onions and serve on top of the hot dog. This is really tasty paired with chili.
cheese. Shredded cheese, blocks of cheese or cheese sauce make a great hot dog topping. You could also make a chili cheese dog. Yum.
homemade bbq sauce. Jazz up a hot dog with BBQ sauce. Not only is it simple to make but this Easy Homemade BBQ Sauce Recipe is very cost effective as well.
Mexican cheese dip. Spice things up with this white cheese sauce similar to what is served in many delicious Mexican restaurants. It is so tasty on a hot dog.
Serving ideas:
Easy Baked Beans Recipe. You will never buy store bought again. This recipe is so delicious and super easy to make for the perfect side dish.
Can you boil frozen hot dogs?
Yes, you can. Just place the frozen hot dogs in a pot of water. You will need to adjust the cooking time to 8 to 10 minutes since they are frozen.
I like to keep a pack of frozen hot dogs in the freezer. It is such a time saver when you are in a time crunch for dinner.
Even frozen, you can go from freezer to table in 10 minutes or less. This is really helpful on those days you are running from school to work to endless activities.
How to keep hot dogs warm:
Put the hot dogs in the buns. Just don't add any toppings. Wrap in foil tightly.
You can either place the foil wrapped hot dogs in an insulated cooler bag or a crock pot set on the warm setting. This is helpful for parties when you need to cook ahead but want to make sure it stays warm.
Another idea is to keep them in a large thermos. This is a great idea for school lunches, picnics and more. You can enjoy a hot dog later and it will still be nice and warm. This is convenient for traveling and packing a road trip meal.
How to store boiled hot dogs?
Place them inside an airtight container and put in the fridge. They will last up to 3 to 4 days.
Print the details below on how to boil hot dogs:
How to Boil Hot Dogs
How to boil hot dogs in less than 5 minutes for a quick dinner. Add your favorite toppings and you are ready for a meal everyone will enjoy.
Instructions
Place the hot dogs in a medium to large sauce pan and cover them with water. Bring the mixture to a boil.

Boil uncovered for 4-5 minutes. Serve on hot dog buns and enjoy!
More hot dog recipes: