Air Fryer Hot Dogs takes just minutes to make for a quick weeknight meal. Get dinner on the table fast and enjoy a frugal and tasty dinner.
Enjoy Air fryer hot dogs in minutes!
Do you love the air fryer as much as I do? It is really a game changer because everything cooks so fast. We recently tried hot dogs in the air fryer and everyone loved them.
My kids said they were perfectly cooked and delicious. We call this a mom win. Even better, they only took 5 minutes. They also love when I make Air Fryer Hamburgers.
Make sure you have an air fryer. Go ahead and get the larger size from the start. It seems people often get the smaller size and then wish they bought the larger air fryer.
If you are new to air frying, it is so easy and makes dinner quick and easy! You are going to love air fryer recipes.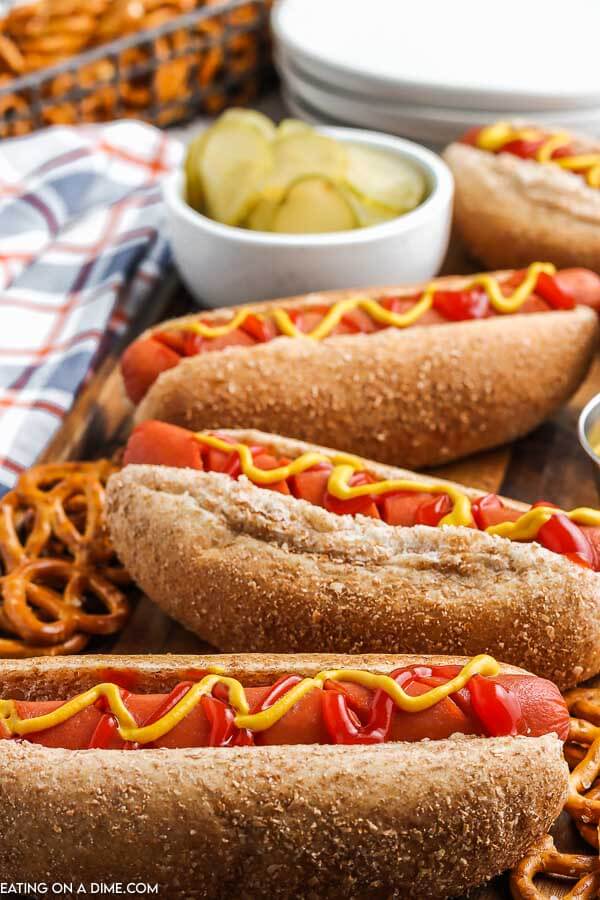 How to Air Fry Hot Dogs
I have a feeling that once you try it, you will be hooked. I have spent more time in a drive-thru line getting take out than it takes to make air fryer hot dogs.
Save time and money and make this easy recipe at home. It is so delicious and everyone will love it! Whether you need lunch or dinner, this is a great option to put on the menu plan.
Ingredients:
Hot Dogs – Use your favorite kind. We usually a good quality hot dogs.
Buns – We used wheat hot dog buns but you can use whatever kind you prefer.
How to cook Hot Dogs in Air Fryer:
First, preheat the Air Fryer to 375 degrees F. If your air fryer does not have a preheating option, set it to 375 or 400 degrees and let it run a few minutes before putting in the hot dogs.
Second, make sure to slit each hot dog. This prevents the hot dog from bursting.
Next, place each hot dog in the air fryer basket.
Finally, air fryer and cook the hot dogs for 5 minutes. Shake the basket halfway through so they cook evenly.
This is optional but you can also remove the hot dogs from the basket and add to buns. Let them cook for 1-2 minutes if you like to toast the buns.
Serve and enjoy. It really is that fast and easy to make air fried hot dogs! Cooking time could vary.
Do you preheat air fryer for hot dogs?
Yes. Just like you preheat your oven before baking something, you want to preheat your air fryer. Some air fryer's do not have this function, so simply set you air fryer temperature to 375 degrees. Then heat for a few minutes.
After heating, then open air fryer and place your hot dogs in the basket.
Tips for making The Best Air Fryer Hot Dogs:
Make sure to not skip the step on cutting slits in the hot dogs. It makes the edges crispy and holds all the toppings. But the main reason is so the hot dogs don't burst.
If you prefer, you can brush each bun with melted butter. I like the extra flavors it gives and gives it that extra crunch if you heat them up.
Air Fried Hot DogTopping ideas:
hot dog chili recipe . It is so delicious and much better than anything you can buy at the store. Plus, we love how easy it is to make.
relish
mustard
ketchup
onions
pickles
cheese
What's your favorite topping? I love to set out a topping bar and everyone can choose what they like. It is always fun to see everyone's creations.
Try this for parties, gatherings and more. Everyone loves a good topping bar.
What to serve with Air Fryer Hot Dogs
Just keep it quick and simple. All of these are great options for side dishes but my kid's really love when I make tator tots in the air fryer to go with the hot dogs. Yum!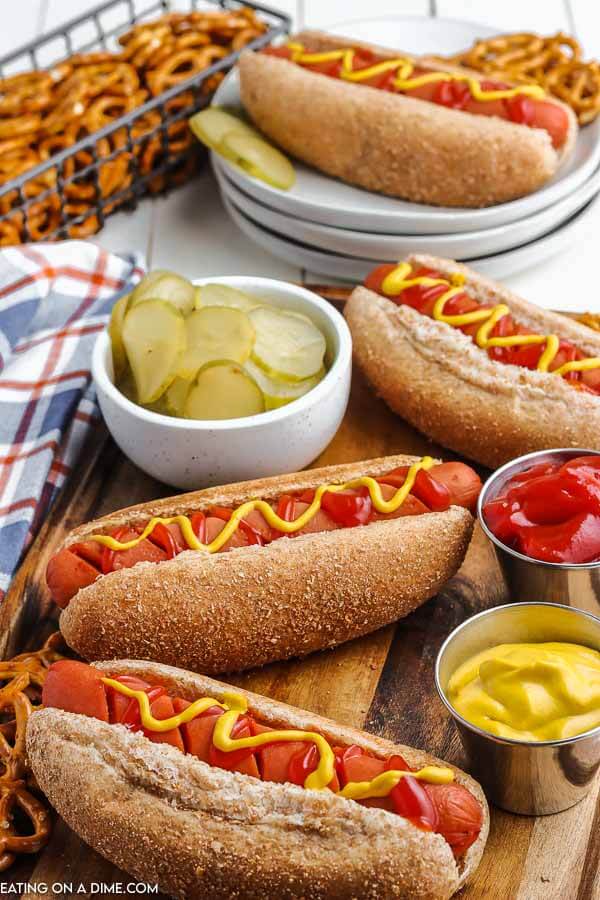 Print the recipe for hot dogs in air fryer:
Air fryer hot dogs
Air fryer hot dogs takes just minutes for a quick weeknight meal. Get dinner on the table fast and enjoy a frugal and tasty dinner.
Instructions
Preheat Air Fryer to 375 degrees F

Score the top of each hot dog to prevent them from bursting

Place in Air Fryer basket

Cook for 5 minutes, shaking half way through to cook evenly

Optional – remove hot dogs from basket and add to buns and continue cooking for 1-2 minutes

Serve immediately with your favorite toppings
Nutrition Facts
Calories
309
kcal
,
Carbohydrates
44
g
,
Protein
12
g
,
Fat
9
g
,
Saturated Fat
3
g
,
Cholesterol
20
mg
,
Sodium
663
mg
,
Potassium
156
mg
,
Fiber
1
g
,
Sugar
5
g
,
Vitamin A
1
IU
,
Vitamin C
1
mg
,
Calcium
134
mg
,
Iron
3
mg
More Hot dog recipes