This post may contain affiliate links. If you make a purchase through links on our site, we may earn a commission.
Keto Chili Recipe is perfect for Fall and sure to impress the entire family with very little work. It is hearty and delicious and the best Low Carb Chili Recipe.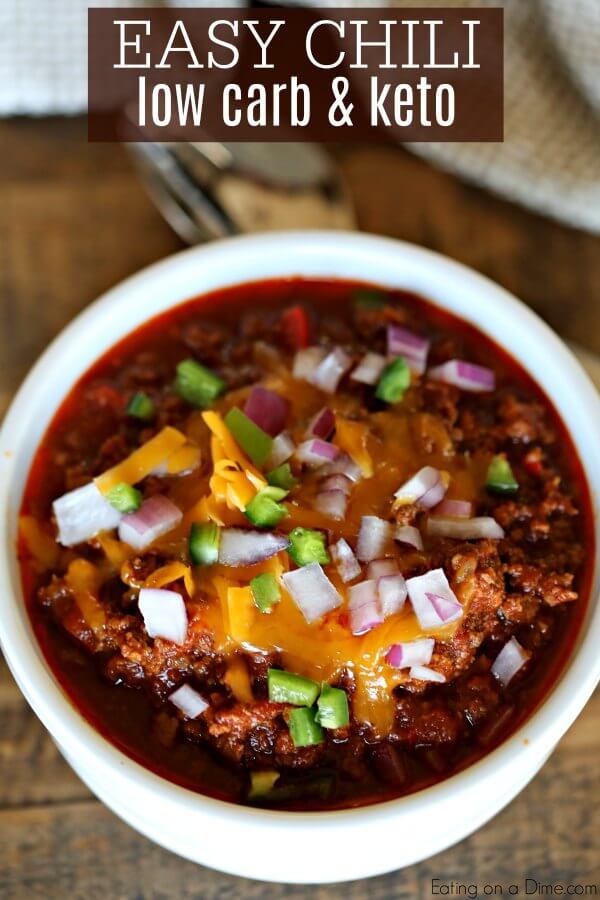 Keto Chili Recipe
Have you been trying to find a Low Carb Chili Keto recipe? This easy no bean chili is perfect for people eating the low carb diet.
Each bite is packed with lots of ground beef, diced tomatoes, bell peppers and more! Feel free to top this chili with any keto friendly toppings. It is so filling and completely low carb.
Plus, the entire family will enjoy this meal. That definitely makes dinner time easier! This Keto beef recipe is a great recipe to start with your Keto journey.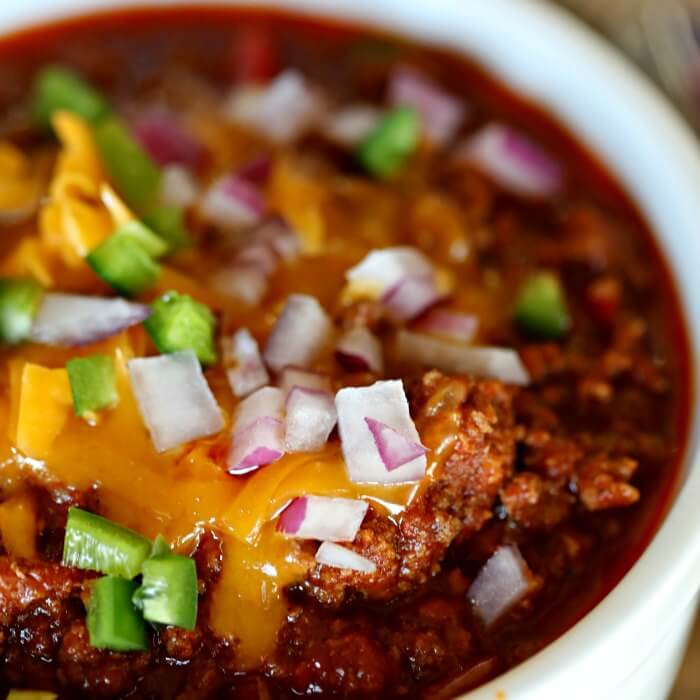 Easy Low Carb Chili Recipe:
Life is crazy and simple recipes like this Keto Chili sure help to make busy weeks better. If you are following the Keto diet, this recipe is sure to be a hit.
We love Chili at my house. It is our go-to meal rather we are making it in the crockpot or on the stovetop it is always a hit.
I am trying to do low carb, but didn't want to give up my love for chili. So I had to find a recipe that I could still handle my craving.
I made chili by simply omitting the beans. I didn't miss the beans and it was so flavorful that I think I will make it this all the time.
Perfect for Game Day!
Chili is perfect for your game day get together. I always make this low carb option as well as just regular chili with the beans. I am here to please my guest so, I like to have options when our friends come over.
Football and chili just go together! Chili is great by itself or all the yummy toppings. Your friends and family will love this recipe and go back for seconds.
Ingredients in Low Carb Chili:
Ground beef – You can also use Ground Turkey
Crushed Tomatoes
Tomato Sauce
Beef Broth
Chili Seasoning
Garlic Salt
Onion, chopped
Red bell pepper – chopped
Shredded cheese
Sour Cream to serve (optional)
How to make Keto Chili Recipe:
In a large stock pot, brown your ground beef or ground turkey, on the stove top. We normally do 1 pound of ground beef and one pound of ground turkey. I save money and no one can taste the difference.
Drain off any grease from the meat.
Add in the ½ onion and the red bell pepper and continue cooking over medium heat until they are soft.
Stir in the chili seasoning, crushed tomatoes, tomato sauce, garlic salt, and beef broth.
Bring to a boil.
Then turn to low, add the lid and let simmer. Be sure to stir occasionally.
Simmer for 30 minutes up to an hour to let all the flavors combine.
Serve with shredded cheese, sour cream, diced onions and even jalapenos
Try this chili recipe for a great meal idea. Perfect if you are also eating gluten free.
This is the Best Low Carb Chili Recipe!
Tips to make Low Carb Turkey Chili:
Try substituting ground turkey for the ground beef. You can also do 1 pound ground beef and 1 pound ground turkey. It's a great way to save money.
I use a small food chopper or processor to quickly and easily chop onions and green peppers. If you do not have one of these, I highly recommend them. They are such a time saver.
I usually just chop the entire vegetable and freeze what I don't need. It's so nice to be able to just take diced onion or bell peppers out of the freezer for recipes.
How to make keto chili in the slow cooker:
Occasionally I will use my crock pot to make this recipe. I just ground the beef first and put everything in the crock pot. I love meal prepping my meals and freeze them so all I have to do on the day of cooking is put in the crock pot.
Then you just cook on low for 4 hours or high for 2 hours. It's so easy and a great way to have this meal ready and waiting after work.
How to make Low carb chili in the Instant pot:
I also like making this low carb chili in the instant pot. Everything can be done rith in the instant pot.
Just brown the beef in the instant pot using the saute setting.
Add all the ingredients and place lid on and set to sealing.
Next, set pressure for 5 minutes. Do a quick release and enjoy.
Using the instant pot has been a game change for my family. It is perfect to use when I forget to set something out.
How to freeze keto chili:
Chili is the perfect meal to freeze. I usually try and make a double batch when I make chili so I can easily freeze for another meal.
I love to freeze this chili to have for quick lunches. It's so handy to have individual portions on the freezer. These are the perfect size for my husband to grab for his lunch. It saves money and I know that he is getting a good lunch and not hitting the drive-thru.
I prefer to freeze this chili in freezer bags so I can stack them easily. It takes up less space and I can stack several bags.
Check out Can You Freeze Chili for more tips.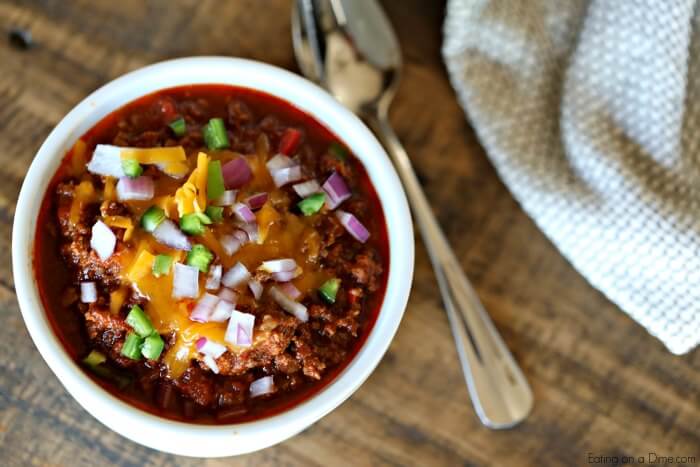 Variation ideas:
Chili is one of those meals that you can change it for your preference.
Omit one can of tomatoes to lower the carbs
Stir in a can of green chilies to a bit of spice
Try adding in a little bit of cream cheese before serving.
Stir in ½ cup sour cream before the chili is completely done.
Chili Topping Ideas:
You can still have some amazing toppings even if you are following a low carb diet. Here are some of my favorites:
Shredded cheese – Make sure you shred your own. The bag shredded cheese contains added ingredients.
Chopped Green Onions
Slice Avocado – I love avocado and really love it on chili.
Jalapeño Slices – I always add a few on my chili. I like the extra spice it gives.
Sour Cream
Guacamole
Corn Chips – Not Low Carb
Tortilla Chips
Chili Wraps:
We also love making frito chili wraps. This is one of my favorite ways to eat chili especially for lunch or a snack. If you are doing low carb, they have low carb tortilla's and I would just omit the fritos.
Put your tortilla down, top with chili and shredded cheese. Then wrap up your tortilla for a amazing meal.
Understanding this Keto diet:
First of all, I know it can seem overwhelming initially. However, once you understand the Keto lifestyle it is very simple. You can find lots of resources here including a beginner's guide to Keto.
It's a lot to take in but basically the ketogenic diet is a diet high in fat with healthy fats for weight loss. The diet calls for a lot of nut butters, peanut butter and low or no carb snacks called fat bombs.
You will also want to keep things sugar free. Oils like coconut oil, olive oil and mct oil are used.
A lot of recipes call for cheese or cream cheese. Almond flour or pork rinds can be used for a coating or batter that fits into the ketogenic diet. Once you get used to this diet, many report that it becomes a lifestyle and they really like it. As a result, many people report higher levels of energy and that they just feel better!
Plus, weight loss is fairly easy while also filling full and satisfied. This is a key component as to why it works for so many.
Print this Low Carb Chili recipe below:
Keto Chili Recipe
Keto Chili Recipe is perfect for Fall and sure to impress the entire family. Low Carb Chili recipe is so hearty. Try low carb chili for an easy meal idea.
Ingredients
2

pounds

of ground beef

1

can of crushed tomatoes 14

5 oz

1

can

14 oz of tomato sauce

1

can of beef broth

14.5 oz

4

tablespoons

of chili seasoning

you can make your own -recipe to come- or use a half of a packet

1

teaspoon

of garlic salt

1/2

onion

chopped (can be frozen)

1/2

red bell pepper

chopped

shredded cheese or sour cream to serve

optional
Instructions
n a large stock pot, brown your ground beef or ground turkey. I love to use my Pampered chef mix n chop to break up the meat evenly. We normally do 1 pound of ground beef and one pound of ground turkey. I save money and no one can taste the difference.

Add in the ½ onion and the red bell pepper and continue cooking until they are soft.

Stir in the chili seasoning, crushed tomatoes, tomato sauce and beef broth.

Bring to a boil.

Then turn to low, add the lid and let simmer (stirring occasionally).

Simmer for 30 minutes up to an hour to let all the flavors combine.

Serve with shredded cheese, sour cream, diced onions and even jalapenos
Nutrition Facts
Calories
214
kcal
,
Carbohydrates
2
g
,
Protein
23
g
,
Fat
11
g
,
Saturated Fat
4
g
,
Cholesterol
73
mg
,
Sodium
369
mg
,
Potassium
469
mg
,
Fiber
1
g
,
Vitamin A
1955
IU
,
Vitamin C
10
mg
,
Calcium
23
mg
,
Iron
3.3
mg
Find more Keto and Low Carb Recipes here: