This post may contain affiliate links. If you make a purchase through links on our site, we may earn a commission.
If you need a Keto recipe that the entire family will enjoy, try this Low Carb Cheeseburger Casserole Recipe. It is loaded with all the things you love about a cheeseburger but in a delicious casserole!
Low Carb Cheeseburger Casserole Recipe
We are doing Keto and anytime I can find a recipe that will work for everyone, I am thrilled. This keto casserole was declared a hit by all my kids!
They went crazy for this recipe and begged for more. That is a mom win for sure. 🙂
So, we put this delicious recipe on the regular menu plan rotation. I love that it is Keto friendly and the kids love that it tastes amazing!
Keto Cheeseburger Casserole Recipe is packed with flavor!
The ground beef blends with the cheese and tomato sauce to come together for the best meal. It is so tasty and I just can't get over how simple it is.
If your family loves cheeseburgers as much as we do, this is a must try!
Our family loved this Low Carb Bacon Cheeseburger casserole and begged for more. It is one of our favorite baked dishes.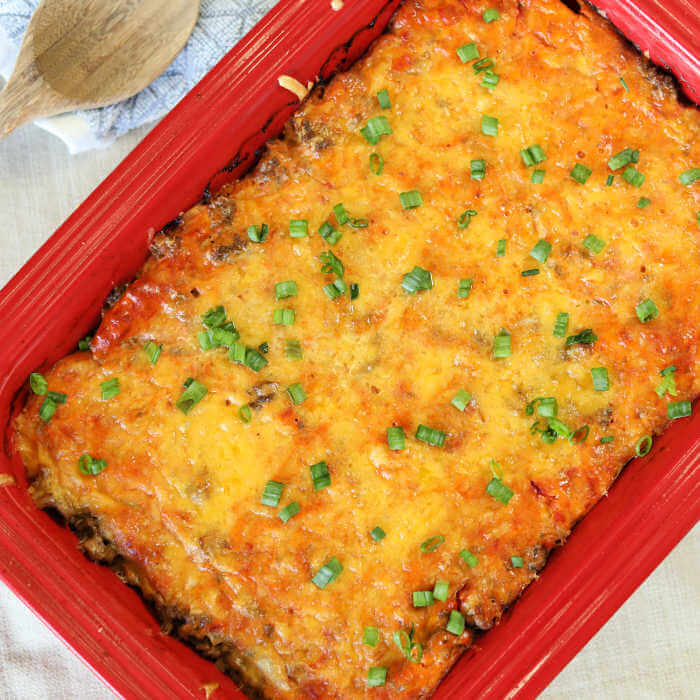 It is a great recipe with low net carbs if you are on a low carb or keto diet.

You can even try making Low Carb Bacon Cheeseburger Casserole recipe for another delicious dinner idea.
Simply add in ½ pound fried bacon to the hamburger. Bacon makes everything better and takes this recipe to a new level.
It is also a great way to add a twist to this recipe and the kids will think you are cooking something new. 🙂
Bacon Cheeseburger casserole will satisfy any burger craving!
I love adding things to recipes because the kids think they are eating a new recipe! We all get to enjoy a delicious meal and everyone leaves full and satisfied!
What other variations are good with this Easy Cheeseburger Casserole?
Well, our top favorite is fried bacon!
Other ideas include:
Add in chopped pickles to the casserole mixture
Top with pickles and onion
If you like spicy, try adding jalapeno peppers.
Add cream cheese for a creamier casserole.
Add any of your favorite burger toppings
My kids love Cheeseburger casserole with pickles!
That is the beauty of this recipe! Whatever you love on your cheeseburger, add to this recipe.
How do you make a bacon cheeseburger casserole?
It is super easy to customize and a crowd pleaser all around. We pile ours high with lots of bacon mixed in and more on top!
I have even put a little shredded lettuce and diced tomato on top of mine. So good!
You could even add ketchup mustard and more to the cheddar cheese.
You can also try making Low Carb Cheeseburger Cauliflower casserole.
This is a great way to stretch your meat and perfect to try for a new variation.
Another idea is Keto taco casserole with all your favorite taco toppings. We are a fan of just about any Low Carb Ground Beef recipes cream cheese versions!
Yum!
What can I bake this Easy Cheeseburger Casserole in?
This recipe is perfect in a 9×13 casserole dish. The ones with the lid are really handy if you are taking this dish somewhere.
I use the disposable pans for weeks I need to save time on clean up.
This dish is also perfect to take to potluck dinners or to someone recovering from surgery or with a new baby.
It's nice to just be able to toss the dish. Plus, they don't have to worry about trying to get it back to you.
Ingredients in Keto Cheeseburger Pie:
2 pounds ground beef
½ onion, chopped ( I use frozen chopped onion)
2 teaspoons minced garlic
8 eggs
1 can tomato paste, 6 ounces
1 cup heavy cream
1 teaspoon salt
1 teaspoon pepper
2 ½ cups cheddar cheese, hand grated
How to make low carb Cheeseburger Casserole:
Preheat oven to 350°F.
Brown ground beef with the garlic and onion.
Drain excess grease, then spread beef on bottom of 9×13-inch casserole pan.

In medium bowl, whisk together eggs, tomato paste, heavy cream, salt, and pepper until well combined.

Stir half the grated cheese into egg mixture.

Pour egg mixture over beef mixture in the casserole dish.

Top with remaining grated cheese.
Bake at 350°F for 30-35 minutes or until golden brown on top.
My kids went crazy for this Keto Cheeseburger Pie!
It is perfect by itself or serve it with a simple green salad. Dinner time does not have to be complicated!
Time Saving Tip for making Low Carb Cheeseburger Skillet:
We are always looking for ideas to make meal prep and dinner time easier around here. Life is crazy with 8 kids and anything I can do to save time is a winner in my book.
Many of the recipes we make call from chopped onion or green peppers.
I use a small food chopper or food processor to quickly and easily chop onions. If you do not have one of these, I highly recommend them.
They are such a time saver.
I usually just chop the entire vegetable and freeze what I don't need. It's so nice to be able to just take the diced onion out of the freezer for recipes.
This is how I meal prep. It's so quick and easy and helps get dinner on the table fast.
Learn and how to freeze onions and also how to freeze peppers to save so much time in the kitchen!
Still trying to understand this Keto diet?
First of all, I know it can seem overwhelming initially. However, once you understand the Keto lifestyle it is very simple.
There is a great book for beginners here that you might want to pick up. It is a really great resource to help get you started on this Keto journey.
I even spotted the Keto Crock Pot Cookbook.
It's a lot to take in but basically the ketogenic diet is a diet high in fat with healthy fats for weight loss. The diet calls for a lot of nut butters, peanut butter and low or no net carb snacks called fat bombs.
You will also want to keep things sugar free. Oils like coconut oil, olive oil and mct oil are used.
A lot of recipes call for cheese or cream cheese. Almond flour or pork rinds can be used for a coating or batter that fits into the ketogenic diet.
Once you get used to this diet, many report that it becomes a lifestyle and they really like it. As a result, many people report higher levels of energy and that they just feel better and have more regulated blood sugar.
Plus, weight loss is fairly easy while also filling full and satisfied. This is a key component as to why it works for so many.
If you want to lose weight, this is a great plan to try. With so many low carb recipes, it will be easy to stay on track with the ketogenic diet
Print this Low Carb Cheeseburger Casserole Recipe below:
Keto Cheeseburger Casserole
The entire family will love this Low Carb Cheeseburger Casserole Recipe. Plus it's easy! Everyone will beg for more of Keto Cheeseburger Casserole Recipe.
Instructions
Preheat oven to 350°F.

Brown ground beef with the garlic and onion.

Drain excess grease, then spread beef on bottom of 9×13-inch casserole pan.

In medium bowl, whisk together eggs, tomato paste, heavy cream, salt, and pepper until well combined.

Stir half the grated cheese into egg mixture.

Pour egg mixture over beef in the casserole dish.

Top with remaining grated cheese.

Bake at 350°F for 30-35 minutes or until golden brown on top.
Recipe Notes
You will love this keto and carb friendly casserole!
Nutrition Facts
Calories
411
kcal
,
Carbohydrates
4
g
,
Protein
23
g
,
Fat
33
g
,
Saturated Fat
16
g
,
Cholesterol
214
mg
,
Sodium
552
mg
,
Potassium
432
mg
,
Sugar
2
g
,
Vitamin A
900
IU
,
Vitamin C
3.5
mg
,
Calcium
219
mg
,
Iron
2.6
mg
Learn how to cook Low Carb Jalapeno Popper Chicken Soup Recipe that is keto friendly and packed with flavor.
Do you love pizza but need a low carb version that is tasty and delicious? This Crock Pot Low Carb Pizza Casserole recipe is keto friendly and comfort food at its best.
Crock Pot Pesto Chicken Recipe is keto friendly and so delicious the entire family will love it.
This Instant Pot Sausage and Peppers Recipe is keto friendly, easy to prepare and So delicious!
Hamburger Potato Casserole Recipe has everything you need for a great meal.
You might also enjoy Keto Broccoli Cheese Soup Recipe without any guilt in this low carb recipe.
If you love casseroles, try Low Carb Taco Casserole. It's packed with everything you love about tacos in a low carb casserole sure to be a hit with everyone.
Roasted Red Pepper Keto Chicken Recipe is another incredibly simple recipe to try and has an amazing red pepper cream sauce.
Asian Ground Chicken Lettuce Wraps is a must try recipe. Not only is it healthy but it is so amazing the entire family will go crazy over these wraps.
If you are doing Keto, you have to try this Keto Cheesecake Fat Bomb Recipe. This is the most amazing recipe that allows you to enjoy creamy cheesecake absolutely guilt free.
Try Keto Chili Recipe for a hearty and delicious meal that will impress the entire family.
More Keto Recipes:
Try these Easy Keto Ground Beef Recipes: