Crock Pot Vegetable and Beef Chili Recipe is the perfect comfort food recipe for a cold day. The slow cooker does all the work and everything is packed with flavor and so delicious.
Crock Pot Vegetable and Beef Chili Recipe
We love a good chili recipe and this one does not disappoint. It is loaded with veggies, beef and just enough heat to make the absolute best chili!
Even better, you literally just toss everything into the crock pot and come home to dinner ready and waiting! This is the perfect recipe for busy weeknights when you have little to no time to even think about dinner.
This recipe is amazing!! The kids didn't even notice the veggies. It is a great way to sneak more veggies in everyone's diet.
Talk about a mom win! No one complained and they just gobbled this chili up. Yeah!
Vegetable Beef Chili is a win all around!
It has so much flavor and the jalapenos give it just the perfect amount of heat. Everyone loved this chili.
The Jalapenos really give it the best flavor. It is just the right amount and not too spicy for the kids.
However, if you prefer they can easily be omitted. I actually love the heat so I dice up a few extra for me to add to my bowl of chili when I'm topping them with cheese and sour cream.
You can freeze beef and vegetable chili!
Sometimes, I make a double batch just to freeze this wonderful chili. It is perfect to freeze for quick meals.
One option is to freeze the chili before you cook it. Simply place the ingredients in a freezer bag and then place in the slow cooker frozen.
Another idea is to freeze after you cook it and just reheat for easy future meals. We love easy ideas for meal time around here and this chili is a family favorite.
I like to freeze small containers to enjoy for quick lunches during the week. It is such a time saver and really tasty.
Sometimes I also will make Crockpot Baked Potatoes for a quick lunch or even dinner. I love to put a little of the Beef and Vegetable Chili on the potato and top with sour cream and cheese.
It is so yummy and a really hearty and filling meal idea if you have not tried this. Plus, it is so quick and easy to make these loaded potatoes with chili.
We have even baked the chili over doritos or corn chips and topped with cheese. This is a great way to use leftovers and create a new meal with it.
The kids think they are eating something new and gobble it up. Leftovers for the win!
Note- If you do a lot of freezer meals, consider grabbing this JOKARI Hands-Free Baggy Rack Storage Bag Holder. These are not necessary, but make it so much easier to put the meals together for the freezer.
It is like having an extra set of hands in the kitchen! I don't know about you but I could use that for sure!
The slow cooker does all the work for this tasty Chili with Vegetables and Meat Recipe.
If your schedule is crazy like mine, you definitely need quick and easy recipes on the menu plan rotation. This is one of those recipes I rely on during crazy weeks.
It keeps us from getting take out and spending money on food that isn't that great. Plus, it really isn't that fast to get take out these days.
We all much prefer to come home to a delicious meal waiting in the slow cooker to enjoy. It saves us money and time plus the stress of figuring out what is for dinner at the last minute.
It is so nice to just come home and be able to gather around the table to enjoy a nice hot meal. We can talk about everyone's day and just enjoy the meal.
What veggies go well in chili?
Just about any vegetable you like can be put in chili. They are all so tasty.
Our favorites include:
zucchini
squash
onion
green pepper
red pepper
tomatoes
I have even added sweet potato! You can add whatever your family enjoys.
That is the beauty of this recipe. Make it your own and try new things.
It is delicious and sure to be a hit!
Let's get started and you will see why this is the best crockpot chili recipe winner!
Let this tasty chili slow cook all day and come home to a delicious dinner everyone will enjoy. You will love this recipe and how easy it is.
Ingredients for Slow Cooker Chili:
1 pound ground beef, browned
3 medium zucchini, peeled and chopped
1 medium onion, chopped (I use frozen diced onions)
1 green bell pepper, chopped (I use frozen diced peppers)
1 jalapeño pepper, seeded and chopped
1 can diced tomatoes, 14.5 oz (Try the ones with green chili.)
1 can tomato paste,. 12 oz (You can also use tomato sauce.)
1 can kidney beans, 15 oz
1 can black beans, 15 oz
2 teaspoon minced garlic
1 tablespoon chili powder
1 teaspoon salt
1 teaspoon cumin
2 cups water
How to make Slow Cooker Beef and Vegetable Chili:
Add everything in the crock pot. I used a 6 quart crock pot.
Cook on low for for 4 hours or high for 2 hours.
Note- Make sure beans drained and rinsed.
You can also make this Slow Cooker Beef Chili in a large skillet over medium high heat if you need to make it on the stove top.
It is that simple to make this tasty slow cooker chili!
The veggies and meat are packed with flavor and everything is tender and delicious.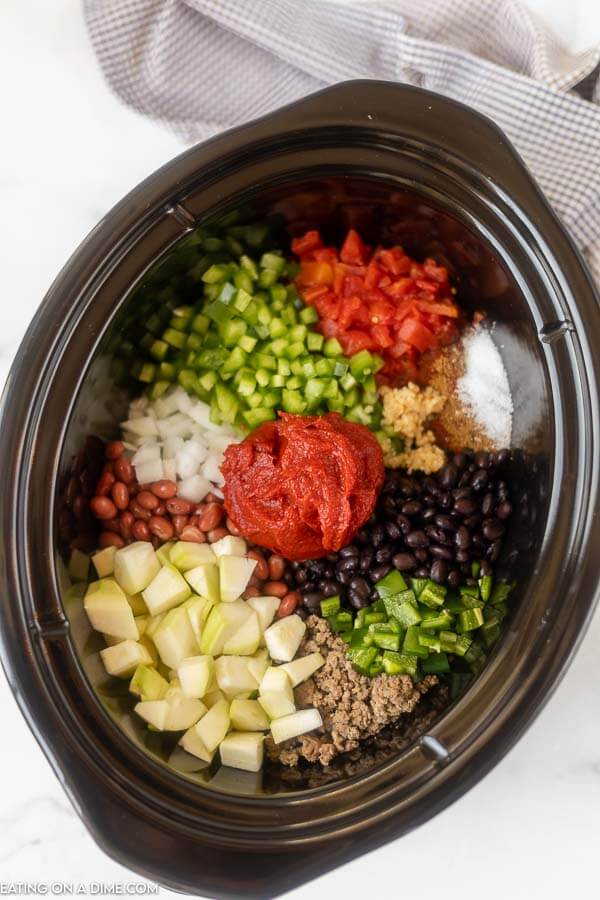 What toppings are good with Vegetable Beef Chili?
Of course the chili is amazing alone but we love a good topping bar around here. We like to load our chili with all sorts of yummy toppings and the kids enjoy it too.
shredded cheese (We like cheddar, Colby and mozzarella cheese.)
sour cream
avocado
green onion
hot sauce
fresh lime
cilantro
diced jalapeno peppers
saltine crackers
corn chips
tortilla chips
Just use whatever you like! We have even just kept it really simple and made this easy homemade cornbread and served the chili with that.
You can also try Cheddar Jalapeno Cornbread Recipe for a little extra kick. Yum!
This is the best chili recipe!
We have served this for guests and everyone loves this chili. It has so much flavor and really is amazing.
It is budget friendly and can easily feed a crowd. This is perfect for game day, parties and more.
Give this a try for a hearty and delicious meal everyone will love. There is just something so inviting about a warm bowl of chili.
It is the best comfort food and so tasty!
Make sure you have a good slow cooker to make Crock Pot vegetable and beef chili recipe.
If you are in the market for something new, I really love my Ninja cooker. The nice thing about this is you can brown the meat in the same slow cooker and have fewer pans to clean up.
It is so handy to just have the one pan to clean. It has become of my favorite kitchen appliances.
I also really like this crockpot as well. I use this all the time and it's great.
My favorite feature is that you can lock the lid down. This is awesome for when you need to take the crockpot somewhere.
I often use the slow cooker to take dishes to potluck events and this feature is amazing! There are several others on sale here.
Another favorite is this programmable crock pot for when I am am not at home all day. I love coming home to a nice meal ready and waiting!
I also like to use crock pot liners to make clean up a breeze. These are worth every penny and save a ton of time.
Can you put raw meat in slow cooker for chili?
I like using the Ninja to brown the ground beef. Since you are just using the one pot, it helps with clean up.
I am always looking for ways to save time and money. Life is crazy with kids and work and activities.
If there is any way at all to save a few minutes or a few dollars, I'm all about it! It all really adds up and helps out so much.
Not only is this crockpot chili healthy but it is frugal too!
I keep recipes like this on the regular menu plan rotation because I know the entire family will enjoy these meals.
In fact, I cut our grocery bill by 50% off by following these 8 Tips for for Saving Money on Groceries by Menu Planning! Save that money for a family vacation or maybe just some wiggle room in the budget.
Another idea it to add more beans in recipes to stretch the meat. This is a great recipe to add more beans and tomatoes to and it will make your soup go further.
Add in a variety of black beans, pinto beans, white beans or whatever you like. You can even decrease the amount of beef and add more beans to stretch the recipe.
We love paleo chili crock pot. It is so hearty and delicious.
I often just use what I have in the freeze or what is on sale. You can even try using ground turkey.
You can truly make this recipe your own. This is how I keep our grocery budget reasonable.
By shopping when things are on sale I save money on groceries and it really helps our budget.
Time saving tips for Crock pot vegetable and beef chili recipe:
This recipe calls for diced onion and green peppers. Another time saving tip is to use a small food chopper or food processor to quickly and easily chop onions and peppers.
If you do not have one of these, I highly recommend them. They are such a time saver and you can get the veggies really fine.
I usually just chop the entire vegetable and freeze what I don't need. It's so nice to be able to just take the diced onion out of the freezer for recipes.
This is how I meal prep. It's so quick and easy and helps get dinner on the table fast.
Learn and how to freeze onions and also how to freeze peppers to save so much time in the kitchen!
We use these ingredients a lot so it saves us a ton of time. Lots of recipes call for onion and pepper and it is so nice to just grab and go.
Our family also enjoys omelettes with onion and peppers and that saves time during breakfast as well. We can spend more time together and less time in the kitchen.
That is what it is all about! Try some of these time saving tips to help you save more time and money.
Print this Slow Cooker Vegetable and Beef chili recipe below:
Crock pot Beef and Vegetable Chili
Crock Pot Vegetable and Beef Chili Recipe is the perfect comfort food recipe for a cold day. The slow cooker does all the work for Vegetable beef chili.
Ingredients
1

pound

ground beef

browned

3

medium zucchini

peeled and chopped

1

medium onion

chopped

1

green bell pepper

chopped

1

jalapeño pepper

seeded and chopped

1

can diced tomatoes

14.5 oz

1

can tomato paste

. 12 oz

1

can kidney beans

15 oz

1

can black beans

15 oz

2

teaspoon

minced garlic

1

tablespoon

chili powder

1

teaspoon

salt

1

teaspoon

cumin

2

cups

water
Instructions
Add everything in the crock pot. I used a 6 quart crock pot.

Cook on low for for 4 hours or high for 2 hours.
Nutrition Facts
Calories
406
kcal
,
Carbohydrates
42
g
,
Protein
25
g
,
Fat
16
g
,
Saturated Fat
6
g
,
Cholesterol
53
mg
,
Sodium
1474
mg
,
Potassium
1659
mg
,
Fiber
13
g
,
Sugar
13
g
,
Vitamin A
1635
IU
,
Vitamin C
58.9
mg
,
Calcium
132
mg
,
Iron
7
mg
From Game Day to family dinner, Crock Pot Frito Chili Pie Recipe is versatile and delicious for another great recipe!
Crock Pot Chili Mac Recipe is a one pot meal that is loaded with hearty beef, beans, elbow macaroni and more.
Take your chili to the next level when you make this delicious Crock Pot Chipotle Chili Recipe.
Find more Slow Cooker Recipes: