The entire family will love these easy beef chili recipes. Try over 20 simple and frugal recipes that you can make in the slow cooker or stove top for a delicious meal.
Easy Beef Chili Recipes
This time of year makes me want to put a big pot of chili on the stove to simmer. There is something so comforting about a big bowl of warm chili.
It's easy to make, feeds a crowd and doesn't cost a fortune. What more could you want?
Chili also freezes well so any leftovers can be saved for a quick lunch. I have been known to use the leftovers to top baked potatoes with. I love meals that you can eat twice!
Sometimes we make cornbread and crumble it on top of the chili. Other times, I like to use corn chips or tortilla chips, onion, cheese and sour cream. Of course, traditional crackers also does the trick!
We make these easy chili recipes frequently so I make a big batch of homemade chili seasoning. I recommend doing this because it's much cheaper than store bought and really simple.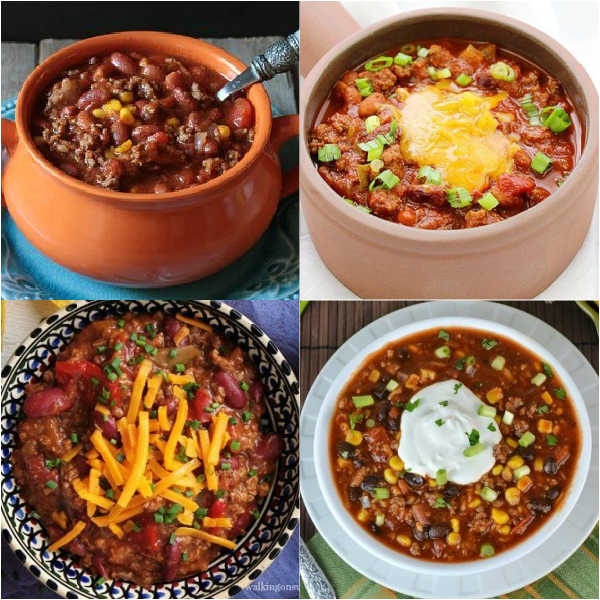 Classic Chili is something we make a lot but for a change we like to make Tex Mex Chili. And for a little something different, Cincinnati Chili is always a hit.
If' I know we are going to have a busy day, I'll use the slow cooker so we can come home to dinner ready!
The ideas are endless! Find even more soup and chili recipes that you will love for an easy dinner.
Ground beef chili recipes
Crock Pot Vegetable and Beef Chili Recipe
This meal is the perfect comfort food recipe for a cold day. The slow cooker does all the work and everything is packed with flavor and so delicious here.
Wendy's Chili
If you love Wendy's chili, give this recipe a try here. It's packed with ground beef, veggies, tomatoes and more! Just like Wendy's.
Easy Quick Chili Recipe
This is a super quick and easy chili recipe here that the entire family will love! Top with cheese and corn chips or whatever you like!
6 Ingredient Crock Pot Chili
You only need 6 ingredients to make this awesome chili here! Such a simple recipe that doesn't take long to prepare and everyone will love.
The Best Crock Pot Chili
This is a very simple and classic chili recipe here. It's quick and delicious. Dump it all in your slow cooker and have dinner waiting when you get home!
30 Minute Chili Recipe
Get dinner on the table fast with this dish that only takes 30 minutes here! Perfect for those nights you forget to menu plan!
Simple and Easy Crock Pot Chili
Quick and easy and gluten free! Top with an assortment of cheese, more onion or whatever your family likes. Get the recipe here.
Crockpot Taco Chili
You will love the flavor the salsa adds to this dish here. It adds a kick that is so good with the black and pinto beans. We serve with cheese, tortilla chips and sour cream.
Dr. Pepper Ten Chili
The chili here is sweet, savory and spicy! The Dr. Pepper adds a really good flavor!
Delicious Chili in the Crock Pot
Yummy chili with a secret ingredient- cocoa powder! Top with cheese if you like and enjoy this amazing recipe here.
Hearty Pumpkin Chili Recipe
Add pumpkin for a twist on the classic chili recipe here. It's so hearty and perfect for this time of year.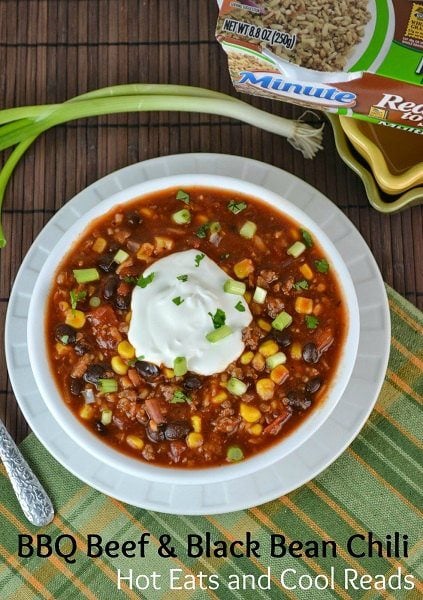 BBQ Beef and Black Bean Chili
So hearty and good! You can also bulk up the recipe here by serving it over rice.
Saucy Beef Chili
This recipe is very simple and quick. The perfect weeknight dinner and so tasty. Find the recipe here.
Paleo Sweet Potato Chili
Yum! Ground beef and sweet potatoes make a hearty chili that the entire family will love. Try this recipe here.
Slow Cooker Beef Brisket Chili
Use leftover beef brisket to make the chili here. I love meals that you can eat twice!
Cincinnati Chili
This style of chili is meaty and hearty and served on spaghetti noodles here. Add a little extra cheese and onion on top. Yum,!
Instant Pot Tex Mex Chili
If you like spicy and heart, this chili packs a punch here. Plus, it comes together so quickly in the instant pot.
Slow Cooker Tortellini Chili
Cheese tortellini adds something really special to this dish here. It's so hearty and delicious! The best comfort food.
Chunky Crockpot Chili
For those that prefer chili to have the consistency of stew, this recipe here is for you. It's very thick and meaty. So good!
Easy and Delicious Crock Pot Chili
The perfect meal for busy days! Throw it all together in the slow cooker and dinner will be ready when you need it. This is a classic recipe here that the entire family will enjoy.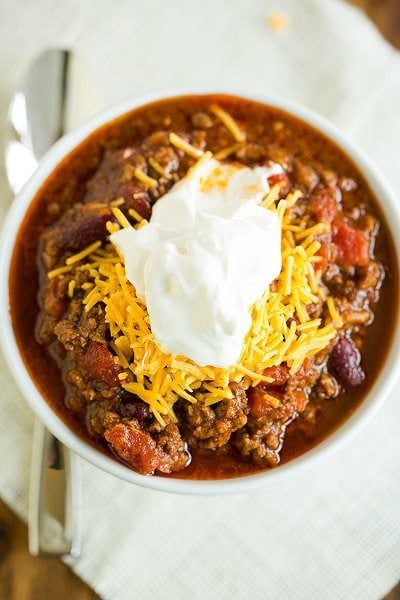 Classic Beef Chili
The recipe here is cold weather comfort food at it's best. The garlic and spices are amazing! Give this tasty a chili a try and top with corn chips and more.
Which chili recipe will you try first?
Chili is one of my favorite comfort food recipes. I love how easy it is and if the recipe calls for one thing you can easily substitute for something else.
You can easily use ground turkey instead of ground beef. Feel free to add extra pinto bens or kidney beans if you prefer.
This is also a great way to bulk up the homemade chili and stretch your meat budget. I like to add extra tomato sauce and hot sauce to the chili.
Make sure you have a large pot and all the ingredients you need. It is so simple to make!
I try to make extra and freeze some of it. It is great for a quick lunch or dinner during the week.
Try these other delicious soup recipes: