Try some of the best leftover ham recipes to create new meal ideas that are delicious. 24 easy recipes for leftover ham that will save you time and money.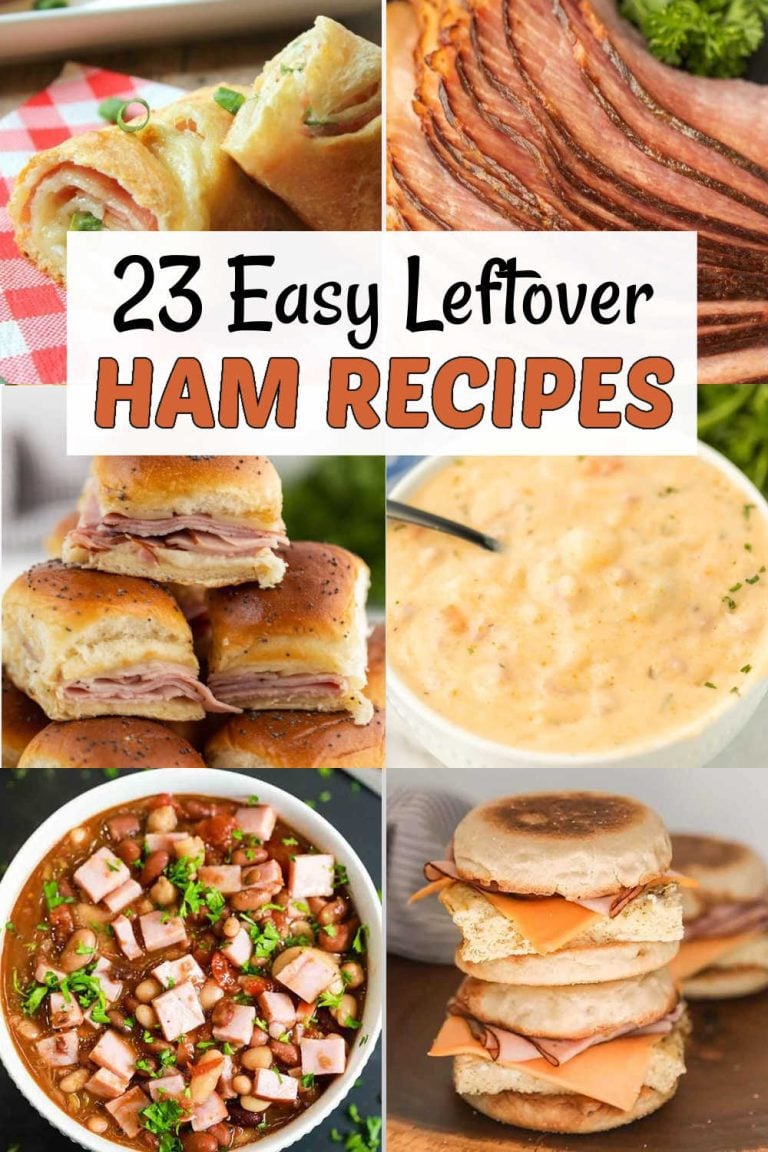 Best leftover ham recipes
These easy recipes are so tasty that you will hope to have leftover ham. We love to turn leftovers into something new and yummy. The kids don't even realize that we are eating leftovers. ,
The next time you have ham and don't know what to do, make one of these recipes. They are perfect to enjoy anytime of the year. If you have leftover ham, try these flavor packed meal ideas.
The idea are endless to use with leftover ham. From pasta salad and ham salad to scalloped potatoes and ham, there is lots to make with ham.
You can even add diced ham to your favorite pasta dish or mashed potatoes. Don't forget about split pea soup and more. See Best Thanksgiving Ham Recipes.
23 Ham leftover recipes
1. How to freeze ham
Learn how to freeze ham so that it tastes perfect when ready to enjoy. These easy steps will make it effortless to freeze ham to enjoy later. You will be so glad to have ham in the freezer to make these delicious recipes.
2. Hawaiian Ham and Cheese Sliders Recipe
This is probably one of our favorite ways to use leftover ham. With a few ham slices, cheese and seasoning, this recipe is always a crowd pleaser. These are great for dinner, Game Day, parties and more.
3. Ham and Potato Soup Crock Pot Recipe
The combination of ham and potatoes results in a fabulous comfort food recipe. This soup is quick and easy without much work.
4. Ham and Bean Soup Crock Pot Recipe
Utilize the ham bone to make this soup flavorful and amazing. Cubes of leftover ham make this soup so hearty and filling. It is a one pot meal full of the best flavors.
5. Crock Pot 15 Bean Soup with Ham
The vast assortment of beans blends with the ham for a great meal. The salty ham, beans, broth and more make this delicious. Serve with crusty bread or cornbread and dinner is complete.
6. Chicken Cordon Bleu
While the name sounds fancy, Chicken Cordon Bleu is actually quite easy to prepare. It is even simpler using leftover ham.
7. Instant Pot Ham Potato Soup
Put the pressure cooker to work with this easy Ham and Potato Soup. You only need 15 minutes to get dinner on the table.
8. Ham and Bean Soup Instant Pot Recipe
All of the delicious flavors of ham and beans make this broth so flavorful and tasty. It is the best comfort food and very inexpensive to make.
9. Tasty Breakfast Sandwiches
Anyone can easily make a batch of these tasty sandwiches for breakfast. You can use leftover ham to make these in minutes for a frugal meal idea.
10. Easy Stromboli Recipe
Everyone can choose their favorite toppings to make this filling Stromboli recipe. It is a great way to use leftover ham without hardly any work.
11. Crock Pot Ham and Cabbage
The slow cooker makes this even easier and the cabbage is so tender. The leftover ham gives this dish the best flavor for a hearty meal.
12. Air Fryer Chicken Cordon Bleu
Delicious layers of chicken, ham and cheese combine for a wonderful meal idea. The leftover ham combined with using the air fryer make this recipe so quick.
13. Crock Pot Chicken Cordon Bleu Casserole
This recipe turns the classic Chicken Cordon Bleu recipe into an easy casserole recipe. It is so tasty and great for a busy weeknight meal.
14. Ham and Cheese Potato Casserole
Add diced ham to our cheesy potato casserole for a a delicious dinner idea. It is the best ham and potato casserole.
15. Ham and Vegetable Soup
Add your leftover ham to our delicious vegetable soup. This is a simple way to incorporate leftovers and turn this soup into a new meal. It is very filling and frugal as well.
16. Ham and Macaroni and Cheese
Add diced ham to our homemade mac and cheese. This is an easy way to turn a side dish into a one pot main dish. Everyone will love the cheesy pasta with ham.
17. Make Breakfast Pizza with Leftover ham
If you like breakfast casseroles, try this easy breakfast pizza. Top with ham, cheddar cheese, veggies and anything you like. It is a tasty ham and cheese breakfast idea to try.
18. Leftover Ham and Cheese Pizza
Pizza night is even better with this hearty ham and cheese pizza. It is truly a meat lovers dream and so easy to make. You can add any toppings you prefer.
19. Baked Ham Penne Pasta
The penne pasta has a savory garlic sauce everyone will enjoy. The dish is so hearty and filling with lots of ham mixed in. This recipe is a great way to stretch your meat budget.
20. Ham Hash
Fans of Corned Beef Hash will enjoy this easy and tasty recipe for Ham Hash. It is a fabulous way to use leftover ham and results in a filling meal.
21. Ham Chowder
Rich and creamy ham chowder is one of the best comfort food meals. It is filling and makes a great meal anyday of the week.
22. Leftover Ham Sandwich
Learn how to make the perfect leftover ham sandwich. It is so tasty and easy to make for a quick lunch or dinner.
23. Ham and Cheese Breakfast Muffins
These bite size muffins are perfect to enjoy on the go. Everyone will love how convenient and delicious these muffins are.
24. Grilled Ham steak
Use leftover ham, and grill it up like we did this easy grilled ham steak recipe.
25. Leftover Ham Casserole
Combine your Thanksgiving ham with noodles and cheese to make this simple but flavorful casserole.
How to store leftover ham:
Wrap the ham in foil or plastic wrap. Then place inside an airtight container or ziploc bag.
Store in the refrigerator 3 to 5 days. Ham is very easy to store and use later in other recipes.
Easy recipes for leftover ham.
There are so many wonderful recipes to use leftover ham. You can easily find something to make for breakfast, lunch and dinner with these ideas.
Ham is always a popular menu item and it makes great leftovers. These meals are all so amazing that no one will even guess they are eating leftovers.
If your family can be picky, try some of these delicious recipes. I bet they will be a hit with everyone.
They are flavor packed, easy to make and inexpensive. Give these recipes a try and enjoy something new. I think you will really enjoy these meal ideas.
More leftover ideas: