Crock Pot 15 Bean Soup with ham is a great way to feed a crowd and stay on budget. The soup is so delicious and packed with flavor that everyone will want to come back for more!
Crock Pot 15 Bean Soup with ham
Let the slow cooker do all the work and enjoy this delicious 15 bean soup recipe. This is one of our favorite meals and just about everyone I know goes crazy over it.
The tomatoes and the chicken broth give the beans such a great flavor. Plus, the ham really makes this dish so flavorful.
I know you might be thinking can beans and ham really be that good? Yes! It is seriously so amazing!
Once you try it, you will see how tasty this meal is. It is truly a one pot meal and makes dinner time a breeze.
This is one of our go to meals during busy seasons. I can toss it all in the crock pot in the morning and come home to dinner ready to enjoy!
I do not know what we would do without our slow cooker. It is such a huge help to get dinner served during busy weeknights.
What do you eat with ham soup?
Add some homemade cornbread and oh my goodness! You have an amazing meal!
I love to dip the cornbread into the soup to get every last drop. It is also so good with the cornbread crumbled into the soup. Yum!
We also love Cheddar Jalapeno Cornbread for a little extra kick. The jalapeno peppers go great with the ham and bean soup.
You definitely want to make a pan of cornbread to go with this ham and bean soup. It is a must in our house!
Of course, it does not have to be homemade but these cornbread recipes are SO easy that it only takes a few minutes! Plus, they are so yummy.
Is 15 bean soup good for you?
Beans provide lots of fiber and protein making it a healthy meal to enjoy. Plus, it is so frugal!
You can't go wrong with this meal! It is easy and delicious!
There is just something about the tangy flavor from the tomatoes with the ham flavor and more. It really just all comes together for a flavor packed meal that is awesome!
What all do you need to make this slow cooker 15 bean soup recipe?
 package of 15 bean soup with seasoning packet
ham (Great time to use leftover ham. Check out our Leftover Ham Recipes)
onion
minced garlic
chili powder
diced tomatoes
chicken broth
hot sauce (optional)
How do you make crock pot 15 bean soup with ham?
Make sure you rinse and drain the beans first. Discard any debris.
Next, add the beans and seasoning packet to the crock pot.
Now, it is time for the ham, onion and broth.
Cover and cook all day until the beans are tender.
Keep reading for the full recipe. This meal is so simple and anyone can easily make it.


Notes for cajun 15 bean soup recipe:
Some people like to add a little kick to the soup by adding hot sauce to their serving. This is optional but we love it!
It is also good with more diced onion added to the bowl when serving. Yum!
This meal is so easy! You can cook on high for less time but I really prefer this recipe on low.
The longer it cooks and everything blends just makes it even better!
Can you freeze 15 bean soup?
Yes, you absolutely can! I always hope we have leftovers so I can freeze a few smaller portions.
It is perfect to enjoy for lunches during the week or a quick dinner later. You can use small freezer containers or ziplock bags.
One thing I really like about the bags is the ability to freeze things flat. It is a space saver if you don't have much room in your freezer.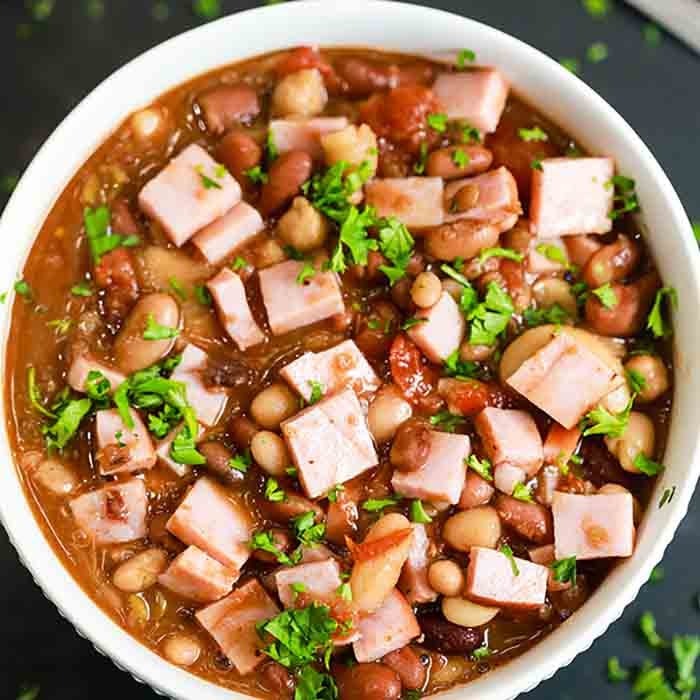 Tips for slow cooker bean soup recipes:
This recipe like many calls for diced onions. Another time saving tip is to use a small food chopper or food processor to quickly and easily chop the onions.
If you do not have one of these, I highly recommend them. They are such a time saver and you can get the veggies really fine if you have children that are picky.
I usually just chop the entire vegetable and freeze what I don't need. It's so nice to be able to just take the diced onion out of the freezer for recipes.
This is how I meal prep. It's so quick and easy and helps get dinner on the table fast.
Learn and how to freeze onions and also how to freeze peppers to save so much time in the kitchen!
Little tricks like this make life so much easier!
How do you thicken ham and bean soup?
You can use flour and water to thicken the soup. Cornstarch and water also is another way to thicken the soup.
Use leftover ham to make this hurst beans slow cooker bean soup!
We love to make this soup after I have cooked a ham. Everyone gets to enjoy the ham one night and another great recipe the next.
In fact, we love this ham and bean soup recipe so much that we try to always have leftover ham. Everyone looks forward to eating this soup the next day.
Another idea is to use a leftover ham bone or ham hock. This really gives the beans an amazing flavor and makes the best soup!
We love to use what we have and nothing goes to waste. It is a great way to flavor the beans and really makes the soup delicious.
Let us know what you think about this delicious soup!
Slow cooker 15 bean soup recipe is easy and frugal!
This recipe can really feed a crowd. If you have a big family or need to feed a lot of people, this is a very budget friendly meal to make.
Plus, by shopping when things are on sale I save money on groceries and it really helps our budget. If you have a crazy schedule, it can even be accomplished during busy weeks with quick and easy recipes like this one.
I actually cut our grocery bill by 50% off by following these 8 Tips for for Saving Money on Groceries by Menu Planning! You can do the same thing and use that money for something else!
Eating out is so very expensive and adds up with a large family. By meal planning and being intentional, we can save so much money.
I would much rather go out for a special occasion or because we want to instead of "having" to because we forgot to take something out of the freezer. We have been trying to be more intentional and it is really working with the menu plans.
Plus, our budget is thanking us too. 🙂
Print this Crock pot 15 bean soup with ham recipe below:
Crock Pot 15 Bean Soup with Ham
Crock Pot 15 Bean Soup with ham is so frugal and a great way to feed a crowd. The soup is so delicious and packed with flavor that everyone will want more.
Ingredients
1

package of 15 bean soup with seasoning packet

1

pound

ham

diced

1/2

onion

diced

1

teaspoon

minced garlic

1

teaspoon

chili powder

1

can diced tomatoes

15 oz

8

cups

chicken broth

optional – hot sauce
Instructions
Rinse beans and drain. Sort out any unwanted debris.

Place the beans and the seasoning packet in a 6 quart slow cooker.

Add the ham, onion, seasoning, and broth.

Cover and cook on low for 7-8 hours or until beans are tender. You can cook on high for 5 hours, but I prefer this recipe cooked on low.

Once beans are tender. Stir and serve. Some people like a little kick by adding some hot sauce to their servings.

Enjoy!
Nutrition Facts
Calories
386
kcal
,
Carbohydrates
32
g
,
Protein
32
g
,
Fat
15
g
,
Saturated Fat
5
g
,
Cholesterol
47
mg
,
Sodium
1100
mg
,
Potassium
1052
mg
,
Fiber
9
g
,
Sugar
3
g
,
Vitamin A
180
IU
,
Vitamin C
8
mg
,
Calcium
85
mg
,
Iron
4
mg
Try these crock pot soup recipes:
Check out these other easy slow cooker Recipes: