This post may contain affiliate links. If you make a purchase through links on our site, we may earn a commission.
We have the Best Chicken Salad Recipe and it is simple to make. This is so creamy and delicious. Serve it over lettuce or on croissants for a great meal everyone can enjoy.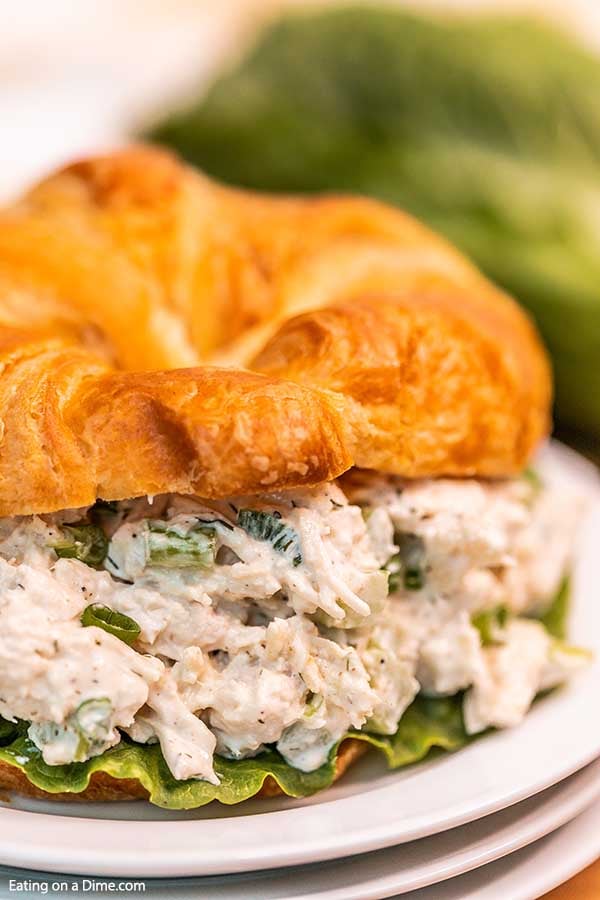 The Best Chicken Salad Recipe:
I don't know about you but I am pretty picky about chicken salad and this is the best chicken salad recipe. It has the perfect blend of chicken, veggies and seasonings. This delicious chicken salad recipe is quick and easy to make and loaded with flavor.
Chicken salad really has to be just right and this is a great recipe. You might also like our crock pot chicken salad as well. We love serving on a bed of lettuce or making a chicken salad sandwich.
This creamy and delicious chicken salad is perfect for potlucks or a weeknight dinner. You can even use leftover chicken for an easy chicken salad recipe.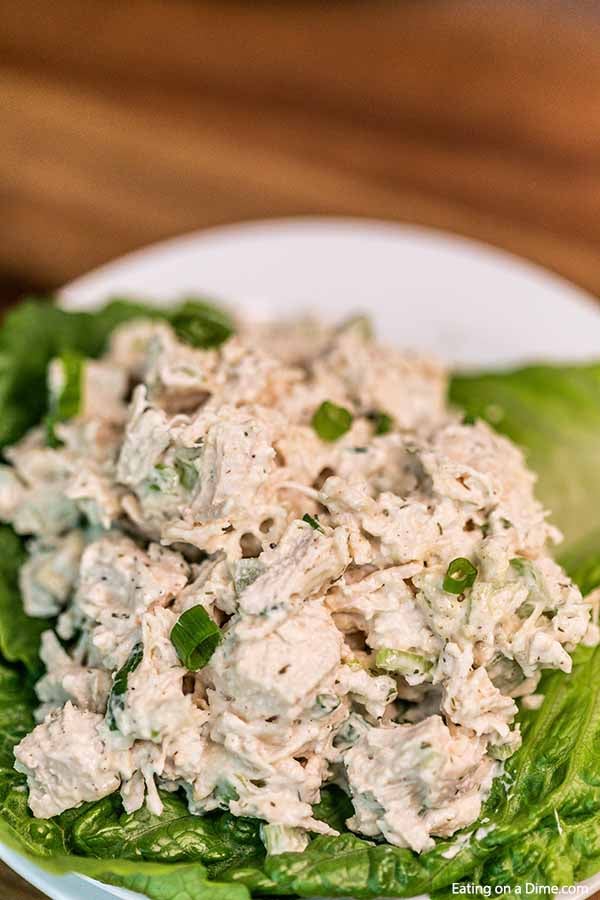 How do you make chicken salad from scratch?
It really is easy and much better than any store bought chicken salad you can buy. We love to cook extra chicken so that we can make chicken salad with it the next day. This is a big time saver.
Within 15 minutes you can enjoy this classic chicken salad.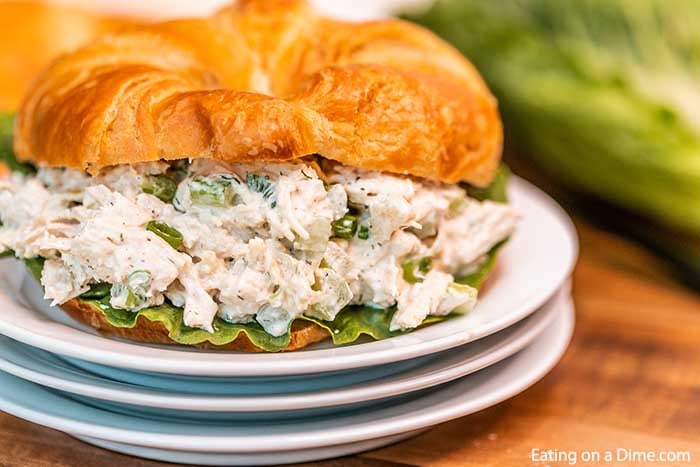 How much chicken do I need for chicken salad?
This recipe calls for 3 cups and it is the perfect amount. It gives the chicken salad the perfect combination of chicken and mayo and other ingredients.
This chicken salad is the perfect consistency. Not to runny and not to dry, just right.
How to Cook Chicken:
You can use rotisserie chicken for this recipe, but I like to cook my own chicken to save money. Try one of these easy ideas to cook poached chicken.
What to Serve with Chicken Salad:
We like to keep it simple and serve easy but delicious sides with chicken salad.
Pasta Salad
Chips
Soup
Crackers
Fruit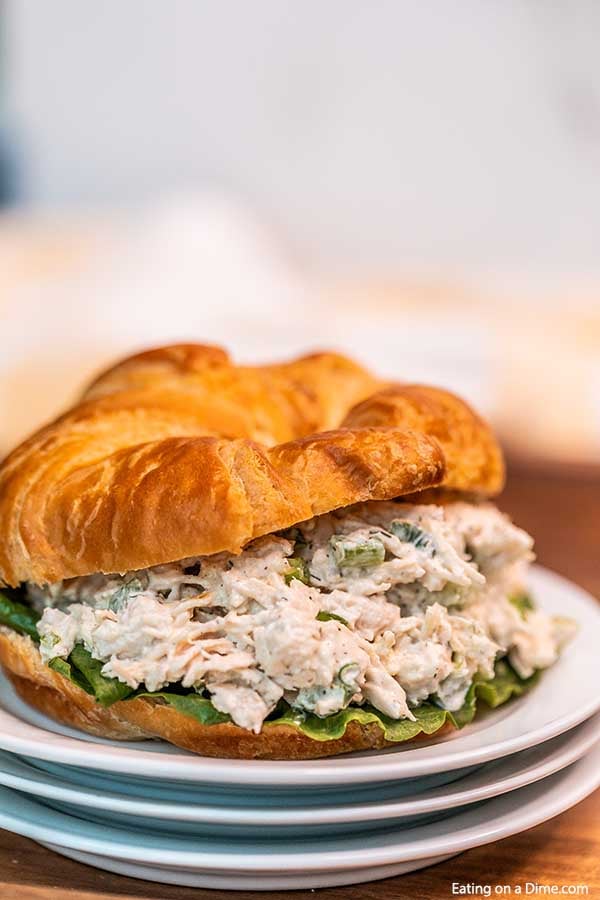 Topping ideas:
You can definitely enjoy the chicken salad as is but I love to add sliced tomatoes and onion to my sandwich. I prefer to have it on a salad rather than a sandwich as I try to watch my carb intake when I can.
This goes great with the chicken salad.
Ingredients for Chicken Salad:
I love how simple these ingredients are. Most of the ingredients will make at least 2-3 batches of this recipe. This recipe is so budget friendly and taste amazing.
Cooked Chicken Breast, chopped
Mayonnaise
Stalk Celery, chopped
Green Onion, diced (¼ cup red onion diced will work too)
Dijon Mustard
Salt and Pepper
Fresh Dill (optional)
Croissants if you want sandwiches
Romaine Lettuce Leaves (optional)
This all comes together for the best chicken salad recipe. It is so good.
How to Make Chicken Salad:
Step 1 – Combine Ingredients – Combine all ingredients in a small bowl and mix well. Add salt and pepper to taste.
It really is that simple to make and so much better than anything store bought. You will save money by making it home.
Step 2 – Serve immediately as a sandwich or over salad. If you are trying to eat low carb, just make a lettuce wrap or serve in a salad.
How to Shred Chicken:
Once you have cooked the chicken it is now ready to be shredded. You can shred the chicken with two forks or my favorite way is to use a stand mixer.
This has been a game changer for getting chicken shredded quickly and easily. We give you all the tips and tricks here on How to Shred Chicken.
If you don't like shredded chicken, you can easily chop the chicken into small pieces.
Can Chicken Salad be Frozen?
We don't recommend freezing the chicken salad. But what we do recommend is freezing the cooked chicken. If you have leftover cooked chicken, simply chop up the chicken and put in a freezer back.
Then it is easy to pull out the frozen chicken and let it thaw to follow the steps to make chicken salad. Learn more on our Can You Freeze Chicken Salad post.
How to Serve Chicken Salad:
Chicken salad is the perfect dish to make when you are feeding a crowd or for a quick lunch idea.
I like to enjoy chicken salad on lettuce for a low carb option, but it also delicious on a croissant. You can even serve on Hawaiian Rolls or crackers.
If you like to make charcuterie boards, place a bowl of the chicken salad on the board. Then add your favorite crackers for an easy charcuterie board idea.
How to Store Simple Chicken Salad:
This chicken salad is so easy for everyone to enjoy. Occasionally we will have leftovers. All you need to do is store in an airtight container for the flavors to enhance.
The chicken salad will last about a week in the refrigerator. Once you are ready to enjoy again, simply give it a stir and your chicken salad is ready to enjoy.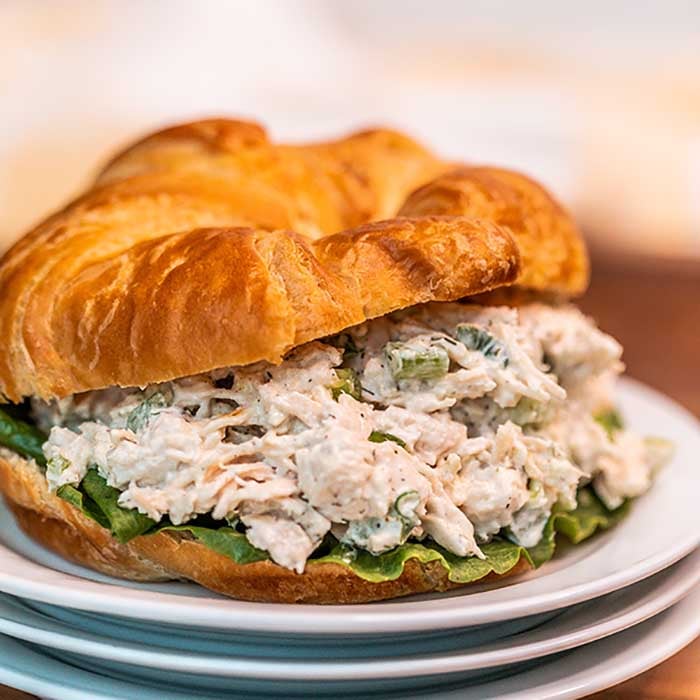 Chicken Salad Variations:
There are so many different ways you can enjoy chicken salad. Here are some of our favorite add-ins that we have tried:
Dried Cranberries
Eggs
Pickles
Black Olives or Green Olives
Green or Red Bell Peppers
Red Grapes
For a crunch, add nuts like pecans or Sliced Almonds
Lemon Juice
Use greek yogurt instead of mayo.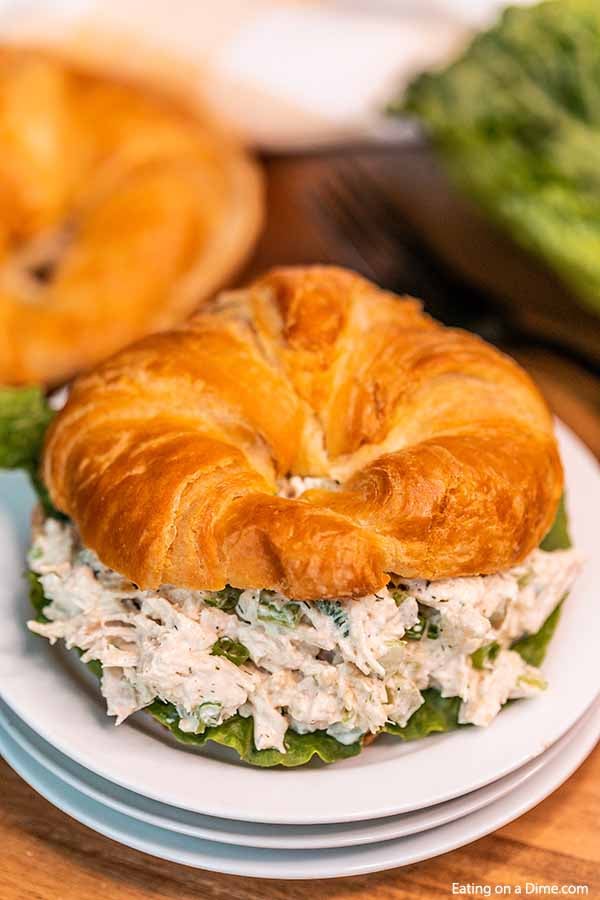 Tips for Best Recipe for Chicken Salad:
Prepare Ingredients ahead of time – This is the perfect recipe to prepare your chicken ahead of time. You can store in the freezer or place in the fridge until ready to mix with the other ingredients. You can even prepare your vegetables in advance.
Refrigerate – When not serving, make sure your store the chicken salad in the fridge.
Sour Cream – To balance out the taste of the mayonnaise, feel free to mix in ⅓ cup of sour cream.
Mixing Ingredients – Mix the ingredients in a large bowl to ensure that all the ingredients with the mayonnaise and seasoning.
Serving – We love serving this chicken salad on lettuce and croissants but you can also serve on bite size bread. This would make the perfect appetizer.
Double the Recipe – This recipe can easily be doubled if you are serving to a crowd. Just add in more chicken and combine with the other ingredients.
Frequently Asked Questions:
How to make bland chicken salad taste better?
To turn your bland chicken salad into delicious chicken salad, make sure you seasoning it with fresh herbs in spices. We also like adding in chopped grapes to give it that burst of flavor.
How long is homemade chicken salad last for?
Homemade chicken salad is good for about 4 days. Make sure it is stored in the fridge if not serving.
Can you make this ahead of time?
Yes, you can make chicken salad ahead of time. But make sure to serve within a couple of days of making it.
Print Easy Chicken Salad Recipe:
Chicken Salad recipe
We have the best chicken salad recipe and it is simple to make! This is so creamy and delicious. Serve it over lettuce or on croissants for a great meal.
Ingredients
3

cups

cooked chicken chopped

3/4

cup

mayonnaise

1

stalk celery chopped

2

green onion diced

¼ cup red onion diced will work too

2

teaspoon

dijon mustard

1/2

teaspoon

salt

1/4

pepper

1

teaspoon

fresh dill

optional

6

croissants if you want sandwiches

6

romaine lettuce leaves

optional
Instructions
Combine all ingredients in a small bowl and mix well.

Serve immediately as a sandwich or over salad.

You can also store in an airtight container for the flavors to enhance.
Nutrition Facts
Calories
487
kcal
,
Carbohydrates
28
g
,
Protein
10
g
,
Fat
37
g
,
Saturated Fat
11
g
,
Cholesterol
70
mg
,
Sodium
679
mg
,
Potassium
199
mg
,
Fiber
2
g
,
Sugar
7
g
,
Vitamin A
2959
IU
,
Vitamin C
2
mg
,
Calcium
38
mg
,
Iron
2
mg
Try these other Easy Salad Recipes: