This post may contain affiliate links. If you make a purchase through links on our site, we may earn a commission.
Learn how to boil chicken and have tender and flavorful meat for casseroles and more. You will save time and money with these tips.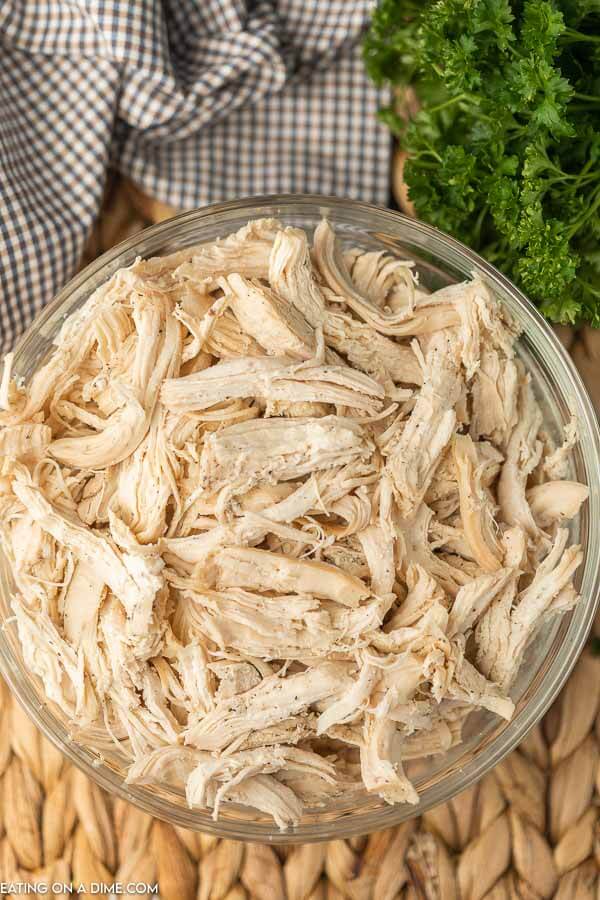 How to boil Chicken Breasts?
This is one of my favorite ways to meal prep and it saves so much time and money. You can stock up on chicken when it is on sale and get a good deal. It is so easy to boil chicken and shred for meals later.
Sometimes, I will boil chicken on Sunday to keep in the fridge for quick meals all week. My family loves when I make Buffalo chicken Quesadillas and it is so easy when the chicken is already to go in the fridge.
You can also freeze it. This is such a big help during busy weeks and seasons of life. Boiling chicken is my favorite cooking method.
Chicken Breast – Ultimate Protein!
Shredded juicy chicken is a great protein to always have on hand. Great on your salad or or for a quick soft taco as you are running out the door. I like to have shredded available so my kids will eat it instead of grabbing something that will not keep them full for long.
Boiling chicken allows the chicken so tender and juicy. It is so easy to shred too. You can use bone-in chicken, but you just have to make sure you take out all of the bones.
Ingredients:
Boneless Chicken Breasts
Chicken Broth – you can use water but the chicken broth adds SO much flavor!
Salt and pepper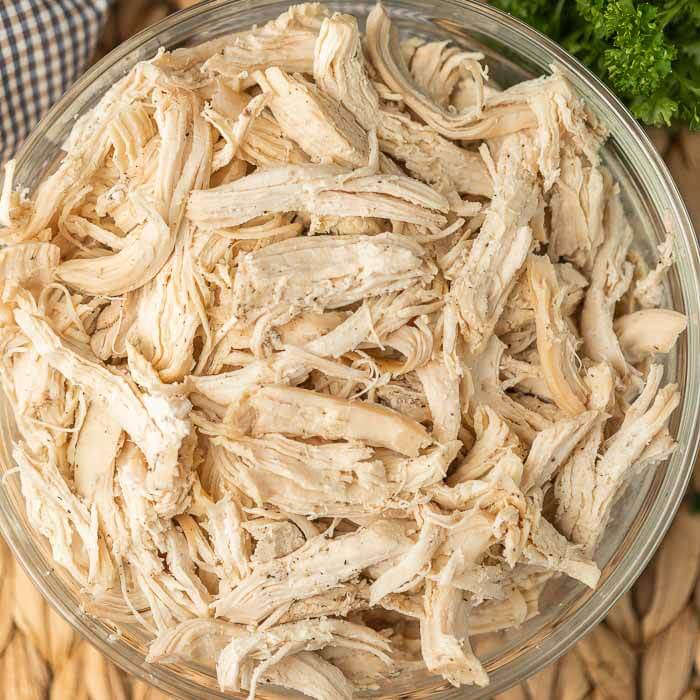 How to boil chicken breasts?
First, you need a large pot. Put the chicken in the stock pot and season with the salt and pepper.
Second, add the chicken broth all over the top. You want the chicken to be completely covered so add water to the stock pot until it has covered the chicken.
Finally, bring to a boil the chicken and liquid mixture over medium high heat. When the water starts to boil, turn the heat down to low and add a lid to the pot.
How long to boil frozen chicken?
Typically I always boil my chicken from frozen. It is just as easy and no pre-planning. Just take out of the freezer and following the instructions.
If you chicken frozen, I usually add an additional 15 minutes to my cook time. It will depend on how large your chicken breast are.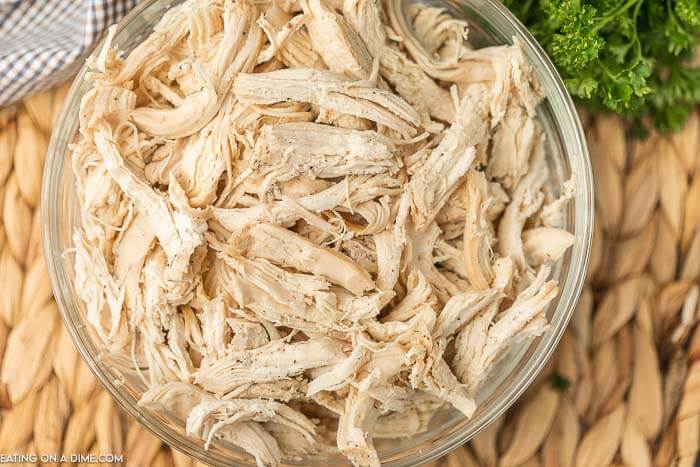 Save the liquid:
We all know that I am very frugal. I like to be able to save money where I can. The broth or water that you cook your chicken can be used for things that you are cooking.
If you decided to boil your chicken in chicken broth this would be great for soups. Just strain the broth and then pour into your soup that you are preparing or store in a container for further use.
If you are just cooking your chicken in water, you can still use the broth for other things. It would be great to cook your rice or boil pasta for dinner, it will add so much extra flavor.
This process has just become part of my meal prepping.
How long to boil chicken breasts?
Keep cooking the chicken until it is cooked through. The chicken will be completely white when it is finished cooking. Make sure the internal temperature of a meat thermometer is 165 degrees in the thickest part of the chicken.
How long does it take to boil chicken? Cooking times will vary but this takes about 20 to 30 minutes depending on how large the chicken breasts are.
The last step is to take the chicken from the stock pot and shred.
How to shred chicken:
You can shred the chicken using 2 forks. It will be tender so this should be easy to do.
However, you can also use a mixer to shred the chicken. This is my favorite way to shred the chicken. Plus, it is so quick and easy when you are shredding large amounts of chicken.
In fact, this is how I shred a roast or a pork butt for BBQ. The texture is just perfect.
This method really is fast and you can shred a pound of chicken in about 30 seconds. You can use a stand mixer or hand held mixer to do this. Learn even more tips and tricks on how to shred chicken.
How to store shredded chicken?
Storing shredded chicken is so easy. I tried to keep the shredded chicken that I have prepared in the same container that everyone in my family knows is available to eat. This way they know that I am not using for another meal.
Just keep in the refrigerator in a large gallon size ziplock bag or an air container. If you are using for separate meals, separate the chicken into the specific bag for that meal. It keeps you organize and meal time will be a breeze.
You can freeze shredded chicken!
I like to freeze the chicken in portions that I will use for dinner. So think about casseroles, salads or other recipes and freeze in portions you can use.
This will make meal time even easier when everything is frozen in the portions you need. Plus, you will be less tempted to get take out knowing you have something so easy to make for dinner. Having the chicken already cooked and shredded is a huge time saver.
Tip: Anytime we have leftover baked chicken, poached chicken or rotisserie chicken, it goes in the freezer! Save it for a meal later.
Boiled Chicken Recipes
It is also really delicious on your favorite salad. I love to do this for a quick lunch or even dinner. The chicken is great on Caesar salad.
You really can do so many things with this chicken. The ideas are endless and you will love having shredded chicken for quick meals.
My only regret is not starting sooner. It is so easy and takes very little time to do. Let us know how you plan to use the chicken.
Check out more ideas in our What to Make with Shredded Chicken.
Print the recipe for how to boil chicken below:
How to Boil Chicken
Learn how to boil chicken and have tender and flavorful meat for casseroles and more. You will save time and money with these tips.
Instructions
Place the chicken in a large stock pot. Season with the salt and pepper.

Pour the chicken broth over the top. Add more water until chicken is completely covered in the stock pot.

Bring the mixture to a boil over medium high heat.

Once the mixture is boiling, reduce the heat to low and cover.

Cook until the chicken is cooked through (chicken will be completely white when cooked) and reaches an internal temperature of 165 degrees F. This generally take approximately 20-30 minutes depending on the size and quantity of the chicken breasts that you are cooking.

Remove chicken, shred and enjoy!
Nutrition Facts
Calories
181
kcal
,
Carbohydrates
1
g
,
Protein
33
g
,
Fat
4
g
,
Saturated Fat
1
g
,
Trans Fat
1
g
,
Cholesterol
97
mg
,
Sodium
1136
mg
,
Potassium
687
mg
,
Fiber
1
g
,
Sugar
1
g
,
Vitamin A
49
IU
,
Vitamin C
13
mg
,
Calcium
18
mg
,
Iron
1
mg
More Cooking Tips: