This post may contain affiliate links. If you make a purchase through links on our site, we may earn a commission.
Crockpot shredded chicken makes meal planning a breeze during busy weekdays. Let the slow cooker do all the work for tender and flavorful chicken.
Crockpot shredded chicken
I love to keep shredded chicken on hand. It is so convenient for quick meals during the week. The possibilities are really endless for the meals you can make with it.
We recently made instant pot shredded chicken and it was a huge success. I thought I would try using the crock pot this time. The results? Perfectly tender chicken packed with flavor!
Just toss and go and come home to this delicious chicken. The secret is the chicken broth and the flavor is so yummy. I think it gives it a ton more flavor than using water.
Ingredients:
Chicken Breasts- You can also use chicken thighs.
Chicken Broth
Salt and pepper
How to make crockpot shredded chicken
First, place the chicken in a crock pot.
Second, sprinkle salt and pepper on the chicken. Next, pour the chicken broth all over the top.
Finally, put the lid on and let the chicken cook on low for 6-8 hours or on high for 3-4 hours.
Once the chicken has finished cooking, take it out of the crock pot. Shred and put back in the slow cooker.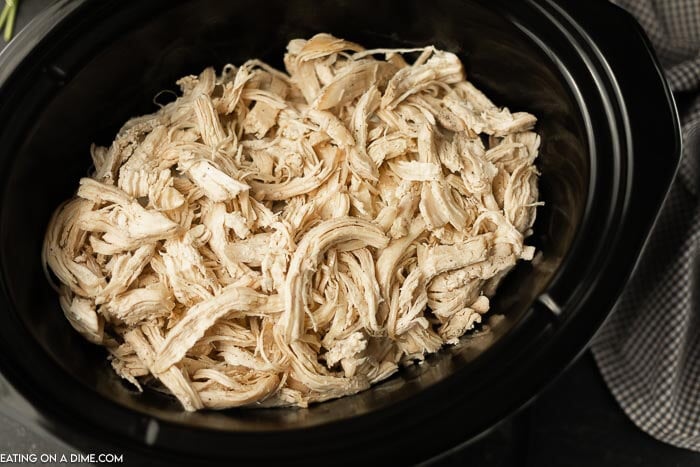 How to shred chicken:
You can use 2 forks to easily shred the chicken. The meat is super tender and this is really easy.
Now, I also like to use my mixer. This is a little trick I learned to quickly and easily shred large quantities of chicken.
If you haven't tried it, it is so easy. You can learn how to shred chicken with a mixer.
This is my preferred method if I am cooking a lot of chicken. It is so fast and I also like the texture of the chicken.
How to freeze shredded chicken
The easiest way to free the shredded chicken is to do it in serving sizes you will use for recipes. I like to divide it by the cups and freeze.
This makes it so handy to just grab from the freezer to make a casserole, soup or quesadillas. So many options!
You will need to use freezer containers or freezer bags to ensure the chicken stays fresh. I like to use bags so they can lay flat.
It saves room in my freezer.
Crock pot shredded chicken tacos
Our family loves Shredded Chicken Tacos. They are so easy in the crock pot but you can actually make them with this shredded chicken for an even quicker weeknight meal.
Just add salsa and taco seasoning for delicious chicken tacos. Dinner is SO easy!
If I know I am going to have a really busy day, I will take some frozen shredded chicken out of the freezer that morning. Then when I get home that evening, I have very little to do for dinner. Just mix the salsa and seasoning and heat it all up.
You can't get take out that fast!
Crock pot Shredded bbq chicken
This is another favorite around here and a quick dinner idea. The kids love when I make Shredded BBQ Chicken. Since the chicken is already cooked, just mix with some bbq sauce and dinner is ready!
Serve on buns or sliders. Top pizza with it. It's delicious.
Recipes to use shredded chicken:
Print this recipe for slow cooker shredded chicken:
Crockpot shredded chicken
Crockpot shredded chicken makes meal planning a breeze during busy weekdays. Let the slow cooker do all the work for this flavorful chicken.
Instructions
Place the chicken in a 6 quart crock pot.

Season with the salt and pepper and pour the chicken broth over the top.

Cover and cook on low for 6-8 hours or on high for 3-4 hours.

Remove the chicken, shred with 2 forks and return the chicken to the crock pot.
Nutrition Facts
Calories
261
kcal
,
Carbohydrates
0.3
g
,
Protein
48
g
,
Fat
6
g
,
Saturated Fat
1
g
,
Polyunsaturated Fat
1
g
,
Monounsaturated Fat
2
g
,
Trans Fat
0.03
g
,
Cholesterol
146
mg
,
Sodium
796
mg
,
Potassium
848
mg
,
Fiber
0.04
g
,
Sugar
0.2
g
,
Vitamin A
70
IU
,
Vitamin C
3
mg
,
Calcium
14
mg
,
Iron
1
mg
More slow cooker chicken recipes to try: