Slow Cooker Queso Chicken Tacos is a flavorful taco recipe and made with easy ingredients. Change up Taco Tuesday with this easy taco slow cooker recipe.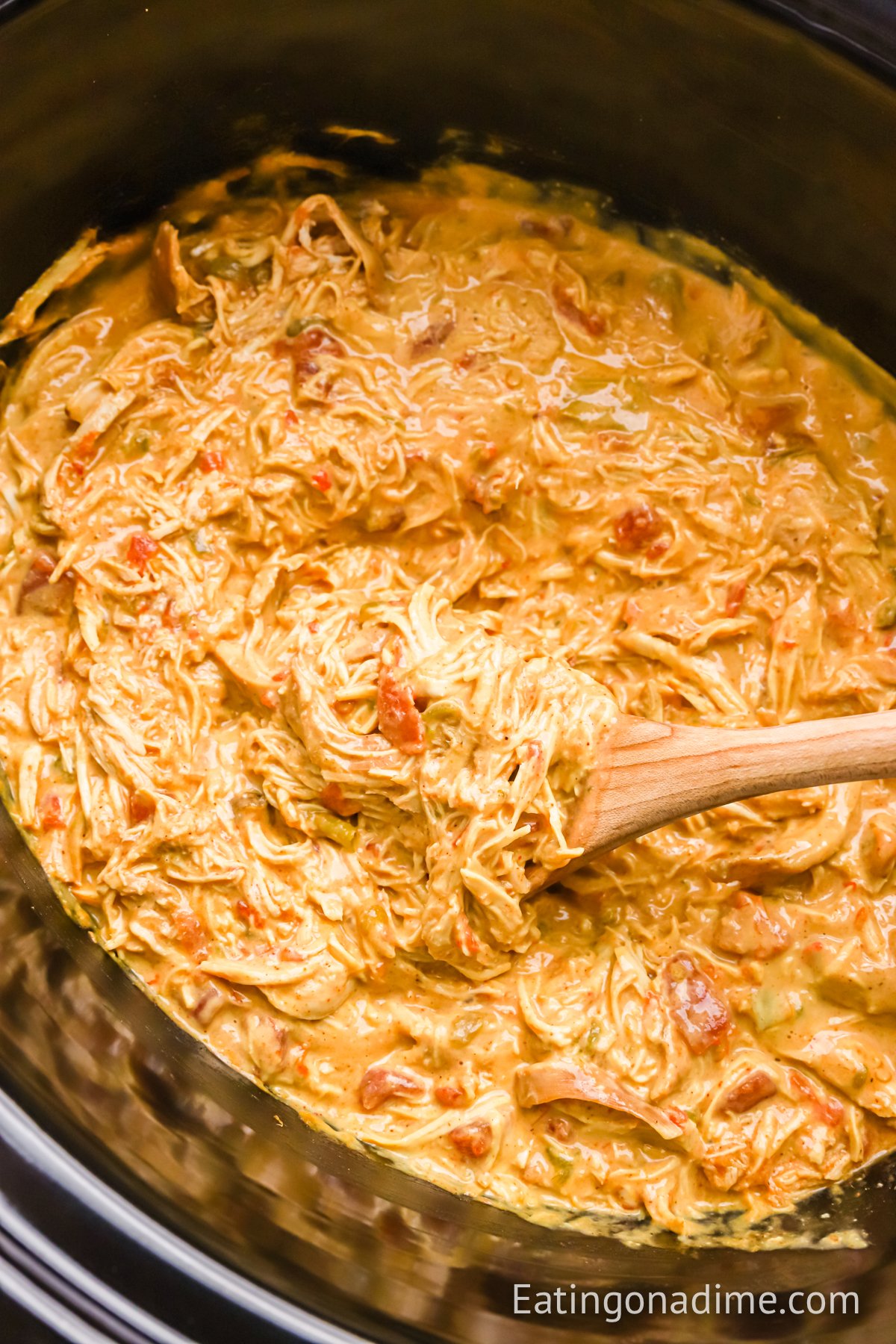 Slow Cooker Queso Chicken Tacos Recipe:
Chicken Queso Tacos combines chicken, taco seasoning, queso and diced tomatoes to make an amazing cheesy taco recipe. This queso chicken mixture is great wrapped in a tortilla, served over rice or on nachos.
Everything cooks in the slow cooker for an easy and delicious weeknight meal. We love recipes that we can use in many different ways. This Queso Shredded Chicken is great leftover for lunch the next day and easy to freeze.
Make an easy crowd pleasing chicken taco recipe. This recipe is perfect as a weeknight meal or for a game day gathering. Let the slow cooker do all the work and make this easy Queso Chicken Recipe.
Can I use Homemade Taco Seasoning?
Yes, you can use Homemade Taco Seasoning. We prefer to use homemade taco seasoning instead of the packet as our homemade seasoning taste so much better.
There are no ingredients that we can't pronounce and we adjust the seasoning to what we like. Making homemade taco seasoning saves me time and money.
Ingredients:
Boneless Skinless Chicken Breasts
Taco Seasoning (or 2 Tablespoons Homemade Taco Seasoning)
Diced Tomatoes with Green Chilies (10 oz can)
Diced Green Chiles (4 oz can)
Salsa Con Queso (15 oz)
Small Flour Tortillas
Taco Toppings.
How to Make Queso Chicken Tacos in the Crock Pot:
Step 1 – Place the chicken, taco seasoning, diced tomatoes and diced green chiles in a crock pot.
Step 2 – Cover and slow cook on low for 6-8 hours or cook on high for 3-4 hours. Cooking time may vary.
Step 3 – Shred the chicken and stir in the Salsa con Queso. Cover and cook on low for 15-20 minutes until the cheese is heated through.
Step 4 – Serve on the tortillas with your favorite taco toppings and enjoy!
Can I use Chicken Thighs instead of Chicken Breast?
Yes, you can use chicken thighs in this recipe. We usually use what we have on hand. You can even place the chicken in the slow cooker frozen, if you prefer.
Can I use Corn Tortillas?
Yes, this recipe works great with any type of tortillas. We used flour tortillas, but you can get mini corn tortillas or crunchy taco shells. Use what your family prefers.
Tips for Crockpot Queso Chicken Taco:
Queso – We use a whole jar of queso in this recipe, but if you prefer to not have is much liquid, you can easily half what you add to the chicken mixture.
Chicken – You can add frozen or thawed chicken to the crock pot. You can easily check the temperature of the chicken to make sure it is done with a meat thermometer.
Shredding Chicken – To easily shred the chicken, use a hand mixer or a stand mixer. This tip saves time and it gets the chicken evenly shredded. You can also use forks to shred the chicken.
Additions and Substitutions:
Diced Tomatoes – We used diced tomatoes and green chiles in them, but you can use a can of Rotel. There are different levels of spiciness for Rotel. Mix a can of hot and mild to balance out the spice.
Green Chilies – You can also add in a can of green chiles for added flavor.
Queso – Feel Free to substitute a can of the nacho cheese sauce for the salsa con queso. Use what you like the taste of.
Topping – Don't forget to add your favorite to these Queso Tacos. We always have lettuce, tomato, cheese, sour cream and black olives.
Chicken Broth – If you would like to make a soup or have a thinner broth, add in some chicken broth to the mixture.
How to Serve:
There are many ways to serve these queso chicken tacos. This is the perfect recipe for taco Tuesday or a taco bar night.
Serve with White Rice
Serve over Bake Potatoes
Perfect over a Green Salad
Add them to a baking sheet of tortilla chips and top with cheese for amazing nachos.
Make Burrito Bowls
What to Serve with Queso Tacos:
Easy Spanish Rice – The perfect spanish rice recipe and it is easy to make.
Cilantro Rice – This rice recipe is my sons favorite and it perfect served with these queso chicken tacos.
Homemade Salsa – You can't forget chips and salsa when you are serving this chicken tacos.
How to Store:
Refrigerate the leftovers in an airtight container for up to 5 days. This queso chicken would be perfect to meal prep with. Make the queso chicken and a batch of white rice for a quick and easy lunch.
We like to place in individual containers for an super easy lunch or dinner idea.
How to Freeze:
We love freezing this meal for another dinner idea during the month. Place the queso chicken in a freezer safe container and it will stay fresh for about 3 months.
When ready to serve, thaw overnight in the refrigerator and reheat on the stove or in the slow cooker.
Easy Queso Chicken Tacos Recipe:
We love this super easy queso chicken recipe. It is easy to start in the morning as I am heading out the door. Once we get home, I can assemble tacos or serve over rice.
We love making Mexican food and this is one of our favorites. It is a budget friendly meal that is easy to make. My family loves when I serve it and they will even eat it leftover.
Print Recipe here for Slow Cooker Queso Chicken Tacos:
More Slow Cooker Chicken Recipes: