Everyone in my family loves it when I make this Slow Cooker Chicken Burrito Bowl Recipe. It's taste better than the ones from a restaurant and we can easily adapt this recipe to fit out families' preferences.
This Slow Cooker Chicken Burrito Bowl Recipe is a simple and delicious meal.
I have a serious love of my crock pot. This appliance helps me prepare delicious meals for my family in no time at all.
This recipe for crock pot chicken burrito bowls allows me to throw all the ingredients in my slow cooker in the morning and have an amazing meal for my family by that evening or even sooner.
A great crock pot is a must for this Crockpot Chicken Burrito Bowl Recipe.
You might think I'm crazy but I currently have 3 different types of slow cookers. However, out of all of these, the Ninja crock pot is hands down my absolute favorite. I cannot recommend it enough!
This slow cooker has a stove top feature that in results allows you to brown the meat and slow cook it in the same crock pot. Genius! I wish I would have created this appliance.
My sister has this other model of the Ninja slow cooker. It is slightly less expensive but doesn't have all the same features that mine does. However, it does have the cooktop feature (which we both love). She recommends her as well.
Trust me, Ninja knows how to make a great crock pot!
Also, the remove-able insert on both of these slow cookers makes clean-up a breeze! The insert is non-stick so it's easier to clean than a traditional crock pot.
I also own and like this crockpot. Being able to lock the lid down is the best feature on this slow cooker. I use this slow cooker for when I have to bring food somewhere so I don't have to worry about anything spilling in the car.
Another favorite is this programmable crock pot for when I am am not at home all day. The programmable feature allows me to come home to a nice meal ready for dinner after I have been gone all day. Since this slow cooker shuts off after a certain time, it ensures that the food does not burn when I'm away.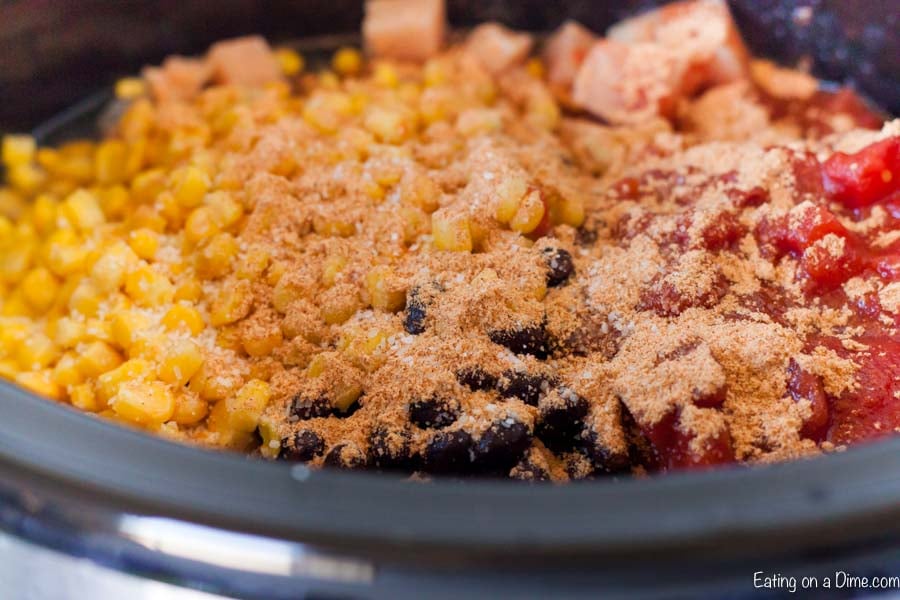 What do I need to make S
low Cooker BBQ Beef
?
Chicken Breasts
Diced Tomatoes
Chicken Broth
Taco Seasoning (I like to use my homemade recipe)
Salt
Black Beans
Frozen Corn
Brown Rice
Limes
Shredded Cheese
My favorite thing about this slow cooker chicken beans and rice recipe is that it is so versatile. You can leave out any ingredient that you don't like or don't have on hand and it will still taste amazing.
Make sure you try my Homemade Taco Seasoning Recipe for this burrito bowl!
Have you tried making your own taco seasoning yet? I promise that it's not as hard as it seems. This is probably one of my favorite recipes!
It's a mix of basic spices like chili powder and garlic powder. Items that you probably already have in your pantry. I like to make a large batch and keep it in a mason jar so I always have some of hand.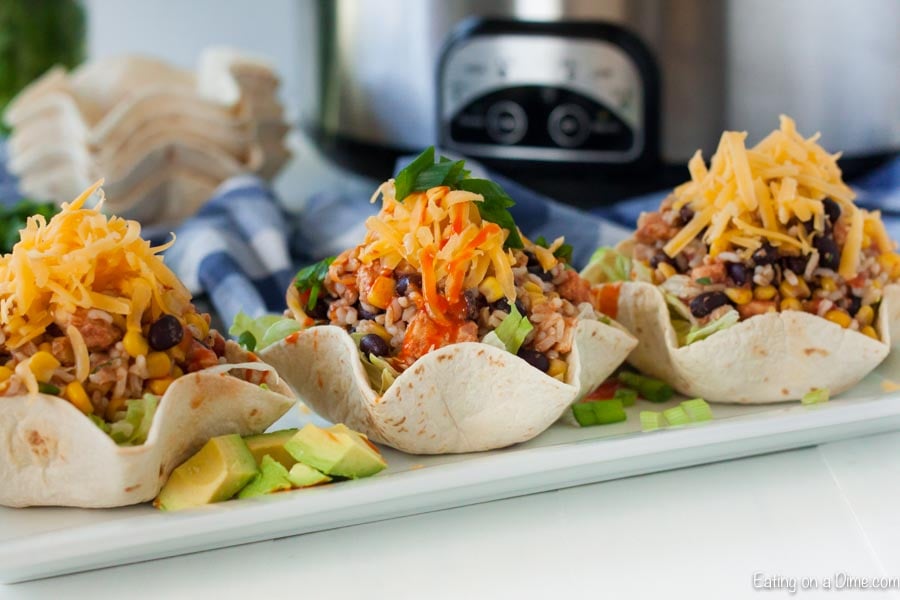 I hope you try making your own taco seasoning so you'll know what's in your recipes and avoid those costly packets!
What other ingredients can be added to this chicken burrito bowl slow cooker recipe?
You can definitely make this recipe your own. Here are some other ingredients that can easily be added to this recipe to change the flavor or texture of these burrito bowls to fit your taste preference.
Different Types of Shredded Cheese
Chopped Cilantro
Sour Cream
Diced Avocados
Salsa – Your favorite kind – I love this homemade salsa verde recipe.
Hot Sauce
Green Onions
Shredded Lettuce

How do you make
crock pot chicken burrito bowls?
You are not going to believe how easy this recipe is. If you have been following me for awhile, you know that I love simple yet delicious meals.
First you put all the ingredients except the rice and lime in the crock pot and cook on low for 6-8 hours. You can also cook on high for 4-6 hours if you need it ready quicker.
Once this cook time is done, remove the chicken and use forks to shred the chicken and put it back in the crock pot. Then stir in the cooked brown rice and squeeze the limes over the chicken mixture.
Mix it all together, top with your favorite toppings and serve hot. Yum, yum, yum!!!
Keep reading for the complete recipe.
What is the best way to cook brown rice?
This recipe does require cooked brown rice. My favorite way to cook brown rice is in my pressure cooker. This way saves me about half of the time as cooking it on the stove top.
Also, I prefer the way it tastes when it's cooked in my pressure cooker.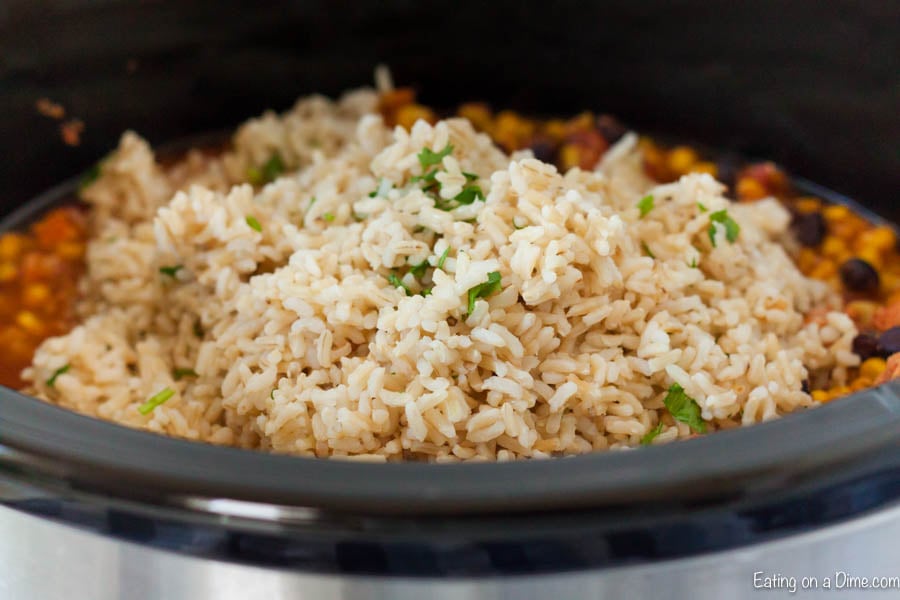 Did you know that you can also cook rice in the slow cooker? I like to cook a ton of rice in my crock pot and then freeze it for recipes like this one.
This way I always have some cooked rice on hand for recipes that require it or for a quick side dish in not time at all.
Freezing rice is so easy and saves me tons of time in the kitchen.
How do I serve this slow cooker chicken burrito bowls?
There are so many options to serve this recipe. You can serve this in a delicious homemade burrito bowl or taco shell.
Also, you can use the chicken mixture from this recipe to fill a large tortilla to make a slow cooker chicken burrito or chimichanga.
This slow cooker chicken burrito filling would also be great to create some quesadillas on a busy weeknight.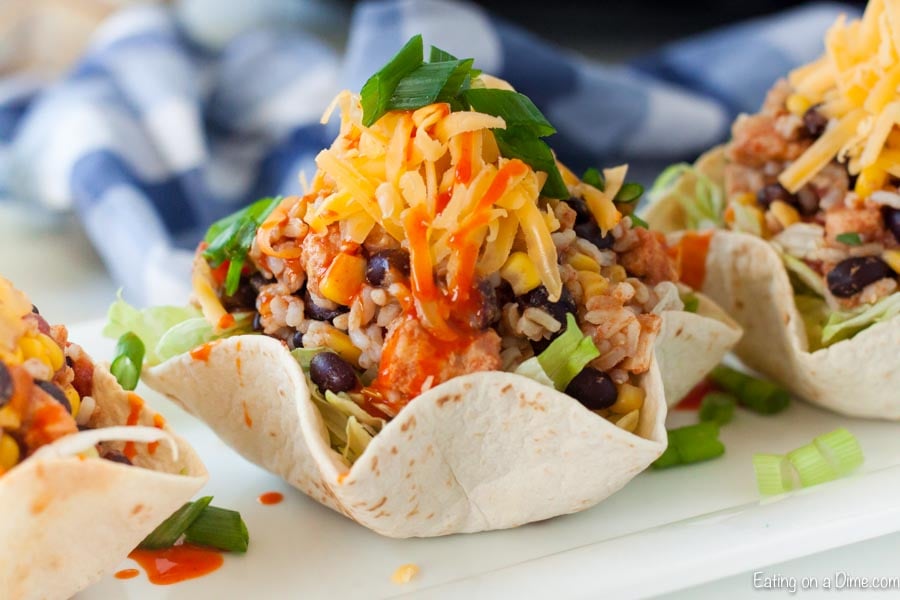 I love to cook once so that I can eat twice. Since there are so many delicious ways to serve this meal, I would make a double batch of this recipe and use the leftovers to make a second meal later in the week.
This way my family will eat two completely different meals with one great crock pot recipe.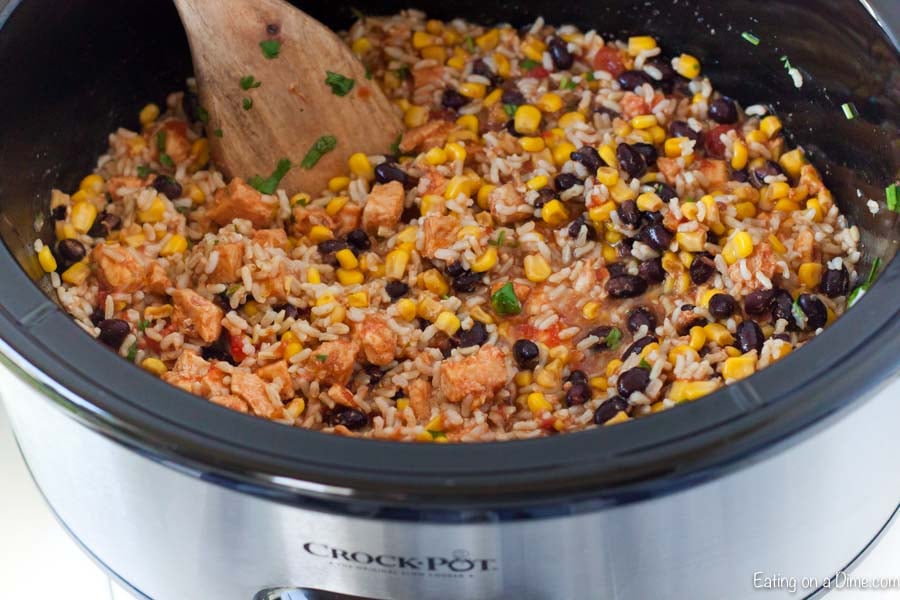 Can you freeze this
chicken burrito bowl slow cooker recipe?
I think my love of freezer cooking is almost as strong as my love of slow cooking. Having meals in the freezer ready for my crock pot or instant pot at any time brings joy to my heart.
This recipe can be easily converted into a quick and easy freezer meal to stock your freezer for those busy nights.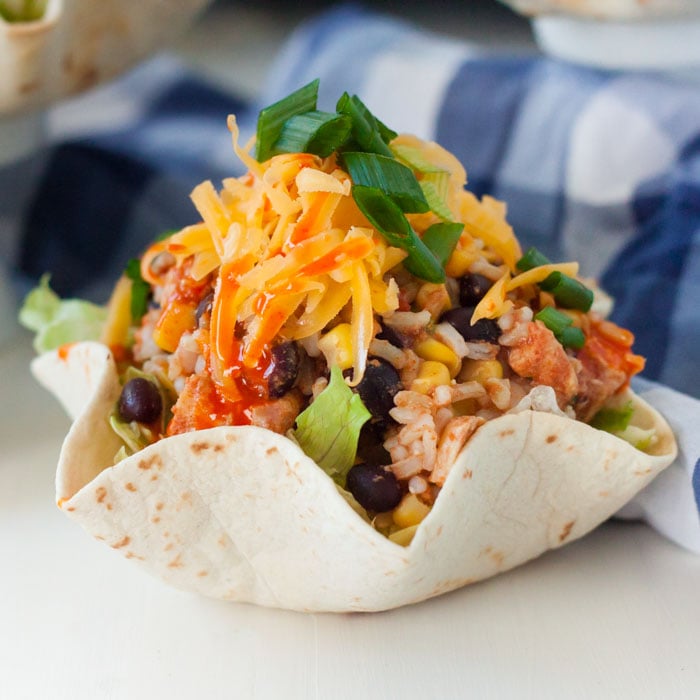 If you enjoy freezer cooking as much as I do, I encourage you to check out our Lazy Day Cooking Club.
This club is a freezer cooking meal plan that provides you with great recipes, instructions on how to freeze and all the ingredients that you need for great crock pot recipes.
This club takes away the stress of deciding what's for dinner and gets dinner on your table in less time by teaching you the joy of freezer cooking!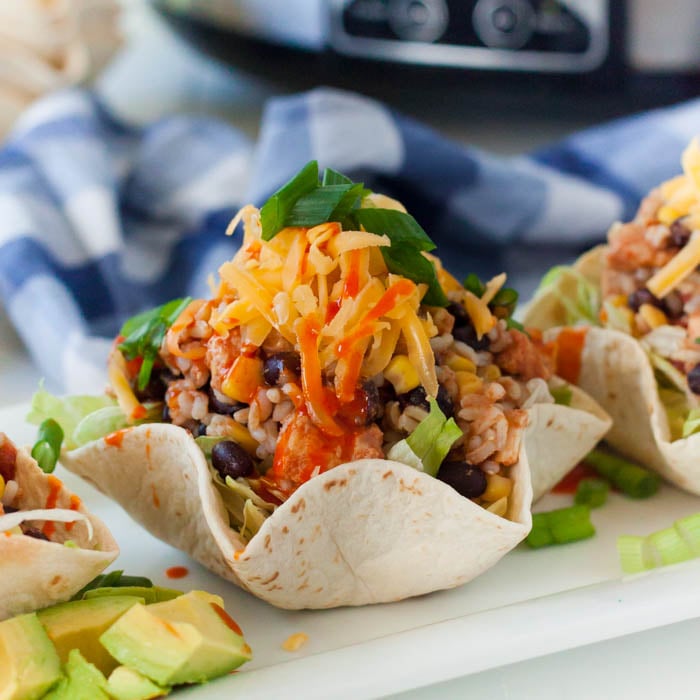 Print this S
low Cooker Chicken Burrito Bowl Recipe
below:
Slow Cooker Chicken Burrito Bowl Recipe
You are going to love this quick and easy crock pot chicken burrito bowl recipe. This slow cooker recipe is easy to put together and still tastes delicious.
Ingredients
2

boneless skinless chicken breasts

diced

1

14.5-ounce can diced tomatoes

1

cup

low-sodium chicken broth

plus more as needed

1

tablespoon

taco seasoning

1

teaspoons

salt

1

15-ounce can black beans, drained and rinsed

1

cup

frozen corn kernels

3

cup

cooked brown rice

2

fresh limes

2

cups

cheddar cheese

shredded

Optional toppings: shredded cheese

chopped cilantro, sour cream, diced avocado, salsa, hot sauce, diced green onions, shredded lettuce
Instructions
Combine the chicken, diced tomatoes and their juices, chicken broth, taco seasoning, black beans, corn, and salt in a slow cooker.

Cover and cook on the LOW setting for 8 hours.

Head up the brown rice and stir in the crock pot.

Squeeze the fresh limes over on top.

Spoon into bowls.

Top with cheese, avocado, pico, cilantro, and any other toppings you would like.
Nutrition Facts
Calories
450
kcal
,
Carbohydrates
52
g
,
Protein
28
g
,
Fat
15
g
,
Saturated Fat
8
g
,
Cholesterol
63
mg
,
Sodium
721
mg
,
Potassium
775
mg
,
Fiber
10
g
,
Sugar
2
g
,
Vitamin A
520
IU
,
Vitamin C
15.7
mg
,
Calcium
332
mg
,
Iron
3.5
mg
If you enjoy this shredded chicken burritos slow cooker recipe, I hope you try these other crock pot chicken recipes: