Enjoy this delicious and amazing Homemade Crunchwrap Supreme Recipe at home. No need to head to the drive-thru when you can make this easy crunchwrap recipe.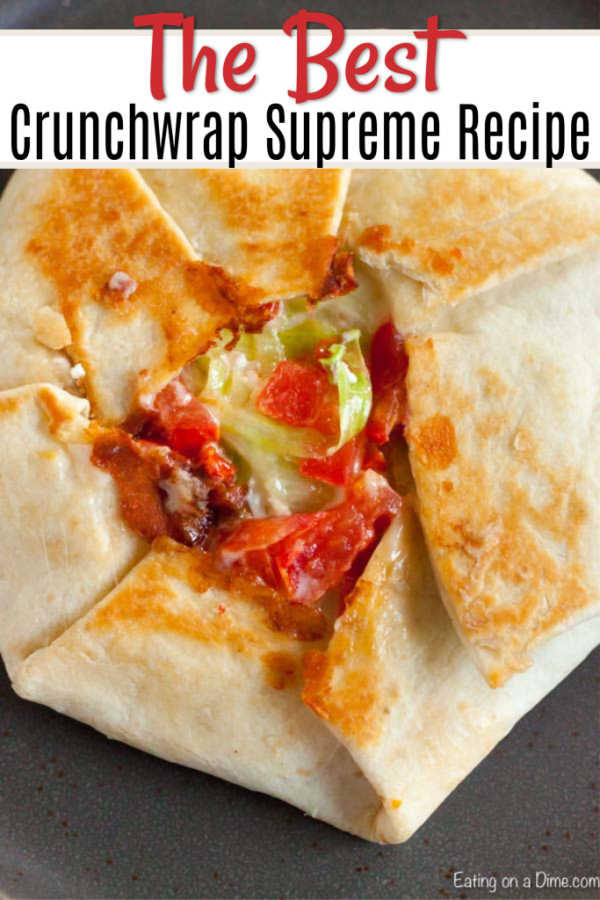 Homemade Crunchwrap Supreme Recipe
Lots of crunchy and cheesy layers make up this tasty and homemade crunchwrap. Tons of Mexican flavor, fresh toppings and more make this a delicious idea for dinner.
Check out this video to see how to make this Homemade Crunchwrap Supreme Recipe!
If you love Taco Bell Crunchwrap Supreme, give this a try for something even better, cheaper and so amazing! Your kids will go crazy over this meal.
Crunch Wraps will become a hit for the next Mexican Monday! Skip fast food and make these at home!
Your wallet will thank you and I promise these are SO much better! 🙂
What is a crunch wrap?
Everything you love about tacos gets combined into one delicious crunch wrap. Layers of crispy tortillas rounds, soft flour tortillas, taco meat and more make the best recipe!
What is in a Crunchwrap Supreme?
Flavor packed ground beef, cheese, toppings and more make up a Crunchwrap Supreme. This is so easy to make and just the best!
What do you need to make Crunchwrap Supreme homemade recipe?
ground beef
taco seasoning (learn how to make homemade taco seasoning)
burrito size flour tortillas
tostada shells
sour cream
shredded lettuce
roma tomato
pepper Jack cheese
nacho cheese
How to make homemade crunchwrap supreme:
There are a few steps to making a crunchwrap but they are all very easy and simple to do.
First, make sure the ground beef is cooked and seasoned with taco seasoning.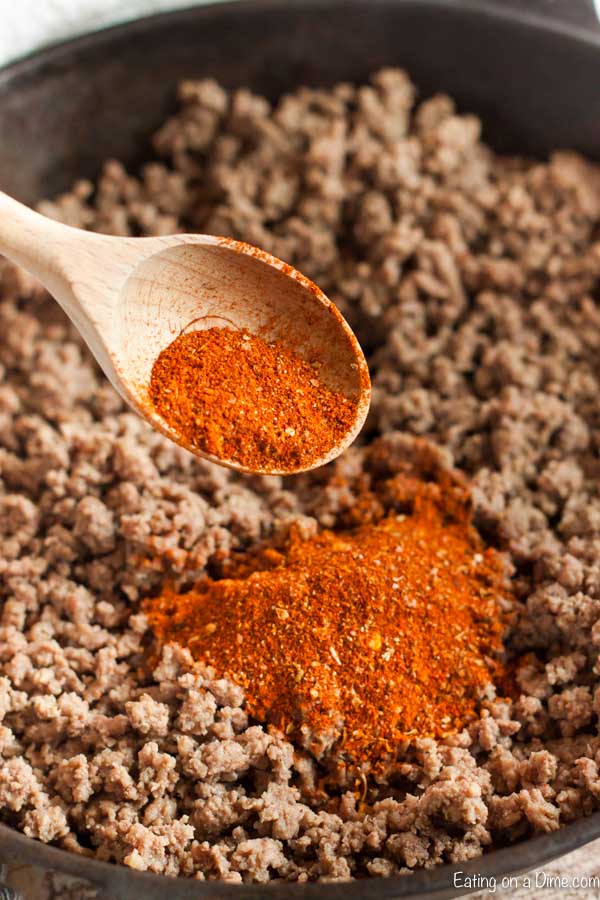 While this is simmering, warm up the nacho cheese and just set aside.
Lay one of the tortillas on a flat surface and spread the nacho cheese in the middle. Add taco meat and place a tostada shell on top.
Now, it is time for the sour cream, lettuce and other toppings. Yum!
How to fold a crunchwrap:
I like to start at the bottom and fold the edge up to the center of the filling. Just keep doing that and making sure it is as tight as possible.
Keep working your way around the tortilla.
Use cooking spray to coat another skillet. Place the folded crunchwrap supreme seam side down and cook for a few minutes per side.
It is that easy! Make sure to eat these immediately while they are hot and crispy!
Keep reading for the full recipe.
It is so simple to make Crunchwrap Supreme Combo!
WHAT TO SERVE WITH THIS HOMEMADE CRUNCHWRAP SUPREME RECIPE:
It really is delicious served alone. You can add a simple side salad if you prefer.
We also love rice and sometimes serve it with that. You can save even more time and learn how to freeze rice and you can make this meal even easier.
I love to grab the rice from the freezer in the morning and when we come home it is all ready to enjoy. We do this for lots of meals and it helps put together a quick meal.
It is so easy and helpful for busy weeknights. You can also use brown rice. Learn how to cook brown rice in the microwave for a quick side.
We have also used this Delicious Cilantro Lime Rice Recipe. There are lots of delicious options.
Another great idea is Crock Pot Refried Beans. They are so easy in the slow cooker and really tasty.
You can add more toppings if you prefer to this Homemade crunchwrap supreme recipe.
There are lots of great toppings inside but we love to add a few more once finished. This is totally optional but we love a good topping bar.
Just use what your family loves. Some of our favorite toppings include:
diced tomatoes
green onion
red onion
cilantro
hot sauce
sour cream
shredded cheese
avocado
fresh lime
diced jalapeno peppers
salsa verde (try homemade Salsa Verde de Tomatillo Recipe)
Homemade crunchwrap supreme recipe will be a family favorite!
This recipe is so much better than fast food and is so simple and easy to make. They are golden brown and cooked to perfection for the perfect dinner idea.
We have even used corn tortillas and they still turned out perfect. Use what you have.
You can even substitute ground turkey. This meal is so easy and delicious for a great dinner idea.
You are going to love having this on your regular menu plan rotation. Save money by using what you already have in your freezer or can get on sale at the grocery store.
It's also great if you are trying to save money on groceries which is a must at our house! This is definitely a recipe that is budget friendly, doesn't take a lot of time to make and everyone enjoys.
In fact, we saved 50% off just by menu planning! The savings really add up and you will love these great meals.
It's easy to grab take out and forget how much those meals cost and add up. You will be so pleased with the money you save with having a plan.
No need to worry about crunchwrap supreme calories and just enjoy this great meal!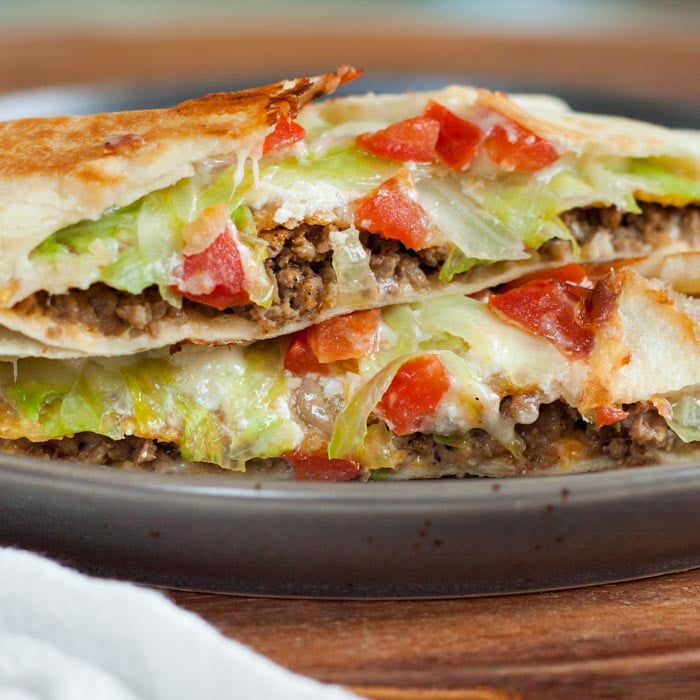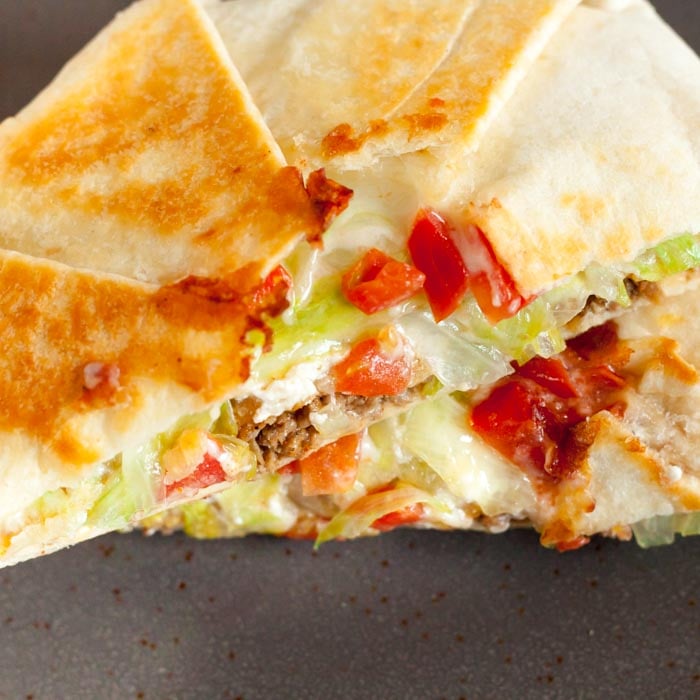 Print this Homemade crunchwrap supreme recipe below:
Crunchwrap Supreme (skillet recipe)
Enjoy this delicious and tasty Homemade Crunchwrap Supreme Recipe at home. No need to head to the drive-thru when you can make this easy crunchwrap recipe.
Ingredients
1

lb

ground meat

1

tablespoon

taco seasoning seasoning

1/4

cup

water

6

burrito size flour tortillas

6

tostada shells

1

cup

sour cream

2

cups

shredded lettuce

1

roma tomato

diced

1

cup

shredded pepper Jack cheese

nacho cheese
Instructions
In a skillet or large cooking pan, cook and crumble the ground beef over medium-high heat. When it is no longer pink, stir in the taco seasoning and the water.

Warm up the nacho cheese sauce in the microwave and set aside.

Place the flour tortillas on a plate and warm in the microwave for about 20 seconds.

Lay one tortilla on a flat surface. Spread a couple of tablespoons of nacho cheese in the middle of the tortilla.

Place ½ cup of taco meat on top of the nacho cheese.

Next, add the tostada shell, a thin layer of sour cream, lettuce, tomato, and lastly, the shredded pepper jack cheese.

To fold into the actual crunchwrap, start with the bottom of the tortilla and fold the edge up to the center of the fillings. Keep doing that, folding as tight as possible, as you work your way around the tortilla.

Spray another skillet or cooking pan with cooking spray and heat over medium heat. Place the crunchwrap supreme, seam-side down, onto the skillet. Cook for 2-3 min., or until golden brown.

Flip over and cook the other side for another 2-3 min or until golden brown.

Cook the rest of your crunchwraps and eat immediately.
Nutrition Facts
Calories
601
kcal
,
Carbohydrates
44
g
,
Protein
25
g
,
Fat
36
g
,
Saturated Fat
16
g
,
Cholesterol
90
mg
,
Sodium
739
mg
,
Potassium
463
mg
,
Fiber
3
g
,
Sugar
5
g
,
Vitamin A
630
IU
,
Vitamin C
2.6
mg
,
Calcium
277
mg
,
Iron
4
mg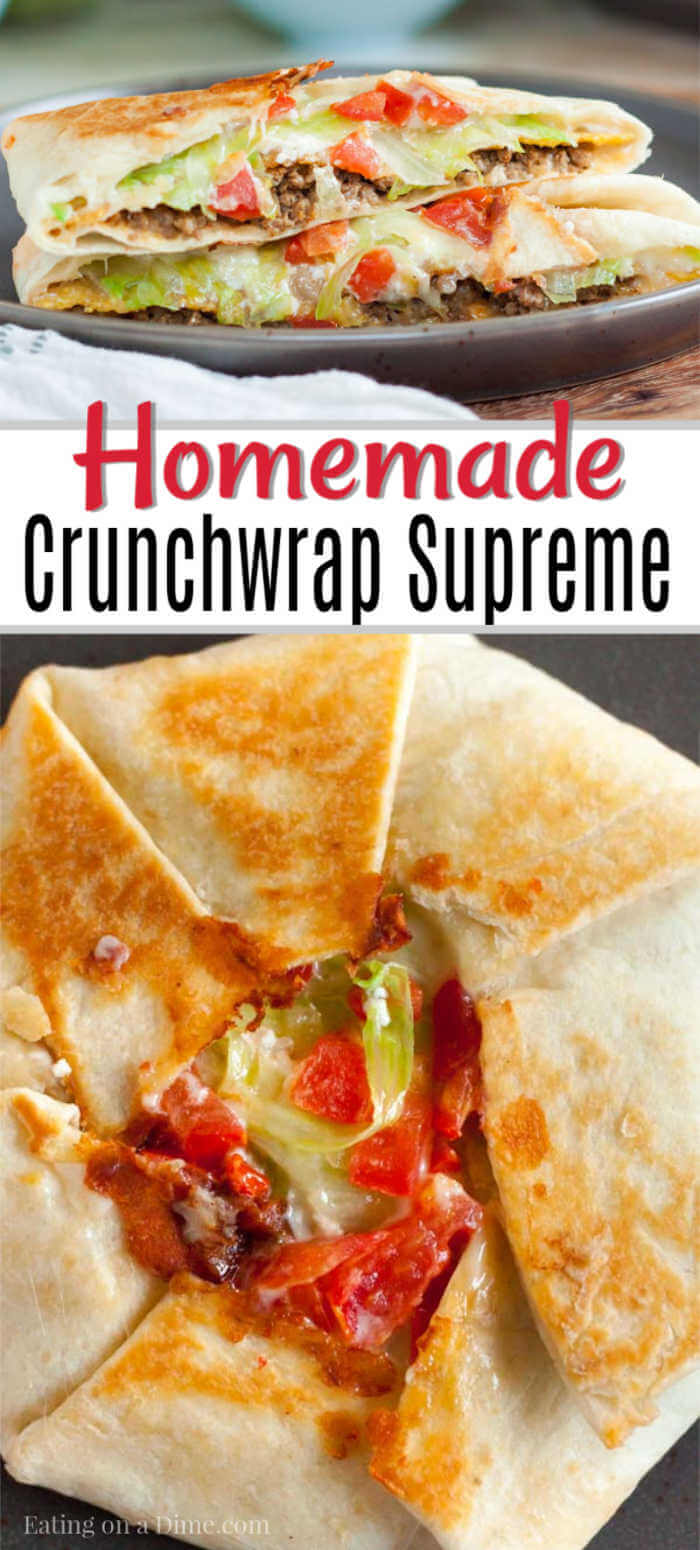 Bacon ranch chicken wrap has everything you need for a delicious lunch or dinner.
Pepperoni pizza sloppy joes are so fun to eat and really simple to make.
Try some of these easy Mexican recipes: