This post may contain affiliate links. If you make a purchase through links on our site, we may earn a commission.
Crockpot Chicken Enchilada Soup is one of my favorite go-to soup recipes for busy weeknights. This soup has everything you love about enchiladas but in a convenient soup.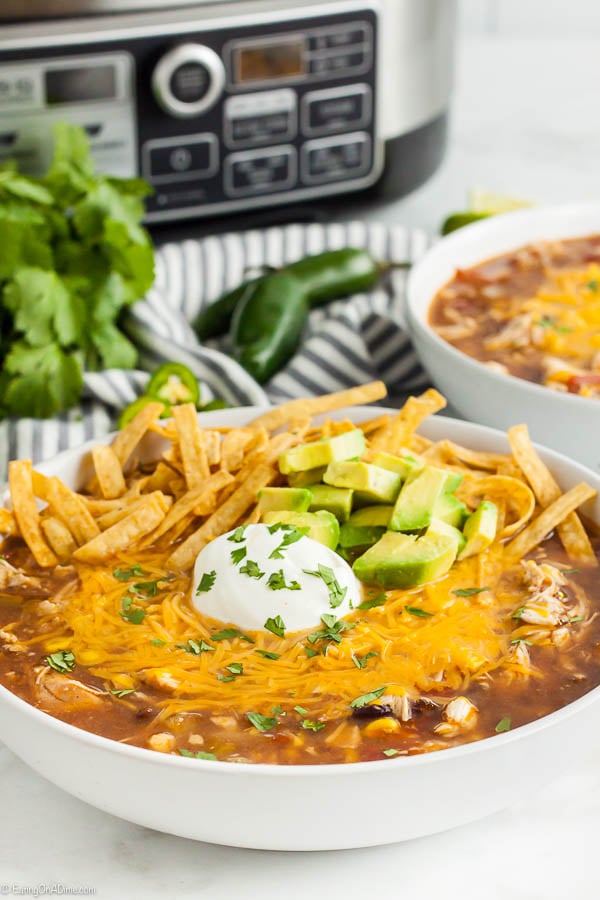 Crockpot Chicken Enchilada Soup
Get ready, because you are going to LOVE this Easy Chicken Enchilada Soup Recipe. With less than 10 minutes prep, you can toss this in the slow cooker for a great dinner. The crock pot does all of the work.
One of our families favorite is this easy chicken enchilada soup recipe. This is everything you look for in a comfort soup and then some.
This recipe can easily feed a crowd on a budget while being so delicious. You get all the flavor of enchiladas with the convenience of the crock pot.
If you like this soup, you should also try my Crockpot Chicken Tortilla Soup or Chili's Chicken Enchilada Soup Recipe. Both of these soups are super easy to throw together and they both taste simply amazing packed with flavor.
Ingredients for crockpot enchilada soup:
chicken breasts
chicken stock
red enchilada sauce – Try our Homemade Red Enchilada Sauce Recipe
black beans
diced tomatoes
corn
diced green chilies
minced garlic
onion
cumin
salt
How to make Crockpot chicken enchilada soup
Everything goes in the crock pot including raw chicken. This is such an easy toss and go recipe.
Cover and cook. You can cook this on low for 6 to 8 hours or high for 4 to 6 hours. The cooking time results in tender and flavorful chicken.
Once the chicken is cooked, shred the chicken and mix together in the slow cooker.
Seriously it is that easy! Keep reading for the full recipe.
Enchilada Soup Topping ideas
We like to top ours with tortilla strips or crushed up tortilla chips. However, you can choose any toppings you like.
Other ideas include:
shredded cheese
sour cream
avocado
green onion
hot sauce
fresh lime
And whatever you like! This is one of our favorite soups.
It is also tasty served with cornbread. I like to crumble it right into the soup.
Variation ideas:
Substitute boneless chicken thighs for the chicken breasts. It will be delicious.
You can use vegetable stock instead of chicken.
Pinto beans would be delicious in this soup instead of black beans.
Try using a can of Rotel instead of the diced tomatoes. You have a little extra heat if you prefer that.
Fresh, frozen or canned corn can be used in this recipe. You can reduce the amount of corn if you do not like corn that much.
If you like a little extra heat, try using fire roasted tomatoes and adding chili powder to the soup.
Instant Pots and Dutch oven can also be used for alternate cooking methods.
You can use leftover cooked chicken in this soup. Just reduce the cooking time to high for 2 hours or low for 4 hours. It is a great way to use leftover rotisserie chicken.
Make Green Enchilada Soup. Substitute green enchilada sauce instead of red to give the soup a different flavor.
Ground beef or ground turkey can be used instead of shredded chicken. Just cook the meat first and add into the crock pot with the other ingredients. Since the meat is already cooked, reduce the cook time to 2 hours on high or 4 hours on low.
Gluten free option:
Make this soup gluten free by using enchilada sauce that is gluten free.
How to make the soup thicker:

If you prefer a creamier and thicker soup, add a block of cream cheese 30 minutes before it is finished cooking. This will change the consistency to more of a creamy soup and it is fabulous.
I like it both ways and think they are equally delicious.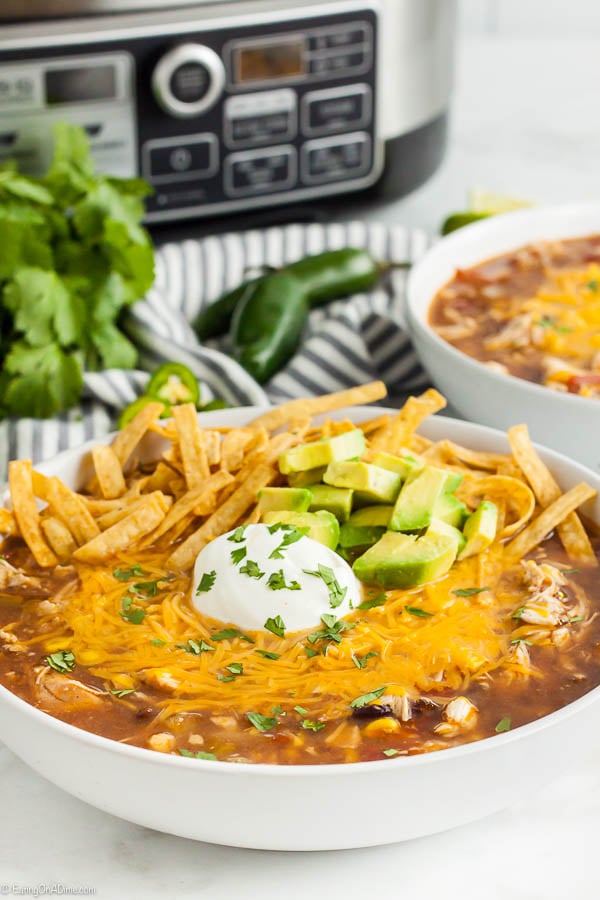 Your family will love crockpot enchilada soup.
This makes a TON of food so be prepared for leftovers! Some of my kids (and even me) think this easy chicken enchilada soup recipe tastes even better the next day.
I think it makes it even more flavorful.
Sometimes we even double the recipe so that we have extra to freeze. It does not take an extra work and you have even more easy meals to use.
I like to cook once and eat twice. So easy.
How to store leftovers:
Place leftovers inside an airtight container. Put in the fridge up to 5 days.
How to freeze:
You can freeze this before you cook it. Simply place the ingredients in a freezer bag. When you are ready to cook, place in the crock pot frozen and cook as normal.
Another idea is to freeze the soup after you cook it and just reheat for easy future meals. You can freeze the soup in individual portions for a quick lunch or use large freezer bags to freeze more.
This soup will keep up to 6 months in the freezer.
Tips for freezing:
If you do a lot of freezer meals, consider grabbing this Hands-Free Baggy Rack Storage Bag Holder. These are not necessary, but make it so much easier to put the meals together for the freezer.

It is like having an extra set of hands in the kitchen. We love having meals in the freezer and this is one of our favorites to have on hand in the freezer.
I like to use freezer bags because they lay flat. You can stack them and take up considerably less room in the freezer. This is a great way to save space if you don't have a large freezer.
It is so delicious and freezes well. I think the flavor is even better as leftover actually!
To reheat, allow to thaw in the fridge and cook on the stove top until reheated.
Chicken enchilada soup is frugal.
You can use only 4 chicken breasts in this soup but it makes a ton of soup. You can really feed a large crowd. Try this soup for game day, parties and more for a budget friendly meal everyone will love.
This meal is so easy to make and very versatile. You can even add more beans or tomatoes to stretch the meat even more.
Sometimes, we will have friends stay for dinner and I just toss an extra can of beans in the soup.
Plus, being able to throw this together quickly and easily really helps to avoid the temptation of getting take out. Everyone is much happier with a delicious home cooked meal anyway.
Try slow cooker chicken enchilada soup.
Enchilada soup recipe is quick and easy and full of flavor. Even our kids love this soup and ask for more.
I love that it is so easy to adapt for what you have on hand. However you decide to make this, it is sure to be a hit with the entire family.

Print this crockpot enchilada soup recipe :
Easy Chicken Enchilada Soup Recipe
Crockpot Chicken Enchilada Soup Recipe is one of my favorite go-to soup recipes for busy weeknights. This soup has everything you need for a great dinner.
Ingredients
4-6

chicken breasts

2

cups

chicken stock

10

oz

can red enchilada sauce

2

cans

black beans

1

can

diced tomatoes

1

can

corn

1

small can

diced green chilies

2

teaspoons

minced garlic

1

diced onion

1

teaspoon

cumin

1

teaspoon

salt
Instructions
Place everything in the crock pot.

Cook on low for 6-8 hours or on high for 4-6 hours.

Once cooked, shred the chicken and mix together.

We topped ours with diced avocado, cheese, sour cream, and crushed tortilla chips.
Recipe Notes
This recipe is everything you look for in a comfort soup and then some.
Nutrition Facts
Calories
416
kcal
,
Carbohydrates
45
g
,
Protein
45
g
,
Fat
6
g
,
Saturated Fat
1
g
,
Cholesterol
98
mg
,
Sodium
1187
mg
,
Potassium
1247
mg
,
Fiber
10
g
,
Sugar
9
g
,
Vitamin A
620
IU
,
Vitamin C
14.4
mg
,
Calcium
63
mg
,
Iron
4
mg
More Crockpot Mexican Soup Recipes: